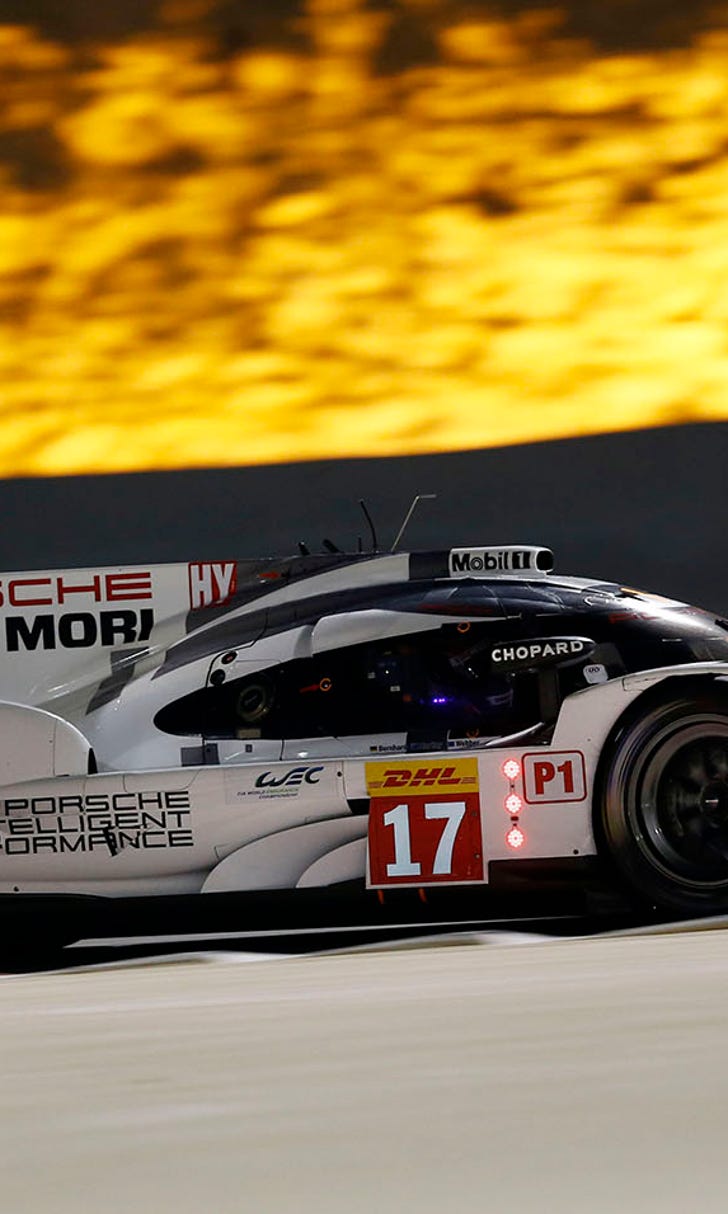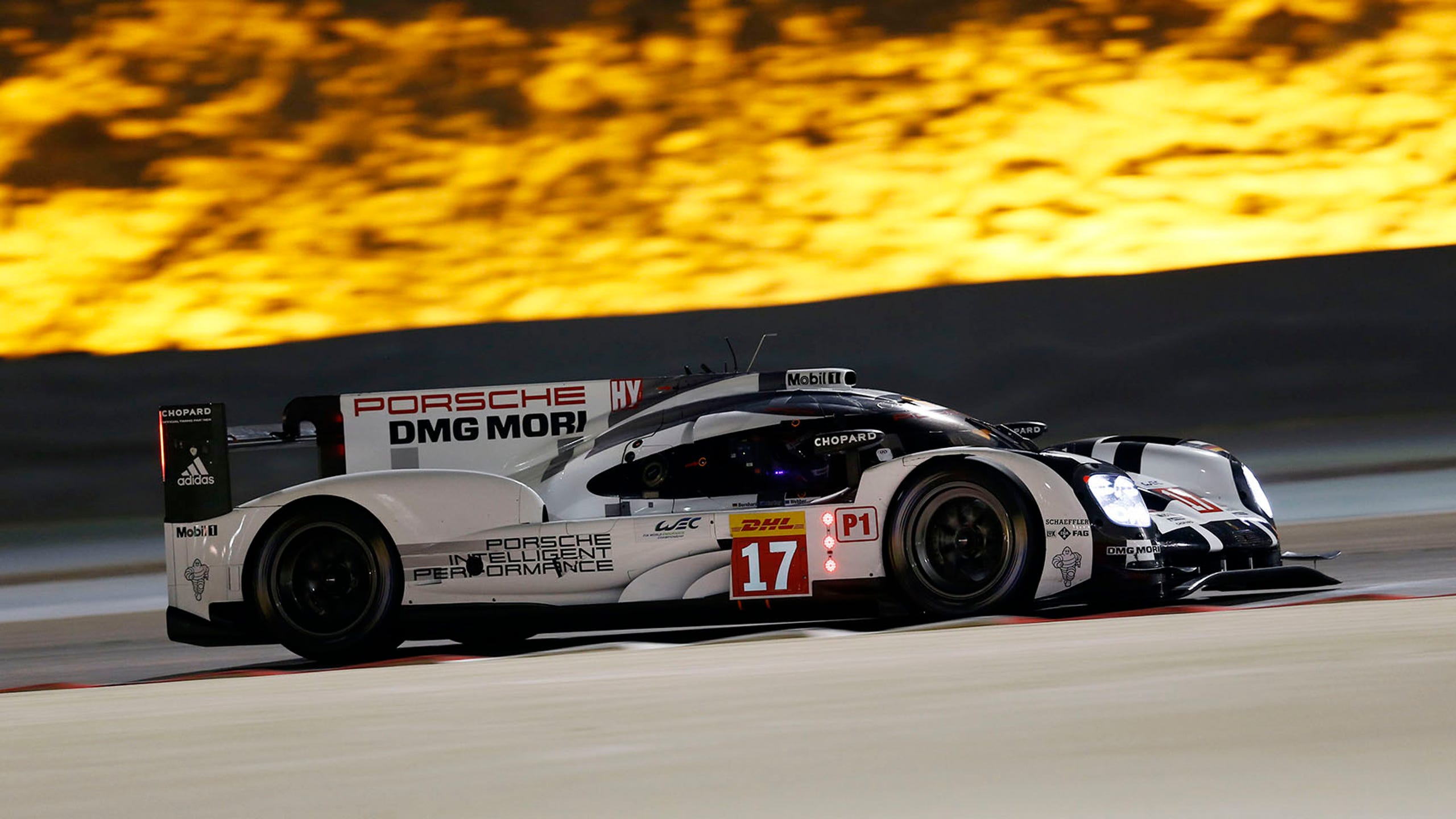 FIA WEC: Porsche completes season sweep of qualifying in Bahrain
BY John Dagys • November 20, 2015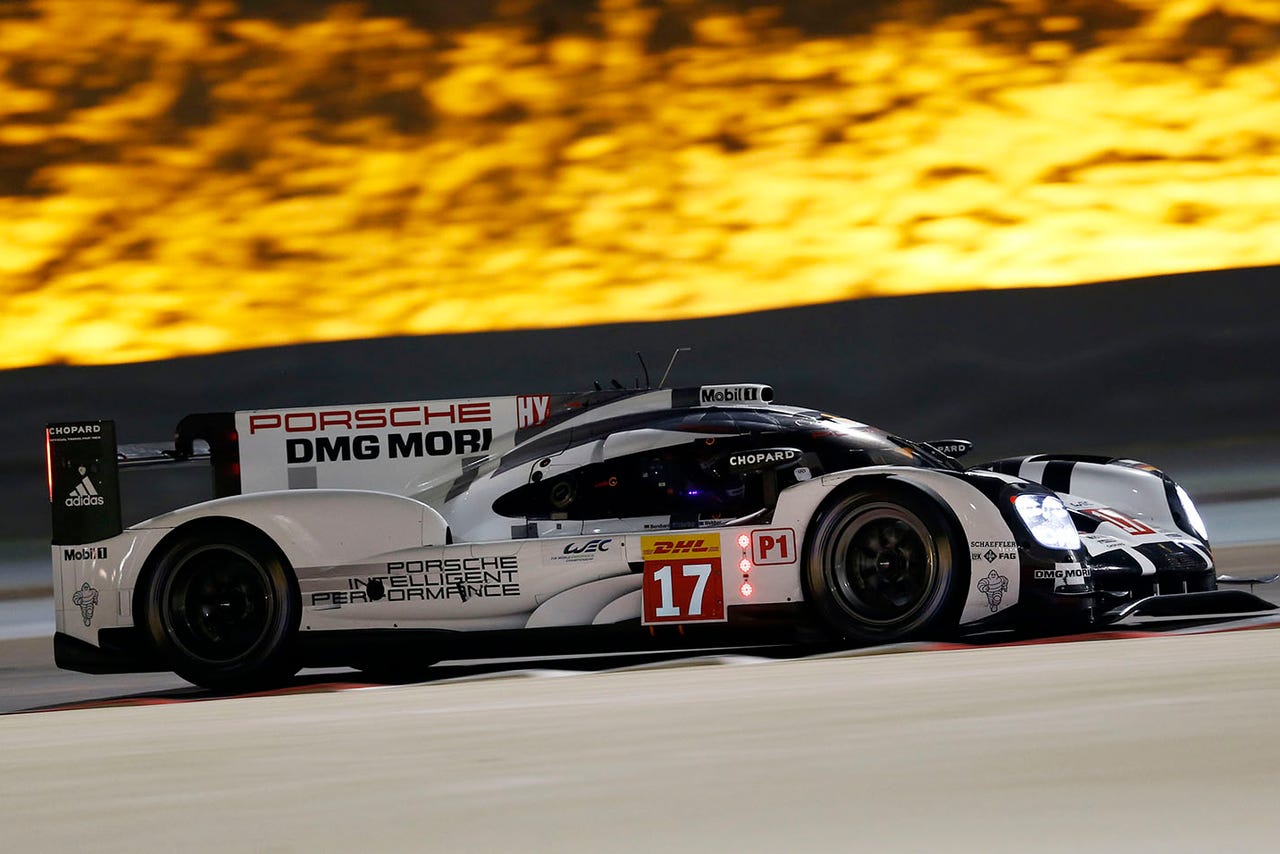 Porsche has completed a qualifying sweep for the entire 2015 FIA World Endurance Championship season, with Timo Bernhard and Brendon Hartley taking pole for Saturday's season-ending Six Hours of Bahrain.
Bernhard and Hartley combined for a best two-lap average of 1:39.736 in the No. 17 Porsche 919 Hybrid in Friday evening's 20-minute qualifying session.
While it was the car's third consecutive pole and fifth of the season, it marked Porsche's 11th straight overall pole, dating back to Shanghai of last year.
Mark Webber will compete the lineup on Saturday, as the trio looks to claim the Drivers' World Championship. The extra point for pole puts them now with a 13-point lead over Audi's Andre Lotterer, Benoit Treluyer and Marcel Fassler.
Marc Lieb and Romain Dumas qualified second, giving Porsche a season-long sweep lock of the front row, thanks to the duo's 1:40.100 average in the No. 18 entry.
The No. 7 Audi of Lotterer and Fassler was third, followed by the sister Audi R18 e-tron quattro of Oliver Jarvis and Loic Duval in fourth.
Kazuki Nakajima and Anthony Davidson completed the top five, as the best of the Toyota TS040 Hybrids in the final race for the current-generation car, which has struggled throughout the season.
On the heels of its maiden win in Shanghai, Signatech Alpine broke through to score its first class pole in LMP2.
Paul-Loup Chatin and Tom Dillmann took the Alpine A450b Nissan to a best average of 1:49.993, outpacing the No. 47 KCMG Oreca 05 Nissan of Nick Tandy and Matt Howson by 0.067 seconds.
The class championship-leading No. 26 G-Drive Racing Ligier JS P2 Nissan qualified third, ahead of its sister No. 28 entry in fourth, with the No. 43 Morand Racing Morgan-Nissan completing the top five in class.
AF Corse and Ferrari continued their title fight with a sweep of the front row in GTE-Pro.
Gianmaria Bruni and Toni Vilander claimed their third class pole of the season, completing a best two-lap average of 1:58.347 in the No. 51 Ferrari 458 Italia to edge out teammates Davide Rigon and James Calado by 0.033 seconds.
The pole run gave the Italian manufacturer an additional point for pole, putting Ferrari five points ahead of Porsche in the GT Manufacturer's Cup heading into Saturday's season finale.
The No. 95 Aston Martin Vantage V8 of Nicki Thiim and Marco Sorensen was third, followed by the sister No. 99 AMR entry, qualified by Richie Stanaway and Alex MacDowall, in fourth.
Porsche Team Manthey's Fred Makowiecki and Patrick Pilet completed the top-five, with the sister, No. 91 Porsche 911 RSR of championship leader Richard Lietz set to roll off seventh in class.
While Aston Martin struggled in GTE-Pro qualifying, the No. 98 Vantage took top qualifying honors in GTE-Am, thanks to another late run by Paul Dalla Lana.
Dalla Lana and Pedro Lamy combined for a 2:00.522 average to score the car's fifth class pole in eight races this season.
The pairing will team with Silver-rated Mathias Lauda on Saturday.
The No. 50 Larbre Competition Corvette C7.R and class championship-leading No. 72 SMP Racing Ferrari completed the top three in class.
The FIA WEC Six Hours of Bahrain gets underway Saturday from 7 a.m. - 9 a.m. ET on FS1, and then continues from 9 a.m. - 1 p.m. on FS2.
Click HERE for more sports car racing news and features
---