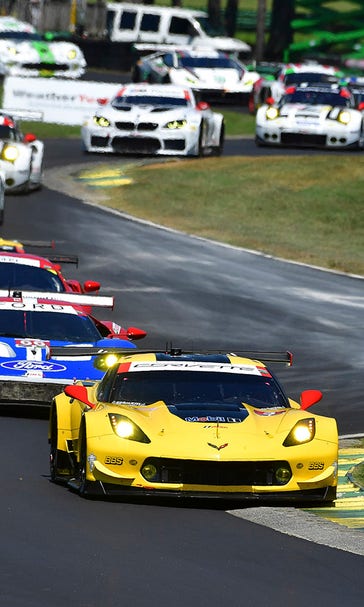 2017 IMSA silly season update: GTLM and GTD
BY John Dagys • November 15, 2016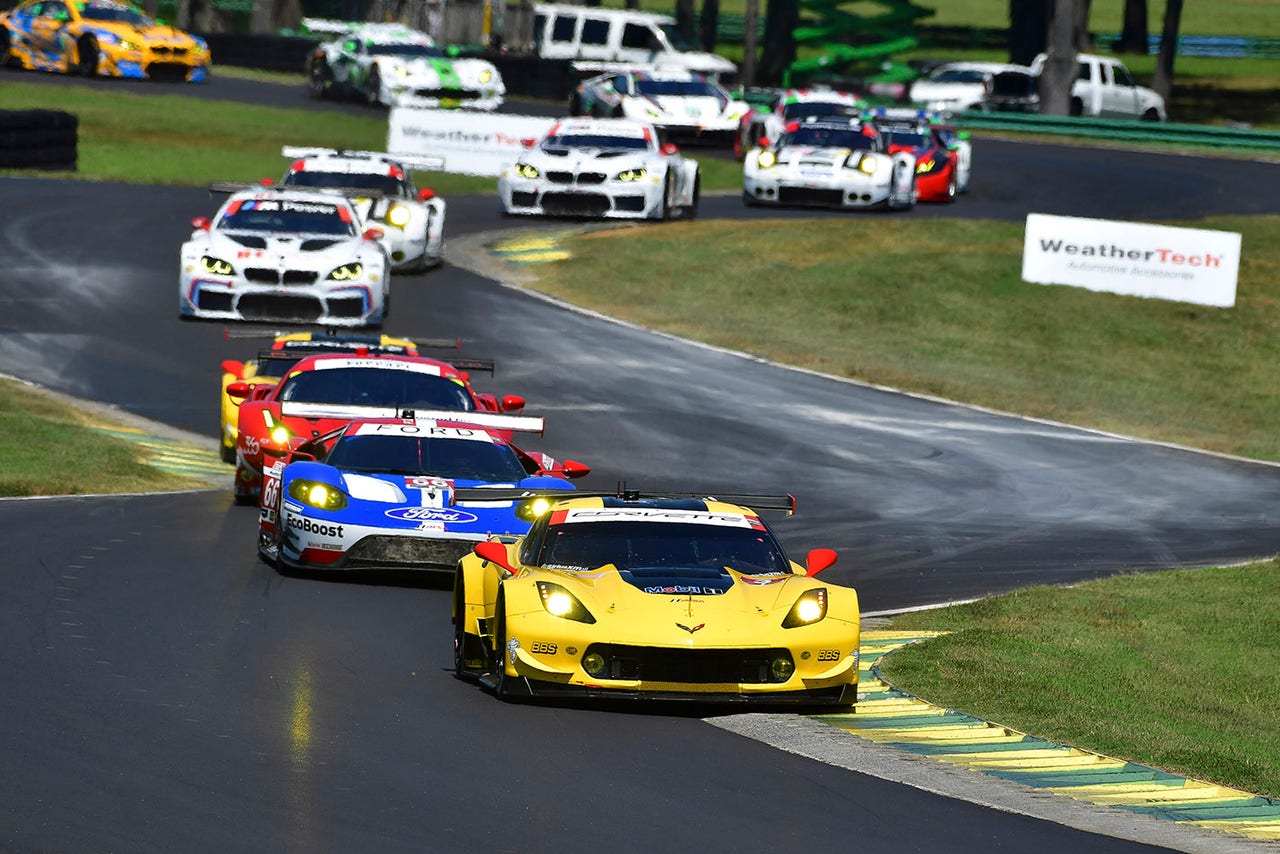 Following the arrival of Ford this year, the GT Le Mans class of the IMSA WeatherTech SportsCar Championship is set to remain relatively unchanged for 2017, while three new manufacturers are set to debut in the GT Daytona ranks next year, giving teams, drivers and fans plenty to talk about during the off-season.
In the latest "Silly Season" update, FOXSports.com explores the confirmed and likely entries for the two production-based categories in 2017:
GT Le Mans
Confirmed Full-Season (8 cars):
Corvette Racing –  The Pratt & Miller squad will return with its pair of championship-winning Corvette C7.Rs next year, with the unchanged lineup of Tommy Milner/Oliver Gavin and Jan Magnussen/Antonio Garcia. Look for the potential of new additional drivers for the Tequila Patron North American Endurance Cup races that would also be in the cars for the 24 Hours of Le Mans. (2 cars)
Ford Chip Ganassi Racing – Ford will return for the second of its now-planned four-year program with the Ford GT. No major changes are expected within the operation, with all four season-long drivers Joey Hand/Dirk Mueller and Richard Westbrook/Ryan Briscoe appearing to be safe bets again for 2017. (2 cars)
Porsche North America – The CORE autosport-run operation will debut Porsche's new mid-rear engined 911 GTE car next year, with an expected shakeup in its driver lineup, with either or both Nick Tandy and Earl Bamber moving to the German manufacturer's LMP1 program. With Porsche also returning to a factory GTE-Pro effort in the WEC, it's unclear which program 2015 GTLM champion Patrick Pilet and countryman Fred Makowiecki will be placed. (2 cars)
BMW Team RLL – Look for potential major changes in the driver lineup for the pair of factory BMW M6 GTLM cars, which will take part in its second and final season of competition. Former DTM champion Martyn Tomczyk and 2015 GTLM winner Kuno Wittmer have been tipped for full-season seats, rumored to be replacing Bill Auberlen, Lucas Luhr and/or Dirk Werner, who could move to endurance roles with the team. Spa 24 winner Alexander Sims could also factor into a race seat as well. (2 cars)
Likely/Possible Entries:
Risi Competizione – Although not yet fully confirmed, the Giuseppe Risi-owned squad is likely to return with its Ferrari 488 GTE car, following its Petit Le Mans triumph with Toni Vilander, Giancarlo Fisichella and James Calado. A similar lineup would be expected for next year, particularly in the Finnish-Italian duo, who gelled well throughout 2016. (1 car)
Scuderia Corsa – After taking part in a partial season campaign, it's understood the Giacomo Mattioli-led team is working to return, for either a full season or Patron Endurance Cup program, although it remains to be confirmed. (1 car?)
Daytona-only Entries:
Proton Competition – The German squad could make its return to Daytona for the first time in 15 years if its plans to field a Porsche 911 RSR materialize. Team boss Christian Ried would be one of the drivers in the Pro-Am lineup that could feature a Porsche factory driver or two who won't be part of the factory squad. (1 car?)
Aston Martin Racing – If Aston Martin ponies up with IMSA's manufacturer agreement, look for a single Vantage GTE to be entered for Daytona with Paul Dalla Lana, Mathias Lauda, Pedro Lamy and Richie Stanaway at the wheel. Otherwise, Dalla Lana will likely take his effort to GTD, potentially in a Mercedes-AMG GT3. (1 car?)
AF Corse – It's unclear if the Italian squad, either with its own operation or under the SMP Racing banner, could make a return to Daytona with a Ferrari 488 GTE. AF Corse gave the mid-engined Prancing Horse its competition debut in last year's Rolex 24. (1 car?)
GT Daytona
Confirmed/Planned Entries (12-14 cars):
Michael Shank Racing (Acura) – The longtime Prototype entrant will move to the GTD class next year, running Acura's two-car factory NSX GT3 effort. While drivers for the program will be announced at SEMA next week, a number of top-level pilots have been linked to the program, including Andy Lally, Ozz Negri, Katherine Legge and Mark Wilkins. (2 cars)
3GT Racing (Lexus) – The newly rebranded Gentilozzi family run operation will have two 2017-spec Lexus RC F GT3 cars on the grid next year, with the Michigan-based team having recently taken delivery of its first car. Scott Pruett and Sage Karam have been two of the four full-season drivers confirmed for the program thus far, with the remainder of the lineup set to be announced shortly. (2 cars)
Riley Motorsports (Mercedes-AMG) – While not having yet been announced, Ben Keating will make the switch from Dodge to the Mercedes-AMG GT3, as part of the German manufacturer's factory supported operation with Riley Motorsports next year. Keating and longtime co-driver Jeroen Bleekemolen will be in one car, with up to a three-car Riley-run effort possible. (2-3 cars)
Stevenson Motorsports (Audi) – Stevenson is expected to confirm a return of its two-car Audi R8 LMS program for a second consecutive season. There's been no word on its driver lineup at this point, but it would be a surprise to see any changes to its full-season roster of Robin Liddell, Andrew Davis, Lawson Aschenbach and Matt Bell. (2 cars)
CORE autosport (Porsche) – The five-time Prototype Challenge champions will make the move to the GTD class with a customer Porsche 911 GT3 R program for Colin Braun and team owner Jon Bennett. It is the only Porsche confirmed for the class so far. (1 car)
Paul Miller Racing (Lamborghini) – While not yet formally announced, look for a near identical program for Lamborghini's top-performing GTD team, which saw Bryan Sellers and Madison Snow deliver the Italian manufacturer's first class win. (1 car)
Dream Racing (Lamborghini) – Enrico Bertaggia's Las Vegas-based team is set to return for its first full-season effort after making its debut at Sebring this year. Driver lineups have yet to be announced but will likely consist of a similar combination of its 2016 roster of Cedric Sbirrazzuoli, Luca Persiani and Larry DeGeorge. (1 car)
Change Racing (Lamborghini) – The Robby Benton-led team is looking to expand into a two-car full-time program next year following its rookie season with a single Lamborghini Huracan GT3 with Spencer Pumpelly and Corey Lewis. Pumpelly, however, could be heading elsewhere for 2017. (1-2 cars)
Likely Entries (4-5 cars):
Scuderia Corsa (Ferrari) – The two-time and defending class champions are likely to return with at least one Ferrari 488 GT3 car, with the hope of retaining both Christina Nielsen and Alessandro Balzan. An expansion to a second full-season entry is also understood to be possible, with discussions having taken place. (1-2 cars)
Park Place Motorsports (Porsche) – While not yet confirmed, plans are being put into place for similar program for the Patrick Lindsey-led operation, including a likely return with its Porsche 911 GT3 R. A formal announcement on the team's 2017 plans is expected to come in December. (1 car)
WeatherTech Racing (Mercedes-AMG) – Cooper MacNeil is poised to return to the WeatherTech Championship, but with a Mercedes-AMG GT3. While there were initial negotiations to continue with Alex Job Racing, it's believed MacNeil could switch to the works-supported Riley operation, although not yet confirmed. A number of AMG factory drivers have been under consideration for MacNeil's co-driver. (1 car)
TRG (TBD) – The Kevin Buckler-led team is looking to finalize a full-season return to GTD next year, likely with a new manufacturer. While Aston Martin remains as one of TRG's four choices, Buckler has also been in discussions with Mercedes-AMG and Lamborghini, among others, for a potential program. (1 car)
Possible Entries:
Turner Motorsport (BMW) – Will Turner's BMW operation has yet to confirm a return, with one of its longtime gentlemen drivers considering other options amid the category's rising costs and driver pairing controversy. Michael Marsal and Bret Curtis bankrolled the team's two M6 GT3s this year. Should one or neither pull out, Turner would be seeking new drivers, or a potential switch to Pirelli World Challenge to join its recently announced TC program. (2 cars?)
Alex Job Racing (Porsche) – The future of the longtime IMSA entrant is unclear, following The Heart of Racing's decision to reduce its funding for the No. 23 Porsche 911 GT3 R, and the WeatherTech-backed effort poised to switch to another team and manufacturer. It currently leaves Job without a confirmed car or program for 2017.
Black Swan Racing (Porsche?) – After an end-of-season effort in Pirelli World Challenge, the future of Black Swan Racing in the WeatherTech Championship is also unclear, with no announcements having yet been made.
Lone Star Racing (TBD) – After a partial season with its Dodge Viper GT3-R, which will no longer be eligible for GTD competition next year, the Dan Knox-owned team is working to put together a full-season program with a new GT3 car. Discussions have been ongoing with multiple manufacturers. (1 car?)
Magnus Racing (Audi?) – Following a dreadful second half of the season that saw the team's Audi R8 LMS excluded at VIR and a post-race drive-time penalty at Petit Le Mans, a return for the John Potter-owned team is currently unlikely. Longtime co-driver Andy Lally is reportedly off to the new Michael Shank Acura NSX GT3 program.
Bill Sweedler/Townsend Bell – After losing their planned full-season ride with the ceasing of O'Gara Motorsport's operations, the 2015 GTD champions are working on a comeback to the class next year, with Sweedler having had discussions with multiple teams.
Daytona-Only Entries:
WRT (Audi) – The most successful Blancpain GT Series team in history could make its U.S. debut with at least one Audi for newly crowned Sprint Cup champion Enzo Ide. Final confirmation of the entry has not yet been made. (1 car)
Grasser Racing Team (Lamborghini) – Gottfried Grasser's team is also preparing for a potential Daytona effort with up to two Huracan GT3s. Members of the Austrian squad assisted Change Racing in this year's race, with Grasser having expressed interest to bring his full team to Daytona in 2017. (2 cars)
HTP Motorsport (Mercedes-AMG) – The German squad could field a Mercedes-AMG GT3 for Paul Dalla Lana, Mathias Lauda and Pedro Lamy, should Dalla Lana's bid to enter an Aston Martin Vantage GTE in the GT Le Mans class not materialize. (1 car?)
---