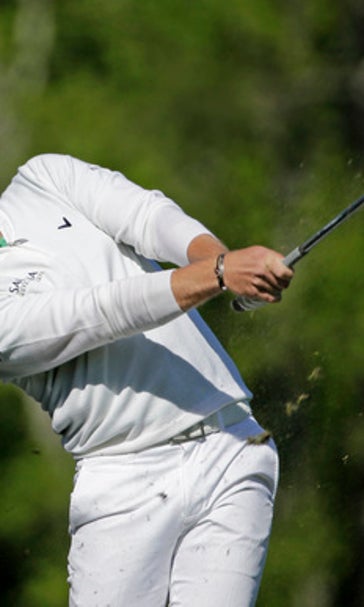 The Latest: Willett leading, Spieth needs birdie-birdie
BY foxsports • April 10, 2016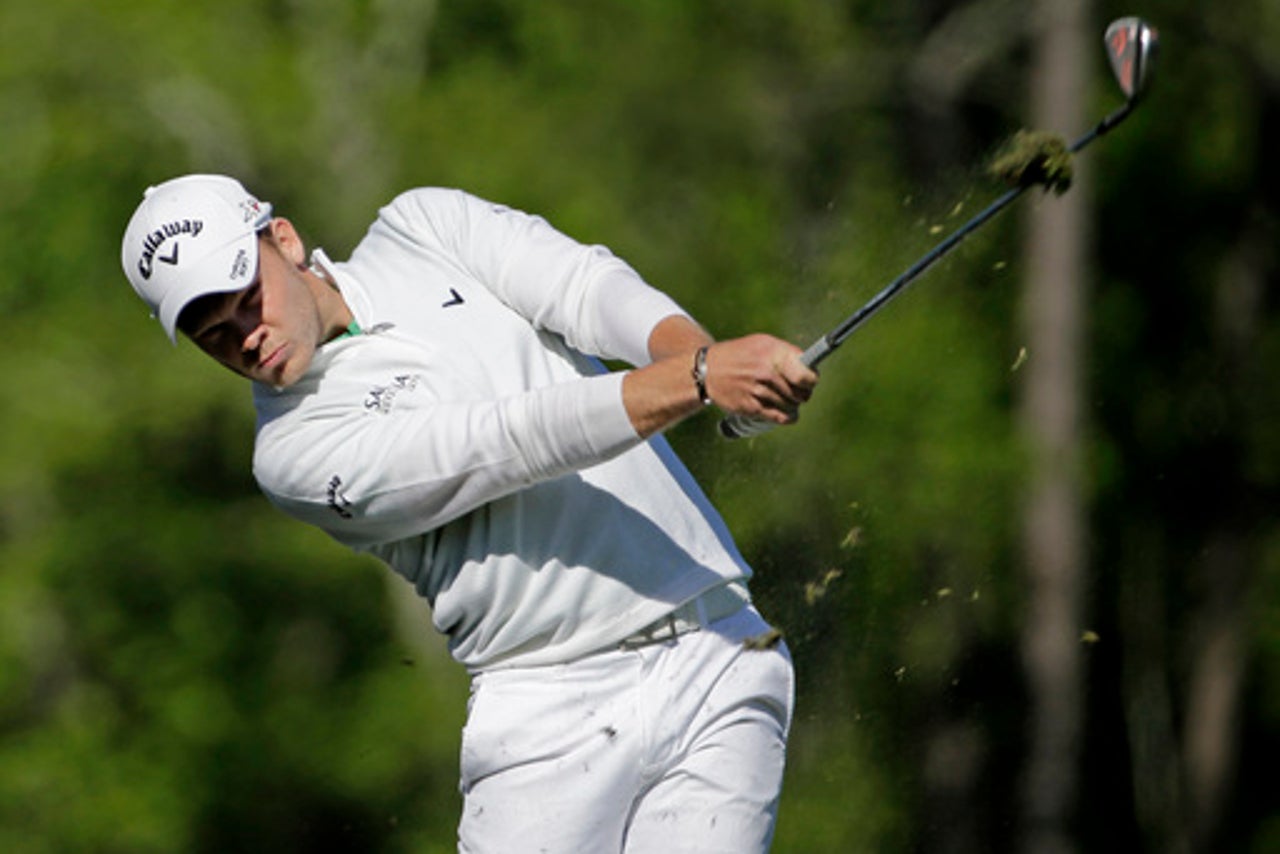 AUGUSTA, Ga. (AP) The Latest from the final round of the Masters on Sunday (all times local):
---
6:45 p.m.
Jordan Spieth needs to birdie the final two holes at the Masters to force a playoff with Danny Willett.
Willett is already in the clubhouse with a 5-under 283 after closing with a 67.
The 28-year-old Englishman has been doing interviews and watching Spieth on television. As Willett says, ''It's just a waiting game now.''
Spieth had a chance to close within a shot of the lead at the par-3 16th, but he missed a twisting, 8-foot birdie putt.
That means he must birdie the 17th and 18th to stay alive.
Otherwise, the defending champion will be handing the green jacket to Willett.
---
6:30 p.m.
Danny Willett has done all he can do at the Masters.
Now, he'll have to wait to see if it's enough to become one of the most unlikely Masters champions.
Willett shot a 67 to match the lowest round of the weekend, good enough for a 5-under 283 overall and a two-stroke lead at Augusta National.
Lee Westwood is already in at 286, leaving defending champion Jordan Spieth as the only player with a chance to catch the Englishman.
Spieth had a five-shot lead at the turn but totally collapsed on the back side, dumping two balls in the water at No. 12 for a quadruple-bogey 7.
But he rallied with birdies at the 13th and 15th, giving him a chance with three holes still to play.
---
6:20 p.m.
Danny Willett is heading to the final hole of the Masters with a two-stroke lead.
No one saw this coming.
Jordan Spieth made the turn with a commanding five-shot advantage, seemingly a shoe-in for his second straight green jacket. But the 22-year-old Texan totally fell apart in less than an hour, dumping two balls in the water at No. 12 for a quadruple-bogey 7.
Willett, a 28-year-old Englishman, birdied the 16th hole and made a crucial up-and-down at the 17th to protect his lead.
He is at 5 under overall and two shots ahead of Dustin Johnson. Lee Westwood and Spieth are three shots back.
---
5:45 p.m.
Jordan Spieth has totally collapsed at the Masters.
It only took three holes.
Spieth made the turn with a commanding five-stroke lead, having closed the front side with four straight birdies. Then, extending his Jekyll-and-Hyde performances of the last two rounds, he bogeyed the next two holes before dumping two balls into Rae's Creek at the par-3 12th hole.
He wound up making a quadruple-bogey 7, suddenly dropping three shots behind the new leader Danny Willett.
---
5:15 p.m.
Make it a trifecta of holes-in-one at the 16th hole.
For the first time ever, there have been three aces at one hole in a Masters round. Louis Oosthuizen added to the roars on the back side of the course, hitting a shot that actually ricocheted off J.B. Holmes' ball and still managed to drop into the cup.
Oosthuizen threw up his arms and jokingly feigned as though he was going to throw his club into the pond.
The South African joins Shane Lowry and Davis Love III with aces at the 170-yard hole known as ''Redbud.''
---
5:05 p.m.
It might be time to start measuring Jordan Spieth for another green jacket.
The defending Masters champion has pulled out to a commanding five-stroke lead with four straight birdies to close the front side, including a 20-foot putt at No. 9.
Spieth makes the turn with a 4-under 32 for the round and a 7-under score overall. Danny Willett is his closest challenger at 2 under, and only two other players are under par.
The 22-year-old Texan can join Jack Nicklaus, Nick Faldo and Tiger Woods as the only players to win back-to-back Masters.
---
5 p.m.
Bryson DeChambeau finishes as the low amateur after his third even-par round at Augusta National.
DeChambeau, the reigning U.S. Amateur and NCAA champion, birdied two of his final four holes. That includes the 18, where he had a pair of errant tee shots en route to a triple bogey on Friday.
Still, his only poor round was Saturday's 77. He finished with a 5 over 293.
A big regret was not getting enough rest.
''I was tired today,'' said DeChambeau, who was playing in his last event as an amateur. ''I didn't manage my energy very well at the beginning of this week, and that's just experience. I wish I could change that. I think I'd be in a different position now.''
Jordan Spieth has stretched his lead to four shots at 6 under.
4:45 p.m.
England's Matthew Fitzpatrick has turned in the best round of the weekend at the Masters.
The 21-year-old birdied four of the last five holes for a 5-under 67 that pushed him onto the Augusta National leaderboard.
Fitzpatrick finished at even-par 288 and headed to the clubhouse six shots behind leader Jordan Spieth.
Another Englishman is finishing strong, as well.
Paul Casey is 4 under after a birdie at No. 15 and also back to even overall.
--
4:25 p.m.
Lee Westwood is trying to get in the mix at the Masters.
The 42-year-old, who is 0 for 71 in the majors, made birdie on No. 9 to finish the front side in 34 and move into red numbers, at 1 under.
He is four shots behind leader Jordan Spieth.
Westwood, a former world No. 1, had the 54-hole lead in the 2010 Masters but lost by three to Phil Mickelson.
That marked the first of four top-10 finishes for Westwood at Augusta.
---
4:05 p.m.
Remember when Bernhard Langer and Hideki Matsuyama were two shots behind Jordan Spieth at the Masters?
That was so two hours ago.
Playing in the second-to-last group at Augusta National, Langer and Matsuyama have both gotten off to rough starts and fallen off the leaderboard.
Langer, trying to win his third Masters at age 58, has two bogeys and a double over his first six holes and is six behind the leader.
Matsuyama made double-bogey on No. 6 that dropped him five strokes back.
Spieth is at 3 under, and has a one-shot lead on Danny Willett. Soren Kjeldsen and Smylie Kaufman are two strokes behind.
---
3:50 p.m.
Suddenly, Jordan Spieth has some breathing room at the Masters.
After starting the day with only a one-shot lead, Spieth pushed his edge to three strokes with a nifty par save at the par-3 fourth hole. He got a fortuitous bounce out of the pine trees on his tee shot, chipped 12 feet past the flag and made a testy putt coming back to keep his score at 4 under.
Smylie Kaufman, playing in the final group of a major for the first time, had about a 6-footer on the same hole but missed for a bogey. That dropped him into a tie for second at 1 under, tied with Soren Kjeldsen and Danny Willett. Lee Westwood has birdied two straight holes to get to even par, four shots off the lead.
---
3:35 p.m.
Next, it was Davis Love III's turn to bring No. 16 to its knees.
Only about 20 minutes after Shane Lowry aced the 16th hole at Augusta National, Love followed him up with another ace.
The Ryder Cup captain took 7-iron, landed the ball in the middle of the green and watched it trickle down and curve left - straight into the hole.
It was the fourth time since 2004 at the Masters that there had been a hole-in-one on the same hole in the same round.
Last time was 2012, when Adam Scott and Bo Van Pelt each aced No. 16.
It was a rare highlight Sunday for Love, one of three 50-plus players to make the cut at Augusta. The ace made him 7 over on the day.
---
3:30 p.m.
Bernhard Langer's hopes of becoming the oldest major champion in golf history have taken a huge blow early in the final round.
The 58-year-old German took a double-bogey 6 at the third hole, the shortest par-4 on the course. He came short with his second shot, rolled it through the green, and then chipped past the flag before missing the bogey putt coming back.
Langer also bogeyed the first hole and is 3 over for the day, leaving him a daunting six shots behind leader Jordan Spieth.
Langer began the day just two strokes off the pace.
---
3:10 p.m.
Shane Lowry has made a hole-in-one at the Masters.
The bearded, 29-year-old Irishman aced the 170-yard 16th hole with an 8-iron. The ball hopped three times on the green and curled back to the left before dropping into the hole.
Lowry pumped his fists and high-fived playing partner Patrick Reed while the patrons let out a roar that could be heard all across Augusta National.
It was the 16th ace at the hole known as ''Redbud'' and the first in four years.
A few moments later, Billy Horschel pulled off a memorable shot of his own.
From 88 yards, he holed out from the fairway at the par-5 eighth for an eagle.
---
3 p.m.
Smylie Kaufman missed a prime chance to claim a share of the Masters lead.
Playing in the final group, the 24-year-old Alabamian stuck his second shot within 4 feet of the flag, only to lip out the birdie putt. That left Kaufman one shot behind leader Jordan Spieth, who also made a par at No. 1 with a two-putt from 30 feet.
Kaufman is trying to become the first player since Fuzzy Zoeller in 1979 to win the Masters in his first appearance.
Spieth is the defending champion and can join Tiger Woods, Jack Nicklaus and Nick Faldo as the only players to win back-to-back at Augusta National.
Bernhard Langer and Hideki Matsuyama, playing in the next-to-last group, both dropped a shot at the first hole.
The 58-year-old Langer overshot the green with his approach and couldn't get up and down. Matsuyama came up short with his second shot, chipped 14 feet past the cup and missed the putt.
They are now three shots off the lead, tied with Jason Day, Dustin Johnson, Danny Willett and Soren Kjeldsen.
---
2:45 p.m.
Jordan Spieth has teed off in the Masters, looking to become the youngest two-time winner in tournament history.
The 22-year-old Spieth had held the outright lead at Augusta National in an unprecedented seven straight rounds, but he'll have his work cut out for him on the final day. Smylie Kaufman is only one shot back and five other players are within three strokes of the lead.
One of those is 58-year-old Bernhard Langer, trying to become the oldest major champion in golf history. The German is at 1-under, tied with Japan's Hideki Matsuyama.
The wind has calmed, giving the players a chance to put up better scores than they did the past two days. Amateur Romain Langasque has already posted a 4-under 68, Henrik Stenson shot 69, and five other players have broken par among the early starters.
---
2:25 p.m.
While Jordan Spieth wraps up his warm-up on the driving range, Rory McIlroy is on the course at the Masters - and running into trouble.
McIlroy found two bunkers on the second hole and settled for a par, to go with a bogey on the first hole.
The four-time major champion, who has never won a green jacket, had pulled within five shots of Spieth after the defending titlist played the last two holes Saturday in 3 over.
But McIlroy is not capitalizing and has fallen six shots back.
Spieth and rookie Smylie Kaufman, who is one shot back, tee off at 2:45 p.m.
---
11:20 a.m.
The wind shouldn't bedevil the field quite so much in the final round of the Masters.
Perhaps that will mean lower scores.
It's sunny and a brisk 50 degrees, but winds are a relatively calm 9 mph. The forecast calls for significant relief from the heavy winds that have wreaked havoc on some shots - including a sudden gust that pushed Billy Horschel's potential eagle putt on 15 into the water on Saturday that led to a bogey.
Leader Jordan Spieth and rookie Smylie Kaufman, who's one stroke back at 2 under, tee off at 2:45 p.m.
Thanks in no small part to the winds, only seven of the 57 players are par or better. Kevin Na of South Korea is taking advantage of the conditions, going 4 under through eight holes with an eagle on the par-5 No. 2.
---
2:25 a.m.
Jordan Spieth knows he could have a commanding lead when Sunday's final round at the Masters gets underway.
Instead, a round of 1-over 73 left him at 3 under and clinging to a one-shot lead over Masters rookie Smylie Kaufman, whose 69 was the best score on a wind-whipped day at Augusta - and one of only five rounds under par.
Bernhard Langer, the 58-year-old, two-time champion, and Hideki Matsuyama are another shot back.
Sunday's forecast calls for highs in the upper 60s and, for the first time this week, calm winds. In other words, good-scoring conditions.
---