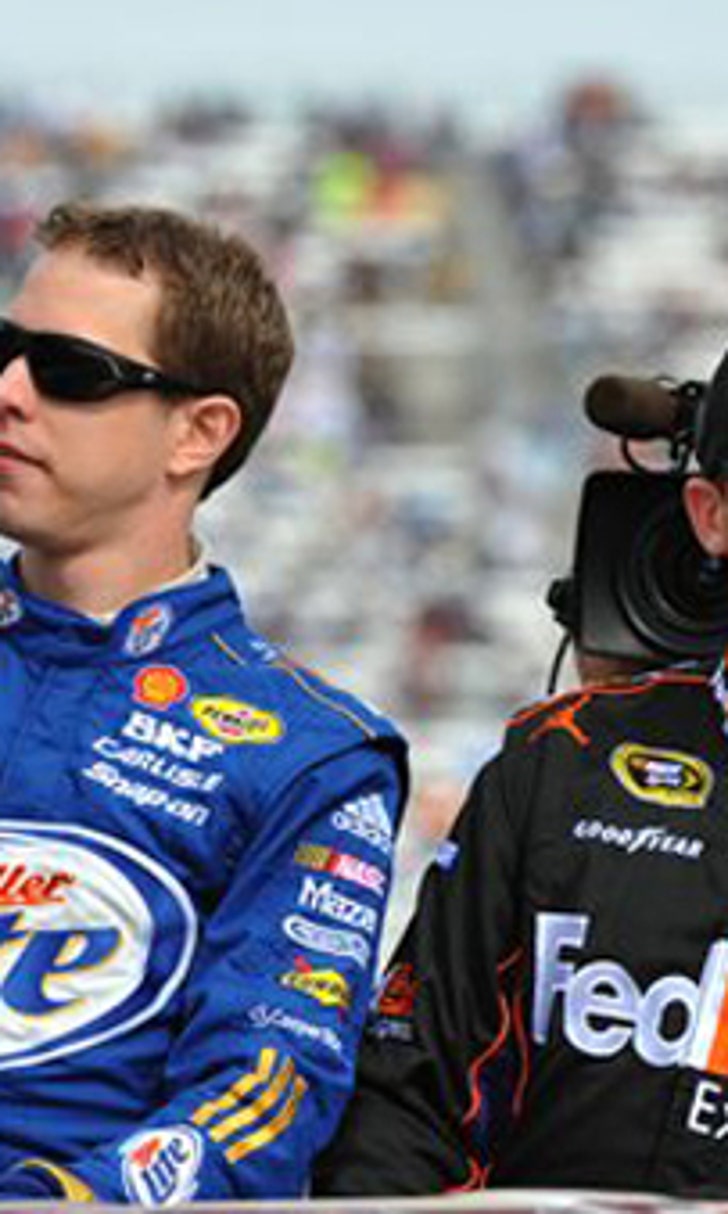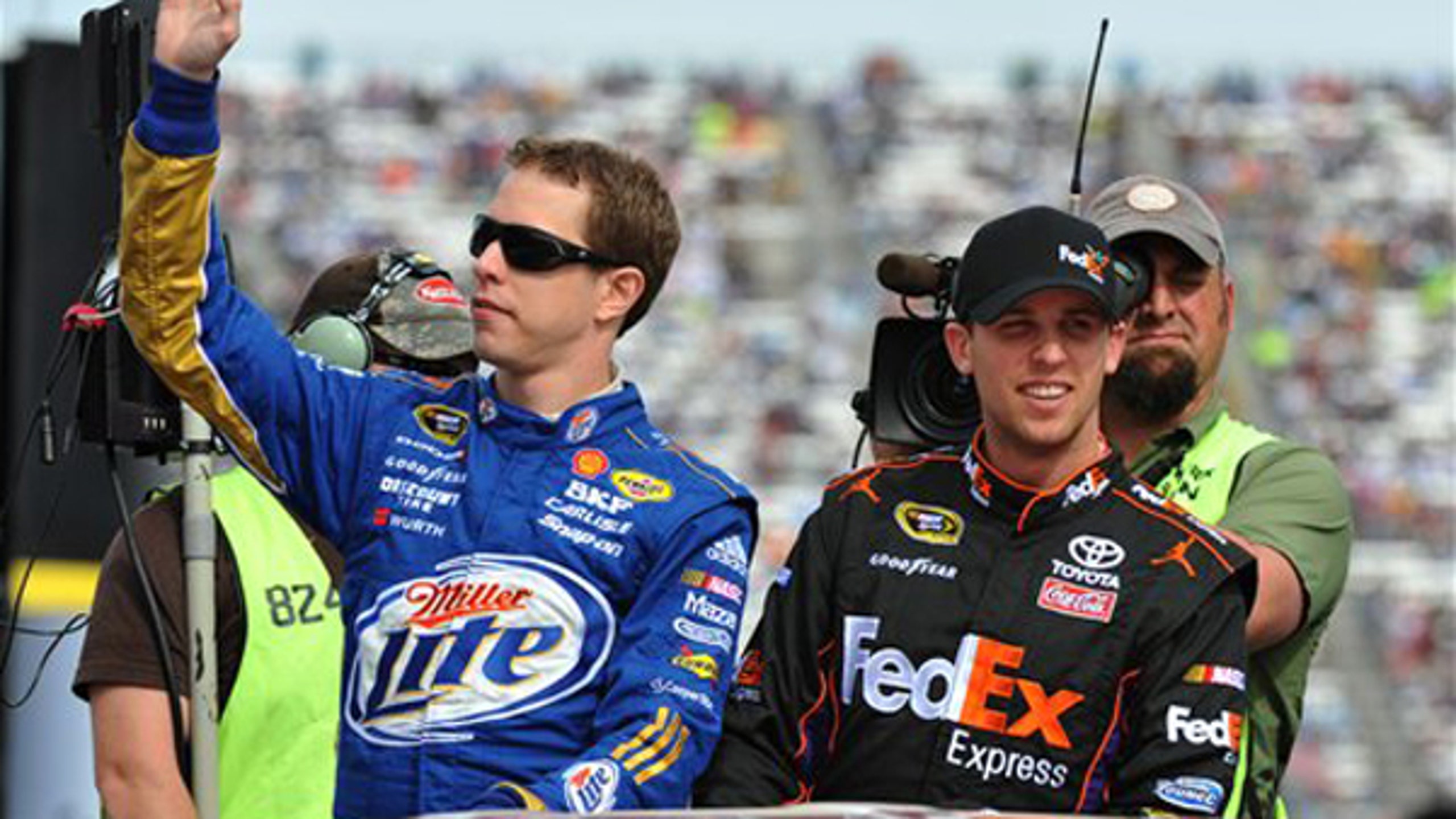 NASCAR BAROMETER: Bristol Preview
BY foxsports • March 14, 2014
With a win and a second-place finish in the season's first two races, Dale Earnhardt Jr. pressed his luck in Las Vegas on Sunday. His luck ran out, though, when his fuel ran out, allowing Brad Keselowski to claim the victory.

After dominating qualifying in Phoenix, Penske Racing swept the front row at the Kobalt 400 with Keselowski and Joey Logano in another impressive mastery of NASCAR's new group qualifying format. This time, however, it was Logano's chance to claim the top spot, and once the race was under way the early laps were his as well. But in a race that saw long green-flag runs, track position and fuel mileage would play a role in deciding the victor.

Kevin Harvick dominated the middle section of the distance before a hub failure knocked him out of the running. From there it appeared as though Hendrick Motorsports would run away with the win with both Jimmie Johnson and Earnhardt flexing their muscle. But Keselowski's off-center strategy capitalized on Earnhardt's lack of fuel mileage, and despite the No. 88 appearing to be the fastest car in the closing laps, Keselowski was not to be denied.

UPGRADE

Brad Keselowski - After nailing qualifying for the second straight week and starting from the front row, Keselowski played a contrarian strategy Sunday. He and crew chief Paul Wolfe pitted slightly off the rest of the field but ran at the front for much of the race, keeping within a similar fuel window to be in touch to challenge at the end. When the race finished he had led the most laps, sneaking past the fan favorite to claim victory and a likely spot in this season's Chase for the Championship. Keselowski's recent Bristol numbers include a win and two top-5s in his last four races at the bullring. His momentum and Bristol pedigree make him an excellent choice this week.

Dale Earnhardt Jr. - But for a few drops of fuel Earnhardt would be celebrating his second victory of the season. His car was arguably the best in the closing laps, holding off the charging contenders seemingly at will until fuel ran empty. He had just enough gas to coast home to the second finishing position, extending his exceptional start to the 2014 season. Earnhardt has two top-10 finishes in his last four Bristol races, and a 10.8 average finish in the same period making this week look like a good one as well. Earnhardt said this season was his after the Daytona win, and with consecutive second-place results under his belt many are starting to agree.

Kyle Busch - Bristol is one of Busch's best tracks. The driver scored a 9.9 average finish in his last 18 tries, spending more than 66 percent of the time running in the top 15. He led much of the race in Las Vegas on Sunday after starting deep in the field and charging forward, just as he did in Saturday's Nationwide race, but he wasn't able to seal the deal. In fact, following the final pit stops Busch struggled in traffic and couldn't even claw himself back into the top 10. He finished 11th in Vegas but can take heart from the strength he showed all weekend in both Nationwide and Cup. Using that to his advantage should enable him to continue his top performances at Bristol.

Brian Vickers - After turning in a solid weekend at Las Vegas, Vickers now heads to Bristol with the best average finish over the last four races at the track. His average of 5.2 bests every driver in the field and includes three top-5s and not one finish outside the top 10.

Matt Kenseth - Kenseth could be poised to unload a fast car and score a strong result in Bristol this week. Although his qualifying effort in Las Vegas was disappointing, which put him behind for Sunday's race, he managed to come away with a decent finish. Knowing the team had work to do he chose the right pit strategy and worked traffic effectively, staying on the lead lap and claiming a top-10 finish. That was no small feat considering the difficulty many drivers found working their way through the pack. Kenseth's last 18 Bristol starts have given him a 12.3 average finish with more than 80 percent of the miles run in the top 15. Three career wins at Bristol offer fantasy potential this week.

DOWNGRADE

Kurt Busch - With less than 100 laps remaining in Sunday's Kobalt 400, Busch was already a lap down in a race where he needed a decent result. While his home track hasn't been the best hunting ground for him, he has struggled since the beginning of the season with his new team, failing to finish higher than 21st in the opening three rounds. This week could produce more of the same at Bristol. His average finish in the last four races there is 20.2, with one top-5 finish. That finish was his only lead-lap result in that time. Those results could signal that the No. 41 may need to wait yet another week before truly getting off the mark with Stewart-Haas Racing.

Tony Stewart - The No. 14 was virtually nowhere to be found Sunday. It was a disappointing result for the driver-owner, but then again not much was expected. Finishing three laps behind the leaders in 33rd position has to get the team wondering exactly what the problem might be. He tends to be a driver who comes on strong once the season hits summer, so it might still be too soon for him to truly contend, especially considering how long he was out of action before Daytona. Stewart's last three Bristol races netted a 24.0 average finish. He only finished on the lead lap once in those three tries and has some work to do before he can be considered a regular option for fantasy rosters.

Kevin Harvick - Las Vegas presented another weekend of promise and high expectation for Harvick after claiming victory a week earlier in Phoenix. He ran well in qualifying and showed decent speed with his Chevrolet in practice, as well. The race produced much of the same speed, until problems struck. A failed wheel hub caused the driver, who led 23 laps before the issue, to head straight for the garage and out of the race. Recording a DNF is not something any team wants, and to do it while having such a strong car makes things even more disappointing. With no top-10s in his last four Bristol tries, the No. 4 should give fantasy owners pause this week.

Carl Edwards - Something hasn't been quite right for Edwards this season. While the team and driver statistics predict success, the No. 99 has barely lived up to expectations in 2014. He put together a strong car late in the running in Las Vegas on Sunday, but Edwards was unable to capitalize on it and fell backward with 20 laps to go, missing a golden opportunity to notch a win, barely clinging onto a top-5 finish. Edwards has a terrible average finish at Bristol, 29.5 in the last four tries with no lead-lap finishes and one DNF. Despite a top-10 and a top-5 in the last two weeks, Bristol looks set to pose a challenge for the No. 99.
---