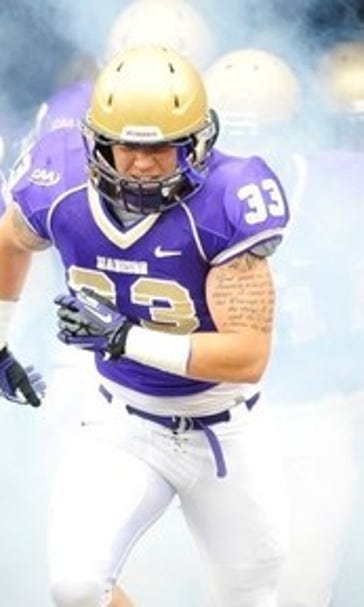 Three CAA champs wrapping up positive spring
BY foxsports • April 15, 2016
(STATS) - James Madison, Richmond and William & Mary will wrap up spring practices Saturday with their annual games starting within a half hour of each other.
After the three Virginia programs in CAA Football tied for the conference title last year, can't they do anything differently?
The truth is, each has a plan to separate itself this year.
Richmond did that during the FCS playoffs last season, reaching the national semifinals and finishing No. 4 after a 10-4 campaign. Eleventh-ranked James Madison (9-3) and No. 12 William & Mary (9-4) weren't far behind in the final STATS FCS Top 25.
On Saturday, James Madison and Richmond will begin their spring games at 1 p.m. ET, just 30 minutes before William & Mary's. Each team is coming away encouraged by what's ahead.
JMU is completing its spring under new coach Mike Houston, who was hired from The Citadel after Everett Withers left to become Texas State's coach.
While there's something new in Houston, there's plenty of the old as well as the Dukes return 16 starters (seven offense). Houston is keeping the team's spread offense and not implementing the triple option that he ran at The Citadel.
Quarterback Bryan Schor started the final four games last season and again will be surrounded by the likes of running backs Khalid Abdullah and Cardon Johnson and wide receiver Brandon Ravenel. Linebacker Andrew Ankrah and cornerback Taylor Reynolds are the key returnees on defense.
"As a team, we're really stressing effort," Ankrah told JMU's Madizone. "Coach Houston really stresses mental toughness and stringing in a good series of practices. That builds up to consistency."
While coach Danny Rocco is back for his fifth season at Richmond, the Spiders have been getting accustomed to new coordinators - John Garrett on offense and Chris Cosh on defense.
The Kyle Lauletta-to-Brian Brown passing combination is highly accomplished, but the Spiders will need new skills position players to step in for departed standouts, such as running back Gordon Collins for Jacobi Green and wide receiver Brandon Waller for Reggie Diggs.
The defense is especially loaded with nine returning starters, including All-CAA first-teamers Omar Howard at linebacker and David Jones at safety.
While Rocco says he likes the team's energy and emotion in the spring, he adds, "If we're going to take that next step as a program, having composure when the game is on the line is going to make the difference."
At William & Mary, coach Jimmye Laycock enters his 37th season at the helm. Last year's second-round loss to Richmond stung the Tribe. Until, that is, Laycock reminded them of something.
"When you lose to Richmond like that in our playoff game, you can have that salty taste in your mouth, like, 'Oh wow, our season was a disappointment,'" quarterback Steve Cluley said on TribeAthletics TV. "But we really sat down and went through that tape that weekend, and then that Monday we had a team meeting and Coach brought in the CAA championship trophy, it was like, wow, you look back and we had a great year."
Cluley is one of the more experienced quarterbacks in the FCS with 25 consecutive starts. He is surrounded by a wealth of returning talent, including tailback Kendell Anderson and wide receiver DeVonte Dedmon. But the Tribe defense was hit harder by graduation, with cornerback Trey Reed the top returnee after he earned second-team all-conference honors.
There are plenty of reasons for the three CAA powers to end the spring on a strong note, none bigger than the William & Mary at JMU (Oct. 8), JMU at Richmond (Nov. 5) and Richmond at William & Mary (Nov. 19) games that beckon.
---