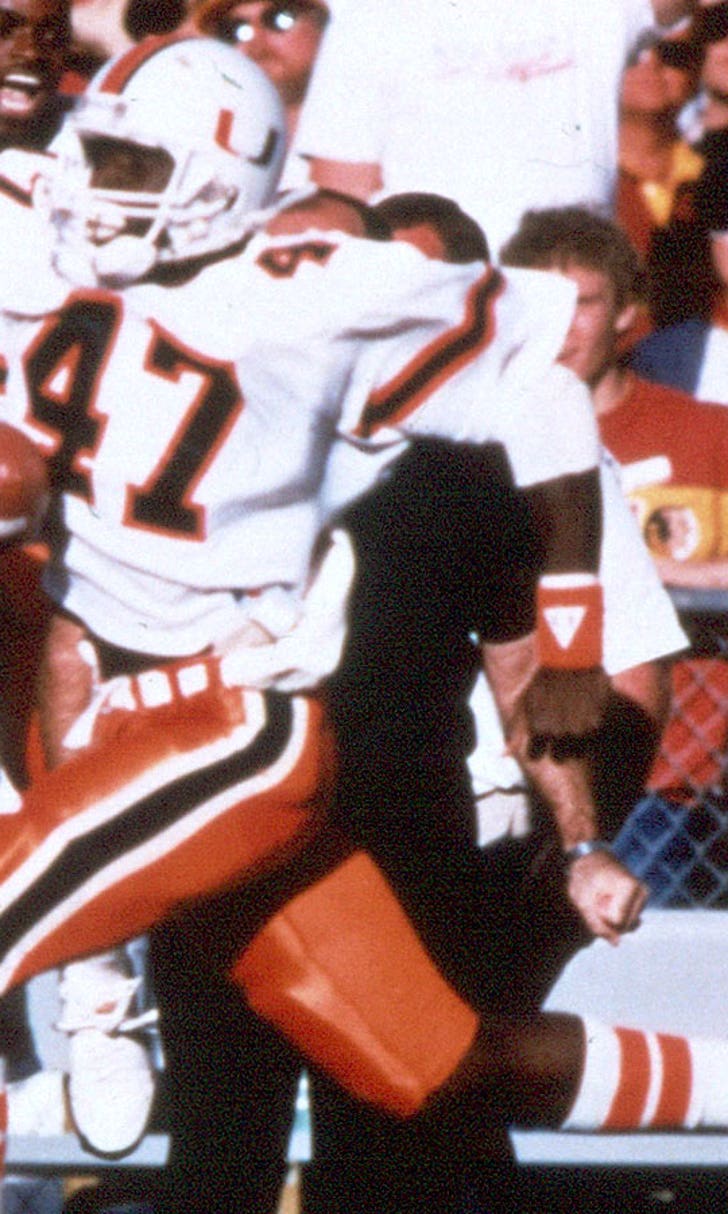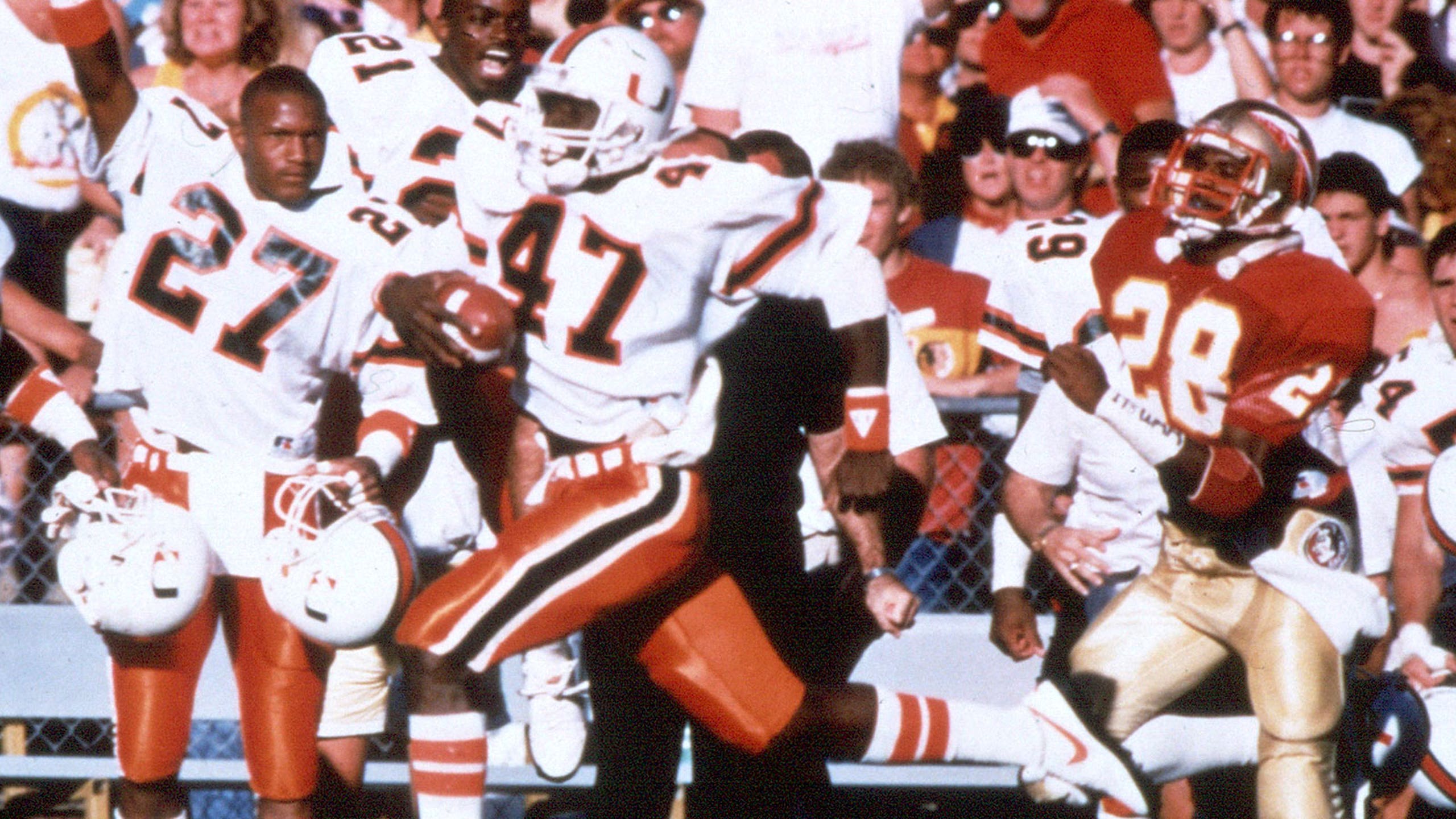 The 1987 Miami-FSU game: A true October Classic
BY foxsports • October 8, 2015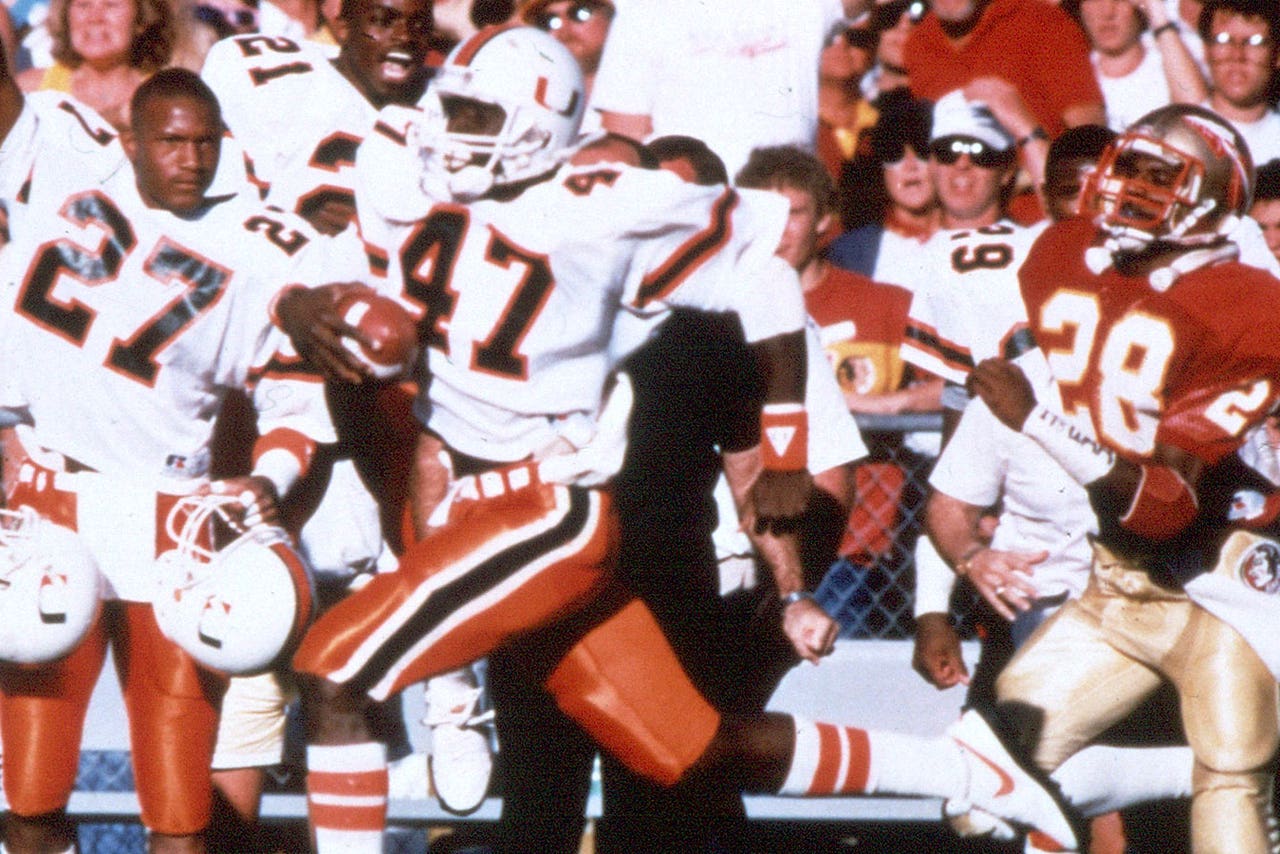 Throughout the years the Miami-Florida State rivalry has provided fans with epic moments that have become etched into college football history. It's given us a handful of wide rights, a stunner over a dream team, one nightmare of a rap song and more pros than a Shakespeare poem.
All's well that ends well. Well, that depends on what side of the scoreboard you're on when the clock strikes zero.
It's a series, which continues Saturday when No. 12 Florida State (4-0) plays host to Miami (3-1), that's packed with memories, but there is one that to this day remains truly unforgettable. It took place in 1987, when No. 4 Miami edged No. 3 FSU, 26-25, in an October classic that had national championship implications, one-name stars like Deion and Irvin, and no existing rules for overtime.
The game hinged on one gut-wrenching decision: Kick the PAT or go for two. The outcome would alter the course of an entire season for both teams.
It was 1987 and the U was at its pinnacle. Miami was led by brash but talented leaders like Michael Irvin, Bennie and Brian Blades and Melvin Bratton. Not to mention head coach Jimmy Johnson.
On the other side field, the Garnet and Gold was guided by the legendary Bobby Bowden, who fielded stars like Deion Sanders, Sammie Smith and LeRoy Butler.
"I have a couple of team pictures from the '86 Miami team and '87 Miami team and I'm counting like 40 guys that played in the NFL out of 85-90," Hurricanes quarterback Steve Walsh said a while back. "Then you look at Florida State with Sammie Smith, Deion and Butler.
"Just all over the field, there's guys that went on and played in the NFL and for quite some time. There was some great talent on both sides of the ball."
A then-record 63,000-plus fans packed into Doak Campbell Stadium on Oct. 3 to watch a total of 60 future NFL players fight through 60 minutes of trash-talking, hard-hitting action.
The Seminoles stormed the Hurricanes early thanks to a high-powered running game paced by Smith, who ran for 187 of FSU's 225 rushing yards.
The ground attack fueled Florida State, which held a commanding 19-3 lead with 16 minutes left.
"I thought we had won," Bobby Bowden would say afterward.
The U, though, was just getting started. Walsh connected with Bratton for a 49-yard touchdown pass, then threw a strike to Brian Blades to cut the deficit to 19-11 with a minute left in the third.
FSU had a chance to pad its lead in the fourth quarter, but Derek Schmidt missed a 31-yard field goal with 6:17 left.
While the Seminoles misfired, Miami was clicking. Walsh hooked up with Irvin on a slant pattern and the future NFL Hall of Famer took it 26 yards for a touchdown. The Hurricanes would tie the game at 19 after another successful two-point conversion.
The Playmaker would strike again, when he hauled in a Walsh pass along the right sideline and raced 73 yards up the field to take a 25-19 lead with less than three minutes remaining.
After dominating for the better part of three quarters, FSU found itself down, 26-19. Though the momentum had clearly shifted in Miami's favor, Florida State refused to give in.
Quarterback Danny McManus engineered an 83-yard scoring drive that ended with a perfectly placed TD pass to Ronald Lewis in the back of the end zone with 42 seconds showing on the clock.
If the Seminoles were to kick the PAT, odds are the game would have ended in a tie, allowing them to remain in the hunt for a national title. Seems like an easy choice until you factor a breezy afternoon and the inconsistent leg of Schmidt.
Bowden initially sent out Schmidt to kick the extra point, but was persuaded by McManus to let the offense try and win the game.
The move would backfire as McManus underthrew his intended target and the Hurricanes would recovered the ensuing onside kick to cement the victory.
"I don't really know how we lost this one. I didn't think we deserved to lose it," Bowden said. "We had decided before the game, and I had decided after 1980 when we lost (to Miami) by one (10-9), that I would go for the tie in the same situation, We had the extra-point team in, but I changed my mind. We had missed so many (kicks) today and the wind was really affecting our kicker.
"… If I had to do it over, I'd kick it."
Florida State would not lose another game the rest of the season and finished with an 11-1 record to place No. 2 in the final AP Poll. One spot below Miami, which ended the season by beating No. 1 Oklahoma, to complete a 12-0 record and capture its second national title in five years.
---
---