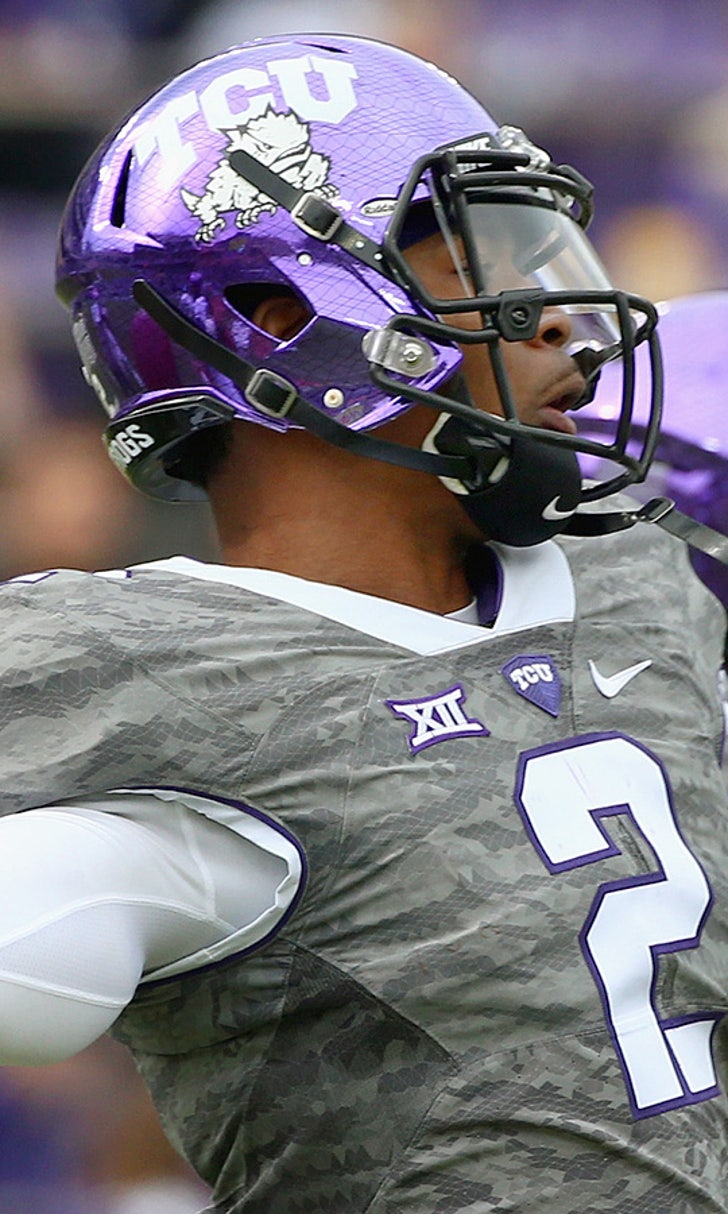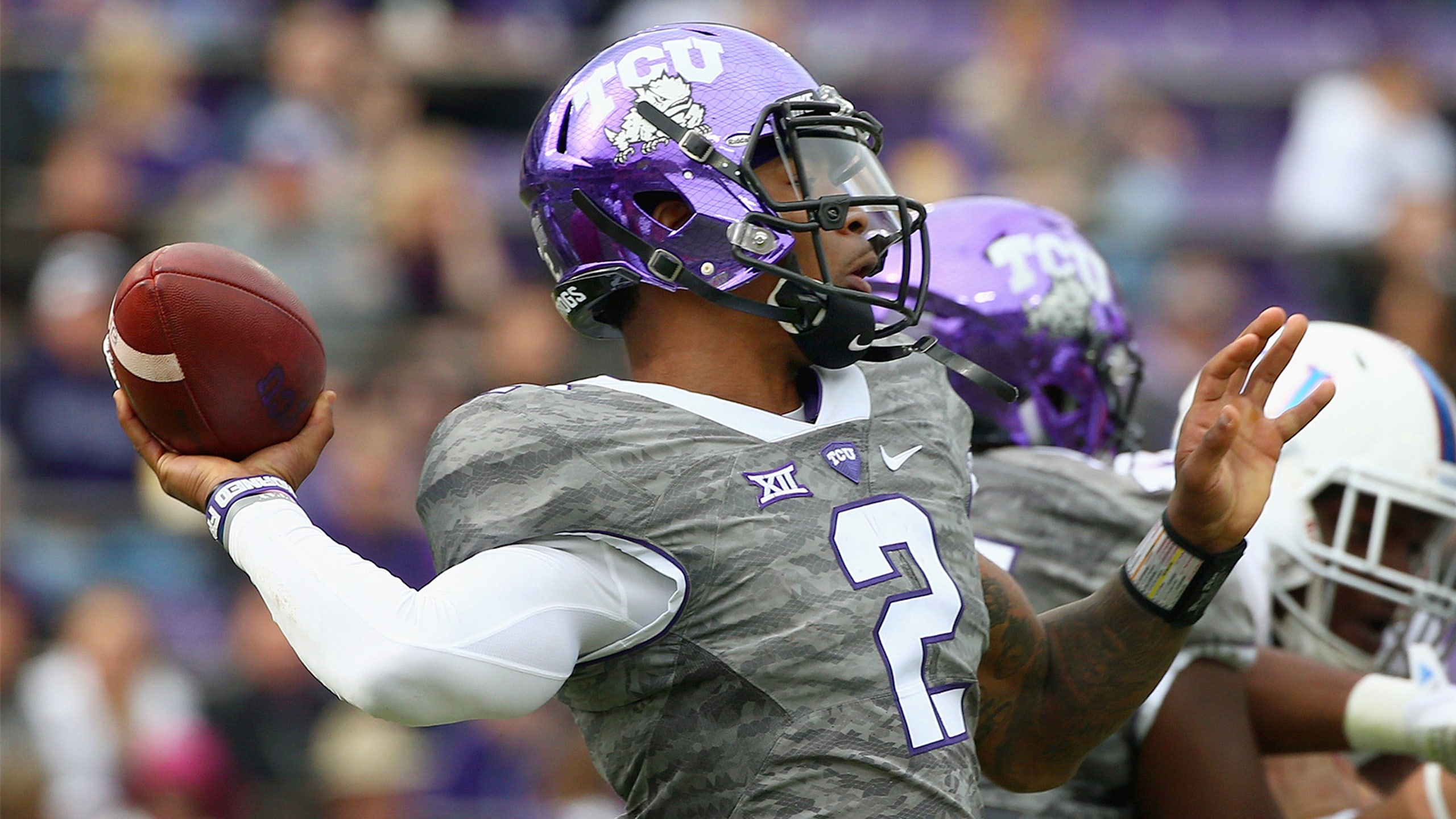 TCU QB Boykin, WR Doctson questionable for Oklahoma game
BY foxsports • November 17, 2015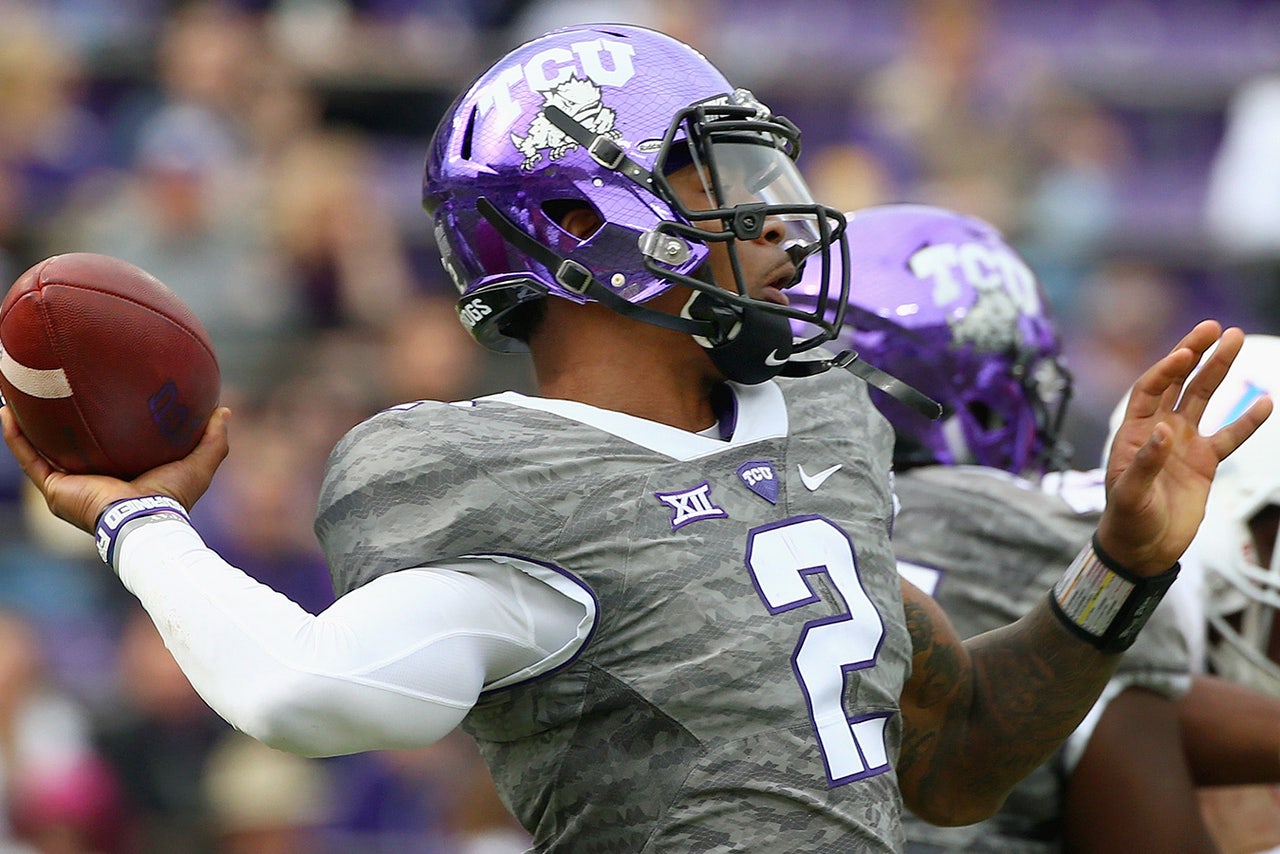 FORT WORTH, Texas — TCU coach Gary Patterson says quarterback Trevone Boykin and receiver Josh Doctson are both questionable for Saturday's game at Oklahoma.
Boykin awkwardly turned his right ankle in last Saturday's 23-17 home victory over Kansas and didn't play after halftime.
Josh Doctson injured his left wrist after a catch in the first half of TCU's loss at Oklahoma State on Nov. 7. He played against the Jayhawks, but had only one catch for 12 yards.
Doctson has 79 catches for 1,337 yards and 14 touchdowns this season, but has been limited to seven catches for 76 yards without a score the past two weeks.
Patterson said Tuesday that redshirt freshman Foster Sawyer could be the replacement for Boykin, who has a Big 12-best 402 total yards per game. The redshirt freshman went 1 for 7 with a touchdown last Saturday.
The seventh-ranked Sooners will try to continue their pursuit of the program's first Big 12 title since 2012 on Saturday night when they host the Horned Frogs, who hope to turn things around in time to earn a shot at a second straight conference crown.
Oklahoma suffered a setback in its bid to win a Big 12 title and national championship Oct. 10 when it fell 24-17 in Dallas to a Texas team that was in the midst of its worst start in 59 years.
Baker Mayfield threw for 211 yards and Samaje Perine ran for just 36 as the Sooners finished with a season-low 278 total yards. Since then, however, the squad has been nearly unstoppable, averaging 55.2 points and 618.0 total yards while winning five straight by 38.4 points per game.
Mayfield completed 24 of 34 passes for 270 yards with three touchdowns and Perine added 166 yards and two scores in last Saturday's 44-34 road win that snapped Baylor's nation-best 20-game home winning streak. Sterling Shepard also came up big with 14 catches for 177 yards and two touchdowns.
Mayfield has completed 74.7 percent of his attempts with 17 scores and two picks since the loss to the Longhorns, while Perine has 552 rushing yards and nine touchdowns in his last four games.
"(Perine) hasn't been in the national talk as far as best backs in the nation. I feel like there's no way he shouldn't be mentioned right up there with Leonard Fournette (of LSU) and Derrick Henry (of Alabama) and all those guys," center Ty Darlington said.
The Sooners (9-1, 6-1) can clinch their ninth Big 12 title and first since sharing the crown with Kansas State in 2012 with a win over TCU and at first-place Oklahoma State on Nov. 28. Coach Bob Stoops even believes they could be a playoff contender if they win out.
"We're one of those teams that has a chance," he said.
The Horned Frogs had similar success early on, ranking second in the nation with 48.9 points and 616.3 yards per game during an 8-0 start. Their undefeated run and possibly their playoff chances ended Nov. 7 when Boykin threw four picks in a 49-29 loss at Oklahoma State.
TCU (9-1, 6-1) then matched a season-low point total and put up just 487 total yards, its second-lowest of the season, last Saturday when Boykin didn't play after turning his right ankle in the first half of a 23-17 home win over winless Kansas.
"We're going to find out Saturday if they play," Patterson said.
TCU still has a chance to claim a second straight Big 12 title if it wins its last two games and Oklahoma State loses its last two, both at home, against Baylor and then the Sooners.
"This group will battle," Patterson said. "They'll play hard the next two weeks. So don't get any indication I'm all set to throw in the towel 'cause that's not going to happen."
If the two stars are unable to go, Patterson's squad likely will lean on Aaron Green. The senior running back finished with career highs of 177 yards and 30 carries versus Kansas.
The Horned Frogs, however, could have their hands full with the Big 12's top-ranked defense.
The Sooners held Texas Tech 19.5 points under its season average Oct. 24 and Baylor 20.8 below its nation-best average last weekend. They also limited Kansas State, Kansas and Iowa State to a combined 23 points in the other three games during this winning streak.
Oklahoma had won three straight in the series before a 37-33 loss in Fort Worth last season. Boykin led the Horned Frogs with 395 total yards and two touchdowns, while Perine rushed for three scores and Shepard had 215 receiving yards and a touchdown for the Sooners.
---
---