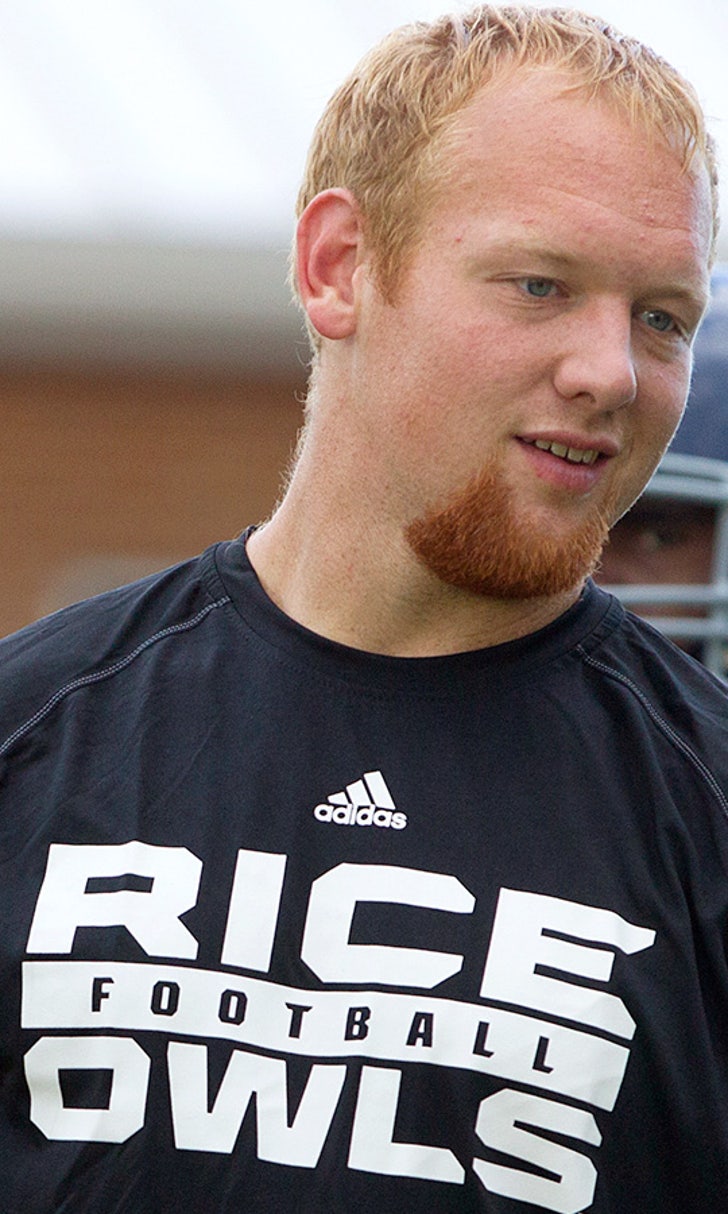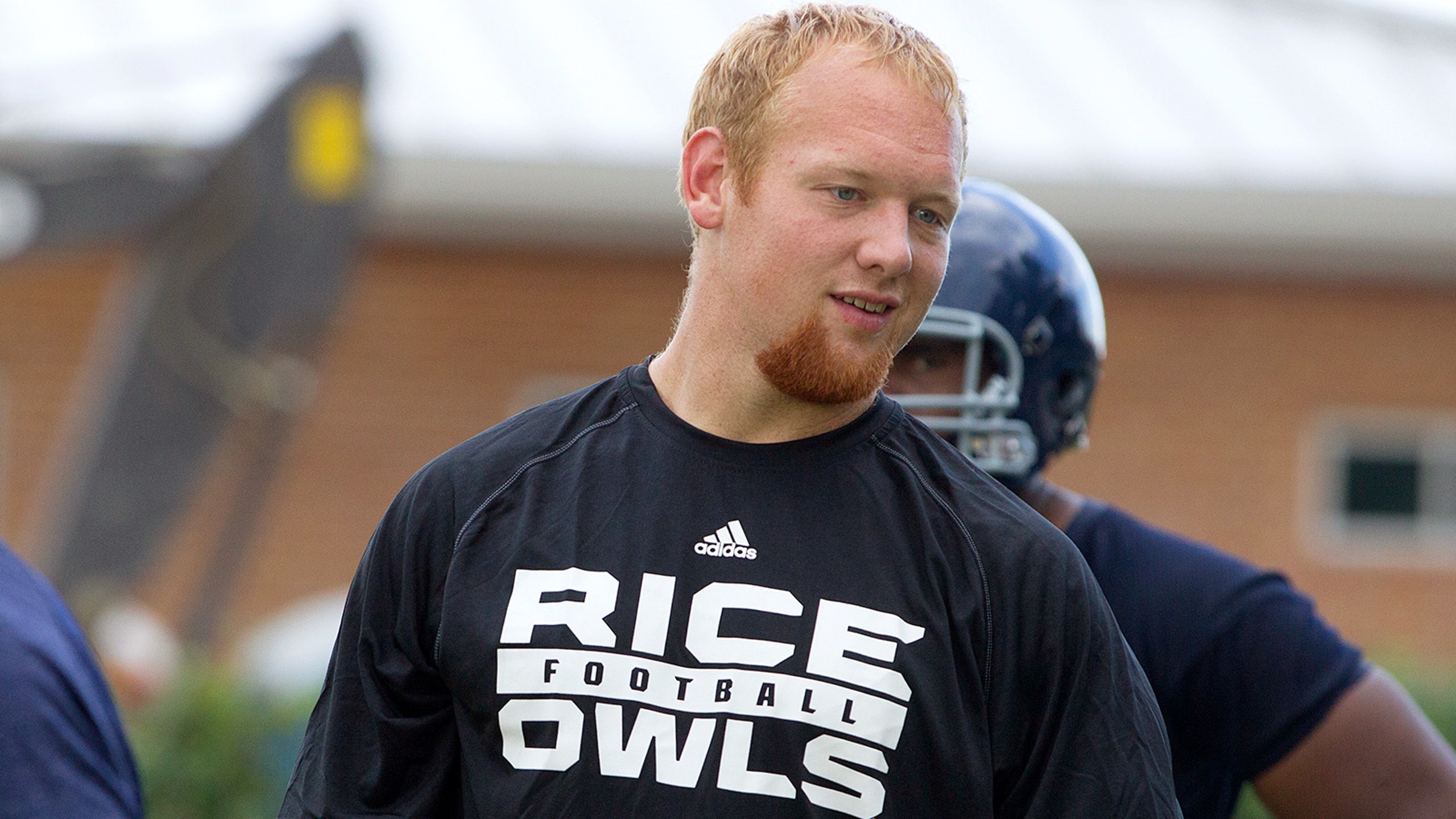 Rice OL Drew Caroll quits football because of kidney disease
BY foxsports • August 6, 2014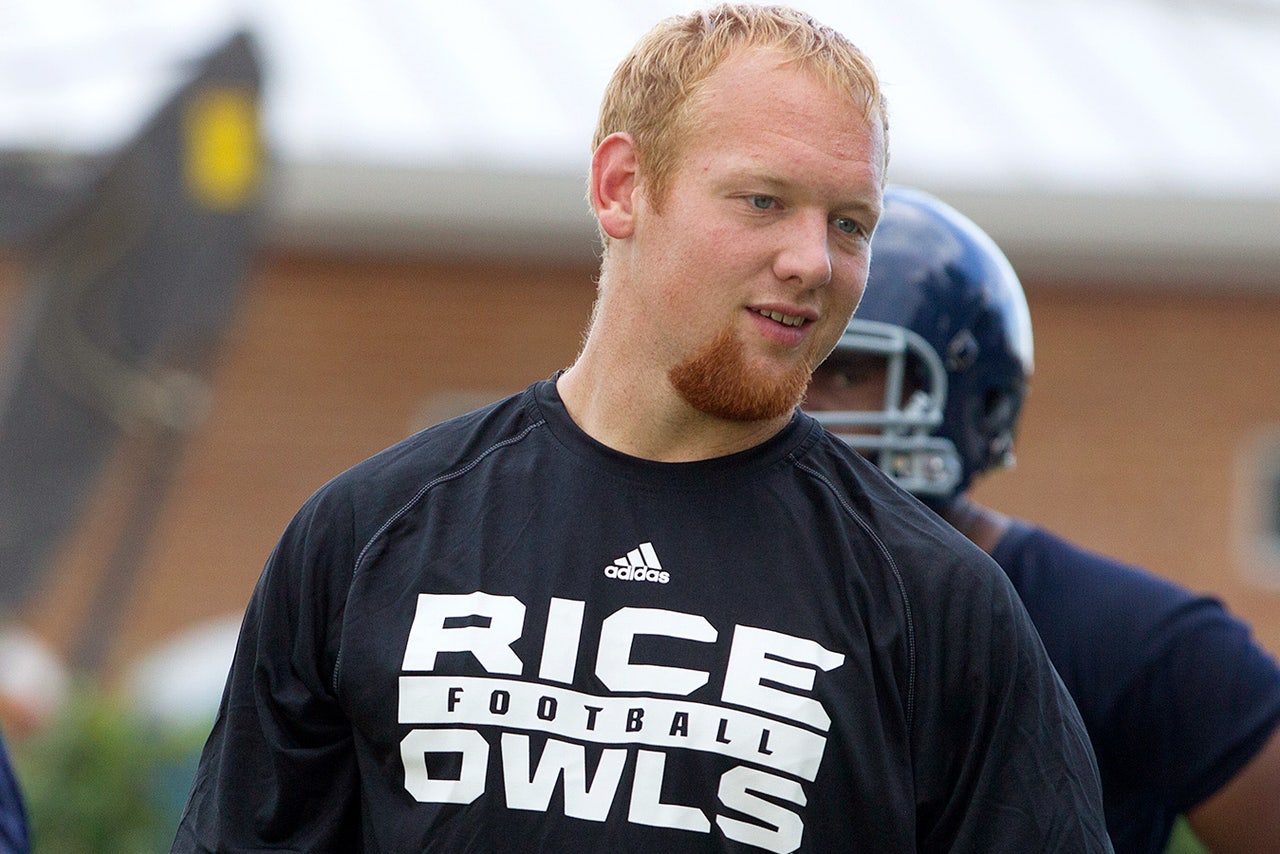 Former Rice senior offensive lineman Drew Carroll thought he had just broken his tailbone.
That was November 2012, and what Carroll believed to be a straightforward football injury turned out to be a kidney disease that's cut short his playing career.
Carroll has immunoglobulin A nephropathy, a condition that occurs when abnormal IgA proteins build up in the kidneys, causing scarring and deterioration. Instead of looking forward to one more season on the field, Carroll faces the prospect of dialysis treatments and an inevitable kidney transplant.
He told his teammates Sunday that he's been forced to quit his playing career.
''I just try to focus on the next day right now,'' Carroll said. ''I don't think too much down the road about a transplant or dialysis. I kind of worry about each day. I don't think focusing on all of that will help me that much.''
Coach David Bailiff has made Carroll an assistant offensive line coach and Carroll will graduate in December with a degree in sports medicine.
''You hope a day like this never comes,'' Bailiff said. ''But it's important to keep him close, let him feel the emotions of the game and keep those relationships with the team.''
Dr. Wadi Suki, a transplant nephrologist at Houston Methodist Hospital, says the IgA nephropathy is the most common type of kidney disease and is detectable through a urine test. Suki said the disease can run in families, but also occur sporadically.
Carroll says he has no family history of the disease. Doctors have told him that his disease is advancing rapidly, even though he still feels healthy.
''The doctors haven't given me a timeline for starting dialysis or anything,'' Carroll said, ''so I just kind of worry about each day and not think about it.''
Carroll, from Abilene, Texas, earned Conference USA All-Freshman team honors in 2011. He started the first 10 games in 2012, but then felt pain in his back after a game in November. He assumed he'd broken his tailbone, but noticed blood in his urine and was admitted to the hospital. Tests revealed a cyst on one of his kidneys and doctors told him that he was already in acute renal failure.
A kidney biopsy in January 2013 confirmed the diagnosis of the nephropathy, but doctors still allowed him to play football if he felt up to it.
''They couldn't say whether playing football would worsen my condition,'' Carroll said. ''It was unknown ground.''
He continued to work out with the Owls in the spring and felt fine for training camp in August.
''It just felt good to be back on the field, I was glad to be helping the team,'' he said. ''I enjoyed it, I loved it.''
Carroll moved into the starting role at right guard late in 2013 when Andrew Reue suffered a concussion. He started five games, including the Conference USA championship game and the Liberty Bowl.
He continued playing and training in the offseason but in late May, noticed a discoloration high on his left leg. He figured it was a burst blood vessel, but soon after arriving in the trainer's room, he was shivering uncontrollably. He saw more blood in his urine, landed in the emergency room, spent a week in the hospital and lost about 20 pounds. On top of that, he started having chest pains and was diagnosed with pericarditis, a swelling of the membrane surrounding the heart. His kidney numbers continued to worsen and finally, his nephrologist recommended that he retire from football.
''She was pretty strong in her opinion,'' Carroll said. ''I talked to my family, thought about it, and knew she was right. I couldn't do it anymore.''
He got all of his emotion out during his speech to the team on the day before Rice opened training camp. Since then, he's been flooded with messages from friends, teammates, even total strangers. He got a Facebook message from a 23-year-old man from Abilene who's on dialysis suffering from the same disease.
For now, Carroll's kidneys are still functioning at better than 50 percent. With the difficult decision of ending his playing career behind him, he's eager to embrace his new role on the Rice sideline.
''I can't imagine a better place to be to face something like this,'' Carroll said. ''I still feel like I'm a part of this team and that'll help me with whatever's down the road.''
---