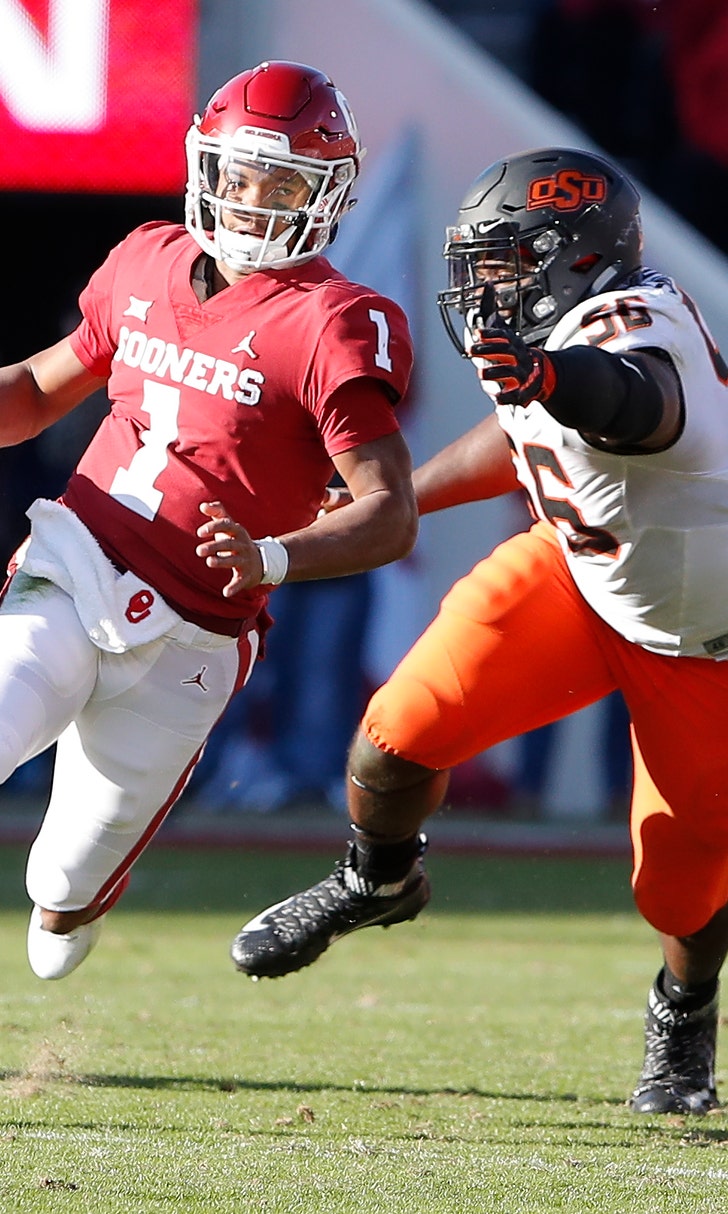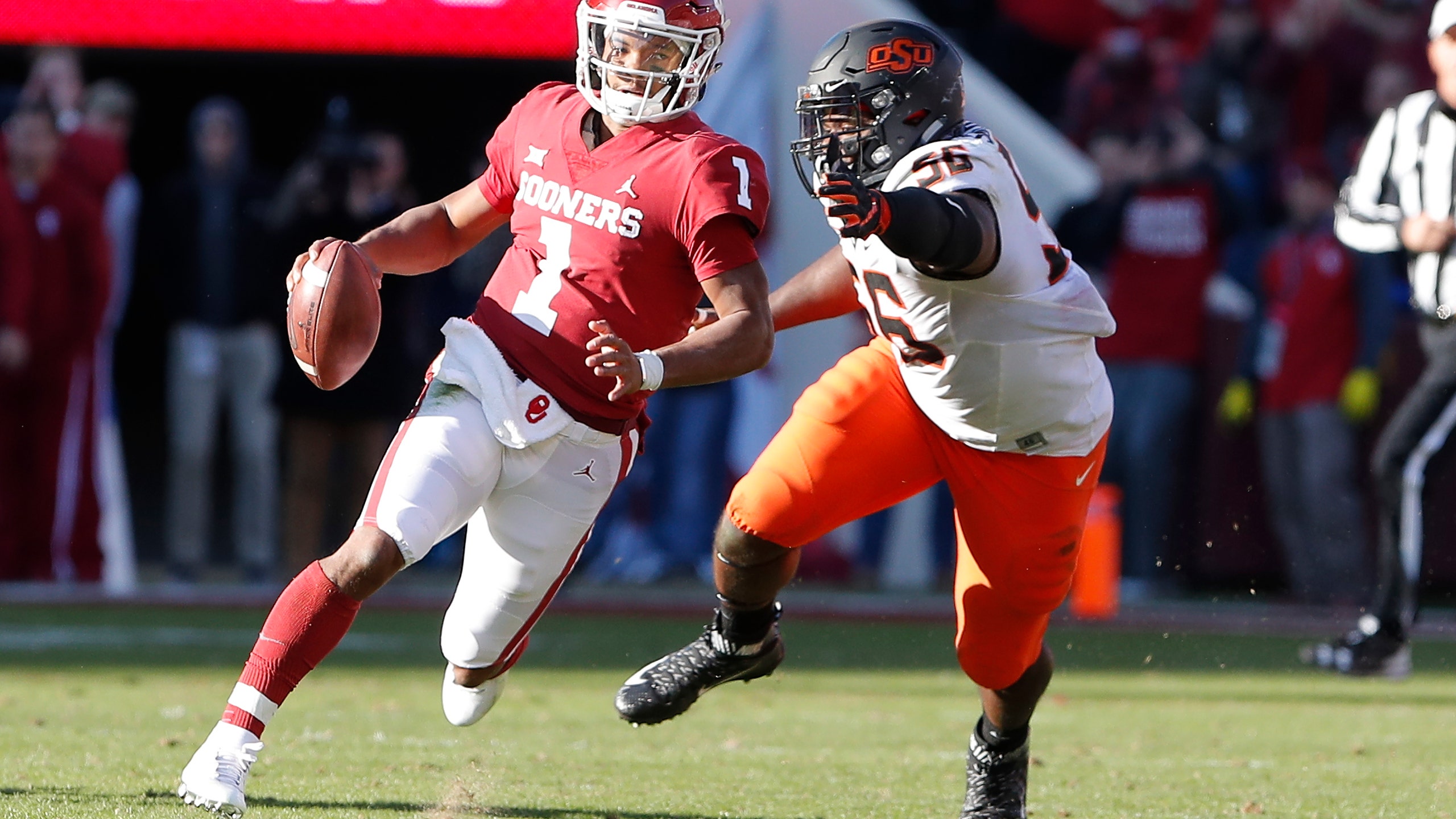 Oklahoma stops late 2-point try, tops Oklahoma State 48-47
November 10, 2018
NORMAN, Okla. (AP) — Oklahoma escaped again.
And in what the Sooners call "Championship November," nothing is more important.
Kyler Murray passed for 349 yards and ran for 66 and No. 6 Oklahoma survived a late two-point conversion attempt to beat Oklahoma State 48-47 on Saturday. The Sooners continued their push for a Big 12 title and a spot in the College Football Playoff by winning their 15th consecutive November game dating to 2014.
It was another close call — the victory came a week after Oklahoma edged Texas Tech 51-46. The Sooners will take the shootouts as long as they keep getting the best of them.
"As bad as we played on defense, coming out with a 'W' is all that matters," Oklahoma linebacker Curtis Bolton said. "You can play good defense and lose a game, and it doesn't matter that you played good defense. It matters that you lost the game. So even if you're playing bad defense, we played good when it counted and came out with a 'W,' and at the end of the day, that's what matters."
Oklahoma nearly saw its chances of reaching its goals vanish. Oklahoma State's Taylor Cornelius connected with Tylan Wallace on a 24-yard touchdown pass to cut Oklahoma's lead to one with 1:03 to play. Oklahoma State went for two, but Cornelius threw short and into coverage, Oklahoma's Tre Brown got his hand on the ball and the pass fell incomplete.
Oklahoma State coach Mike Gundy was confident in his decision to go for two.
"As the game was going back and forth, on the road, struggling stopping them — probably the best thing," he said. "Had a shot at it, just didn't make a good throw."
Oklahoma recovered the onside kick and ran out the clock.
That's why they call it Bedlam," Oklahoma coach Lincoln Riley said. "It lived up to the name, lived up to the rivalry. Tremendous game."
Kennedy Brooks ran for 165 yards and three touchdowns, Trey Sermon ran for 124 yards and two scores and Marquise Brown caught eight passes for 142 yards and a score for the Sooners (9-1, 6-1 Big 12, No. 6 CFP).
Cornelius passed for a career-high 501 yards and three touchdowns for the Cowboys (5-5, 2-5). Wallace caught 10 passes for 220 yards and two scores. Chuba Hubbard ran for 104 yards and three scores, but he lost a critical fumble in the fourth quarter.
In all, Oklahoma State gained 640 yards in a rough outing for Oklahoma interim defensive coordinator Ruffin McNeill's unit.
"Were we at our best tonight? No," Riley said. "Especially in the first half. Especially there. We did miss more tackles than we have been missing. It's something that we're going to have to do better."
Oklahoma State took a 35-34 lead in the third quarter on Hubbard's 2-yard run, but the Sooners responded quickly. Brooks had a 5-yard touchdown on the last play of the third quarter to give Oklahoma a 41-35 lead.
Hubbard scored again with 12:20 to play, but Oklahoma State kicker Matt Ammendola missed the extra point, leaving the score tied at 41.
With Oklahoma State driving for the lead, Hubbard fumbled, and Oklahoma's Kenneth Murray recovered with 6:09 to play. Oklahoma took advantage when Trey Sermon powered in from the 1 with 3:29 left, setting up Oklahoma State's final drive.
For all that Cornelius accomplished — he produced the third-highest passing yardage total in Oklahoma State history — he missed the pass he needed most.
"Sometimes in life, things don't always go your way," Gundy said. "But I told the team I couldn't be any more proud of them. Came to the fight, stood tall and said, 'Here I am.' That's what we asked them to do, and that's what they did."
---
---