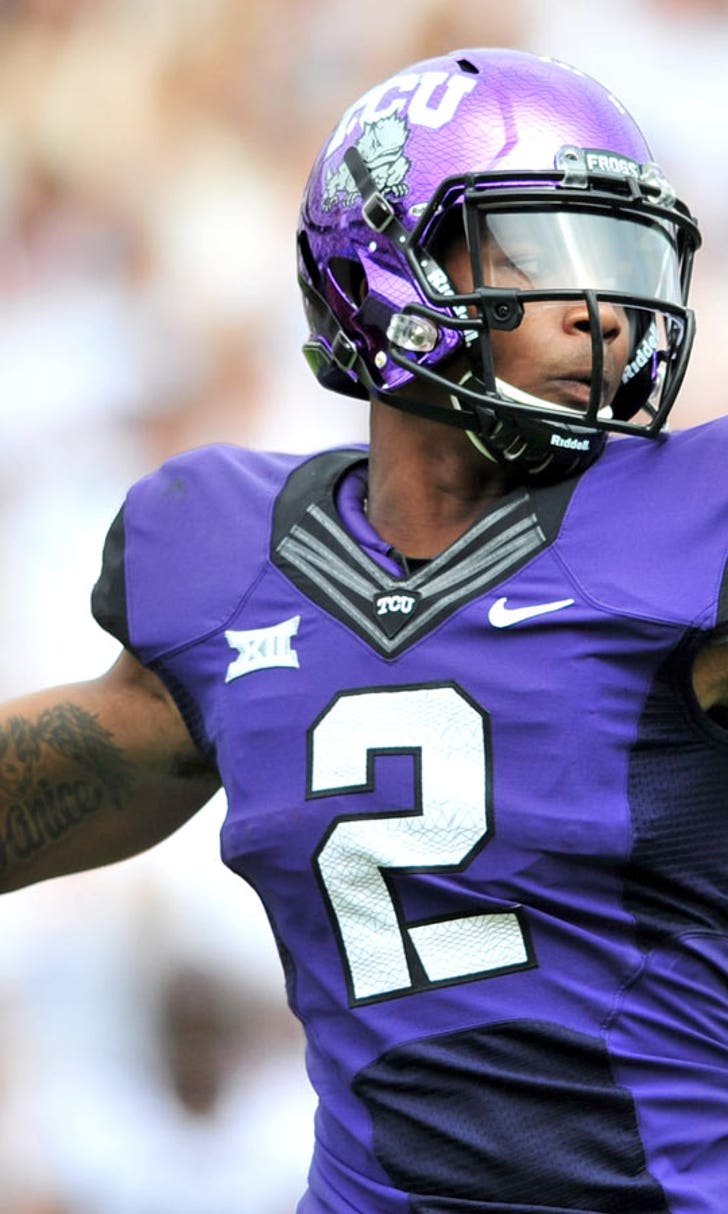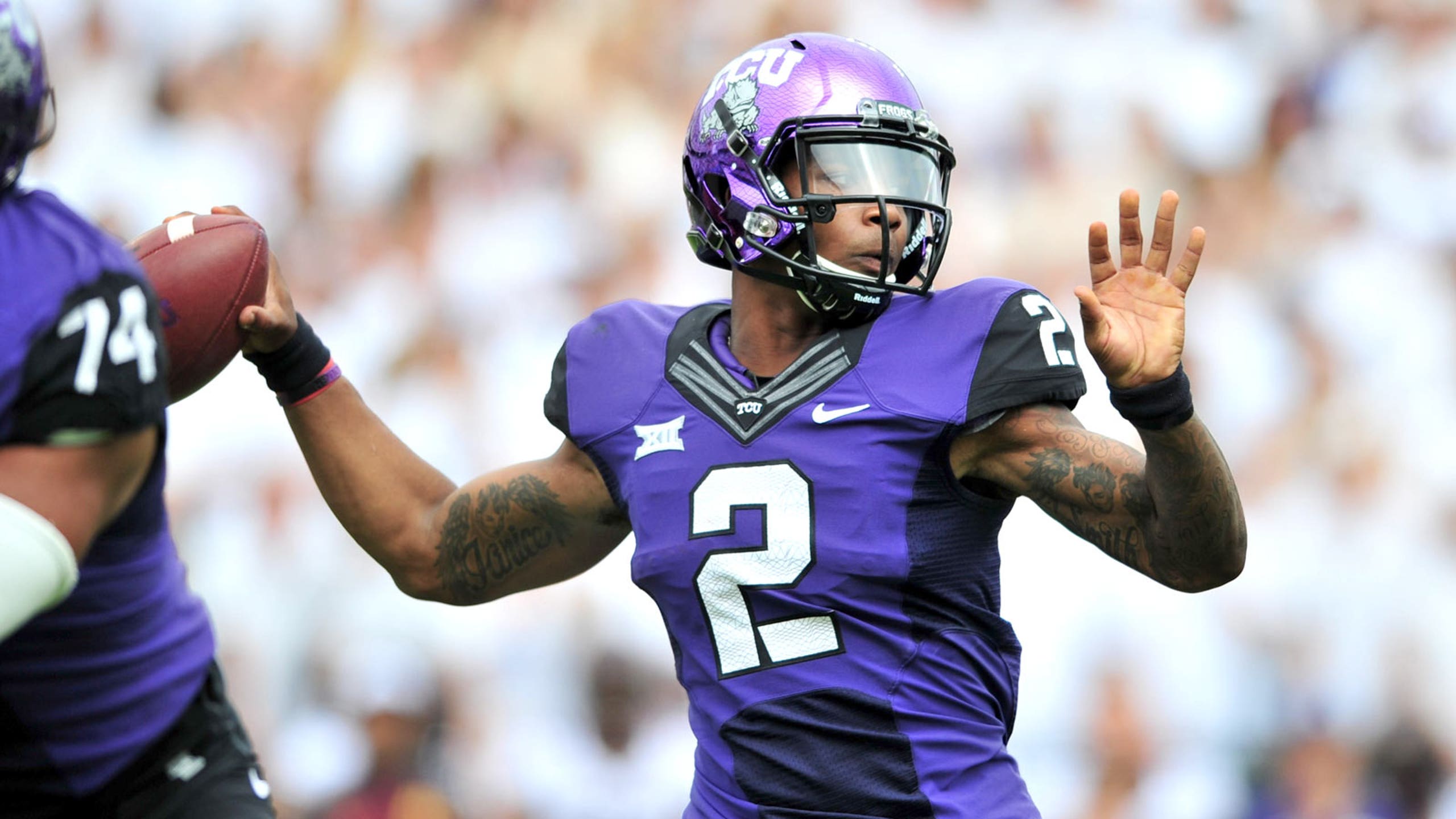 Mandel's Big 12 picks: TCU has one key advantage Baylor can't overcome
BY Stewart Mandel • August 14, 2015
TCU or Baylor? Baylor or TCU? I've gone back and forth on it all summer. Especially since the Big 12 really will have one true champion this year.
On the one hand, Baylor's 2015 squad should be Art Briles' most complete to date, which is saying something coming off back-to-back 11-2 seasons. QB Seth Russell should step in seamlessly on offense, where he'll have the luxury of playing behind an all-upperclassman offensive line; throwing to Corey Coleman, KD Cannon and, on occasion, 392-pound tight end LaQuan McGowan; or handing off to Shock Linwood and Devin Chafin. It should be another near 50-points-per game attack.
But all the more intriguing is the Bears' extremely experienced defense, led by NFL-caliber D-linemen Shawn Oakman and Andrew Billings. Briles' style of play makes it prohibitive that Baylor will ever field a truly dominant defense, but this unit should at least hold its own.
TCU, for its part, is replacing more starters on defense, but I don't worry much about Gary Patterson reloading on that side of the ball. The secondary is a bit concerning, especially against the Big 12's high-powered offenses. But like Baylor, few have a chance of outscoring the Horned Frogs. TCU, after all, scored 58 points in its only loss last season. What heights will that offense reach this year what with not only QB Trevone Boykin, but nearly every key starter returning?
Ultimately, I believe the schedule sets up a little more favorably for TCU than it does for Baylor. Over four straight weeks in November, the Bears visit K-State for a tricky Thursday night date, host Oklahoma then visit Oklahoma State before their Black Friday showdown with TCU. Briles' offense executes with impeccable speed and precision at home, but it often bogs down outside of Waco.
With that in mind, this year's TCU-Baylor game is in Fort Worth. The Frogs will win both that and the conference.
ALSO: Feldman's Big 12 picks: Baylor's time for undefeated title run is now
A few other thoughts:
--Expect Texas Tech transfer Baker Mayfield to win Oklahoma's quarterback job and lead new coordinator Lincoln Riley's offense to considerable improvement. Bob Stoops' team remains a notch behind TCU and Baylor, but should get back to the nine-to-10 win range.
--It will be another rocky, .500-type season for Charlie Strong's Longhorns, but not without showing off promise for the near future. Strong is going all-in on his class of highly acclaimed freshmen like LB Malik Jefferson, which could lead to wild volatility from one week to the next.
--Texas Tech, coming off a rough 4-8 season in which it was fortunate to win that many, could be the most improved team in the conference. New coordinator David Gibbs and Ohio State transfer LB Mike Mitchell give a previously sorry defense some hope.
--Kansas will be the worst Power 5 team in the country due to the roster mess Charlie Weis left behind. The Jayhawks need to beat FCS foe South Dakota State (no given) because they'll be underdogs the rest of the way.
PREDICTED STANDINGS
| | |
| --- | --- |
| TEAM | RECORD (LEAGUE) |
| TCU | 11-1 (8-1) |
| Baylor | 10-2 (7-2) |
| Oklahoma | 9-3 (6-3) |
| Oklahoma State | 8-4 (5-4) |
| Kansas State | 7-5 (5-4) |
| Texas Tech | 7-5 (5-4) |
| Texas  | 6-6 (4-5) |
| West Virginia | 6-6 (3-6) |
| Iowa State | 4-8 (2-7) |
| Kansas | 1-11 (0-9) |
Stewart Mandel is a senior college sports columnist for FOXSports.com. He covered college football and basketball for 15 years at Sports Illustrated. You can follow him on Twitter @slmandel and Facebook. Send emails and Mailbag questions to Stewart.Mandel@fox.com.
---