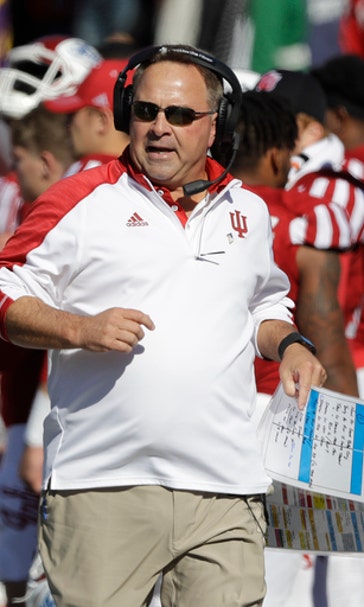 Hoosiers trying to get better handle on fumbling woes
BY foxsports • November 14, 2016
BLOOMINGTON, Ind. (AP) The Indiana Hoosiers spent the first eight games taking expert care of the football.
Now, suddenly, they can't seem to get a grip on it.
Over the past two weeks, the Hosiers have fumbled nine times, losing all five Saturday to fuel Penn State's rally from a 10-point, third-quarter deficit for a 45-31 victory. The slide from being one of the nation's best in turnover margin to second-worst in the Big Ten (minus-6) has befuddled Hoosiers players, coaches and fans alike.
''We went from third in the nation in fewest fumbles after Week 8 and at Week 10 I think we're at 101. So we've dropped I think 98 spots in two weeks,'' coach Kevin Wilson said Monday. ''To me, it's coaching and that's culture. And we've kind of addressed that again.''
The Hoosiers have seen steady slippage on the turnover front all season.
Quarterback Richard Lagow didn't throw an interception till Week 3. Today, his 13 picks are second most in the conference.
It's been a similar story with fumbles. After the Hoosiers (5-5, 3-4 Big Ten) lost only two of six fumbles through the first eight weeks (0.75 per game), they are now averaging 1.13 per quarter over the past two weeks .
Perhaps it's just a case of bad luck.
But Wilson can't rely on happenstance to fix this problem.
Normally, Wilson instructs players who have footballs during stretching to properly tuck it away. Those who don't wind up losing playing time.
''I think I was ridiculed years ago when Tevin Coleman went to Ann Arbor (Michigan) and fumbled and came out,'' Wilson said. ''But our deal is if you fumble you don't play. I don't know what's up with that but that's how we play here. That's our culture, and I take responsibility for those fumbles because I think we've gotten lax with that.''
Wilson didn't say if he would do anything different this week.
Finding a solution, though, could prove challenging because there doesn't appear to a common thread.
Usually sure-handed receiver Mitchell Paige blamed himself for the Penn State loss after losing the ball twice in traffic Saturday. Running back Devonte Williams dropped the ball after Lagow appeared to make a safe handoff on time. Isaac James gave the ball back to the Nittany Lions at his own 6-yard line after a punt bounced into his leg. And the Nittany Lions turned a strip-sack of Lagow in the game's waning seconds into their sealing score.
''If we eliminate the turnovers it could be a different game,'' Lagow said afterward.
They learned that lesson the hard way Saturday and realize they get it fixed in these final two games.
First, Indiana visits No. 4 Michigan (9-1, 6-1), where it last won in 1967. That's followed by the annual Thanksgiving weekend game against rival Purdue (3-7, 1-6) for the Old Oaken Bucket. Indiana has won the last three over the Boilermakers and now has a chance to tie the school record for most consecutive victories in the series.
Win either one and the Hoosiers will become bowl-eligible for the second straight season - a feat they haven't achieved since 1990 and 1991.
Turn it over like they have been, and the Hoosiers once promising season slip away, too.
''We address it every day,'' running back Devine Redding said. ''We harp on ball security because without the ball, you can't do anything. That's a big thing.''
---
More AP college football: www.collegefootball.ap.org
---