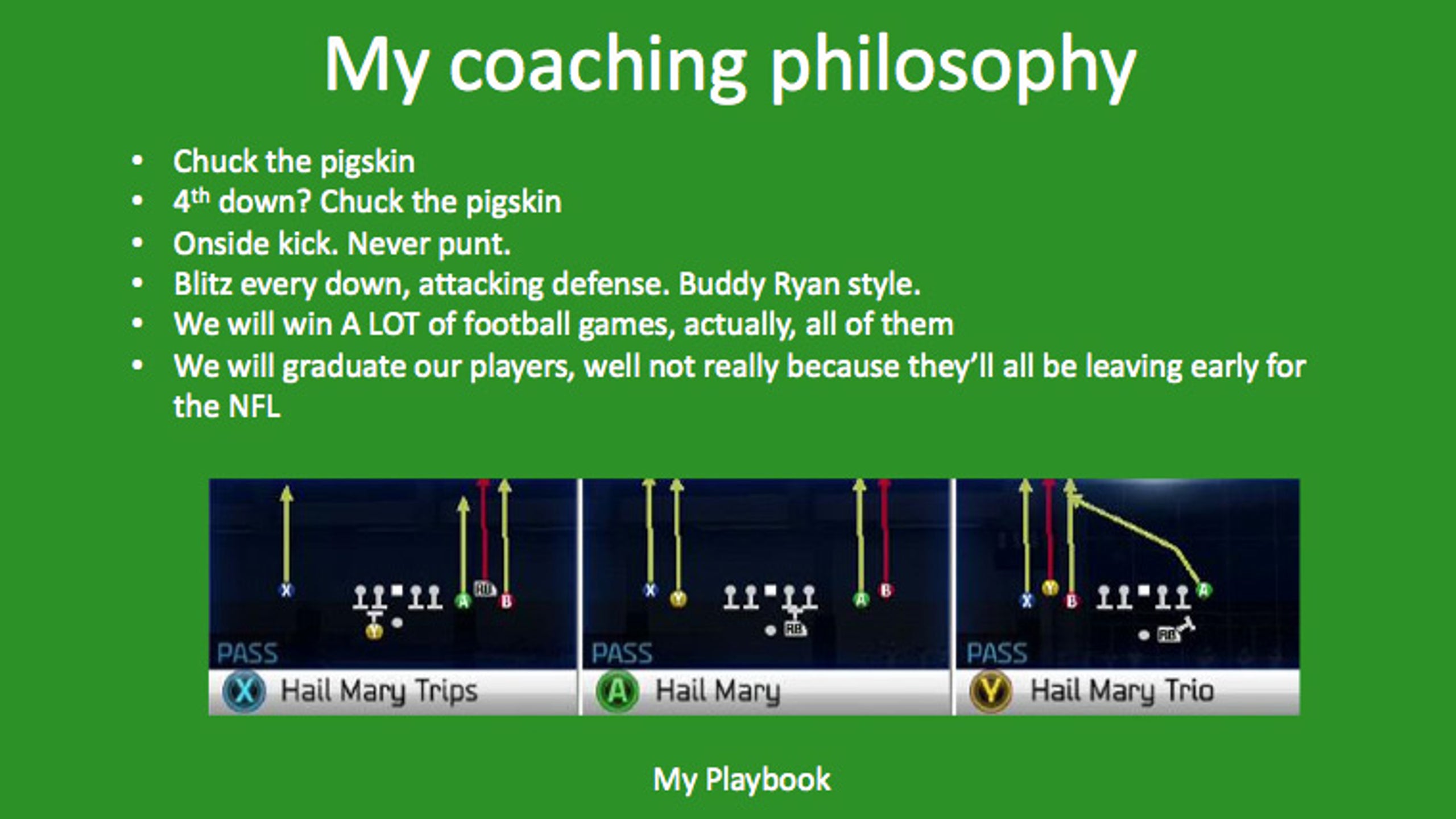 Gamer, Marshall IT employee applies for North Dakota coaching job
BY foxsports • December 12, 2013
After a 3-8 record led FCS North Dakota to fire head coach Chris Mussman, the program has a very intriguing option to spice up an offense that averaged just 23.8 this fall: A gamer who promises to run Hail Marys on every play, onside kick every kickoff and never punt the ball.
A system integration specialist at Marshall University named Christopher McComas (@chrismmccomas) sent in an awesome letter and nine-page Powerpoint presentation laying out his plans for the program.
[See also: PHOTOS: College football's hottest cheerleaders]
Behold it in all its glory:
Currently, I work in IT at a college in West Virginia, but I have many years of experience with football, starting with attending my first Marshall University football game when I was 3 years old. In the past 30 years I've only missed a handful of Marshall's home games, attended many road games, and all of their bowl games.
All the while I played various football games including Madden on Sega Genesis where I completely dominated with the Bills and Thurman Thomas. Seriously, was he a beast on the game or was he a beast because I was a football genius controlling him? I then moved on to a Playstation gaming system and purchased NCAA Football every year and put together several programs that completely dominated the recruiting scene and college football winning several national titles with Marshall University. I took them from a decent Mid-American Conference School on the game to a perennial national power that makes Nick Saban look like a chump. One year my third string quarterback left school early to enter the NFL Draft, he was a first round pick. Boom.
My football philosophy is basically an attacking one. We're going to give AIR RAID a whole new definition. Theoretically how many times do you think a team can pass in a game? Challenge accepted. We're going 5 wide, chucking the pigskin all over the place. Never punt. Onside every time. Chip Kelly will be calling me to learn my offense. We will put on an exciting brand of football, we will pack them into the Alerus Center night in and night out, go ahead and blow the roof off the place and add about 35,000 seats to that place.
I would love to speak with you further regarding this opening and what I can bring to UND, putting UND back on the national map and making NDSU our (b****).
Attached to this email you will find a PowerPoint with more information.
Thanks,
Christopher McComas
PS – I prefer Coke to Pepsi, so go ahead and fill the fridge up in the head coach's office with Coke.
[See also: PHOTOS: College football's hottest WAGS of 2013]
What are you waiting for North Dakota? Hire this man!
Most popular on LostLettermen.com: • GALLERY: Grading college football's new 2013 uniforms • College football player & coach celebrity look-a-likes • VIDEOS: Top 10 biggest hits in college football history • PHOTOS: College football Top 20 best helmets • NFL draft's top 50 busts: Where are they now? • College football's Top 20 super fans in America • College football's funniest names ever ft. Jim Bob Cooter
---