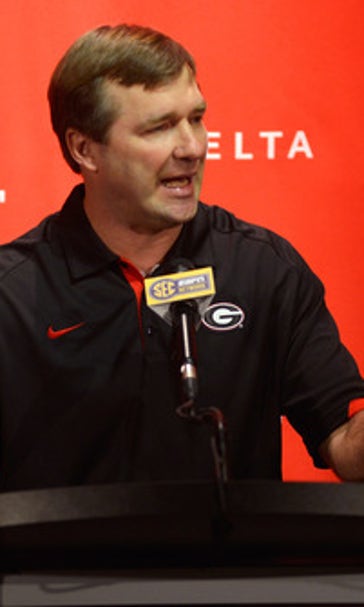 G-Day spring game could be key in Georgia's QB competition
April 14, 2016

ATHENS, Ga. (AP) No quarterback has taken the lead in Georgia's quarterback competition this spring. Even heralded freshman Jacob Eason has been unable to break out of the pack.
New coach Kirby Smart hopes that changes in Saturday's G-Day spring game at Sanford Stadium.
The spring game could be crucial for returning starter Greyson Lambert, junior Brice Ramsey and Eason, the top recruit from Lake Stevens, Washington.
Smart has been pushing for fans to pack the stadium. He'll be looking closely to see if any quarterback flourishes in front of the big crowd.
''It will figure in a lot because we're going to have that atmosphere,'' Smart said this week. ''... I really hope somebody steps out. I hope they all three play great.''
Lambert started 12 games as Georgia finished 10-3 last season with lopsided losses to Alabama, Tennessee and Florida, costing coach Mark Richt his job. Eason, the Virginia transfer, opened spring ahead of Ramsey and Eason but hasn't secured the starting job.
''I really don't think there's been a lot of separation,'' Smart said of the quarterback race. ''It's frustrating because I think we'd rather have a guy take the leadership role and take the bull by the horns. It seems like every time a guy takes a step forward, he makes a poor decision and comes back.
''There have been a couple times where I thought Greyson was going to stick his head and shoulders above the pack and then maybe he makes a poor decision and Brice makes a play or Jacob makes a throw. It's really been a see-saw battle.''
It's possible Lambert and Ramsey will be the starting quarterbacks for the Red and Black teams on Saturday and Eason will play with both teams.
''We want the reps to come out even and it's really not about who wins or loses, it's how these guys play with their respective units,'' Smart said. ''It's really important to us that they get a fair look. If there are 100 snaps, it's important they come out relatively even.''
Another big story this spring has been running back Nick Chubb's comeback from last year's season-ending surgery on his left knee. He has been running straight ahead but hasn't taken sharp cuts and won't play Saturday.
Shaquery Wilson made a recent move from wide receiver to tailback. Sony Michel, who ran for more than 1,000 yards last season and Tae Crowder are the top healthy running backs. The position is thin after A.J. Turman announced plans to transfer. Brendan Douglas has been limited while recovering from a wrist injury.
---
AP College Football website: collegefootball.ap.org
---