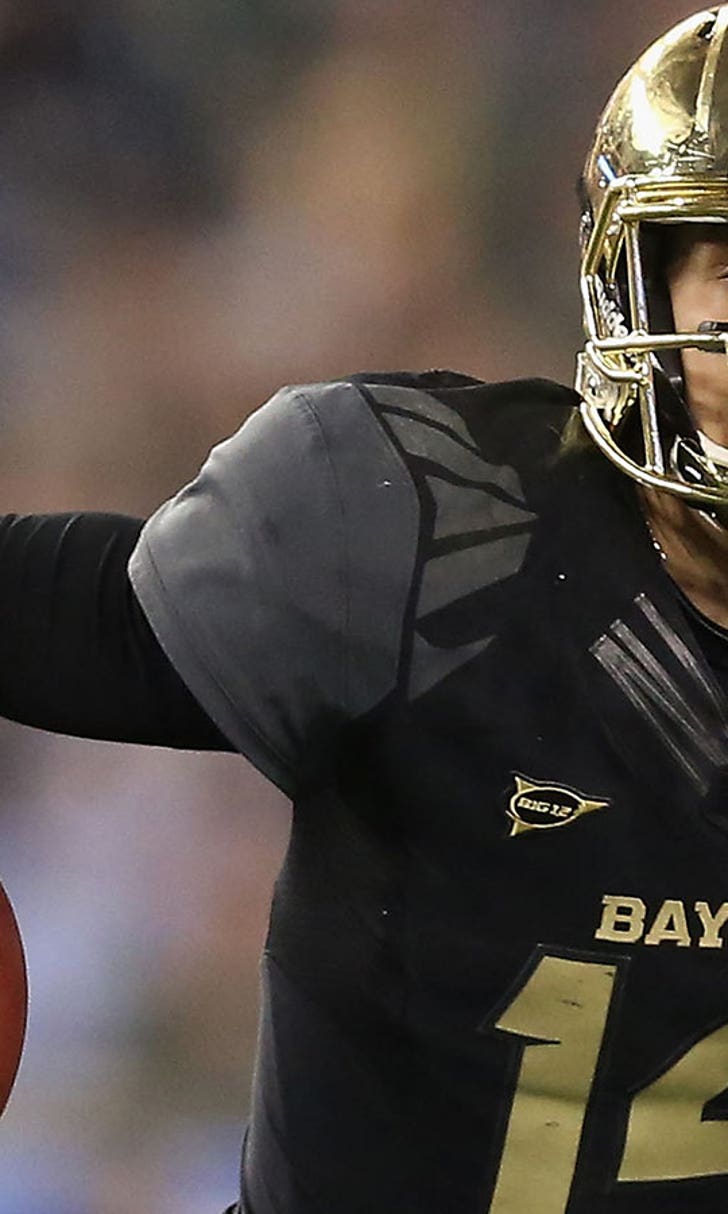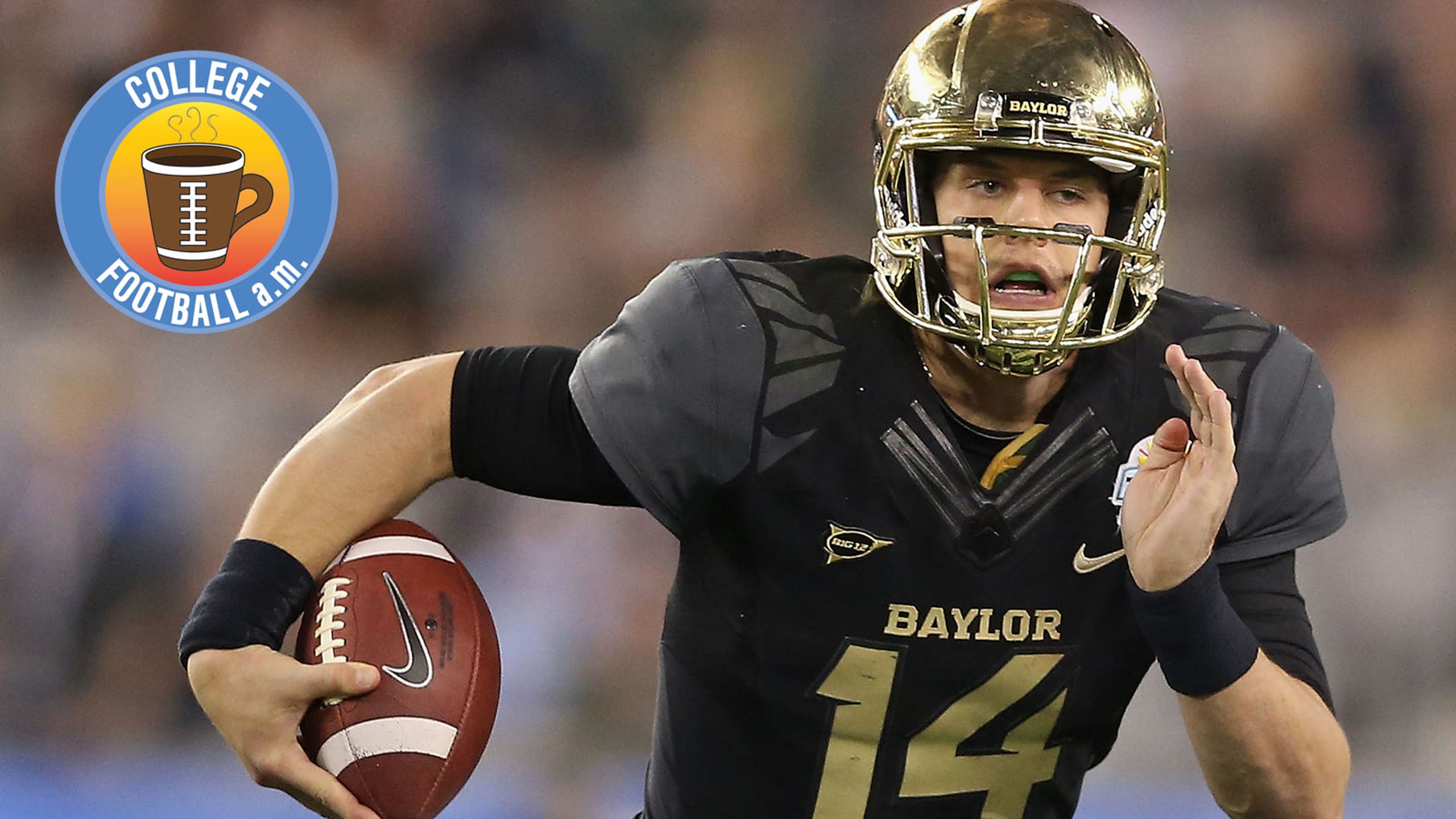 CFB AM: Baylor's Bryce Petty gives up-close view of 38-inch vertical
BY Teddy Mitrosilis • August 7, 2014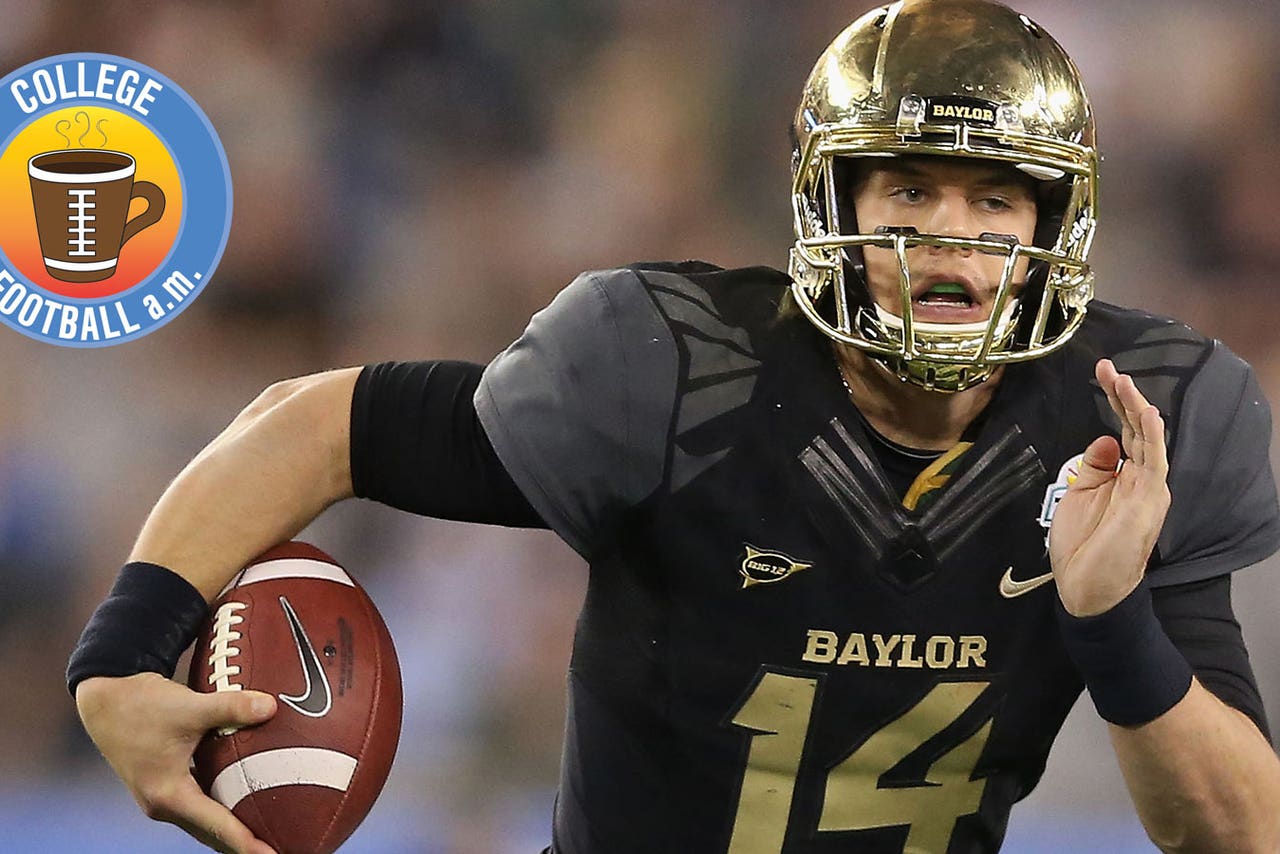 Baylor's Bryce Petty will likely earn his attention this fall for all the things he does well on a football field.
Namely, help the Bears score lots and lots of points.
But there's good reason he ranked No. 6 on Bruce Feldman's Top 20 ranking of 'Freaks' in college football this year.
Petty can do things at his size that he shouldn't be able to. From Feldman's Freaks piece:
So, just because I want to make sure you had your coffee this morning and read that correctly, a professional who evaluates strength and athleticism for a living believes Petty is physically capable of playing four very different positions, all of which require you to be, for the sake of simplicity, pretty much a badass.
Petty gave a glimpse into that athleticism at Baylor camp, deciding to give us an up-close view of that 38-inch vertical by jumping over a tackling bag. Here's the video:
THREE THINGS YOU NEED TO KNOW
1. On Wednesday in New York City, the Big 12 held a forum discussing the state of college athletics, and some interesting things were said, primarily from Texas AD Steve Patterson. Apparently – and I use "apparently" because a) I wasn't there and b) it's almost unfathomable to think the athletic director of any school, let alone one as prominent as Texas, would say this – Patterson referred to any NCAA sport other than football and basketball as "just expenses."
From a business perspective, Patterson is technically correct – non-revenue sports are "just expenses." But the entire ideal upon which the NCAA's amateur myth is built is that there's intangible value in the experience of being a student-athlete and that college sports aren't simply reduced to revenues and expenses. "Why should we share it if they are not generating it?" Are we sure Patterson isn't secretly leading CAPA, the College Athletes Players Association, which is trying to get everyone to understand that, you know, college athletes are little more than generators of revenues and expenses and therefore should be compensated for the former?
In other news from halfway across the country, Kansas State coach Bill Snyder said college sports, and football in particular, has "sold out. We're all about dollars and cents."
2. The Georgia State Patrol released toxicology reports on Wednesday relating to the fatal car crash that killed former Auburn Tiger Philip Lutzenkirchen. According to the report, Lutzenkirchen's blood alcohol content was 0.377 at the time of the crash. The driver of the vehicle, who was also killed, had a BAC of 0.17, more than twice the legal limit. Just a terrible story all around.
3. We've been following the situation of TCU defensive end Devonte Fields, who has been separated from the program for more than two weeks while being investigated in an alleged assault case, and it appears we've reached a conclusion. After meeting with university officials on Tuesday, Fields tweeted on Wednesday that he would be transferring to Stephen F. Austin. The school didn't comment, but a source told Bruce Feldman the transfer would become official on Thursday. Fields, the preseason Big 12 Defensive Player of the Year, won't have to sit out a year since SFA is an FCS school. Fields' first game: at Kansas State.
THREE THINGS YOU SHOULD KNOW
1. Two-way UCLA star Myles Jack is being worked at linebacker only during fall camp. Coach Jim Mora said, "We don't want to overload him … He's a package guy as a running back. When the season starts, there will be time to work him into a game plan." Hope so. We all want to see more of this. A couple other UCLA things: After two years away from football and nearly dying from an aggressive fungal disease, a cornerback is ready to roll. And UCLA has a pretty sweet hype video for the 2014 season.
2. SB Nation's Bill Connelly settles it once and for all, Auburn fans: Your Tigers were indeed lucky last season. They were also very good. I agree with Bill that it's possible to be both, and calling Auburn the former is in no way a criticism of its season. Just the facts. From Bill's piece:
3. A few links from the nation's crew of beat writers: Dan Mullen wants Dak Prescott to drive Mississippi State like a sports car, writes Michael Bonner. Sixth-year Florida WR Andre Debose is back from injury and ready for a good year, writes Zach Abolverdi. After a long road, junior DT Quentin Thomas finally gets a shot to start for LSU, writes Ross Dellenger.
THREE THINGS YOU MAY WANT TO KNOW
1. Danny Mattingly (distant relative to Don), a redshirt freshman linebacker at Oregon, is making a name for himself as something of a "wild man," writes Andrew Greif. In other Oregon news, the Ducks self-reported a – wait for it – shaving cream violation.
2. SI's Andy Staples ran through a bunch of "pivot-point" games that could alter the season for certain teams. There are plenty of bigger and better games here, but I'm fired up for that Miami-Louisville game on Labor Day Monday night. An interesting Miami team trying to return to ACC title contention after getting through NCAA sanctions and the return of Bobby Petrino combined with Louisville's post-Bridgewater/Strong beginning. What a great way to cap Week 1 of the season.
3. Jell-O has signed licensing deals with 20 programs that produce team-specific kits so fans can make certain schools' logos and mascots. Here's USC's:
There's also a Florida one, which someone took as an opportunity at Walmart to mock the Gators for their 4-8 season in 2013. Not cool.
LASTLY
* Enjoyed this Edward Aschoff piece on new Vanderbilt coach Derek Mason. Good story about having an appetite for hard work and maximizing opportunity.
* This 2014 LSU hype video is pretty awesome – but why are you yelling at us, Les?
* Georgia is high on a walk-on with an interesting backstory, writes Chip Towers.
* Some discouraging news here: Jack Hoffman, the boy who gained national attention by running for a touchdown in the 2013 Nebraska spring game, has had a recurrence of brain cancer. In tests Wednesday, doctors found a tumor had grown, so Jack will be undergoing chemotherapy again to fight it.
Best wishes and good luck, Jack. Here's a reminder of what's possible when you're a fighter:
Have a good Thursday, all.
Teddy Mitrosilis is an editor and writer for FOXSports.com. Follow him on Twitter @TMitrosilis and email him at tmitrosilis@gmail.com.
---