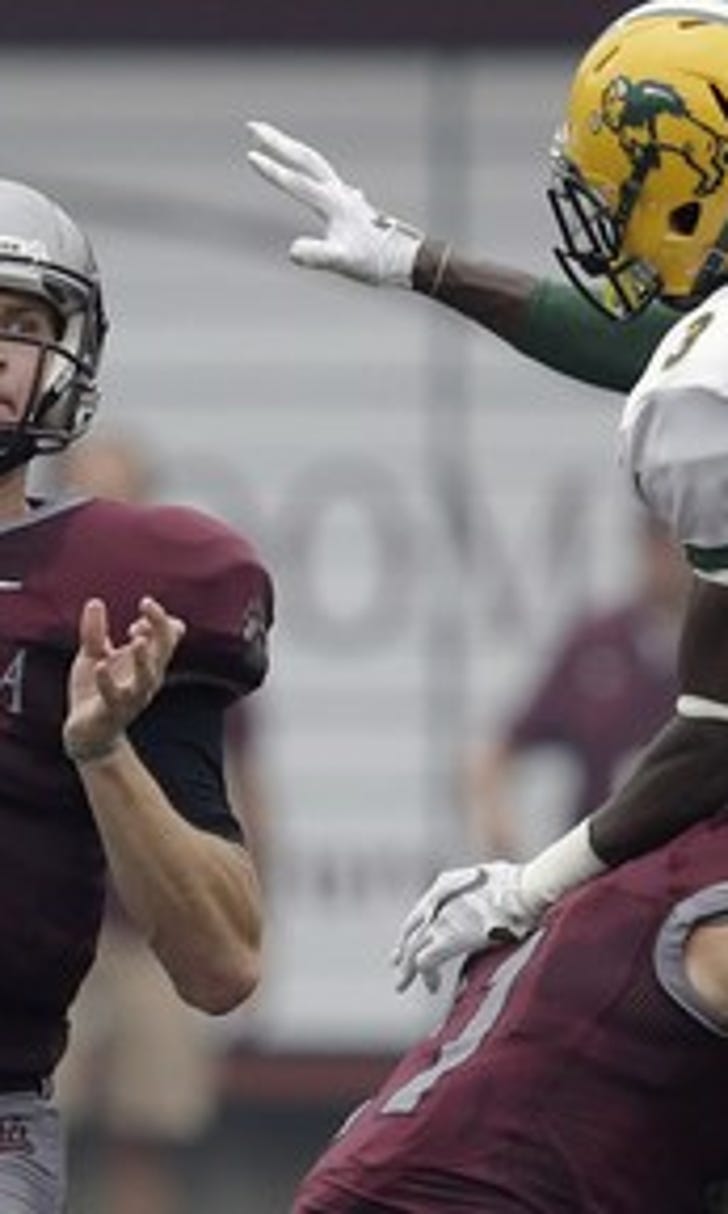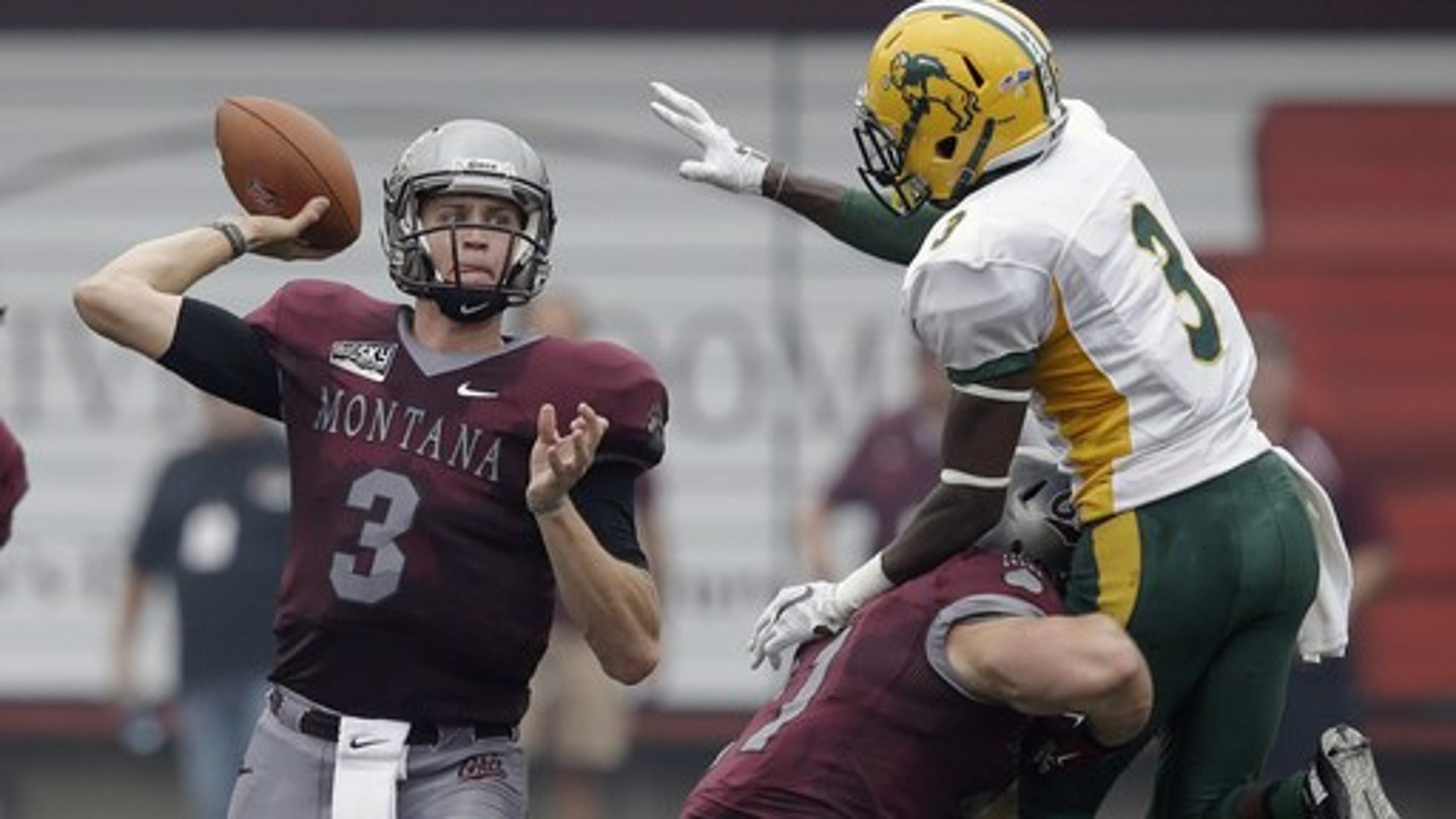 At NFLPA game, Gustafson forging own identity
BY AP • January 18, 2017
(STATS) - The comparisons have come frequently for two seasons - two quarterbacks who share a similar strapping build and played in higher-profile FCS programs.
The talk was heightened at the beginning of the 2015 season when Brady Gustafson and Montana beat Carson Wentz and North Dakota State.
"When you draw a comparison to somebody like that, you're just honored," Gustafson said. "To see his progression, especially for an FCS guy, it's nothing from humbling."
Considering Wentz became the highest modern draft pick from an FCS school in 32 years and went on to post an excellent rookie season with the Philadelphia Eagles in 2016, the comparisons put a lot of undo expectations on Gustafson, who is hoping to just get drafted one year later.
Yet Gustafson isn't fazed in the least.
"Playing the quarterback position, there's always going to be high expectations," he said. "As a quarterback, you wouldn't have it any other way. The ball's always in your hands. You want that if you play the position. It's something that just comes with the territory. I'd say as a quarterback, you really love that."
Gustafson is embracing his opportunity this week. While chasing his NFL dream, he will play for the National team in the NFLPA Collegiate Bowl in Carson City, California on Saturday (4 p.m. ET, FS1).
The sixth annual all-star game will conclude a week's worth of practices, meetings between players and NFL teams, and sessions from the NFLPA on playing at the next level.
"Truly, truly an honor," Gustafson said. "When you're a little kid, you always dream about playing in the NFL. For me, it was the same way. And to now be in a position to potentially make that happen, it's certainly very, very exciting. It's a very exciting time in my life. You almost have to take a step back and try to enjoy it. But also at the same time, you're keeping your head down, you 're working hard."
Gustafson is under the tutelage of National team coach Mike Martz, the former Super Bowl-winning coach of the St. Louis Rams, as well as quarterbacks coach Jon Kitna.
At a muscular 6-foot-6, 235 pounds, Gustafson certainly resembles the 6-5, 237-pound Wentz physically. Gustafson, who throws with his right hand but writes left-handed, has the strong arm of Wentz but not the consistency, with less mobility in the pocket and a longer delivery.
But when NFL teams are trying to find hidden gems at smaller schools, Gustafson offers intrigue. At Montana, he passed for 4,809 yards and 37 touchdowns, almost all of it over the past two seasons as a starter in a spread offense. As a senior, his average of 309.4 passing yards per game ranked sixth-best in the FCS.
"I'm not just a spread quarterback," Gustafson said. "Some of my roots have been in more pro-style offenses. The years before I started (with Montana coach Bob Stitt), we had a pro-style offense. I learned some of that stuff, called some of our plays. So I guess maybe portraying that to scouts, that I'm not just a spread 'em out (quarterback), even though that's where the (college) game seems to be evolving."
During his training for the NFL Draft from April 27-29 in - you guessed it, Carson Wentz - Philadelphia, Gustafson said, "I'm just trying to understand more about trajectory, flight path-type stuff of the ball. And also then what marries up with that is how to control your body, how to play the position balanced, be an athlete. All those different things - kind of just break those things down, try to look at how the game is played at the next level."
This is fourth consecutive year a Montana player is participating in the NFLPA Collegiate Bowl, with Gustafson one of 23 prospects from the FCS. Joining him on the National team are San Diego cornerback Jamal Agnew, South Dakota place-kicker/punter Miles Bergner, Eastern Washington wide receiver Kendrick Bourne and defensive end Samson Ebukam, Cornell punter Chris Fraser, Alabama State defensive tackle Roderick Henderson, South Carolina State offensive tackle Javarius Leamon, Dartmouth inside linebacker Folarin Orimolade, Southern running back Lenard Tillery, William & Mary offensive tackle Jerry Ugokwe and Grambling State wide receiver Chad Williams.
The American team, coached by former NFL quarterback and coach Jim Zorn, includes Southern Illinois inside linebacker Chase Allen, North Carolina A&T running back Tarik Cohen, Missouri State outside linebacker Dylan Cole, Jackson State defensive tackle Cornelius Henderson, Coastal Carolina running back De'Angelo Henderson, Saint Francis free safety Lorenzo Jerome, Weber State linebacker Tre'von Johnson, Illinois State offensive guard Cameron Lee, Western Illinois wide receiver Lance Lenoir, Chattanooga offensive guard Corey Levin and Southern Utah cornerback Josh Thornton.
---