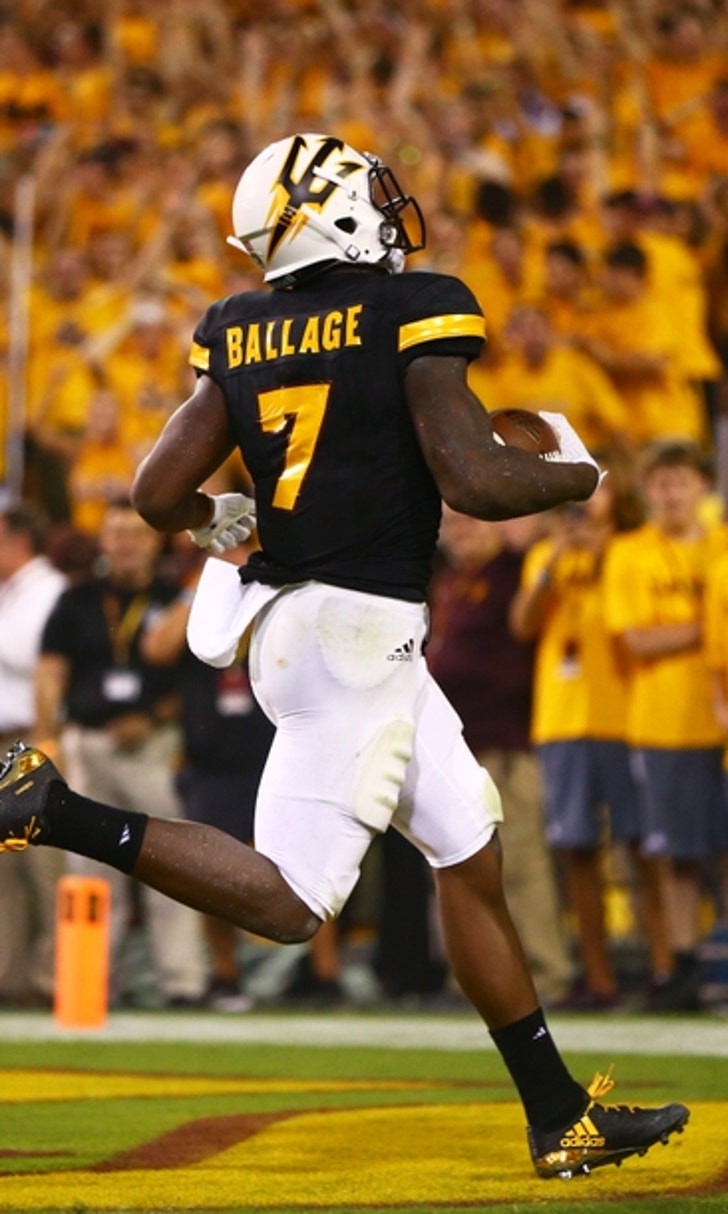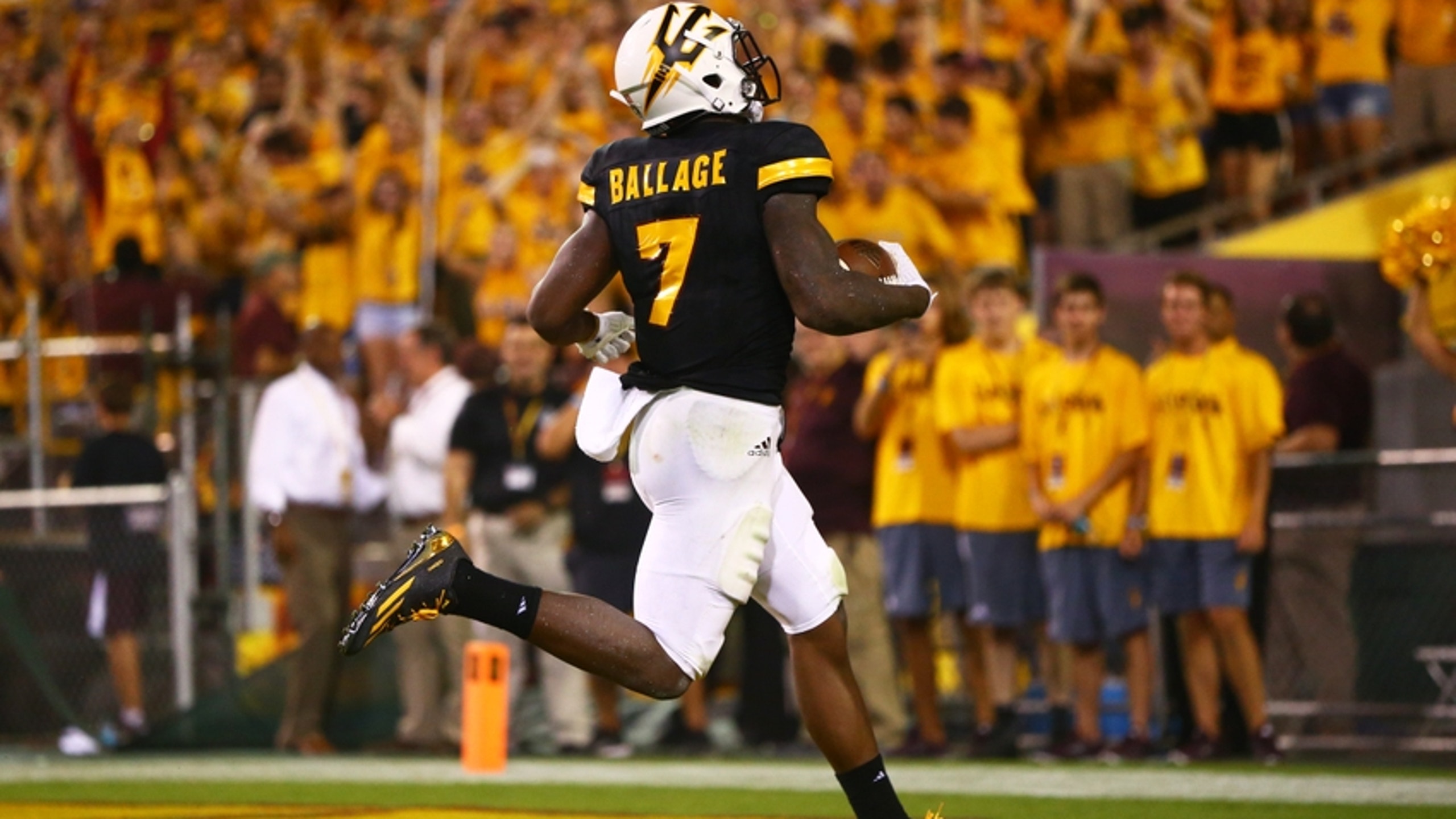 5 Dark Horse Teams that Could be the Next Colorado in 2017
BY Fansided and Zach Bigalke/FanSided via Saturday Blitz • December 29, 2016
The Colorado Buffaloes surprised to win their division in 2016. Which teams could make a similar leap to College Football Playoff contention in 2017?
Perhaps the most surprising team of 2016 was Colorado. The Buffaloes were picked by the media to finish dead last in the Pac-12 South this season. Instead Mike McIntyre's team rebounded from losses to Michigan and USC to win six straight and sweep the South. Though they fell in the Pac-12 championship game to Washington and missed out on a spot in one of the College Football Playoff-affiliated New Year's Six bowls, Colorado proved a worst-to-first turnaround is possible.
Who might be among those teams to finish 2016 with a losing record that could launch to conference and College Football Playoff contention next season? Click through to see our picks for our early picks of the dark horse candidates from each Power Five conference that could potentially make the College Football Playoff committee sweat in 2017.
Sep 10, 2016; Tempe, AZ, USA; Arizona State Sun Devils running back Kalen Ballage (7) runs into the end zone to score a touchdown against the Texas Tech Red Raiders in the fourth quarter at Sun Devil Stadium. Mandatory Credit: Mark J. Rebilas-USA TODAY Sports
Arizona State Sun Devils
5-7
Last week: lost 56-35 at ArizonaLast rank: 24th in Coaches Poll on Oct. 10, 2016
It is hard to believe right now, but at the midway point of the 2016 season Arizona State was 5-1, breaking records along the way, and the Sun Devils looked like a contender in the Pac-12 South. Then one injury after another tested the depth of the third-greenest team in the nation according to Phil Steele. Scrambling to fill the quarterback position, the Sun Devils eventually were forced to go deep into their depth chart as one after another player went down. It is no wonder that Arizona State proceeded to drop their last six games of the season to miss out on bowl eligibility.
But all that experience gained by young players thrown to the fire could benefit the Sun Devils next season. They take on Texas Tech once again, a game that could have far greater impact in 2017 than it ultimately did this season. They also play two-time defending Mountain West champion San Diego State, another boost to their schedule strength. Combined with a tough nine-game Pac-12 slate, Arizona State will play a strong schedule next season. If the talent that gained experience in 2016 comes together, the ingredients are in place for Todd Graham's team to make a dark horse run at the Pac-12 South.
Nov 25, 2016; Arlington, TX, USA; Texas Tech Red Raiders wide receiver Dylan Cantrell scores a touchdown against Baylor Bears defensive back Tion Wright (3) in the first half at AT&T Stadium. Mandatory Credit: Michael C. Johnson-USA TODAY Sports
Texas Tech Red Raiders
5-7
Last week: lost 54-35 v. BaylorLast rank: 23rd AP/25th in Coaches Poll on Nov. 3, 2013
Moving forward, let's look at Texas Tech a bit more. Four of the Red Raiders' seven losses in 2016 came by a touchdown or less, including the record-setting contest against Oklahoma. While Texas Tech fielded one of the top offenses in the country, their undoing was a young defense that lost nearly half of its 2015 production and was forced to rely on multiple true freshman over the course of the year. That defense allowed at least 40 points in eight of Texas Tech's 12 regular-season games, resulting in a losing record for a team that ranked sixth in scoring offense.
Kliff Kingsbury could lose quarterback Patrick Mahomes II, who has been rising in recent NFL Draft projections. Yet few teams have managed to have as much success plugging new quarterbacks into its system than the Red Raiders, who have ranked in the top five in passing offense each of the past five seasons and haven't ranked outside the top 10 in the 21st century. If a defense that went through plenty of growing pains can step up in 2017, Texas Tech could contend for the Big 12 title and make a run at the College Football Playoff thanks to a schedule that includes FCS semifinalist Eastern Washington, AAC power Houston, and Pac-21 dark horse Arizona State.
Nov 12, 2016; College Station, TX, USA; Mississippi Rebels quarterback Shea Patterson (20) attempts a pass during the first quarter against the Texas A&M Aggies at Kyle Field. Mandatory Credit: Troy Taormina-USA TODAY Sports
Ole Miss Rebels
5-7
Last week: lost 55-20 v. Mississippi StateLast rank: 23rd AP/22nd in Coaches Poll on Oct. 16, 2016
No team gave Alabama more fits in 2016 than Ole Miss. The Rebels were the only team to keep within single digits of the Crimson Tide during the regular season and remain the last program to knock off Nick Saban. No team played a tougher schedule than Ole Miss in 2016, as Hugh Freeze's squad faced four Top 25 and ten bowl-eligible teams over the course of the year. While Alabama will undoubtedly remain the favorite in the SEC West next year, Ole Miss makes a compelling case for its status as a dark horse candidate to push the Tide in the division in 2017.
When veteran quarterback Chad Kelly went down in November with a torn ACL, it forced Freeze to burn a redshirt and throw true freshman Shea Patterson into the fire. The youngster responded with a mixed effort, as he led the Rebels to an upset of Texas A&M before losing the last two games of the year to Vanderbilt and Mississippi State. But on a team that featured the third-greenest offensive line in the SEC in 2016, this year's deficiency could be a place of abundant depth in 2017. Patterson will get a full offseason to prepare, while the rest of the team will be much more experienced thanks to the growing pains of this past year.
Sep 17, 2016; South Bend, IN, USA; Michigan State Spartans running back LJ Scott (3) leaps over Notre Dame Fighting Irish linebacker Nyles Morgan (5) during the first half a game at Notre Dame Stadium. Mandatory Credit: Mike Carter-USA TODAY Sports
Michigan State Spartans
3-9
Last week: lost 45-12 at Penn StateLast rank: 17rd AP/16th in Coaches Poll on Sept. 25, 2016
Coming off a conference championship and a spot in the College Football Playoff, Michigan State was ranked in the top 12 in the preseason by both the AP and the coaches. But after opening the season 2-0, the Spartans lost nine of their last ten games to fall from first to last in the Big Ten East. In 2016, Mark Dantonio's team had to deal with the loss of more than half of the offensive production that fueled its championship efforts the year before, and they suffered through an inconsistent effort from fifth-year senior Tyler O'Connor.
Working in the Spartans' favor next season are several factors. First, Michigan State avoids both Wisconsin and Northwestern next year in cross-division play and also get to face Iowa at home. They have to go to both Ann Arbor and Columbus, two games that would provide a serious boost to schedule strength were the Spartans to win on the road. While they will need to find yet another new starting quarterback and will lose several key defensive players like Malik McDowell, the rest of the ingredients are in place for a more-experienced team to enter right back into the thick of the Big Ten race in 2017.
Oct 15, 2016; Syracuse, NY, USA; Syracuse Orange running back Dontae Strickland (4) scores a touchdown during the fourth quarter of a game against the Virginia Tech Hokies at the Carrier Dome. Syracuse won 31-17. Mandatory Credit: Mark Konezny-USA TODAY Sports
Syracuse Orange
4-8
Last week: lost 76-61 at PittsburghLast rank: 14th in AP and Coaches Poll on Jan. 4, 2002
The last dark horse candidate that could surprise in the Power Five next year is Syracuse, which entered November with a 4-4 record and a decisive two-touchdown upset of eventual ACC Coastal champion Virginia Tech. Then the Orange dropped their last four games after starting quarterback Eric Dungey suffered a shoulder injury against Clemson that ended his season prematurely for a second straight year. With Dungey's injury not career-threatening, though, there is plenty of reason to expect another leap forward in head coach Dino Babers' second season at the school.
A road game against LSU is the jewel on the non-conference schedule, and a win in Baton Rouge could give the Orange a serious bump in the Top 25 if they pull off that upset. A defense that featured 15 freshmen or sophomores among its two-deep should improve on its uneven effort this season. Syracuse will have a hard time fending off ACC Atlantic heavyweights Clemson, Florida State, and Louisville, but a team that will be drastically more experienced throughout its depth chart in 2017 could give the favorites in the division fits. If things break right they could emerge as a dark horse in the Atlantic, thanks to the return of dual-threat Dungey and a maturing defense.
More from Saturday Blitz
This article originally appeared on
---
---