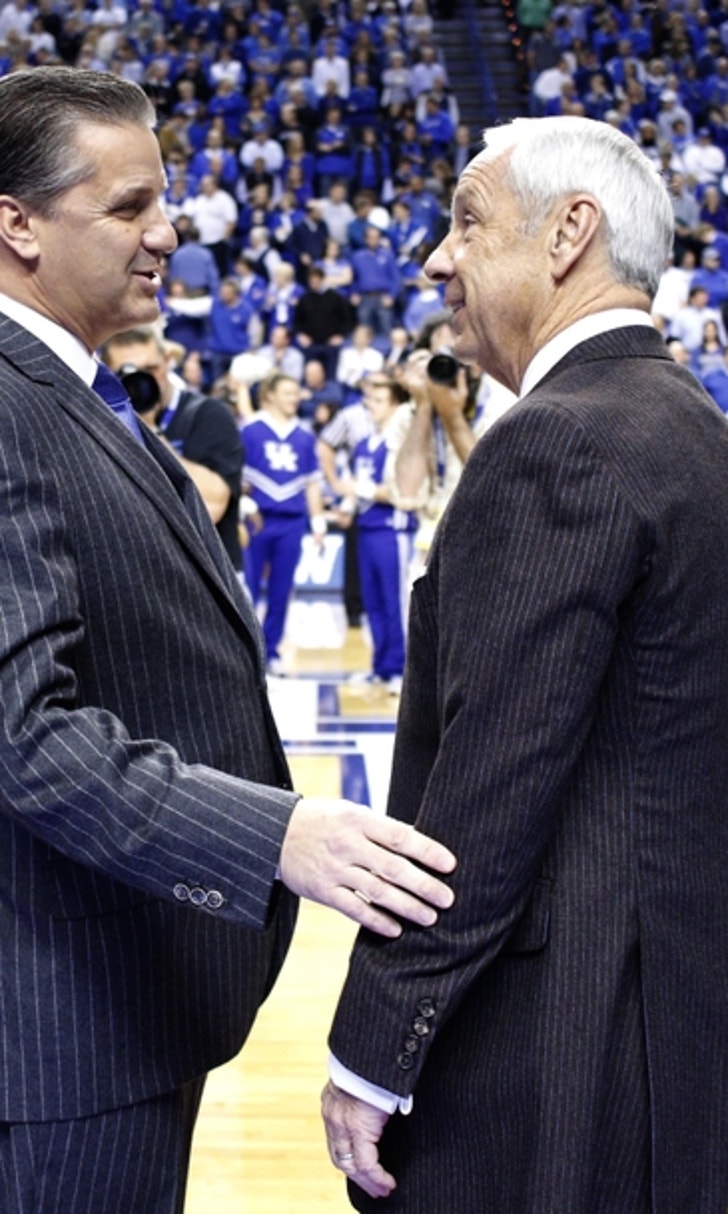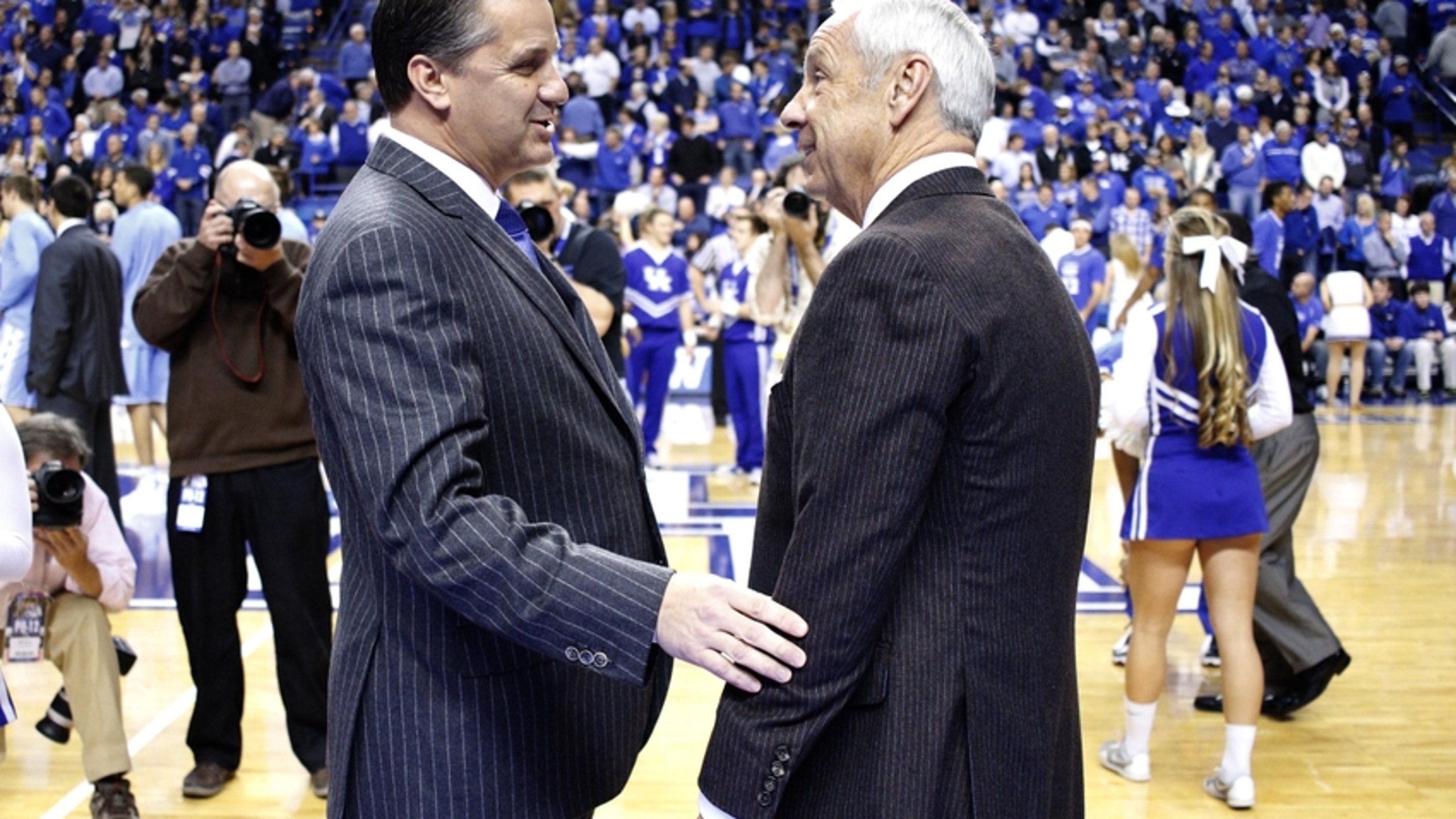 Roy Williams vs John Calipari: Who Has the Better Resume?
BY Fansided and Bryson Gordon/FanSided via Keeping It Heel • December 15, 2016
In this era of great college coaches, John Calipari and Roy Williams stand near the top. But who has the better resume?
Anytime the top coaches in college basketball are ranked, it is very likely to see Roy Williams, and John Calipari in the top ten, and in most cases, in the top five.
While these coaches are separated by nine years of age, in terms of head coaching years, coach Williams has only coached one more season than Calipari has. Had Calipari not been an NBA assistant for one season with the Philadelphia 76ers in 1999, they would be equal.
Calipari has made many stops along the way, beginning as a head coach at UMass in 1988.
Coach Cal has been at the helm of three college programs, and one NBA team. Calipari's coaching stops go in order of UMass for eight seasons, the New Jersey Nets for three seasons, Memphis for nine seasons, and now Calipari has just begun his eighth season as the head coach of the Kentucky Wildcats.
While Calipari has had many of controversies along the way, it is awfully hard to dispute his good record as a college head coach.
As for Roy Williams, his head coaching career has only consisted of two schools, both of which are blue blood programs, the University of North Carolina, and Kansas University.
Coach Williams spent 15 seasons at Kansas and is currently on his 14th season as the head coach of the Tar Heels.
Many people have clamored that Roy Williams is extremely overrated over time, but his resume speaks for itself, prior to winning his first national title, Williams was harshly criticized for not being able to win "The Big One", having lost the National Title game twice at Kansas.
Due to Calipari having to vacate wins during the 2007-2008 season at Memphis, and having to vacate his NCAA tournament wins, and appearance during the 1995-1996 season, Calipari has had to give up 42 wins, and 2 losses over his career, over two different violations that never actually cited him for any wrong doing.
The major comparisons include, overall record, conference titles and NCAA tournament appearances, Sweet 16's, Elite 8's, Final Fours, National Championships, and players in the NBA. Click on over to the next slide for the first comparison!
Wins
Roy Williams: Coach Williams has been a model of consistency. Since his first season in 1988, he has only had two seasons under twenty wins.
While his .775 win percentage at UNC sounds huge, he was even better at Kansas, amassing a .805 win percentage. While at Kansas, Williams accrued 418 wins over his fifteen years, averaging nearly 28 wins a year.  During fourteen years at UNC, he has notched 375 wins, averaging almost 27 wins a season.
Williams will have a shot at matching that win total next season, staying on pace with his Kansas career. Over his career, Coach Williams has 793 wins, ranking him eighth all time.
His win percentage over his career is .790, which equates to 9th all time.
Dec 4, 2016; Chapel Hill, NC, USA; North Carolina Tar Heels head coach Roy Williams smiles in game against the Radford Highlanders during the first half at Dean E. Smith Center. Mandatory Credit: Evan Pike-USA TODAY Sports
John Calipari:  Calipari also has only had two seasons under twenty wins, excluding the vacated season at Memphis.
Both of those seasons came in his first two seasons as a head coach at UMass.
While at UMass, even after struggling the first two seasons, Calipari racked up 189 wins, with a .730 win percentage. His eight seasons at UMass have been his statistically worst stop along the way.
At Memphis, Calipari had an incredible resume 214 wins, with a .759 win percentage over nine seasons. Calipari really made a name for himself while at Memphis. Kentucky has been an incredible success for John Calipari. In seven full seasons, and what has been played this year, Calipari has racked up 220 wins already. Coach Cal has 624 career wins to date, over 25 seasons.
His win percentage at Kentucky has been the most incredible stat. While at Kentucky, Calipari has a .824 win percentage, which brings his career win percentage to .781, good for 15th all time.
Advantage: While both coaches have been extremely successful in all their stops, Roy Williams has been slightly better. If you adjust Calipari's 25 seasons to the same amount of Williams 29 seasons, Coach Roy still would have a few more wins than Calipari.
Also Coach Williams win percentage is slightly better giving him the edge in this category. 
Conference Championships
Roy Williams: Coach Williams has won sixteen regular season conference championships.
Williams won nine in the Big 12, and the other seven in the ACC. Coach Roy has stated on many occasions that the regular season titles are important to him, despite how other coaches feel about them.
Williams has won the regular season title in his conference 55% of his seasons, which is an incredible stat when you think about it. Coach Williams has won seven conference tournament titles in his 29 years also.
Dec 3, 2016; Lexington, KY, USA; Kentucky Wildcats head coach John Calipari reacts during the game against the UCLA Bruins in the second half at Rupp Arena. Mandatory Credit: Mark Zerof-USA TODAY Sports
John Calipari: Calipari has won thirteen regular season titles in 25 seasons, which is just shy of Coach Williams 55%.
Calipari does have the advantage over Williams in conference tournaments though. Calipari has won twelve tournament titles in his 25 seasons. While some of those were in weaker conferences, it extremely hard to avoid upsets like Calipari has in his conference tournaments.
Advantage: This category goes to Coach Cal. Cal has done an incredible job over the years of keeping his players from playing down to their opponents level. In the A-10 it is hard to make the NCAA Tournament without a conference title, and Calipari's teams left no doubt while at UMass. 
NCAA Tournament Success
Roy Williams: Coach Williams has done an incredible job navigating the madness that is the NCAA tournament. Coach Roy has managed to avoid the first round upset over his entire career, which is crazy to think about in this time of March Madness.
Williams has won two games, to get to the Sweet 16 seventeen times in his career. Coach Roy has also been to eight Final Fours, which is fourth all time.
And of course how could all Tar Heel fans forget the two national titles that Williams has won with UNC, which are his only two titles.
Apr 2, 2016; Houston, TX, USA; North Carolina Tar Heels head coach Roy Williams reacts against the Syracuse Orange in the first half in the 2016 NCAA Men
John Calipari: Calipari has also done an pretty good job avoiding the early upset.
Calipari has only lost once in the first round, making him 16-1 in first round games. After the first round, Cal has done a modest job of navigating through the tournament.
Many people criticize Calipari due to his inability to get his great teams to win the national title, but Coach Cal still has one title.
The glaring mistake on Calipari's postseason resume is the inability to coach the 38-1 Kentucky team to win the national title two years ago.
Had Calipari won with that team, he would have had an undefeated national champion, which is something that is hard to deny.
Advantage: This category goes to Coach Williams, and it is not really close on this one. Maybe if Calipari had the undefeated title it would be close, but with only four Final Fours, compared to Williams' eight, Coach Roy takes the cake on this one.
Recruiting Success
Roy Williams: Roy Williams has always been a top tier recruiter since his days at Kansas. He has proven his ability to bring in big time talent, even if the state of the program is bleak.
Just look at the last few seasons.
While at first glance, it may look like Williams has struggled, he has still gotten players into UNC that can contribute big time. In the 2016 class, he signed a consensus five-star Tony Bradley, and a couple of four stars in Seventh Woods, and Brandon Robinson, both of which have shown they can be big time players for the Heels, in the not too distant future.
In 2017, he already has five-star Jalek Felton, and is in the running for Kevin Knox, and Jarred Vandebilt, who are five-stars in their own right. Williams has pulled in at least one five-star player, in all but three years since he has been at UNC.
Williams, despite the circumstances over the last few seasons, has pulled in enough talent to keep the Heels in the top ten in the Country. If anything, something must be said about Coach Roy's eye for good talent, not just his ability to recruit.
John Calipari: Many people in basketball circles believe John Calipari to be the best recruiter that college basketball has ever seen. Calipari's salesman-like personality fits the recruiting trail perfectly. He is a coach that has reeled in talent no matter his location.
At UMass, he got the best player in Connecticut at the time, a household name to many basketball fans, Marcus Camby. While Camby brought much attention to UMass, and Calipari, most of which was negative, there was no disputing his playing ability.
April 9, 2016; Las Vegas, NV, USA; Kentucky Wildcats head coach John Calipari reacts as he sits ringside of the Manny Pacquiao fight against Timothy Bradley during a boxing match at MGM Grand Garden Arena. Mandatory Credit: Mark J. Rebilas-USA TODAY Sports
While at Memphis, Calipari continued to recruit well. He brought in Derrick Rose, who was one of the most-highly touted players of his class, and turned him into a number one pick in the draft.
Rose also brought trouble to Memphis, but like Camby, he was hard to stop on the basketball court.
Kentucky has been Calipari's strongest display of recruiting. While at Kentucky he has had players like Anthony Davis, Karl Anthony-Towns, Julius Randle, and John Wall.
According to 247Sports, Kentucky has had the number one recruiting class all but two seasons since Calipari has been at UK. He has also never been outside of the top two classes. His class ranking average has been 1.25!
Advantage: John Calipari takes this category, based off his success at not just Kentucky, but really every where he has been. While Memphis is no slight of a program, his last year at Memphis he had the second best recruiting class, according to 247Sports.com.
While one can question his X's and O's, there is no debating Calipari's ranking among college hoops recruiters. Do not be surprised when Calipari retires to see him coming to your front porch to sell you something. He would probably thrive at that also!

Players in the NBA
Roy Williams: Williams has had twenty players drafted in his time at UNC, and sixteen at Kansas, bringing his total to 36 players drafted. Williams' best player in the NBA is Paul Pierce, who won a championship with the Boston Celtics.
Several others have won an NBA championship including Danny Green, Harrison Barnes, and James Michael McAdoo. Williams has had a player drafted all but three of his seasons at UNC.
Apr 4, 2015; Indianapolis, IN, USA; Kentucky Wildcats head coach John Calipari on the court during the second half of the 2015 NCAA Men
John Calipari: Calipari is extremely heralded for being able to send players to the NBA. Calipari had three guys drafted while at UMass.
While at Memphis he got nine players drafted, and while at Kentucky, an incredible 27 players drafted.
His total is at 39 players over all his years, which is solid for being at UMass, and Memphis for a lot of those years. Calipari's best NBA player, while up for discussion, is probably Anthony Davis, who has been a young catalyst for the New Orleans Pelicans so far.
Advantage: Based off recent success, Calipari has the edge in this category. He is most likely to get even more players drafted this season. Whether you like his one and done style or not, there is no denying his ability to produce NBA talent.
Individual Accomplishments
Roy Williams: Williams has a trophy case full of individual awards. Williams has won the AP Coach of the Year twice, and the Naismith Coach of the Year once.
He has also won a total of nine conference Coach of the Year award, seven with the Big 12, and two with the ACC. Also in 2006 he was inducted into the College Basketball Hall of Fame, and in 2007 he was inducted in the Naismith Hall of Fame. Coach Williams has rightfully racked up many awards, none of which amount to the endorsement of his mentor, and long time friend, the late Dean Smith.
Mar 27, 2016; Philadelphia, PA, USA; North Carolina Tar Heels head coach Roy Williams cuts down the nets after defeating the Notre Dame Fighting Irish in the championship game in the East regional of the NCAA Tournament at Wells Fargo Center. Carolina won 88-74. Mandatory Credit: Bob Donnan-USA TODAY Sports
John Calipari: Calipari has won the Naismith Coach of the Year three times, and the AP Coach of the Year once. On the other hand, he has also won nine conference Coach of the Year awards.
In 2015, Coach Cal finally added the tag "Hall of Famer" to his name. While his brash style turns many people off, Calipari has rightfully deserved his title of a top five coach in the game.
Advantage: This one is too close to call. While Calipari has won more coach of the year awards, it is at an advantage of having lower expectations. It is extremely hard for Blue Blood programs to win coach of the year, because expectations are high. Calipari has won two of his awards at UK, thanks to his undefeated regular season in 2015. This one will be a draw.
Winner
Apr 2, 2016; Houston, TX, USA; North Carolina Tar Heels head coach Roy Williams reacts during the second half against the Syracuse Orange in the 2016 NCAA Men
Over their entire body of work, Roy Williams gets the nod as the better coach. Williams resume is extremely long and accomplished, and he has the two national titles that speak for themselves.
While Calipari is not that far off of Coach Roy's resume, he has a little more catching up to do. Calipari will have plenty of time to do that, seeing as how he is nine years younger than Coach Williams.
More from Keeping It Heel
This article originally appeared on
---
---