The XFL, a football oddity, played its first — and last — championship game 15 years ago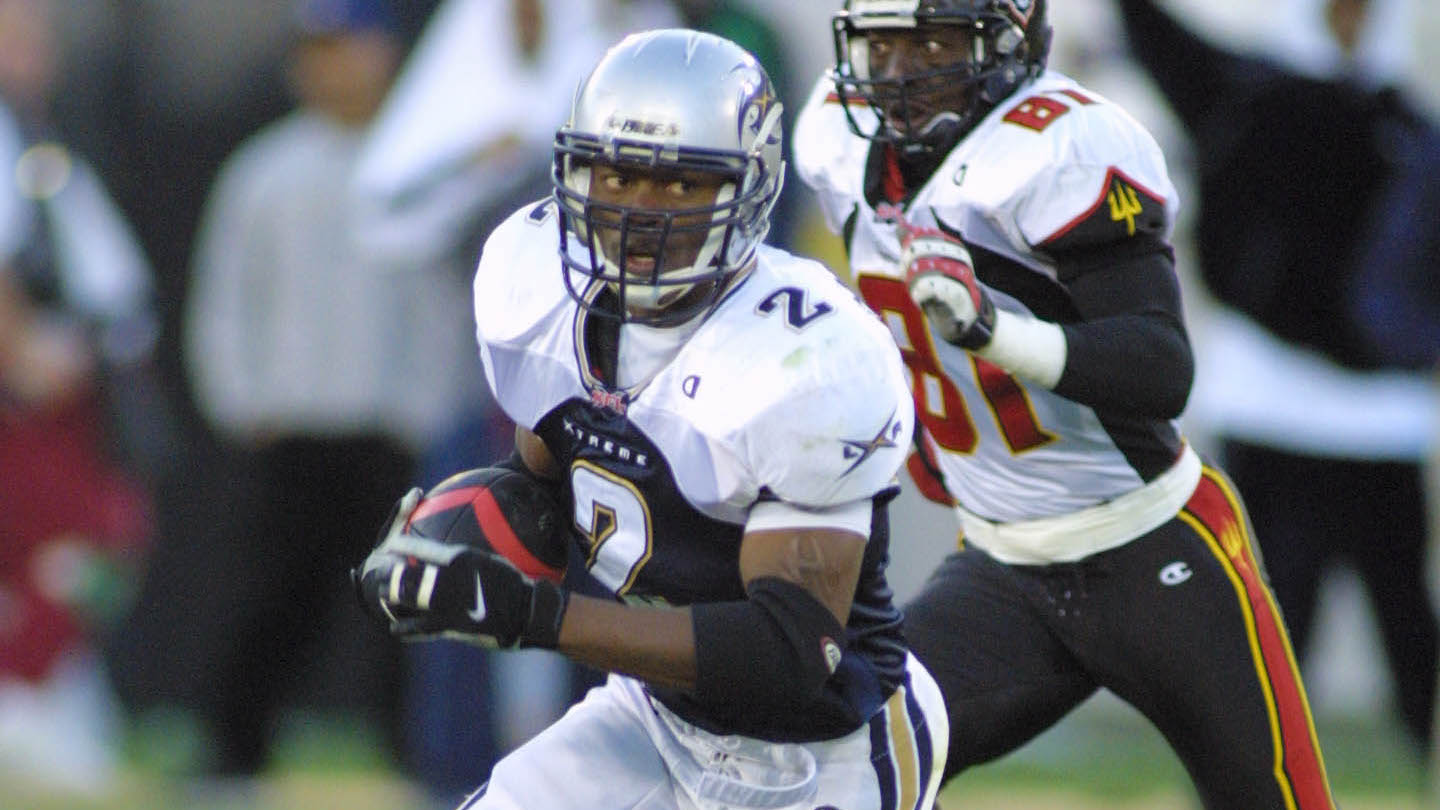 In the world of sports, athletes often dedicate their entire lives to reaching the pinnacle of their profession, but for many, life at the top can be short-lived. Sometimes all a player gets to experience at the highest level is one minute on the court, one trip to the plate, one shot on goal or one checkered flag, but more often than not, that fleeting moment in the spotlight is a story all its own. This is One and Done, a FOX Sports series profiling athletes, their paths to success and the stories behind some of sports' most ephemeral brushes with glory.
When WWE chairman Vince McMahon announced the formation of a pro football league in February 2000, the decision was panned as a gimmick and a questionable concept, at best. And when that league later folded in May 2001 after losing a reported $50 million in its controversial debut season, the news came as little surprise to the many who anticipated its failure.
But for those who competed in the XFL during its first and only year in existence, the experience was unlike any other, and though the league is still something of a punchline even to this day, it was an adventure ex-players like Ron Carpenter won't soon forget.
Carpenter started playing when he was six years old and turned it into a career that lasted until he was 35. At Miami (Ohio), the 6-foot-1 Carpenter was a three-time first-team all-MAC defensive back, and his exploits landed him in the NFL, where he spent parts of five seasons with four teams.
Carpenter also spent to two seasons with the Amsterdam Admirals, playing under coach Al Luginbill during the franchise's early days in the World League of American Football, but it was with the NFL's St. Louis Rams where he accomplished his life's ultimate goal, winning a Super Bowl at the end of the 1999 season.
"That last play was probably one of the most intense moments of my life," Carpenter told FOX Sports earlier this week of the iconic final play of Super Bowl XXXIV against the Tennessee Titans."I was on the sideline watching on that play, but when we all looked up at the screen to see if he'd actually made the touchdown, we saw how short it was and saw the referee wave it off, literally, every emotion you could imagine came out.
"I was ecstatic, I started crying, everything you could think of," Carpenter continued. "Those emotions ran through us because we had finally achieved our dream."
Unfortunately, that championship also marked the end of Carpenter's NFL career, but at 30 years old, Carpenter wasn't yet ready to quit football altogether. So he spent the 2000 season with the Nashville Kats of the Arena Football League, reaching the Arena Bowl, then got an internship in the Titans' scouting department with the goal of joining the franchise full-time in a front-office role.
However, he abandoned those plans soon after when he heard about McMahon's new venture with the XFL.
"I didn't know anything about it, nobody contacted me about it, but I called and there was a recruiting coordinator for all the teams," Carpenter said. "I told him who I was and he didn't know much about me. He asked if I had any highlight clips, so I sent him the highlight clips and he called me back immediately and said, 'I need to get you in this draft.'"
In October 2000, the Las Vegas Outlaws selected Carpenter on the draft's third day with the 412th overall pick, but when it became clear early in the season that he wasn't going to factor heavily into the Outlaws' plans, Carpenter requested a trade and was sent to the Los Angeles Xtreme, where he was reunited with his old coach Luginbill.
And from the outset, Carpenter could tell the XFL wasn't going to be just another second-tier league.
"The biggest thing was the race for the ball," Carpenter said of the XFL's physical interpretation of the coin toss, which led to a season-ending injury for the Orlando Rage's Hassan Shamsid-Deen prior to his team's first game. "And the names on the backs of jerseys. Everybody remembers 'He Hate Me' from Vegas, and the flexibility to just change the name on the back of your jersey, that was something that was absolutely weird to me — and it was encouraged.
"My nickname in college was 'Hollywood Carp' and they wanted me to put that on the back of my jersey, but I wouldn't do it," Carpenter continued. "I guess I was too old fashioned. I told my mom about it and she said, 'Your last name is Carpenter, so you better have Carpenter on the back of your jersey,' and when mama says that, you know what you have to do."
During its brief existence, the XFL's goal, not unlike the WWE's, was to pump up storylines and bring the game closer than ever to the fans. The result was a handful of good ideas — the league was the first to incorporate widespread use of skycam — but also a laundry list of unsuccessful ones, including in-game interviews with players on the sideline.
"The show that they were trying to produce started interfering with the quote-unquote football," Carpenter said. "It was football, but they were trying to make it too much like wrestling. I can't remember who it was, but there was one instance where they asked a player, 'How do you feel about the interception you just threw?' Well, how do you think he feels about it? Those types of things didn't happen in football, so you started getting guys cussing on TV and all kinds of crazy stuff."
There was also the issue of mic'd up players whose audio streamed live and unfiltered through the stadium PA system.
"Guys weren't encouraged to say the N-word and swear and all that type of stuff, but sometimes in the heat of battle, that stuff comes out on the field, and if you're mic'd up, everybody's going to hear it," Carpenter said. "One of the safeties, right before the game, he was amped, he was juiced, he was ready to go. And he blurted out, 'We're gonna kill these MFs,' straight through the stadium speakers. That's what happens when you give too much access.
"They realized that a little bit later on in the season, and started pulling back on who they mic'd up and started coaching them about what to say and not to say," Carpenter added. "But those first couple weeks, there were no rules. We'd ask, 'What are we supposed to say?' and they'd say to say what you feel, so that's what they got."
And that's to say nothing of what was typically going on in the stands around them.
"Opening night was in Vegas there was a young lady up in the end zone portion of the stands, and she just took her top off and went topless," Carpenter recalled. "And I was told that a portion of that got put on TV until they cut her out and didn't show it anymore. We were just sitting on the sidelines like, 'OK, she does not have a top on. What have we gotten ourselves into?'"
Eventually, at the urging of both the players and advertisers, the league backed off somewhat from its aggressive, access-driven coverage plan, and at that point the game became fun, even if the level of competition was widely criticized as being subpar.
"Once all that got out of the way, then it became football, and if you have any pride about your profession, you want to win every game and do well in every game," Carpenter said. "We had a great time, and once your competitive nature kicked in, everybody wanted to win. And we were with a coach who we knew knew what he was doing."
We were just sitting on the sidelines like, 'OK, she does not have a top on. What have we gotten ourselves into?'
Ron Carpenter
The Xtreme did plenty of winning, too, and finished the regular season with the best record in the eight-team league's Western Division, at 7-3. And when it came time for the playoffs, Carpenter found that many of the younger players on the roster looked to him and the Xtreme's other Super Bowl winners — Carpenter's Rams teammate Bobby Singh and former Broncos defensive tackle David Richie; XFL MVP Tommy Maddox's Super Bowl with the Steelers came in 2005 — for guidance.
"They started to say, 'OK, we've got a chance to win a ring. What's it like to win a ring?' and they started asking questions," Carpenter said. "I didn't bring (my Super Bowl ring) with me. I left it in Ohio in a safety deposit box there, but I told them, 'Dude, when we win this championship, it's going to be one of the greatest feelings you've ever felt in your life.' Each week, I had pictures of my ring and I would say things like, 'This is what we're playing for.'"
After defeating the Chicago Enforcers in the league semi-final, the Xtreme played host to the San Francisco Demons 15 years ago on April 21, 2001, in the XFL championship game at LA Memorial Coliseum, where it won 38-6 on the strength of two Carpenter interceptions. The game was called the Million Dollar Game in honor of the million-dollar prize that was split among the winning team — a total of about $22,000 per player after LA voted to include its seven practice squad members into the payout along with the 38 regular roster players.
The XFL pay scale was such that virtually everyone in the league made $45,000, except for quarterbacks, who made $50,000, and kickers, who made $35,000. So that bonus was significant for most who received it, and Carpenter says the feeling that everyone was on a level playing field financially was one of the most memorable aspects of playing in the XFL.
"By that point in my career, I wasn't necessarily trying to get back (to the NFL), and I just enjoyed it for what it was, which was everybody making virtually the same amount of money and loving playing football," Carpenter said. "Don't get me wrong, the NFL was fun and I would have loved to have been in it longer, but you didn't have that aspect of, 'What players do they have more money into?' and that's what I enjoyed about the XFL."
Carpenter had every intention of returning to the Xtreme for the 2001 season, too, but the league folded three weeks after its inaugural championship game, with exceedingly low ratings a significant factor in the XFL's demise.
"My understanding was — and again, this is coming from our head coach — that the network tried to go to McMahon and say, 'Hey, we want to redo the WWE TV contract, and if not, we won't do the XFL TV contract,'" Carpenter said. "So they tried to strong-arm him, and I guess that was the wrong person to strong-arm, because he said, 'Well, I'll fold the XFL, and you'll still have to honor the WWE contract,' and that's what happened. That was the end of the XFL.
"I guess he figured, 'You know what, this is just a toy, and I'm not going to let you mess with my bread and butter of WWE, so I'll just get rid of this toy,'" Carpenter continued of McMahon. "So that's how it happened, and we were kind of upset. We couldn't believe that we weren't going to be able to come back and play again, because we had fun. After the first few weeks, we had a blast."
In fact, the league closed up shop so quickly that most Xtreme players never even got a championship ring. Carpenter was in the minority that did, thanks to the benevolence of Nashville Kats president and co-owner Mark Bloom. After the XFL season ended, several Xtreme players returned to the Arena league and those, including Carpenter, who ended up in Nashville had their XFL rings paid for by the team.
From there, Carpenter played four more seasons in the AFL, eventually reuniting with Luginbill once again with the Detroit Fury, before retiring after the 2004 season. And while he may have been just as content had he gone out a Super Bowl champion, he says he doesn't regret for a minute his decision to be part of the fleeting XFL experiment.
"I tell my guys, 'Play as long as you can play,' because when it's over, it's over," said Carpenter, who last week resigned as the safeties coach at Central Arkansas. "If you don't make it to the NFL and one of these other leagues comes about, play as long as you can. As long as you can physically get it done, and have the opportunity, do it, because you'll make a lifetime of memories.
"That XFL championship game, I don't have it on tape, but I can go to YouTube and watch the whole game and watch myself getting two interceptions and show my three youngest boys, 'This is what Daddy used to do,' and it'll be there forever," Carpenter continued. "Those are moments I wouldn't trade for the world."
PREVIOUS ONE & DONES:
May 12: Dean Morton
May 19: Ross Browner
May 26: Dave Salvian
June 2: Mine That Bird
June 9: Kerwin Bell
June 16: MIchael Campbell
June 23: Tyson Wheeler
June 30: Roe Skidmore
July 7: Steven Hill
July 14: LaMarr Hoyt
July 21: Bernard Quarles
July 28: Matt Tupman
August 4: Kevin Melillo
August 11: Roy Gleason
August 18: Cory Aldridge
August 25: Tom Brown
September 1: Tony Cloninger
September 8: Mike Pantazis
September 15: Wilbur Wood
September 22: Doug Clarey
September 29: Danny Young
October 6: Chad Wiseman
October 13: David Matranga
October 20: Brad Fast
October 27: Zenyatta
November 3: Ohio Northern
November 10: Dave Scholz
November 17: Matt Walsh
November 24: Clint Longley
December 1: Steve O'Neal
December 8: 1985 Miami Dolphins
December 15: 1998 New York Giants
December 22: Ed Podolak
December 29: Scott Skiles
January 5: Bram Kohlhausen
January 12: 1968 New York Jets
January 19: Ricky Proehl
January 26: Mike Boryla
February 2: John Kasay
February 9: Julius Erving
February 16: Shaquille O'Neal
February 23: Mario Andretti
March 1: Nykesha Sales
March 8: 1962 Yale Basketball
March 15: 1998 Harvard Women's Basketball
March 22: 1971 Penn Basketball
March 29: Earnie Killum
April 5: Denny McLain
You can follow Sam Gardner on Twitter or email him at samgardnerfox@gmail.com.