Why the 49ers would be wise to cut Colin Kaepernick
Want to know why the San Francisco 49ers are the favorites to have the No. 1 overall pick in the 2017 NFL Draft? Well, the fact that the team's highest-paid player appears to be the team's fourth-best quarterback should explain a lot.
The 49ers have a new coach and a new offense, but alas, Friday night showed that the team has the same Colin Kaepernick it had last year, which, of course, raises the question: why bother keeping him for the remainder of this year?
Niners coach Chip Kelly said Friday that his coaching staff has "never had a conversation about cutting Kaepernick."
Chip Kelly says he has no timeline naming a starting QB. Also says there's "never been a conversation about cutting Colin Kaepernick"

— Cam Inman (@CamInman) August 27, 2016
They should open up that dialogue.
Kaepernick saw his first action of the preseason Friday night — in the 49ers' third and most important of the exhibition schedule — and laid an egg.
It was a wreck.
Kaepernick played 12 snaps on three first-half series against the Packers' first-string defense Friday. If he was, as reported, competing for the starting quarterback job with his performance, he clearly lost.
Last season, Kaepernick lost his starting quarterback job because he devolved into a one-read (or, more often than not, a no-read) quarterback whose game alternated between wild, aimless scrambles and rocket-armed throws into double or triple coverage.
That was the same quarterback that took the field Friday.
Kaepernick was 2-for-6 for 14 yards against the Packers, with 12 of those yards coming off one of those rocket throws into double-coverage.
He was clearly outplayed by Gabbert, who led the 49ers to a first-quarter touchdown, and rookie Jeff Driskel.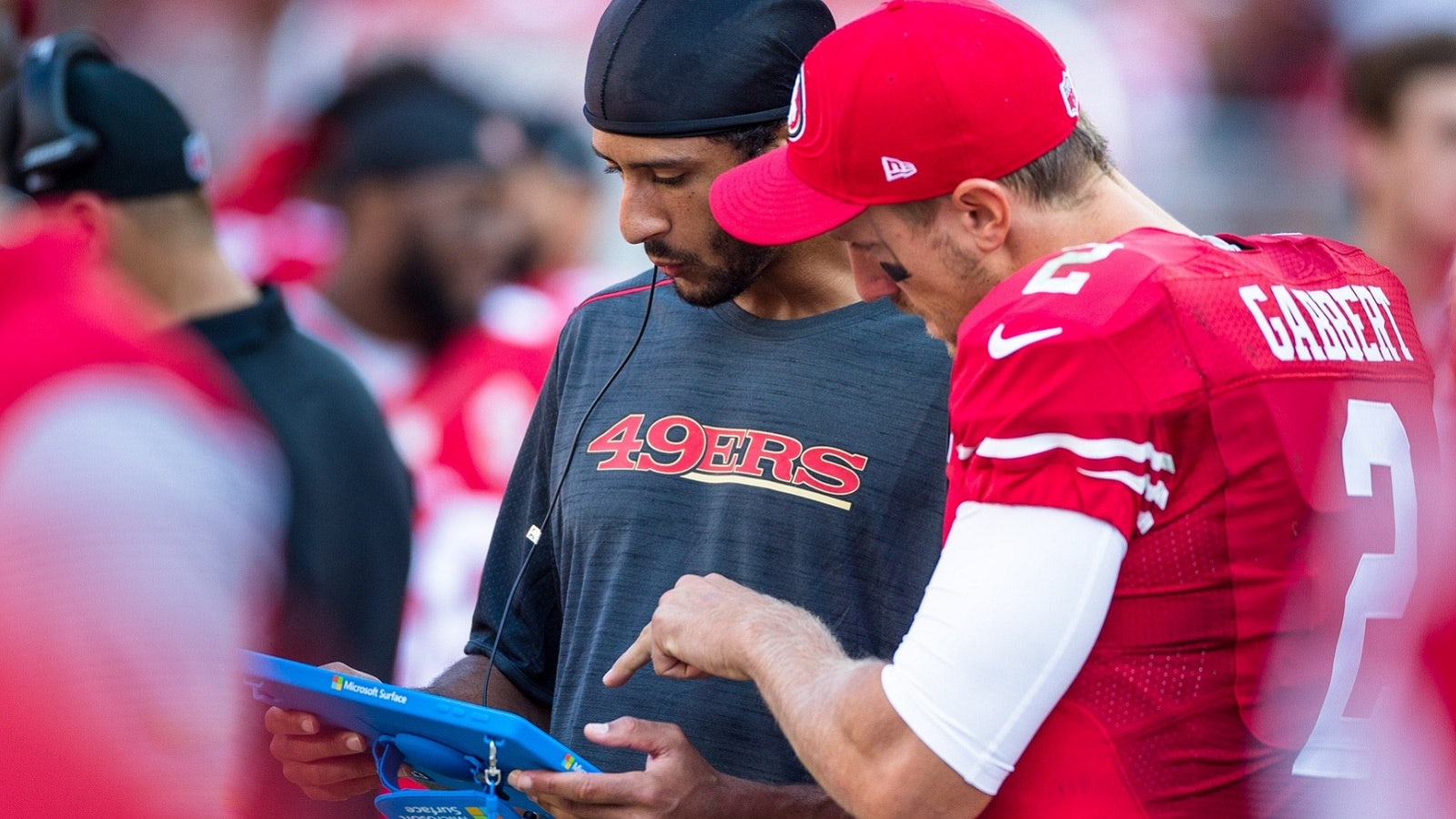 Had Christian Ponder not thrown a fourth-quarter interception, you could have made the case he outplayed Kaepernick as well.
Kaepernick looked like a quarterback signed off the street the week of the game — lost.
Ponder was signed off the street the week before the 49ers' second preseason game in Denver — he scored two touchdowns in that game, one running, one throwing.
Yet it's likely that the 49ers will release Ponder when rosters are cut down to 75 players Tuesday.
Why?
Friday's performance was more than enough to verify the claim that Kaepernick cannot help the 49ers win now or in the future — so what's the point of keeping him around as a backup who needs to learn the system?
The 49ers have to eat Kaepernick's salary this season no matter what they do with him. He can hold a clipboard or watch the games on his couch — the 49ers have to pay him. So why not open up his roster spot and see if Driskel has what it takes to be a starter, or if Ponder — who new 49ers coach Chip Kelly reportedly tried to sign in Philadelphia — can piece together the talent that made him a first-round pick in the Niners' up-tempo system?
Where's the value in trying to fix Kaepernick?
If the 49ers are going to treat him like a project, they might as well try to convert him to wide receiver — the 49ers are comically weak at that position.
Such a change would fit in with the 49ers' goal for 2016 — the team is considering this season a development year for young players. But considering there's next-to-no chance that Kaepernick will be the 49ers' starting quarterback in 2017, why would the team prolong the inevitable?
Kaepernick had to show something of worth on Friday, and he failed. It's time to cut him.
The 49ers are already wasting their money on Kaepernick this season – there's no reason they should waste time and energy on him too. There's no foreseeable return that could equal the team's investment at this point. And couldn't that attention be better used on Gabbert, their rookie, or a more worthwhile reclamation project?
The 49ers say they're entering a new era. Firing Jim Tomsula after a season to hire Kelly showed they meant business. In the coming days, they have another test. Will they do the prudent thing and move on from Kaepernick in the next week, or will they fall prey to the sunk cost fallacy?