New York Giants: Olivier Vernon: Behind the Mask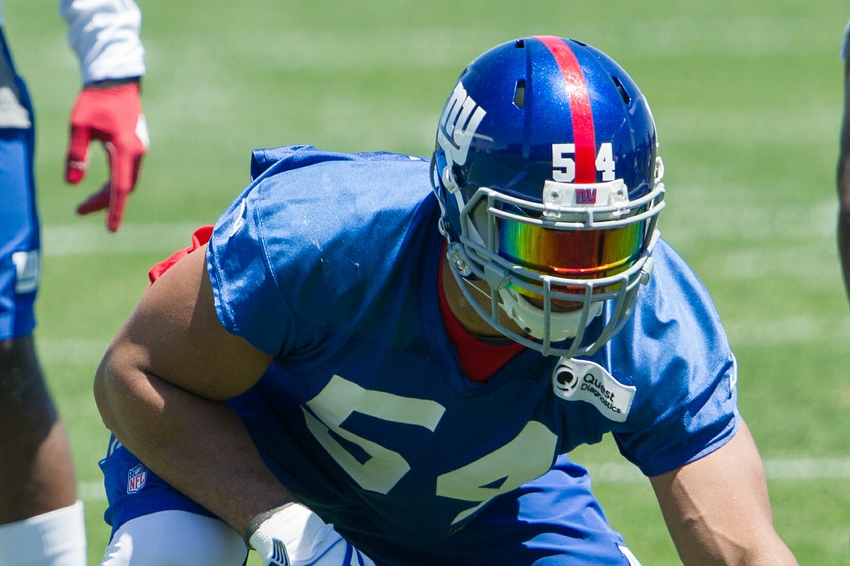 Olivier Vernon is much more than a big name and a big contract. Meet the man looking to carry the Giants defense.
At first glance, it's easy to understand why NFL quarterbacks who might run into New York Giants defensive end Olivier Vernon might wince in fear. Coming in at 6-2, 275 pounds, Vernon strikes is an undeniably intimidating presence. However, he is a private man and one of very few words, which adds a mysterious aura to this behemoth. While accommodating to the media, he sometimes looks uncomfortable, particularly when asked about his five-year, $85 million contract with a reported $52.5 million guaranteed.
On the field, he's much more comfortable—a whirling dervish and a guy who is determined to not be denied in his quest to get into the offensive backfield and at the quarterback.
Sit with Vernon for a few minutes, and you'll quickly find that there's much more behind the mask.  Vernon is an engaging young man who isn't afraid to laugh or bust on a teammate. He carries himself with pride in everything he does, including on the football field. Amidst all of this, he also relishes the opportunity to be a role model to kids who look up to him as a hero, especially in his hometown of Miami.
This is who Olivier Vernon is and why he's going to be so ridiculously successful under the bright lights that come with playing in New York.
A Throwback
This summer, Giants fans who came out to watch the team's training camp practices might have noticed Vernon running extra sprints. Whether that was during breaks in practice or after practice subsided, when most of his teammates immediately sought the air-conditioned indoors of the team's facility, Vernon was putting in the work. This display wasn't just for show to appease the fans who questioned whether the Giants lost it in bestowing upon Vernon one of the richest NFL contracts in league history. That extra work done by Vernon, which he continued to do now that the practices were closed to the public and to the media, is a very part of his fabric.
Raised by a Swiss-born mother and a Jamaican-born father, the 25-year-old Vernon is a first-generation American who got a first-hand glance at his parent's struggles. His dad, Lascelles, is a 25-year veteran of the Miami Police Department who only retired last year. His mom, Bernadette, used to work in a department store. As many parents try to do, the Vernons wanted the best for their family. And as many children tend to do, Vernon didn't always appreciate the sacrifices his parents make until he got older.
In Vernon's case, his father's job in particular could easily put a person on edge. Yet as a kid growing up, Vernon never gave it a second thought that his dad might not come home from his patrol area in the famous Miami South Beach section, not until he got older.
"You just think about your parents going off to a regular job and you don't think about the possibilities that could happen, like never seeing them again off of a routine traffic stop," Vernon said. "I'm just fortunate that he was able to do his time and be able to retire."
While his parents worked to give him as normal and supportive of a childhood as possible, they also instilled the on core principle: the value of hard work. Whether it was doing yard work, helping around the house, or mowing the lawn, Vernon quickly learned that to get the nice things in life, one had to work for it.
"You have to learn to do certain things," Vernon said of the lessons his parents taught him. Those included paying attention to his school work, giving a full effort in his sports, and, of course, doing his share of chores around the house. I was always in the backyard, chopping things down, cleaning stuff up, always doing some kind of yard work, or work with my hands."
"That's just one thing I had to do as a kid, and I guess that kind of trickled down into every sport I got into," Vernon said. "I realized really young that it takes a lot of hard work to get to where you want to go."
A Brush with Greatness
Sir Laurence Olivier is perhaps one of the greatest actors of the 20th century, an artist whose career spanned  movies, the stage and, later in his career, television. The late British actor, who died in 1989, is the inspiration behind Vernon's unique first name, a name chosen by his mother.
Her son, born a few years after the actor's passing, sheepishly admitted to having never seen any of the great actor's work. Despite being born after Olivier passed away, Vernon did have a brush with his namesake.
"I was in London one time right by the London Eye, and I stumbled upon a statue," Vernon said. "I was like, 'Man, this is an interesting statue.' So I was just staring at it and I was going to take a picture of it. I didn't know who it was. Then I looked down at the bottom of the statue and I found out it was of Sir Laurence Olivier. It was so weird and such a coincidence with how it happened."
Vernon said he appreciates his unique first name. He is also usually referred to by his initials, OV, by his teamamtes, coaches and members of the Giants staff. He's fine with that as well. However, there is one name that people sometimes call him that he'd rather you didn't.
"Please don't call me Oliver," he said.
Charting His Course
Like his namesake, Vernon has had his eye on trying to become great at his craft. Unlike his namesake, Vernon's path of pursuit was not the arts, but athletics. He attended American High School in Miami. Through his performance, he ended up ranked as the ninth-best defensive end prospect in the 2009 class, according to Scout,.com and Rivals.com, and the 16th-best defensive end prospect, according to ESPN. Between his sophomore and junior years of high school, Vernon accumulated 94 tackles, 19.5 sacks and 21 tackles for a loss and three fumble recoveries.
Like so many young South Florida hopefuls who dream of making it to the NFL do, Vernon enrolled in at the University of Miami. In three years with the Hurricanes, he recorded 51 total tackles (30 solo), 20.5 tackles for a loss, 9.0 sacks, one forced fumble and one fumble recovery. Besides fine-tuning his athletic abilities, Vernon came away with another important lesson during his college tenure.
"You have to grow up fast," Vernon said of taking the leap to a big-time college program and then the NFL. "It keeps getting bigger and bigger and there are certain types of responsibilities you have to take on, and being respectful of not only what you have going on but also of your family name. You gotta respect the last name on the back of your jersey."
Vernon made the decision to declare for the NFL early. In 2012, he was chosen in the third round, No. 72 overall, by the Miami Dolphins. In four seasons with the Dolphins, he recorded 196 total tackles (143 solo), 29 sacks, and three forced fumbles.
Vernon's approach to the game of football is quite simple. "I live with the view that tomorrow ain't ever promised to nobody, no matter who you are," he said. "You just have to play every snap to the fullest. Even outside of sports, you have to live every second of your life to the fullest. I'm a big believer in that."
Great Expectations
Although Vernon would rather not talk about his contract, he understands that with big money comes even bigger scrutiny. One missed tackle or one poor game could escalate into a public backlash.
"People can understand who you are, but they see you mess up on the field and they [couldn't] care less about what you do off the field or any charitable events you're involved in," he said. "For me, I just do what I have to do on the football field. I'm okay with you judging me for how I am on the football field because that's the football field. My daily life and how I carry myself, that's different."
Off the field, Vernon takes his position as a role model very seriously. He doesn't go out of his way to draw attention to the community events he attends that are near and dear to his heart, such as the annual camp he holds back at his old high school. He also doesn't actively seek the spotlight, either in person or on social media, and has made it a point to keep his name out of the gossip columns and tabloid television shows.
What Vernon, who also takes pride in being a first-generation American in his family, wants people to see is a man who comes to work each day, rolls up his sleeves, and gets to work, same as the boy who grew up in Miami performing a host of different activities to help around the house.
Opinion: New York Giants Have Bigger Issues Than Offensive Line
"I like to carry myself a certain way that in the end, if someone were to talk about me, they'd know that I did things the right way," he said. "Today could be your last day to do what you love. So whatever work you put out there, you have to ask yourself if you feel it's worthy enough that it makes things better for tomorrow."
If it doing what it takes to make things better for tomorrow takes a few extra minutes of his time, then Vernon is just fine with that.
"If you prepare yourself and get better for tomorrow, then it's worth it," Vernon said. "I always wanted to be known as an overall complete player as far as stopping the run and rushing the passer, being able to drop back. My biggest thing was gaining that respect for that. When it comes down to it, a lot of the work I put into it decides my approach. You don't want to waste no time because football don't last forever."
This article originally appeared on