Front Office Insider: Charles Sims could be the Buccaneers' new backfield star
The long-anticipated return of running back Charles Sims couldn't come at a better time for the Tampa Bay Buccaneers.
Sims, who fractured his ankle in August, was placed on the injured reserve-designated to return list. It appears the third-round rookie will be a significant part of the team's offensive attack moving forward.
"There's a role for him," a Buccaneers team source told FOXSports.com. "While he might not get No. 1 carries right away, he's definitely a third-down back and could possibly be a factor in the screen game. He's a player that has that game-breaking ability."
For whatever reason, the Buccaneers rank 31st in the league in rushing yards. Among the contributing factors are subpar offensive line play, lack of yards after contact and often playing from behind. It's an area coach Lovie Smith said this week needs improvement.
"We need more production from the running game, period," Smith told reporters.
The injuries to Sims and running back Mike James before the regular season began allowed Doug Martin to get "bell-cow back"-type carries. But after exiting Week 1's game with a knee injury and not playing in the next two games, Martin hasn't found his rhythm and is averaging just 2.9 yards a carry. Last Sunday, Martin was knocked out again with an ankle injury, the severity of which is unknown. Bobby Rainey, who the Bucs claimed off waivers from the Cleveland Browns last October, has been the team's most consistent option.
Entering the season, the Buccaneers' philosophy, as one source put it, "was to always have a pass catcher out of the backfield." Smith and running backs coach Tim Spencer employed the likes of Matt Forte during their days in Chicago.
When the Bucs selected Sims in May, Smith recalled a story of Spencer watching Sims at the Senior Bowl in January and recognizing similar characteristics between him and Forte. With 203 receptions in four seasons at stops including the University of Houston and West Virginia, Sims figures to give Tampa Bay's offense the boost it has needed.
"He can beat you with his feet and his hands," West Virginia running backs coach JaJuan Seider told FOXSports.com this week. "He's just as good a wide receiver as he is a starting running back. The way that he practices makes playing easy. I've never seen a kid work as hard as him."
Seider, Sims' former position coach, went on to say that he was even a better teammate than player.
"I joke you not, we are in the thick of the Big 12 right now, and I really believe a lot of it stems from Charles," Seider said. "He set the tone for a lot of the guys on the team. He taught a lot of guys how to practice and how to become a close-knit family."
At 6-foot-1, 215 pounds, Sims is a big back who can create matchup problems. The question is how quickly he will be able to grasp the speed of the game and apply that game-breaking talent into production on the field.
A noteworthy statistic
For all the time we spend breaking down red-zone percentage, turnover differential and third-down defense, there might be an even better statistic that's a true indicator of a team's success and how it correlates to wins on the field. The folks at ColdHardFootballFacts.com have been tracking passer rating differential for years, but I admittedly hadn't heard about it until this week. According to CHFF, 26 of 73 NFL champs (36 percent) since 1940 finished No. 1 in passer rating differential; 44 (60 percent) finished in the top three in PRD and 69 (95 percent) finished in the top 10.
On Sunday Night Football, color analyst Cris Collinsworth noted that the one statistic Green Bay Packers defensive coordinator Dom Capers gives much credence to is passer rating differential. In short, it's a way to measure an offense's passing efficiency and its defense's ability to defend through the air. Though it's not bulletproof and has some missing variables, the stat takes into account decision-making at the quarterback position, accuracy, chunk plays, creating pressure and covering through the air.
Capers, who was the Carolina Panthers head coach from 1995-98, spoke about the topic earlier this month with Press-Gazette Media's Pete Dougherty.
"I think about when the Packers won the Super Bowl (in the 1996 season) and beat the Panthers out here, they were plus-41 or 42 that year," Capers said.
"They were No. 1 in (passer-rating) offense, No. 1 in (passer-rating) defense, which rarely happens. If you have a guy like Brett Favre, you had a high quarterback rating, and their defense was hard on opposing quarterbacks. Look at when we won it here (in the 2010 season). If we weren't the top (in differential), we were one of the top two."
The information below, courtesy of STATS LLC, is a current look at each team's passer rating differential. Two teams that stick out are the Buffalo Bills in the top 10 and the Philadelphia Eagles ranking below the Tennessee Titans and Washington Redskins.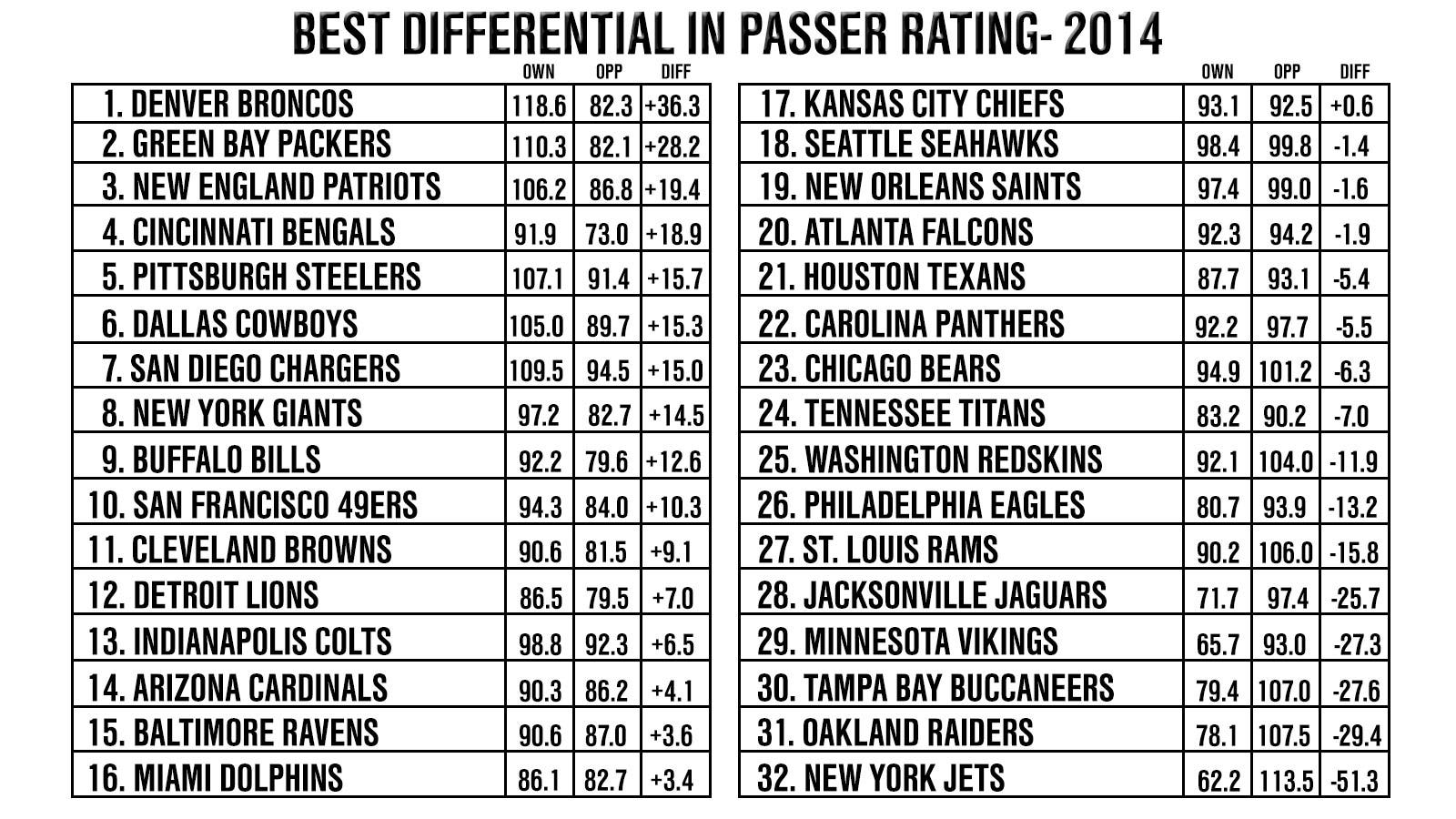 Barr scratching the surface?
Some around the league are still buzzing about Minnesota Vikings rookie linebacker Anthony Barr's walk-off forced fumble and recovery for a score. Barr, who was playing in his eighth regular-season game, has 18 tackles, two passes defensed and a forced fumble over the past two weeks.
"A lot of people forget that this is only Anthony's third year playing defense," a source close to Barr told FOXSports.com. "He's a true definition of an athlete and is only scratching the surface on his talent."
Barr, of course, made the position change from a tailback-tight end hybrid position to linebacker in his junior season at UCLA.