Eric Dickerson Reacts to Jeff Fisher's Extension with Rams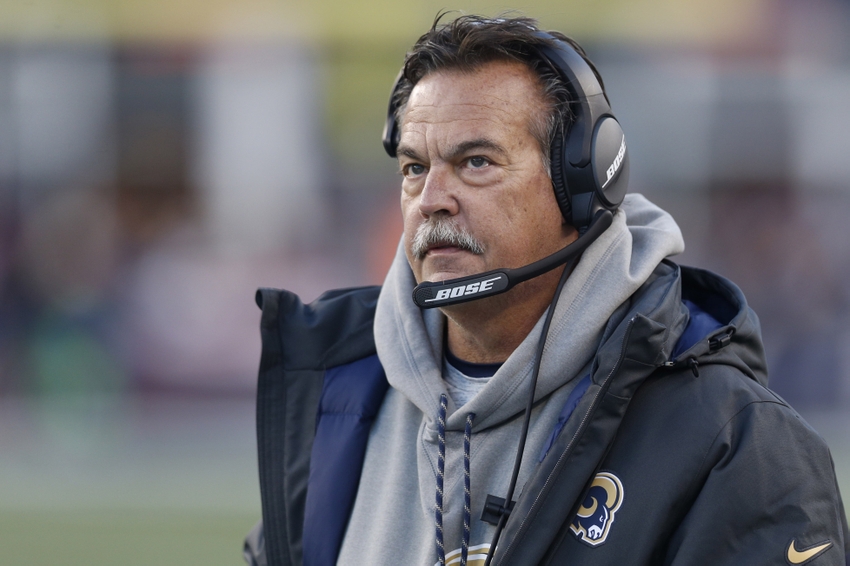 Los Angeles Rams legend Eric Dickerson shared his thoughts on the team giving head coach Jeff Fisher an extension.
Sunday was a rough day for Los Angeles Rams fans after it was reported the team was extending head coach Jeff Fisher's contract for another two seasons. Of course, Rams legend Eric Dickerson wasn't thrilled with the news.
Dickerson has been feuding with Fisher ever since the head coach denied him extra sideline passes because of his truthful critiques of the team.  Since then, Dickerson has called for Fisher to not return as the team's head coach beyond this season and he refuses to attend games until Fisher is gone.
So, as you can imagine, Dickerson was dumbfounded just like everyone else at the idea that Fisher would receive a contract extension, which came to light on Sunday morning.
Here's what Dickerson had to say to FOX 11 Los Angeles on Sunday:
"How in the world can you give a guy an extended contract and he has five losing seasons? And I asked Kevin Demoff and he says 'it's not about the records.' OK, what is it about? It's about him showing up on time? Looking up at the scoreboard real nice like?"

"I'll say it again; where are the naked pictures? Who has them? Because something is going on here to hire this guy back again for another two seasons. It's a joke, unless they're just kind of waiting to try to get the fans to hold on until we get a new stadium and just ride this out. He's not a winning coach. I just have to say it. Nothing against Jeff Fisher, it's nothing personal at all, but I've said this before and I'll say it again: I want our football team, the Los Angeles Rams, to win also and we can't win with Jeff Fisher as head coach."
More From Eric Dickerson
Dickerson reiterated he won't be returning to games while Fisher is the coach. He even stated he watched the Rams' ugly Week 13 loss to the New England Patriots from a sports bar.
Despite his opinion that Fisher isn't the right coach for this team, Dickerson did say he would be the first to apologize to Fisher if he can actually produce a winning season. That's a bet any angry Rams fan would take considering Fisher is on his way to a fifth losing season as the Rams head coach and there's no end in sight.
The situation between Fisher and Dickerson was ugly enough, but now the Rams won't have one of their legends at games for at least another season – and possibly more if Fisher somehow rights the ship.
It's no wonder Dickerson and Rams fans are so upset. Management continues to make decisions without logic and those same decisions are having a widespread negative impact on the franchise.
This article originally appeared on