Deandre Hopkins says he – not Michael Thomas or Julio Jones – is the best wideout in the NFL
Nearly two weeks after New Orleans Saints wide receiver Michael Thomas and Miami Dolphins wide receiver DeVante Parker competitively took to Instagram, providing us all some comic relief in the process, Thomas' name is being brought up again.
This time, however, the competition is a little stiffer.
In an appearance on ESPN's Jalen & Jacoby, new Arizona Cardinals wide receiver DeAndre Hopkins was asked how he feels about Thomas proclaiming himself the best receiver in the NFL.
Top of the top

— Michael Thomas (@Cantguardmike) May 18, 2020
Hopkins, a friend of Thomas', answered candidly, saying that Thomas – although great – is benefitting from a great situation, too.
"I definitely think I'm the best. I know I'm the best. Mike's my boy. I love Mike … But he know if I had Drew Brees my whole career what these numbers would be. Julio Jones know if I had Matt Ryan my whole career – that's my boy and I train with Julio, too – he know what these numbers would be. Those guys are definitely blessed to be in a position where their whole career they had a Pro Bowl quarterback, a quarterback that they spent multiple seasons with."
.@DeandreHopkins on the #1 spot. pic.twitter.com/KeiUmRBAMw

— Jalen Rose (@JalenRose) May 28, 2020
Folks – we've got a disagreement on our hands.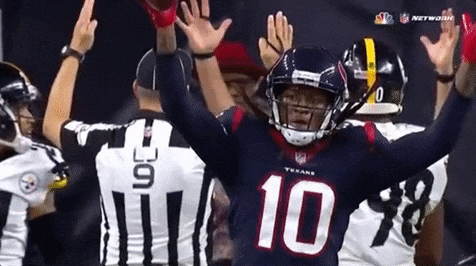 Hopkins was the 27th pick in the 2013 NFL Draft, and since he set foot in the league, few receivers in NFL history have been as productive in the early stages of their career.
In his 7 seasons, the 27-year old Hopkins has missed only 2 games and recorded over 1,000 receiving yards five times. He's averaging 1,229 yards (78.2 per game) on 90.3 catches (5.6 per game) per season, which comes out to 13.6 yards per catch. He's also catching 7.7 TDs per year.
For context, Hopkins has more receiving yards than NFL Hall of Famers Terrell Owens (7,470) and Michael Irvin (6,935) through this point in each of their careers.
What makes Hopkins' stats even more impressive is the laundry list of quarterbacks that he's caught passes from over the course of his career.
Since 2013, DeAndre Hopkins has the third-most receiving yards and catches, second-most touchdowns and most targets in the NFL.

With these QBs:
Matt Schaub
Case Keenum
Ryan Fitzpatrick
Ryan Mallett
Brian Hoyer
T.J. Yates
Brandon Weeden
Brock Osweiler
Tom Savage
DeShaun Watson

— Ben Fawkes (@BFawkesESPN) May 28, 2020
Only two quarterbacks on this list have been named to the Pro Bowl: Matt Schaub and Deshaun Watson. However, Schaub's Pro Bowl appearances came in 2009 and 2012, before Hopkins was drafted in Houston.
Watson made the Pro Bowl in both 2018 and 2019, and in those two seasons, Hopkins put up 2,737 yards (88.3 per game) and 18 TDs in 31 games.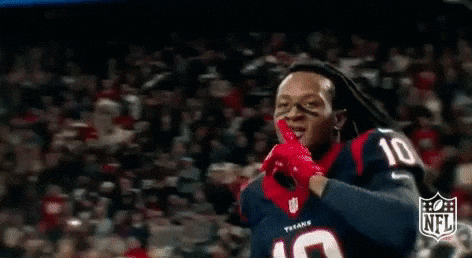 Maybe Hopkins is onto something. Give him a Pro Bowl quarterback and his numbers will be off the charts.
So, how does Hopkins compare to Thomas?
Well, last season, he didn't. In fact, no one did.
The 2019 Receiving King: @Cantguardmike @Saints | #WallpaperWednesday pic.twitter.com/13yyeIVXMQ

— FOX Sports: NFL (@NFLonFOX) May 13, 2020
Thomas led the league in catches and receiving yards last season, posting a tremendous 1,725 yards (107.8 per game) on 149 catches (9.3 per game). He also had more targets (11.6 per game) than any receiver.
He became 1 of 8 receivers in NFL history to eclipse 1,700 receiving yards in a season.
.@TheNickShook uses Next Gen Stats to identify the 10 best pass-catchers of 2019 — revealing some expected names (Michael Thomas) and some surprises (Marvin Jones)https://t.co/ltprdiFuTS pic.twitter.com/DtuRCDWBXm

— Around The NFL (@AroundTheNFL) May 18, 2020
Since entering the league, Thomas, 27, has more receiving yards in his first four seasons (5,512) than Randy Moss (5,396), Jerry Rice (4,881), Owens (3,307), Irvin (2,968), Jones (4,330) and Hopkins (4,487) through each of their first four seasons.
And according to Pro Football Focus, no receiver has been as dominant as Thomas over the past three seasons.
Michael Thomas: top seat at the table 🤫 pic.twitter.com/FZtnMtXkHA

— PFF (@PFF) May 20, 2020
Just based on last season, Thomas has a strong argument for best receiver in the league, but both Hopkins and Jones can make a strong case as well.
In 2018, Jones, 31, led the league in receiving with 1,677 yards (104.8 per game) and Hopkins finished 2nd with 1,572 yards (98.3 per game). Thomas finished 6th with 1,405 yards (87.8 per game).
In addition, of the three, Jones (5,924) has the most total receiving yards since 2016, Thomas' rookie season.
.@juliojones_11's BEST play from every game last season! 🛩 pic.twitter.com/DrIp4wDttl

— NFL (@NFL) May 28, 2020
This is as close as a debate can get.
Most receptions for first downs or touchdowns since 2016

1. Michael Thomas – 299
2. Julio Jones – 286
3. DeAndre Hopkins – 274 pic.twitter.com/UYZf5aRcyi

— PFF (@PFF) May 27, 2020
One separating factor, however, as Hopkins mentioned, is quarterback play.
Consider this: Since Thomas entered the league in 2016, Saints quarterback Drew Brees alone has completed 1,502 of 2,076 passes despite missing 6 games, while Falcons quarterback Matt Ryan alone has completed 1,545 of 2,287 pass attempts while missing 1 game.
Hopkins' quarterbacks, those who have started at least 7 games (Deshaun Watson, Brock Osweiler and Tom Savage), have completed a combined 1,230 of 1,937 pass attempts since 2016.
In short, Jones and Thomas do have the benefit of consistent, superstar quarterback play, and in Thomas's case, Brees is considered one of the best quarterbacks of all-time.
Highest PFF passing grade 2006-2019

1. Drew Brees – 96.9
2. Tom Brady – 96.7
3. Peyton Manning – 96.3
4. Aaron Rodgers – 95.7 pic.twitter.com/zB4MU9gw7y

— PFF (@PFF) May 24, 2020
So, back to the original question – is DeAndre Hopkins the best receiver in football?
ESPN's First Take took a shot at the subject on Friday morning, and Max Kellerman said that based on production in the midst of his circumstances, Hopkins has earned the top spot.
"You can recognize, even though [Thomas] accounts for a huge part of that [Saints] offense … it's still Drew Brees and Sean Payton and stability … They have a really perfect situation for him and he's produced … Has DeAndre Hopkins been in that situation, where it's just perfect for him? No. He's not a product of a system … The guy is unbelievable. Who do I think has the best case for the best wideout? I think Hopkins is right, whether or not I believe that.
Kellerman then turned to former NFL defensive backs Domonique Foxworth and Louis Riddick for their opinions, and even though Foxworth agrees that Hopkins has a great argument for the 'best receiver' title, and has been suffering from a lack of superstar QB talent up until the last two years, there are a few other names that come to mind when thinking of which receiver he would least like to cover.
"He has a great case and he's right – his history of quarterbacks up until Deshaun Watson is pretty bad and his numbers were great. But when I think about who I would be afraid of … as a former DB, it's not [Hopkins]. I'm looking at Julio Jones. I'm looking at Tyreek Hill. And I understand they both have better quarterbacks, and maybe if DeAndre Hopkins had a better quarterback, his numbers would be better and I'd be more impressed with him. But he doesn't have the same type of defensive-breaking speed that Tyreek Hill or Julio Jones has."
Tyreek Hill – nicknamed 'Cheetah' – is the star receiver for the defending champion Kansas City Chiefs and widely-regarded as the NFL's fastest player.
Tyreek Hill reached a staggering 22.64 MPH today against the Vikings 😳#nextgenstats

Next Gen Stats, Powered by @awscloud pic.twitter.com/8vJSyFtrP2

— Sunday Night Football (@SNFonNBC) November 4, 2019
Like Thomas, Hill entered the league in 2016 but didn't become a full-time starter until his second season. That year, he caught 75 passes for 1,183 yards and 7 TDs, and in 2018, he caught 87 passes for 1,479 yards, good for 4th in the NFL, to go along with 12 TDs.
And while he missed 4 games in 2019, he still put up 58 catches, 860 yards and 7 TDs.
…@cheetah not surprised, boy a DOG!! https://t.co/4I9MhMe87P

— Deandre Hopkins (@DeAndreHopkins) May 16, 2020
Riddick also mentioned Hill and Jones as the receivers he'd least like to face in today's game, but said that overall, Thomas is the best receiver in the game.
"I agree with Domonique. As a former DB, if I'm lining up out there and I see Julio or I see Tyreek – speed is probably the No. 1 thing that scares you as a DB because you know there's just nothing you can do about it … [But] if I needed one guy to make one catch, all things being equal … if I needed a guy to make me a play with the game on the line … I'm going with Mike Thomas. Over the past three years, I haven't seen a wide receiver punk DBs on a regular basis the way I've seen Michael Thomas do it … He can beat 'em with finesse and he can beat 'em with strength."
Needless to say, there are several candidates worth being tabbed the best receiver in the game, and three of them are named Hopkins, Thomas and Jones.
Each of these superstars have the game and the numbers – and numbers don't lie.
However, it might be up to us to figure out if some numbers tell more truth than others.