Carson Wentz's eye-popping pro day drew some amazing comparisons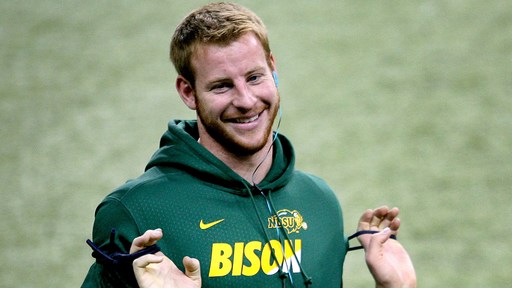 Carson Wentz was a top-10 pick in most NFL mock drafts before North Dakota State's pro day Thursday, so there's no telling how much more interest he'll get from quarterback-starved teams after it.
Though Wentz completed 63 of 65 passes with one drop and one overthrow at the Fargodome, leaving one of the NFL's most veteran sets of scouting eyes very impressed:
One of the best pro days I've ever witnessed. Wentz reminds me of Joe Flacco. He had 2 55-yard passes that were as pretty as I've seen.

— Gil Brandt (@Gil_Brandt) March 24, 2016
A lot of people asking what the best QB pro day I have ever seen. It was Sam Bradford's. Best I had seen since @TroyAikman's.

— Gil Brandt (@Gil_Brandt) March 24, 2016
C
The 6-foot-5, 237-pound Wentz also received a pretty amazing comparison from another NFL Network analyst:
Carson Wentz might be your next franchise QB.Is he going to the Cleveland Browns? How about the San Francisco 49ers? Who else is in need of a QB with skills like this? All eyes are on the NDSU QB as he goes through the paces at his NFL Pro Day this morning. #procast

Posted by NFL on FOX on Thursday, March 24, 2016
After the workout, Wentz — who ran a pro-style offense and won 20 of 23 games at North Dakota State — told NFL Network, "I thought it went well. It wasn't perfect."
"He's 237 pounds, and he's every bit as athletic as Andrew Luck or Cam Newton." –@MikeMayock https://t.co/zrF6YWHFaE

— NFL (@NFL) March 24, 2016
Yeah, but it was darn close.
Wentz naturally owned the spotlight Thursday. But Wentz hopes the attention on him benefits his teammates as well.
Wentz is projected by many to be the first quarterback chosen in the draft, and his blindside protector at North Dakota State, offensive lineman Joe Haeg, is also expected to hear his name called during the NFL selection show at the end of April. Wentz said there are other Bison who just need a chance to show off their skills.
"I was most excited for a lot of these boys I've been with for four and a half years here," Wentz said. "I was just excited for them to showcase what they could do and I was glad that Joe Haeg and myself could bring a bunch of extra scouts along."
North Dakota State head coach Chris Klieman, who in December guided the Bison to their fifth straight Football Championship Subdivision title, spent most of the morning chatting with scouts and "answering questions about a lot of our guys." One of those is cornerback CJ Smith, who is being compared to former NDSU and current New York Jets corner Marcus Williams.
"We've just got to get his name out there more," Klieman said of Smith. "I think he's a young man that whether it's a draftable guy late or a real priority free agent, will be a guy who will have a hard time not making a club."
The group of about 10 former Bison players hoping to draw some attention at pro day included defensive back Christian Dudzik, whose last year of eligibility was the 2014 season. He recorded his fastest 40-yard dash time in front of any pros.
"I was just hoping to run fast and look smooth in the drills," Dudzik said. "I think I did that today. Hopefully somebody signs me or invites me to camp."
Wentz said he was happy he could mark off the last box in a pre-draft season that included the Senior Bowl, NFL combine and pro day. He impressed a crowd that included current Bison players and an invite-only list of alums, boosters and Fargo VIPs.
Klieman said Wentz had the same look before pro day that he had in Frisco, Texas, in January before guiding the Bison to the FCS title game victory after missing eight games with a wrist injury.
"He was ready to perform and play today," Klieman said. "And that's kind of guy he is. He's so competitive. I knew he would shine on the big stage today."
The Bison player with perhaps the toughest task was punter Ben LeCompte, who was in the unfortunate position of following Wentz. LeCompte boomed punts under the Fargodome roof as Jackson, the Browns coach, was leaving the stadium and Wentz was being interviewed on ESPN. LeCompte says he was pleased with the number of teams that stayed to watch him punt.
Besides, LeCompte joked, he is used to taking the stage after Wentz.
"I have been following Carson for a long time," LeCompte said. "He throws a stupid, incredible touchdown pass and I have to go out and hold for the point-after while the crowd is still cheering."
The Associated Press contributed to this report.