How NASCAR pit crews are turning to football world for next generation
The guy with the stopwatch is Chris Burkey.
It's Saturday, Feb. 15, and much like an NFL coach during the first preseason game, Burkey is eager to see if his guys can execute when live bullets are flying. Show time at the Sprint Unlimited at Daytona International Speedway, a race that serves as a test of sorts before they start to count.
"Not good enough," Burkey says, shaking his head in discontent after reading the stopwatch. Too many 1/1000ths of a second had passed. In the pit, every moment matters.
Burkey is the pit coach for Hendrick Motorsports drivers Jeff Gordon and Kasey Kahne, and he is accustomed to lofty expectations. He learned how to build a team of winners during the four years he spent as an NFL scout, which included a stint with Nick Saban when he coached the Miami Dolphins.
Now Burkey faces a similar challenge: NASCAR pit crews are changing and turning to the world of football for an infusion of talent. Burkey began describing this shift, telling me he needs his tire changers to be defensive backs or wide receivers, his tire carriers to be linebackers or tight ends and his jack man and gas man to be offensive or defensive linemen. Every year, he sifts through former Division I and NFL prospects for those who might have what it takes to make his team better.
Like football, it all begins at a combine.
***
In June, with the world of NASCAR still a foreign concept, Burkey and Team 24 invited me to Hendrick Motorsports headquarters in Charlotte to watch 20 athletes compete at the pit crew combine.
Upon arrival, I met Andy Papathanassiou, or Papa for short, who is the Director of Human Performance at Hendrick. In a former life, he was an offensive lineman at Stanford University, but NASCAR is now his world and he has been on the cutting edge of pit crew philosophy since 1992.
In football terms, Papa is the pit crew's general manager and Burkey is the head coach. Papa not only evaluates the athletes currently on Hendrick pit crews but also the prospective athletes at the combine, his coaches and his trainers. He tracks how well they communicate, how well they adjust and how well they've prepared for the combine.
Papa is also responsible for bringing Burkey to Hendrick to use his experiences in collegiate and professional football to locate, recruit, train and coach the pit crew. Papa's vision: to build a team made of the finest athletes in motorsports.
"There was no such thing as even a coach 20 years ago," Papa said as we chatted on the outdoor turf field at Hendrick's facility, where prospects were being briefed before the combine. "Pit crews operated out of a mechanical paradigm. You took your best mechanics and turned them into your pit crew. What we started doing about 22 years ago was shift that from mechanical to athletic."
Finding athletes who can execute tasks in the pit with precision and consistency isn't easy, so a wide net is cast, but football players tend to be perfect fits. They're quick, strong, agile and explosive with good hand-eye coordination and have been groomed to execute missions under pressure. The challenge Papa finds with football players is they have to rein in their energy and intensity so they can maximize the fine motor skills required in their new craft.
To build the pool of athletes for the combine, Papa and Burkey rely on a similar system of scouting and recruiting that football coaches do. They receive recommendations from their networks of strength coaches around football, and they hit the road to see talent in person.
"We're coast-to-coast each week [for races] so we go into the colleges and universities [located in those cities]," Burkey said. "If we're in Phoenix, we'll go into Northern Arizona or Arizona State and talk to the coaches and strength coaches and get an idea of the guys that may not get drafted but still want to compete. We get their names and their numbers and then we contact them."
The prospects are compiled and then evaluated for specific traits, from limb length – the farther away a tire changer is, the more room it leaves for others to work – to intelligence to aptitude to overall competitiveness.
"It's really the mentality that we're looking for — what I call the 'over-the-wall mentality,'" Papa said. "So, it's thinking like an athlete. What do athletes do? Athletes know the importance of coaching. Athletes understand the importance of practice and repetition. Athletes also understand that you're going to fail a whole bunch at something before you get it right. It's the cognitive building blocks of what athletes are that always has been – and always will be – the most important thing to us."
Added Burkey: "I like to look at how guys interact with other guys and [what] they do when they're not participating in the drills. Are they taking care of themselves? Are they stretching and keeping hydrated? Are they mingling with the other guys? How are their personalities? We want to surround ourselves with good, solid people and the guys who want to compete. That's what I want to see."
The recruiting and scouting process, which has been in place for about six years, has paid dividends. Papa and Burkey have secured talent that's replenished their four Cup teams, and they've constructed a farm system that operates in preparation of opportunity. "[Our roster] is always evolving based on injuries or guys aging out," Burkey said. "Sometimes that happens. In every sport it does."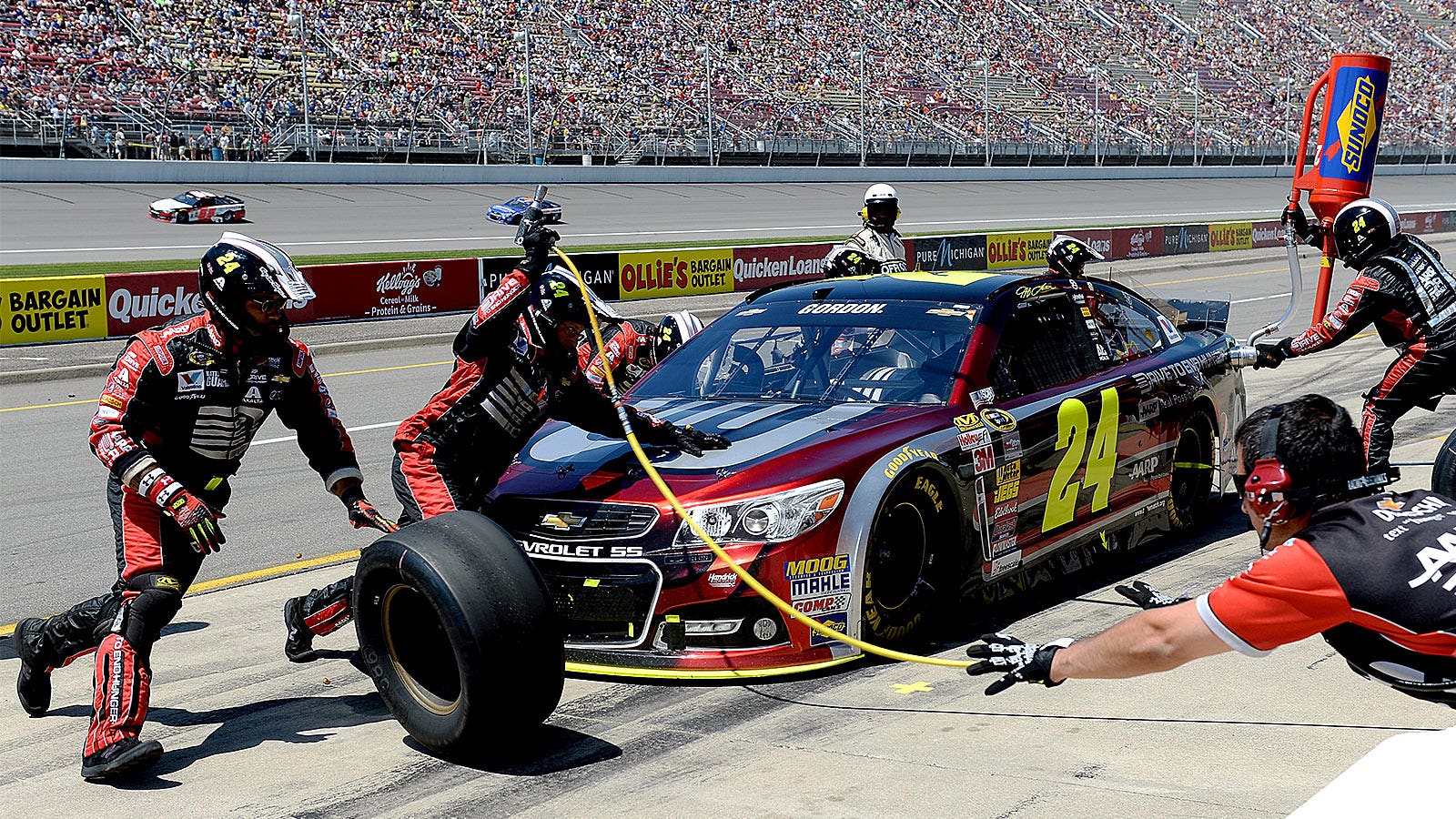 ***
Adam Nissley glided across the turf field to grab a Gatorade out of the cooler. He'd completed only the combine's group warm-up, but his wavy, surfer-esque locks were already drenched with sweat from the heavy, 90-degree air. He waited to perform his first drill in front of Hendrick brass.
You would never guess Nissley is 6-foot-6 and 267 pounds by the way he moves. He's light on his feet and surprisingly graceful considering he lugs around a barrel chest that bench pressed 225 pounds 40 times in front of NFL teams when he came out of Central Florida as a tight end in 2012. It's an uncommon juxtaposition that is found in most NFL athletes – hulking size and strength combined with fluidity of movement – and makes the 26-year-old, who spent the last two years on injured reserve with the Atlanta Falcons, one of the top prospects at this year's Hendrick combine.
Moments before the first test, Nissley tried to calm his nerves by reflecting on all he had done to get to this point. He recalled the teeth-clenching sessions in the weight room and the vomit-inducing conditioning runs. It helped him realize he did all he could to prepare for this moment. "I'm ready," Nissley thought.
Groups ran through various stations, including the bench press, where, unlike the NFL combine at which prospects bench 225 pounds, prospects benched their body weight. A 260-pound former defensive lineman received high fives after 21 reps. They tested their vertical jumps, taking turns leaping toward the sky and slapping the plastic markers dangling above, and one prospect wowed onlookers by exploding 40 inches off the ground. Lastly were agility drills – the 20-yard shuttle, L-drill and 60-yard shuttle. "Touch the line!" one Hendrick strength coach shouted at a prospect who was trying to cut every wasted moment from his performance.
Every movement was being evaluated by Papa and Burkey, ratcheting up the tension among the prospects. "You have to compete and show out for the people to make an impression," said Kyle Tudor, an All-Conference USA linebacker in 2013 at East Carolina.
At stake for Nissley and those like him is more than just good work; it's also about dreams and the chance to extend an athletic lifestyle they've coveted since they were young. At Hendrick, they train in world class facilities that rival the NFL's and operate in a familiar daily routine of training and film sessions, which culminates in one performance each week. It's what gives their lives order.
"Coming from a football background at the collegiate and NFL levels, it's hard to give up that competitive aspect of my life," Nissley says. "It's not something you can just turn off or ignore, so a regular desk job is pretty much out of the question.
"I'll also admit that traveling around the country, working with cars that go 200 mph for 500 miles at a time seemed pretty cool to me too."
But competition on pit teams is rugged, with only 24 starting spots across four teams and a couple changes on each roster (including reserves) per season, so all Nissley can do for now is hope his combine showing was good enough to be invited back to a second round of tryouts.
***
Playing football in the NFL was Dion Williams' lifelong dream. Williams earned all-state honors at Lakeside High School in Stone Mountain, Georgia, and played linebacker well enough at Wake Forest in the early 2000s to earn a spot at training camp with the Minnesota Vikings.
Now, Williams is one of the top tire changers in NASCAR, working as the front tire carrier for Jeff Gordon's team.
"I didn't know what to expect back in '04 when I started out," Williams said. "I grew up 25 minutes away from Atlanta Motor Speedway, but I couldn't even change the oil in my car. I gave it a run in the NFL. That was my dream but it didn't pan out. I still felt like I wanted to be an athlete."
At 6-foot-1 and 235 pounds, Williams had the size and athleticism to star in the pit, which he's done for a decade now.
He was once in the same position as those entering the combine, but now Williams represents the other side of NASCAR's talent transaction. For every younger addition, there must be an older casualty. Each year, Williams wonders if he will get cut for an up-and-comer who is more affordable and possibly more talented – someone like Nissley.
"Recruits add a dimension of pressure and stress for some veterans and starters," Williams told me. "The backups are salivating, hoping that you make a mistake so they can get a chance. It's motivating when guys come in. I size them up. Some guys might feel a little bit threatened, but I see it as a motivating factor because you know that you have guys waiting for you to slip up."
Williams said, "NASCAR athletes must develop a form of selfishness and singularity in order to be successful in this sport. Fast times are so dependent on each individual's unique responsibilities that one cannot rely on his teammate like some stick and ball sports, but I know my hard work, determination and yearning for perfection makes us better as an whole. With that comes the pressure to perform so that you can avoid the axe and remain a starter."
For the decision-makers like Papa and Burkey, building pit crews with the right combination of youth and experience is complicated, particularly when considering finances. Newcomers in the developmental system – NASCAR's version of baseball's minor leagues – can start at $40,000 per year and make $75,000 as they progress to the Cup teams. Established starters on successful Cup teams can make well into six-figures.
Like the NFL, there's free agency, where crews woo veteran talent when a suitable replacement isn't available on the developmental team by offering better pay, benefits and other perks, but the system is more stacked for the teams. Contracts are non-guaranteed deals typically for two years with a one-year team option, and there currently are no agents in NASCAR (if a crew member has one, Williams said, he's largely ignored because teams don't want to deal with them and don't have to). This helps control talent, but it doesn't necessarily make the choices any easier.
"We deal with our own versions of issues regarding age, experience and pay that occur in other sports," Papa said. "We try to always think about what's best for team consistency and overall team performance. Unlike other sports we are not as influenced by individual peak performance. In other words, one star crew-member will not affect our pit stop times. The watch will always record the slowest technique. We always look to shore up weaknesses in the team and make decisions to better their consistency. In that way we try to see how groups work best together and how we can fortify groups that are working well together. This takes precedence over any one individual's age, experience or pay rate."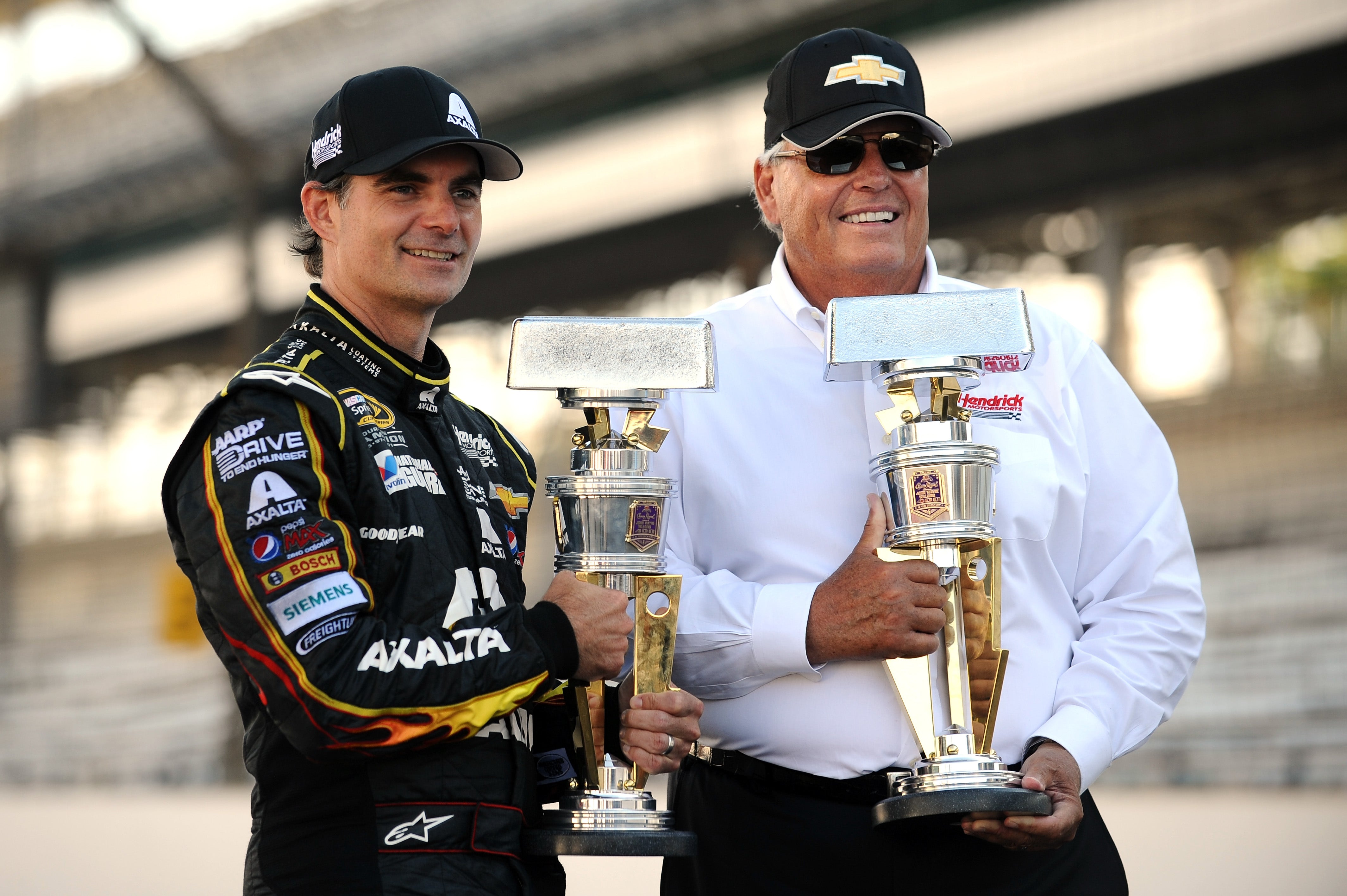 ***
A month after my visit, Nissley was invited back for the second round of tryouts, where Papa and Burkey whittled down the pool of prospects to about 10.
Sitting around a conference table with other Hendrick coaches and executives, they scanned their current pit crew roster, where some members are getting older, some have impending free agency and some aren't performing well. This is why they've spent the past five weeks laboring through the combine process; their organization needs replenishing with young, hungry guys who could become future stars.
The organization decides Nissley is one of those future stars and offers him a spot to join Team Hendrick's developmental program in September as part of their 2014 recruiting class.
The developmental system is a grueling, years-long trudge where prospects are challenged beyond their physical ability and forced to prove they possess the technical talent to work in a pit. They'll train and practice just like the starters, even getting live reps by competing for smaller teams in the Truck, Nationwide or ARCA series; sometimes, Sprint Cup teams with fewer resources will hire them as sub-contracted workers for a spell, giving them a taste of what's ahead. It's still a grind.
"I call it the longest preseason of your life," Papa says.
That's the road ahead for Nissley. One professional sports dream has ended but another is beginning. He'll start by learning the basics of good technique that build up to a successful pit stop. His new coaches will tell him that he must be consistent in his actions before he can go at game speed.
The expectation, Papa said, is like handing a football player the ball on every single play of an entire game and requiring him to rarely ever fumble.
"We all discover sports when we are very young," Papa explains. "Someone puts a bat in your hand, or golf club, or tennis racket, and you just seem to like — or be better at — something more than the others, and you progress with it from there. Well, no one plays pit crew when they're 8 years old.
"It's a process that starts with getting them confident, and then getting them to the racetrack. They let us know when they are ready for the prime time in a big race. They show us that's where they belong."
Coy Wire played college football at Stanford before a nine-year NFL career in Buffalo and Atlanta. He's currently a college football analyst for FOX Sports 1 and writes for FOXsports.com. Follow him on Twitter @CoyWire.