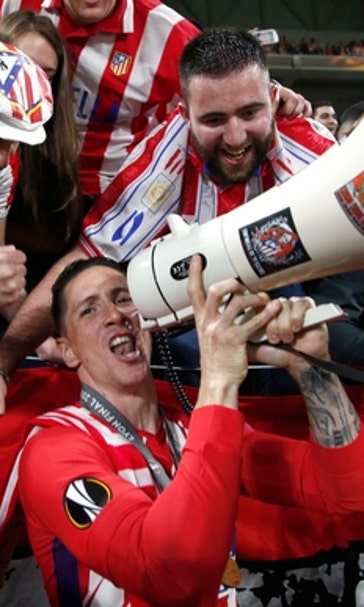 Torres bids farewell to Atletico, Iniesta to Barcelona
May 20, 2018
MADRID (AP) First it was Fernando Torres, then Andres Iniesta.
The league season in Spain ended Sunday with two Spanish soccer idols bidding farewell to their clubs.
Torres ended his storied career with boyhood club Atletico Madrid by scoring twice in the team's 2-2 draw against Eibar.
A few hours later, Iniesta capped 16 successful seasons with Barcelona in the team's 1-0 win over Real Sociedad.
Barcelona finished with 93 points, 14 more than Atletico Madrid and 17 more than Real Madrid in third.
It was an intensely emotional ending for the players who were key members of Spain's golden generation that won two European Championships and a World Cup.
Iniesta received a standing ovation from the Camp Nou crowd after being substituted in the 82nd minute of his 675th match with the Catalan club, in a career that saw him win 32 titles.
Iniesta embraced Lionel Messi and other teammates before saluting the fans and leaving the pitch one last time.
The crowd chanted his name through the final minutes as Iniesta watched from the bench, unable to hold back tears.
He cried profusely in the post-match ceremony to celebrate his career and the team's double of La Liga and Copa del Rey titles. Many of Iniesta's teammates - all wearing the No. 8 jersey with Iniesta's name - also cried as the playmaker spoke to the crowd.
''It's a difficult day,'' the 34-year-old Iniesta said. ''It's been a pleasure to defend and represent the badge of this club, which to me is the best in the world.''
Before the match, fans held up cards to form the words ''Infinit Iniesta.''
Iniesta, who scored Spain's winner in the 2010 World Cup final, is reportedly set to play in Japan.
Philippe Coutinho scored Sunday's winner for Barcelona.
TORRES' GOODBYE
Earlier in Madrid, Torres - who netted Spain's winner in the Euro 2008 final - also cried profusely in a ceremony to honor him at Wanda Metropolitano Stadium.
''I have to thank my grandpa, who gave me the greatest gift anyone can give a kid, which was to make me an Atletico fan,'' Torres said. ''It was an honor to be able to wear this jersey.''
His final two goals came a few days after he lifted his first major trophy with Atletico in the Europa League.
The 34-year-old Torres slid on his knees toward the crowd on the sidelines and kissed the team's badge after the first goal. He jumped over the advertisement boards and ran toward the stands to embrace fans after the second.
Torres, who was given the captaincy on Sunday, reached 129 goals in 404 appearances with Atletico, which had already secured second place. Before the game, Atletico fans displayed a huge banner reading ''From Kid to Legend.'' The players' jerseys also carried a logo with the same words.
Nicknamed ''The Kid,'' Torres joined Atletico at age 11. He had publicly said he hoped to end his career with the club, but he decided to leave because he wasn't expected to remain in Diego Simeone's plans for next season.
This was Torres' second stint with Atletico after thriving with the club from 2001-07. He then played for Liverpool and Chelsea, where he won Champions League and Europa League titles. He returned to Atletico in 2015 after a brief stint with AC Milan.
Torres hasn't said where he will play next season, although local media said it could be in Chinese soccer.
Atletico, which hadn't been second in the league since winning the title in 2014, played a man down from the 63rd as defender Lucas Hernandez was sent off.
---
More AP Spanish soccer coverage: https://apnews.com/tag/LaLiga
---
Tales Azzoni on Twitter: http://twitter.com/tazzoni
---
---