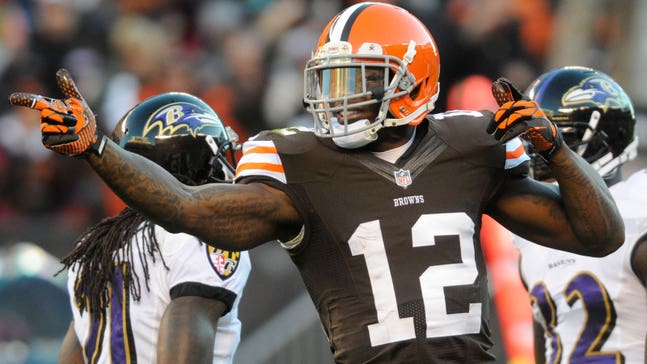 Post-NFL draft fantasy football news and notes
Updated
Mar. 4, 2020 9:45 p.m. EST

Cleveland Browns Draft Strategy Theory
It's been 50 years since the Cleveland Browns won the NFL Championship.  The team averaged nearly 30 points per game during the 1964 season (29.6 PPG).  Following the Browns 2014 NFL Draft, you have to wonder if the franchise will average 10 points per game this season. 
Let's recap the highs and lows:
Browns trade down from No. 4 to No. 9 and back up to No. 8 to take arguably the best defensive back in the draft in Justin Gilbert (adding a first-round pick in 2015 and losing a fifth-round pick in 2014).
Browns trade up with Eagles (losing a third-round pick in 2014) to pick up Johnny Manziel
News starts to trickle out that top offensive threat Josh Gordon failed a drug test and will face a season-long ban in 2014
News breaks that Nate Burleson broke his arm again
With Greg Little, Andrew Hawkins and Jordan Cameron the remaining receivers, the Browns elect to draft an offensive lineman out of Nevada at the start of the second round
They wrapped up the draft by selecting a linebacker, FCS running back and former soccer player turned football player out of Linwood
Now, I'm not knocking the impact a small school football player can make at the NFL level (see: Pierre Garcon or Nate Washington), but when you prioritize a running back with a ton of miles on him and former soccer player turned cornerback – a position you addressed at No. 8 – we have a problem.
Here's my theory on the Browns' draft:
They knew about Josh Gordon's situation on Thursday night.  Could you imagine if the NFL decided to withhold that information until Friday?  Doesn't make sense.  So, knowing that their top receiver could be lost for all of 2014, they turned their focus to their head coach's strength – defense.
Elevating through the coaching ranks after building upon Rex Ryan's defense philosophy, Mike Pettine now has two lockdown corners in Gilbert and Joe Haden.
When Manziel fell down draft boards and was available in the early 20s, Cleveland saw an opportunity to acquire a risk-reward asset that would, no doubt, sell season tickets, which the move accomplished in the 18 hours that followed
To provide Manziel and Ben Tate an opportunity to survive in a spread-style offense this season, they worked to upgrade the offensive line led by Joe Thomas and Alex Mack.
Linebacker Christian Kirksey fills Pettine's desire to have defenders who can pursue sideline-to-sideline.  The Terrance West selection provides depth behind Tate, Dion Lewis and a few other role players.
My current hypothesis for this draft strategy leads me to believe the Browns' goal is to win games 13-10, 14-7 and control the clock.
What I still have trouble understanding is why they didn't address the wide receiver need Thursday-Saturday and/or if they knew about the Gordon story, why Stevie Johnson – who was traded to the Niners last Friday – wasn't a chip in the Thursday night first-round No. 4 pick trade.
The organization and city's sports landscape remains as murky as Lake Erie waters.
Shonn Greene Knee Surgery
For the second time since last September, Tennessee Titans running back Shonn Greene's knee went under the knife.  With Chris Johnson now with the Jets and free agent acquisition Dexter McCluster the furthest thing from a between-the-tackles running back, the Titans drafted Bishop Sankey out of Washington.  One scout went as far to compare Sankey to Tiki Barber.  Greene, who missed four games receiving from last September's knee surgery, will turn 29 this season and is expected to return in time for training camp.
The Titans' fantasy prospects are intriguing as long as Jake Locker stays healthy.  With Kendall Wright and Justin Hunter in a position to see a fantasy stock market surge, Sankey could be one of those running backs owners target before the start of the fifth round.
Tampa Bay Buccaneers 2014 fantasy football outlook
How would you like to be Mike Glennon right now?  You know you are on borrowed time in Tampa Bay and that the franchise turned down several offers to send you packing.  Your new head coach brought in his guy in Josh McCown, Doug Martin (shoulder) returns, Vincent Jackson now has one of the top drafted receivers in Mike Evans to keep secondaries honest and Austin Seferian-Jenkins becomes the run-blocking tight end Lovie Smith desired.  In addition to Glennon, I'm really interested to see where Tim Wright (54 receptions, 571 yards and five touchdowns) lands when the dust settles.
Want to talk 2014 fantasy football at all hours?  Hit me up on Twitter @FOXSportsFowler!
---
---