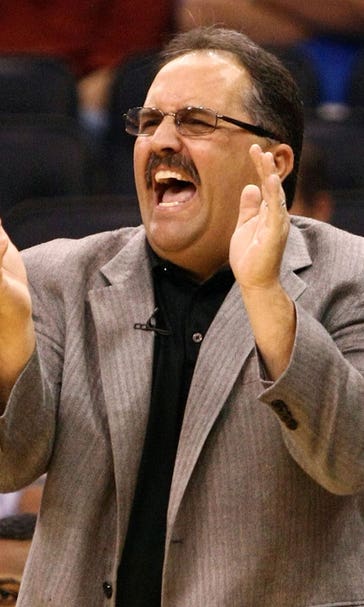 Pistons go for 3-0 start against Bulls tonight
October 30, 2015

So far, so good for first-year Chicago Bulls coach Fred Hoiberg. The same can be said for Stan Van Gundy in his second season with the Detroit Pistons.
The veteran-laden Bulls have picked up where they left off with a new voice in the huddle heading into Friday night's visit (7 p.m. pregame, 7:30 tipoff on FOX Sports Detroit) to the young Pistons, who will try to start 3-0 for the first time in seven years.
The Bulls hope to spoil Detroit's fast start by winning their first three games for the first time since 1996-97, when they started 12-0 en route to a 69-win season and their fifth NBA championship with Michael Jordan.
That gap without a quick start might be surprising given Chicago averaged 51 wins in five seasons under Tom Thibodeau, including a lockout-shortened 2011-12 in which the Bulls went 50-16.
But with the defensive-minded Thibodeau out, Hoiberg has the Bulls playing with a faster, more balanced offense.
After a 97-95 win in the NBA opener against Cleveland on Tuesday, Chicago downed New Jersey 115-100 on Wednesday. The game against the Nets was closer to the offense Hoiberg envisions as the Bulls made 53.8 percent of their shots, including 14 of 28 3-pointers - up from 22.3 attempts per game last season.
Both of Chicago's games have featured more than 102 possessions after Bulls games averaged 95.4 - 21st in the league - last season. But it's a small sample size, and the only thing holding back previous Bulls teams was LeBron James in the playoffs - not what they did in the regular season.
"It's only two games, we always have room to improve," Derrick Rose said. "Do I love the way that we played these two games? Of course. We had some ups and downs, but we've still got to get better."
Though the Bulls have several veterans at the forefront, they also have young talent that may get more of a look under Hoiberg.
Nikola Mirotic (18.5 points per game), Tony Snell (10.5), E'Twaun Moore (10.0) and Doug McDermott (8.0) have all seen an uptick in minutes while Hoiberg has shaved a few away from his oft-injured veterans. Joakim Noah is coming off the bench for what seems like it will be his first extended stint as a reserve since 2008-09.
"It's a marathon," Hoiberg told the team's official website. "You have to prepare your guys the best you can and try to keep them healthy."
Meanwhile, the Pistons are led by a young core that will try to deliver a 3-0 start for the first time since 2008-09, the last season they made the playoffs.
Van Gundy was hired as coach and president of basketball operations in May 2014, but two extended losing streaks during his first season kept Detroit out of the playoffs once again.
The Pistons have impressed early, though, winning 106-94 in Atlanta on Tuesday and 92-87 over Utah on Wednesday to start a three-game stretch at home.
Last season the Pistons found ways to lose late, which tormented them during a 5-23 start. They held off a fourth-quarter Jazz rally, though, to reach two games over .500 for the first time since they were 33-31 in March 2009.
"Stan puts a lot of faith in us," said Andre Drummond, who scored 18 points in each of Detroit's first two games while pulling down 29 total rebounds. "At the end of the day it comes down to us to close the game up."
The Bulls lost twice at The Palace last season, equaling the total number of losses they had in this series over the previous five seasons.
---
---