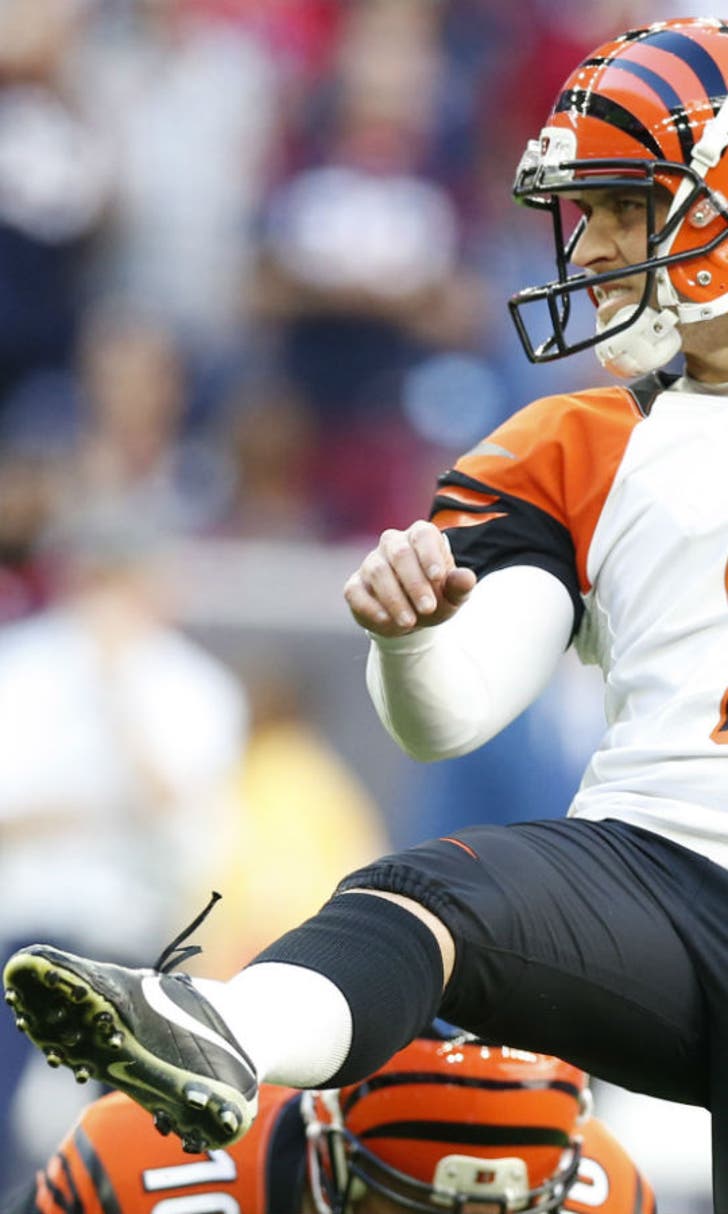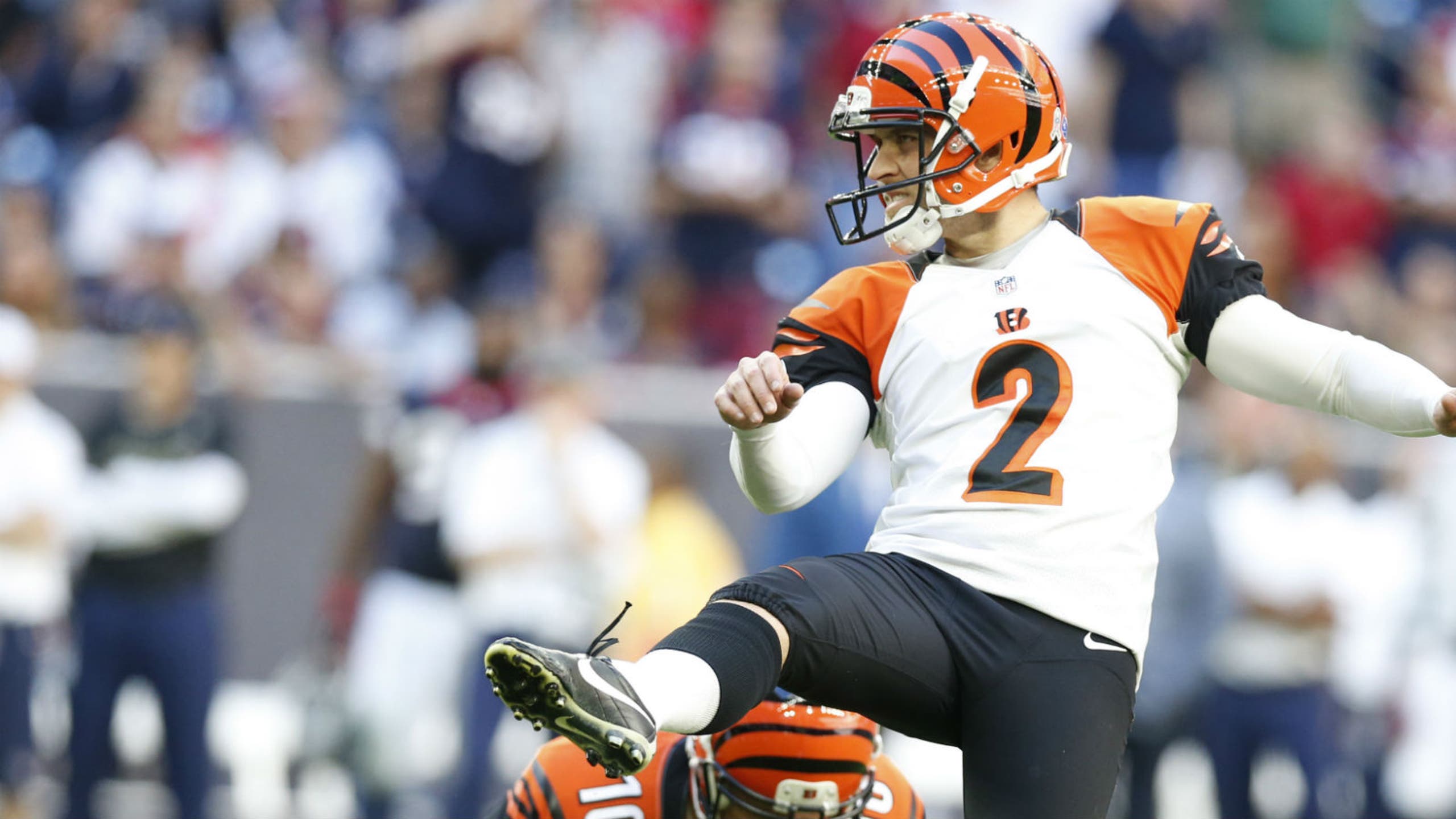 Nugent overcomes loss of father, keeps on kicking
BY foxsports • December 14, 2014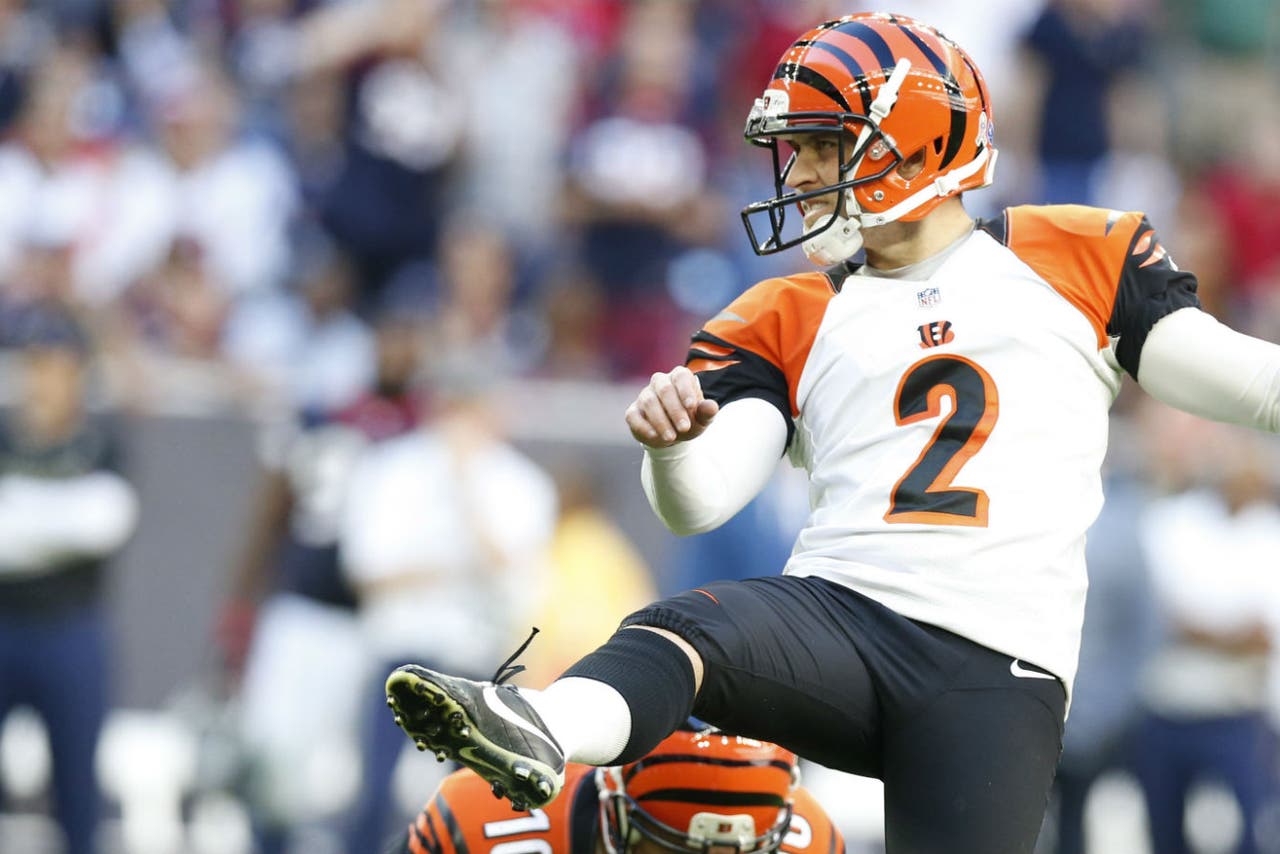 CLEVELAND -- It was only Wednesday but Mike Nugent's week had already been a long one. Death is the final reality of life but there is nothing short or easy it, especially when you've lost a parent.
Daniel Nugent passed away last Monday of a sudden heart attack. He was 66 years old. He was the one who would talk with his son after every game, giving Mike the praise or maybe the criticism he was due. He would've given his son plenty of praise Sunday after the Bengals beat the Cleveland Browns 30-0 at FirstEnergy Stadium.
Mike Nugent made all three of his field goal attempts against the Browns, from 44, 44 and 34 yards away. His consistently deep kickoffs were part of the reason the Browns had an average drive start of their own 20-yard line.
"Today, he would say 'Those two 44s, you hit great,'" said Nugent after the game while a picture of him and his dad sat in his locker. "He'd ask 'What did you think in warmups,' because sometimes I'll get out there and miss a long one and have to re-do it and he'll be like "Really? You could have hit that 53 a little better." It was always really fun to hear his side of warmups."
Last Wednesday, after two days of being in the same clothes, Nugent came back to Cincinnati from Centerville to get some items he needed before heading back to the Dayton area and helping his family lay his dad to rest. He and his wife Emily typically go back to Centerville for a visit on Monday nights since Tuesdays are off days for players. There was nothing typical about last week's visit home.
The Bengals had excused Nugent from being at practice or at the facility for as long as he needed. While he gathering the things he would need for the next couple of days, he decided to stop by the workplace. He went to Paul Brown Stadium, along with Emily as well as his brother Kevin and sister-in-law.
"I had to call and make sure they could leave the balls out for me because I got there a little later," said Nugent. "Mr. Brown turned the lights on for me, so it was nice that I got to do that."
Mike Nugent wanted to kick. Perhaps he needed to kick. For practical purposes, he didn't want to go into this game against the Browns not having kicked a ball in a week. This wasn't just about practicality.
"Mike was out there at seven o'clock (Wednesday) night on the field with his wife, his brother, his sister-in-law and they're out there with the lights on kicking in the stadium. That's the kind of guy you want on your football team," said head coach Marvin Lewis. "Then he came here today and handled it very well. I haven't ever done much as far as giving a guy a game ball after a game and now I think I've given two to Mike Brown and to Mike Nugent."
Nugent wasn't the only Bengal with a heavy heart. Offensive coordinator Hue Jackson also lost his father this past week. Lewis also presented Jackson with a game ball.
"There were a lot of things that went on and to have your father pass away, for Mike and for Hue, this game was important for those guys," said quarterback Andy Dalton. "To get a win and give them the game ball was huge."
Nugent's perfect day Sunday pushed his streak of consecutive made field goals to 11; his last miss was the 36-yard attempt at the end of overtime against Carolina that would've won the game but instead left the Bengals with a 37-37 tie. That miss galvanized Nugent's focus on the field.
Daniel Nugent helped his son get through that tumultuous moment.
"He always knew the right thing to say," said Nugent. "He was a little more blunt about it, because I wouldn't be where I am without him, if he wasn't blunt my whole life. After a kick like that, he just makes it short and sweet. He's like 'Hey, you've been down before. The next kick is the one that matters.'"
Mike Nugent was overwhelmed by his father's visitation on Thursday. People and support kept coming and coming. It continued on Sunday in Cleveland.
"Thursday night at the wake, the wait was like five-and-a-half hours long. They said they'd never seen anything like it," said Nugent. "That kind of support was amazing. Then coming back here, I thought it would be a little bit tougher to see all the guys and see everybody you're around every day. But the guys have been amazing and the coaches have been so supportive and just awesome. I couldn't ask for anything more."
Watch Nugent's reaction to the game as well as Marvin Lewis and many more. Please refresh browser if media doesn't immediately appear.
---
---