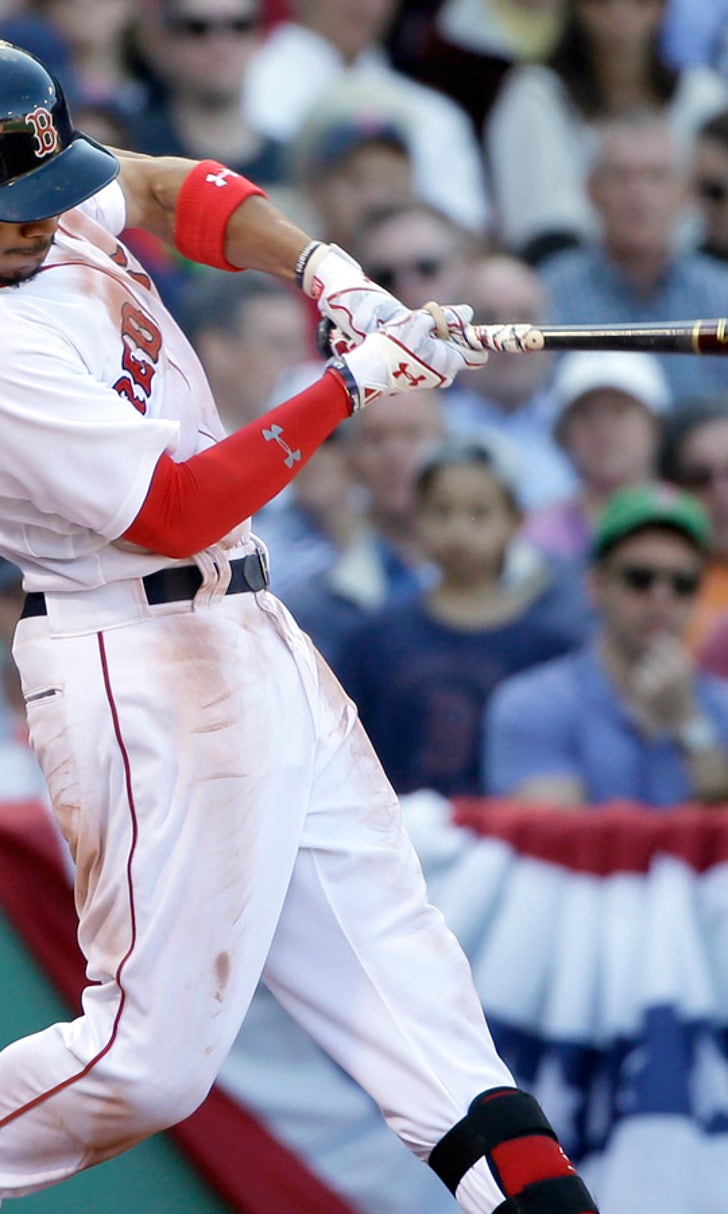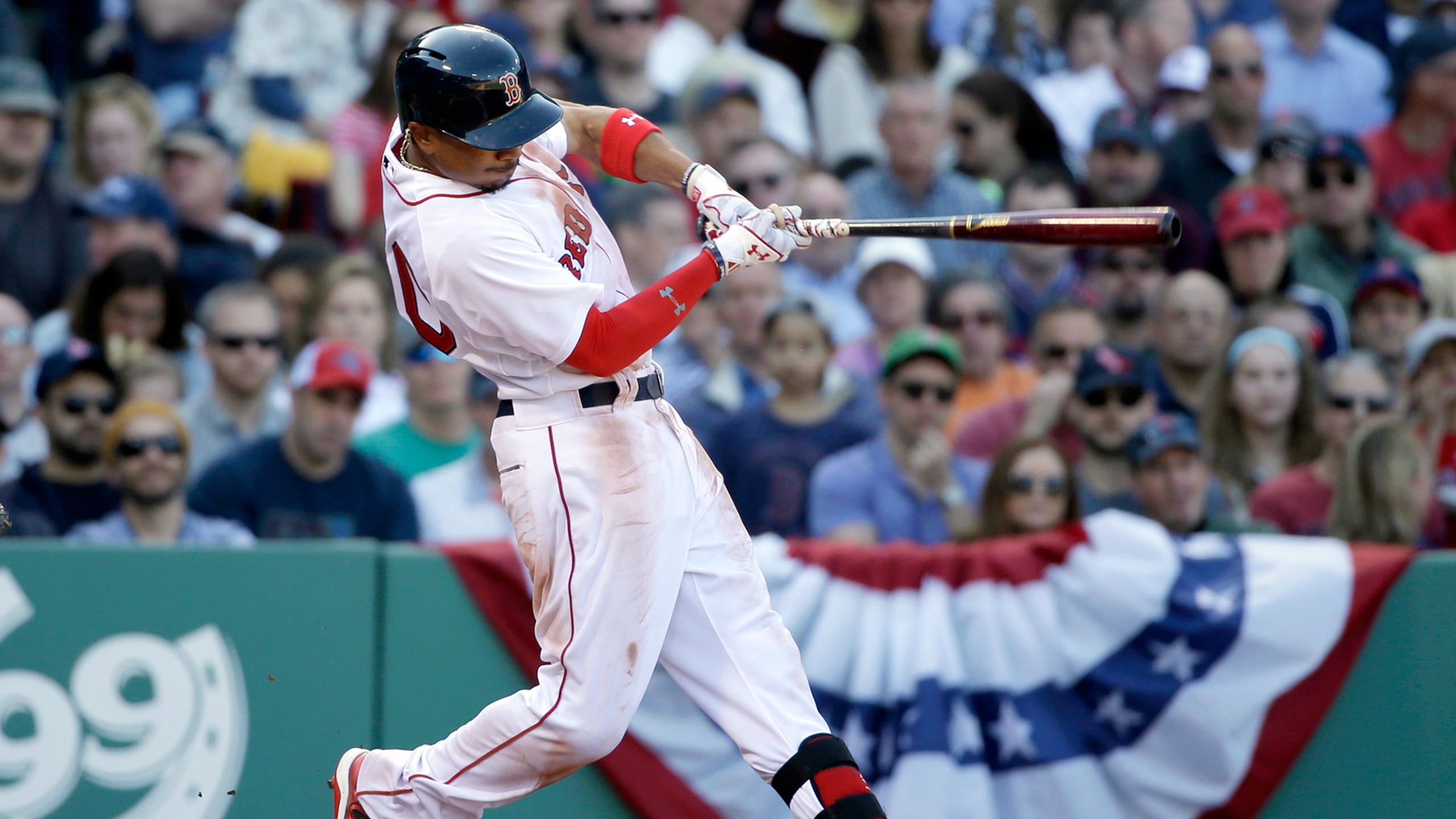 MLB Quick Hits: Betts likely headed to 7-day concussion DL
BY John Halpin • July 29, 2015
Red Sox OF Mookie Betts left Tuesday's game after injuring his neck while leaping over the outfield wall. Betts was suffering "symptoms consistent with a concussion" after the incident, according to his manager, and is probably on his way to the seven-day concussion DL. Look for Jackie Bradley Jr. to play in Betts' place. 
In other news ...
We're updating the fantasy impact of all the big deadline deals at our trade deadline tracker. Again, we'd like to offer a big, virtual hug to all of Drew Storen's fantasy owners. You deserved better.
The Angels hope that OF Mike Trout will be back in the lineup tonight after missing Tuesday's game with a sore left wrist. No need to panic, Trout owners.
Dodgers 3B Justin Turner missed Tuesday's game and is day-to-day because of an infected pimple on his inner right thigh. No, we're not kidding.
In Tuesday morning's edition of the blog, I wrote this:
"Rays C Curt Casali hit two homers on Monday, giving him five in 46 at bats this season. Let's not expect this to happen all the time, or ever again."
Casali hit two homers again on Tuesday, proving that I'm a terrible prognosticator of multi-homer games. He's apparently the second coming of Johnny Bench.
Ken Giles got his first post-Papelbon save for the Phillies on Tuesday. Giles is owned in just 4.8 percent of FOXSports.com leagues, and you should pick him up RIGHT NOW if you still can.
Brewers OF Ryan Braun missed another game on Tuesday due to back spasms. Braun says he's "trending in the right direction," but his availability for today is uncertain.
The Phillies say they're pushing Cole Hamels' next start to Friday, which really means that they don't want to risk an injury before they trade him. Look for Hamels to start sometime over the weekend for the Giants, Jays, Cubs ...
Blue Jays 2B Devon Travis left Tuesday's game with a shoulder injury that felt "pretty similar" to the one that kept him out for a month earlier this season. Teammate Jose Bautista also left the game, but says the issue was just a leg cramp and expects to play tonight. The Jays will welcome new SS Troy Tulowitzki to their lineup.
Jayson Werth and Ryan Zimmerman batted third and fifth, respectively, in their returns to the Nationals' lineup on Tuesday. They had to face Jose Fernandez, which isn't fun. Neither player hit much before going on the DL, but we should expect some level of improvement. I'd grab Werth in most mixed leagues, but reserve Zimmerman for deeper formats.
Cardinals OF Randal Grichuk missed games on Monday and Tuesday due to a groin injury, but hopes to play tonight.
There are six afternoon games on today's schedule, starting with Tigers-Rays and Royals-Indians at 12:10 p.m. ET. Set your lineups accordingly.
Wade Miley was terrible as Tuesday's streaming starter. Today's pick is the still-underowned Ervin Santana (owned in 34.5 percent of FOXSports.com leagues) against the Pirates. If you need to dig a little deeper, try Chris Tillman (29.6 percent owned) vs. the Braves.
DFS advice (based on 50/50 games, night games only, salaries from DraftKings): Clayton Kershaw ($15,000) has averaged 49.2 DK points over his last three starts, and the A's aren't hitting, so pay up ... Tillman ($6,000), R.A. Dickey ($6,500) and Rick Porcello ($6,100) are money-savers at SP2, with the solid John Lackey ($8,600) forcing you into a hitter budget issue. Tillman has averaged 23.7 DK points in his last three starts, with Dickey at 21.1 and Porcello at 17.33 over that span ... Consider stacking some Blue Jays, as Philly SP Jerome Williams has allowed a .411 wOBA to righthanded hitters ... Matt Wieters ($2,900) is cheap, faces a rookie SP and got a rest last night ... A middle infield combo of Cesar Hernandez ($2,900) and Tyler Saladino ($2,400) can help your budget, as both batters will hit near the top of the order against mediocre starters. Saladino has averaged 9.25 DK points over his last four games ... Kelly Johnson ($2,900) has been batting cleanup for the Mets, and could provide some inexpensive 3B/OF pop against Tyson Ross ... BvP alert: Bryce Harper ($5,500) has four home runs in 18 at bats against Miami's Tom Koehler.
See you back here tomorrow morning.
---
---