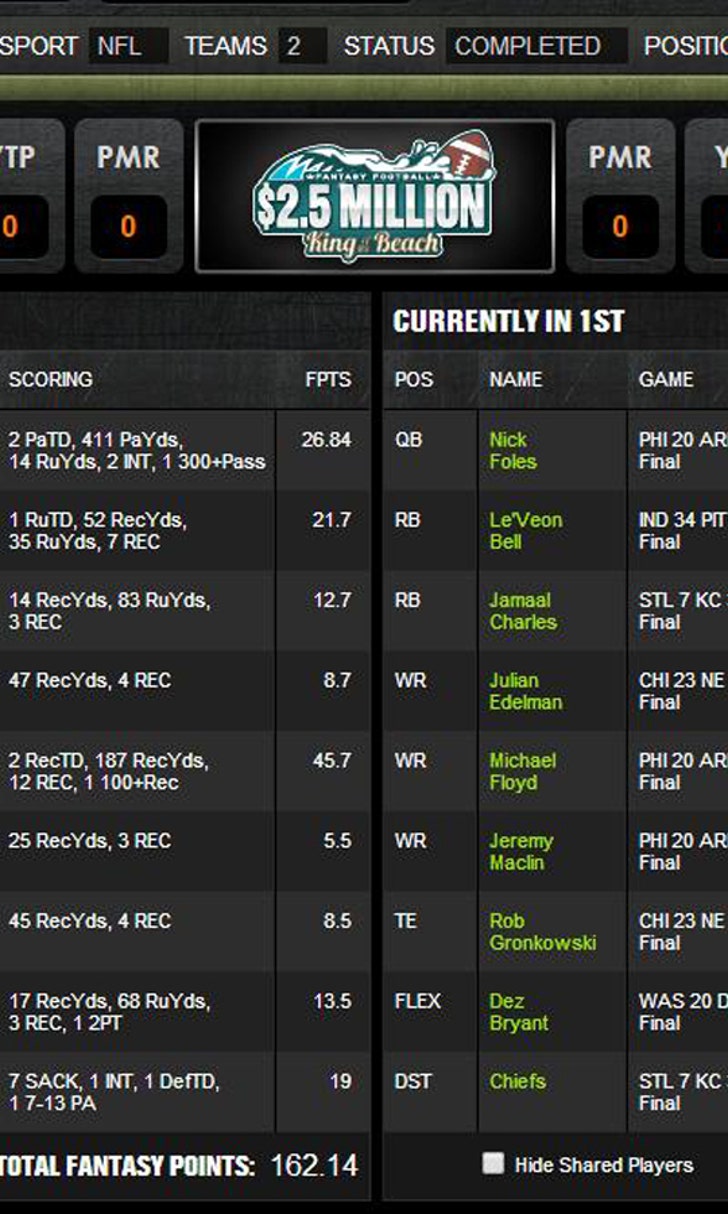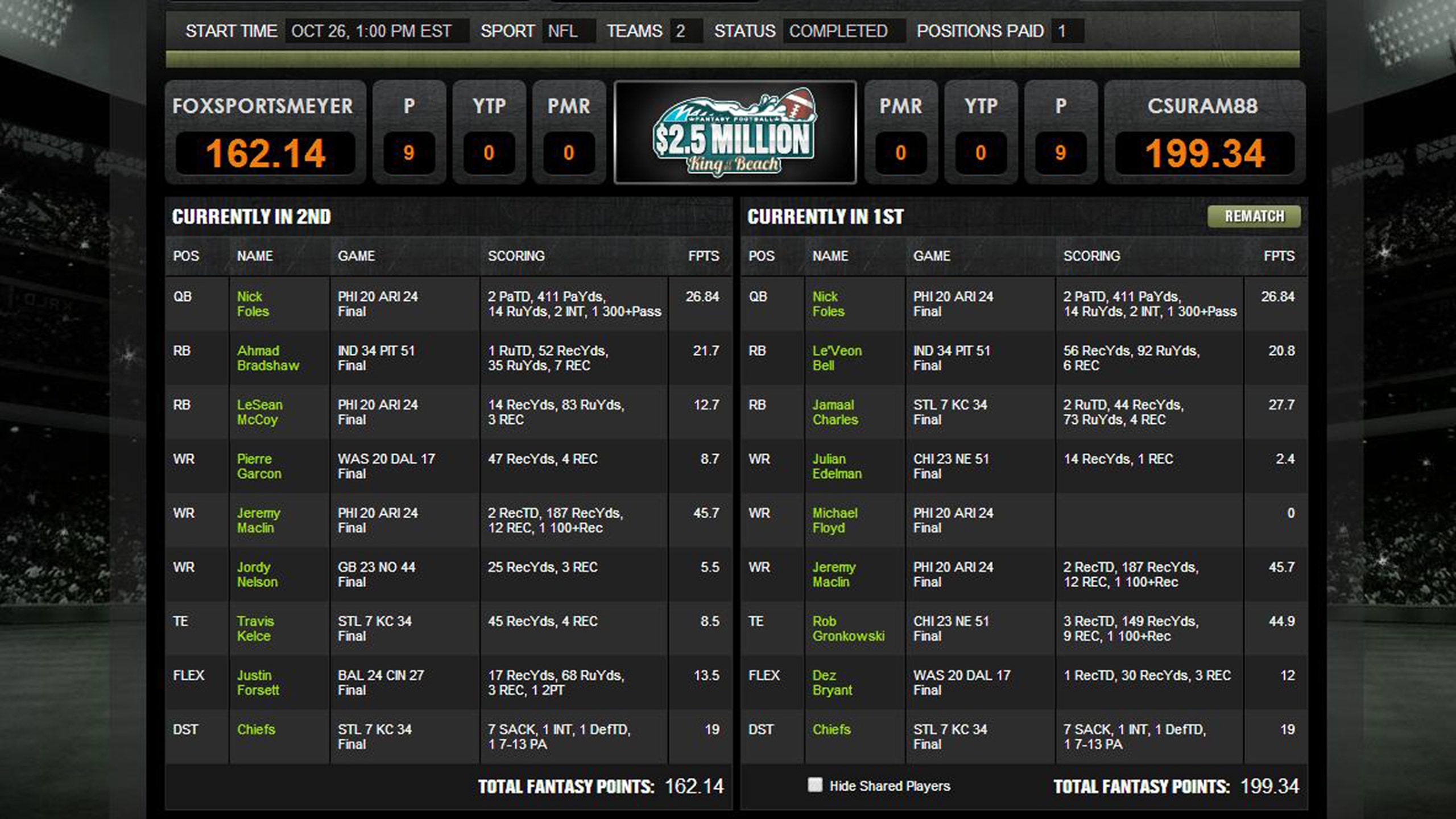 I Didn't Have Rob Gronkowski...
BY Fox Sports • October 24, 2014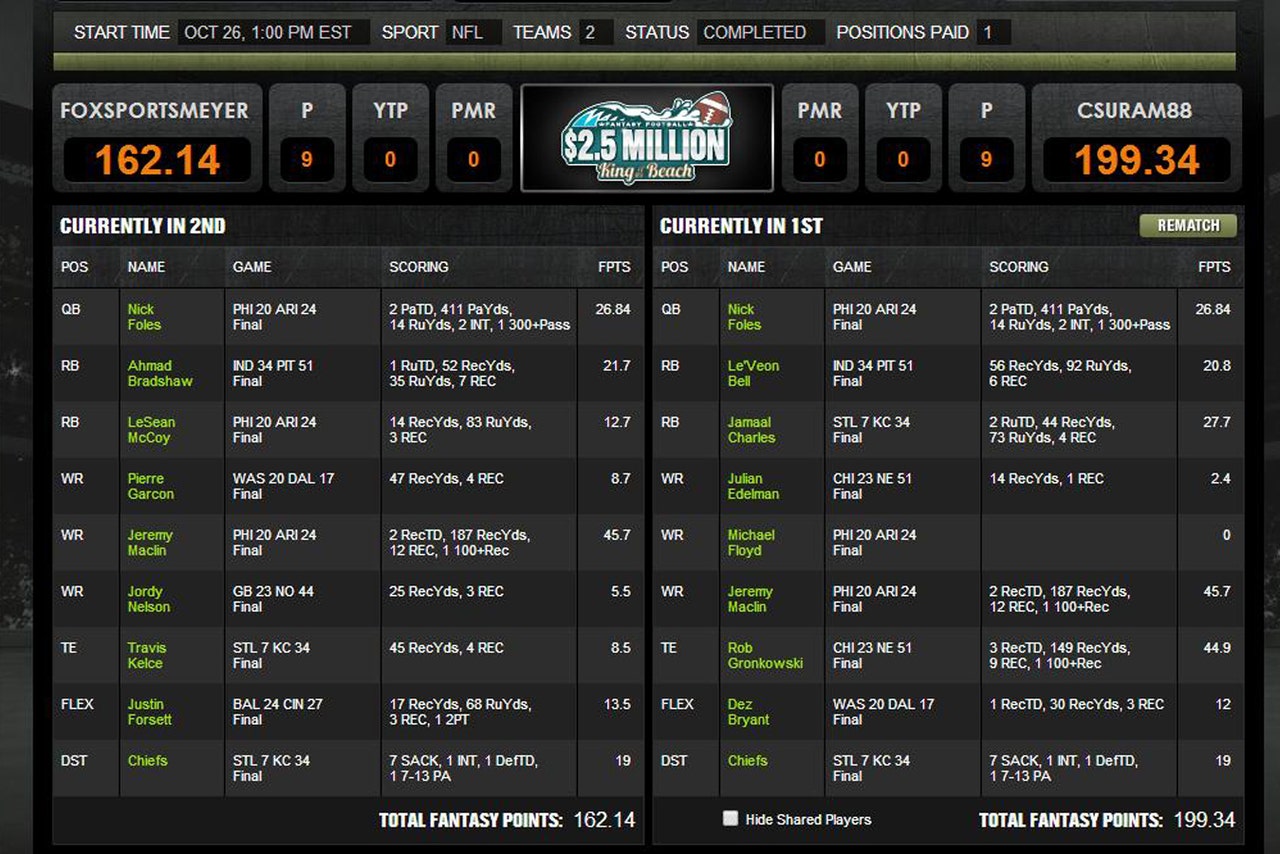 Throughout the 2014 NFL season, FOX Sports fantasy contributor Adam Meyer will square off against DraftKings pro Peter Jennings in one-week fantasy football contests on DraftKings.com
October 28th
Final score:
Much like the headline reads, I lost because I didn't have Rob Gronkowski in my lineup.
Going into Monday night, I was down 187.34-153.44 (33.9 points). We both had one player remaining. We both had $7,000 left in the budget. Dez Bryant had a price tag of $6,900. Using deductive reasoning, I figured we both had Bryant.
Knowing that information, I had to audible to another receiver for a chance to make up the deficit. I made the adjustment to Pierre Garcon. However, it was all for naught, because I was still destroyed by Peter Jennings.
With news of Trent Richardson and Bernard Pierce out for Week 8, I decided to add Ahmad Bradshaw and Justin Forsett into my lineup. Bradshaw was a great addition. He scored over 21 points and fully surpassed his expectations. Forsett was average. Unfortunately, Lorenzo Taliaferro vultured two touchdowns from Forsett.
The biggest mistake was still my decision at tight end. Instead of spending money on Jordy Nelson, that portion could've been allocated to adding Gronk instead of Travis Kelce. Gronk scored 36 more points than Kelce and I lost to Jennings by about 37 points.
My top scorers for Week 8 were: Nick Foles (26.84 points), Jeremy Maclin (45.7 points), and the Chiefs D/ST (19 points). All three of those selections were also on my opponent's team.
Along with Gronk, Jennings had Jamaal Charles (27.7 points) and Le'Veon Bell (20.8 points) to make up for Julian Edelman (2.4 points) and Michael Floyd (zero points).
The margin of victory may seem large for Jennings this week, but it all came down to one decision. Call me an optimist, but I still believe I can rally in the coming weeks and even the series again.
_________________________________________
October 24th
Week 8
H2H series:
Get your FREE DraftKings contest entry here!
Last week's recap can be found here…
Peter's Picks:
WR – Dez Bryant, DAL (6,900)
One of the elite talents in the NFL gets an amazing matchup versus the Redskins on MNF. Washington is much better against the run then they are against the pass and I fully expect the cowboys to take advantage. Bryant is simply way too cheap at $6,900 as he is one of the most talented receivers in the league and the clear #1 WR on the Cowboys.
WR – Jeremy Maclin, PHI (5,500)
The Eagles are coming off a bye and I think they will be ready to rock vs. Arizona. The Cardinals have been elite against the run this year which means the Eagles should try to get things going in the passing game. Maclin is only $5,500 and, as the #1 WR, I like him to exceed his value this week.
RB – Jamaal Charles, KC (6,700)
I have no idea why the best fantasy RB from last year is still so cheap. He was so close to a huge game last week and I think he finally has his breakout game this week against the Rams. Charles has multi-TD upside and is a great pass catcher which is perfect on DraftKings.
Adam's Picks:
RB – LeSean McCoy, PHI (5,800)
If a starting running back is cheaper than $6K, I am intrigued. When that RB is McCoy, I'm stunned. Shady McCoy can be a top three running back on any given day. I'll take the value of McCoy, and not worry about his shaky first half of the season.
WR – Jordy Nelson, GB (7,800)
Three out of four fantasy football experts at FOX Sports have Nelson as the top receiver for Week 8. I'm one of them. Nelson has scored five touchdowns in the last four games and is averaging one TD per contest this season. He also has double-digit targets in four games.
WR – Dez Bryant, DAL (6,900)
Bryant has been targeted 70 times this season. Jason Witten is second on the Cowboys with 35 targets from Romo. That is a huge gap. Romo trusts in Bryant, and so should you. In his last game against the Redskins, Bryant caught four passes for 73 yards and scored a TD. I expect him to have a bigger game on Monday night.
---
---