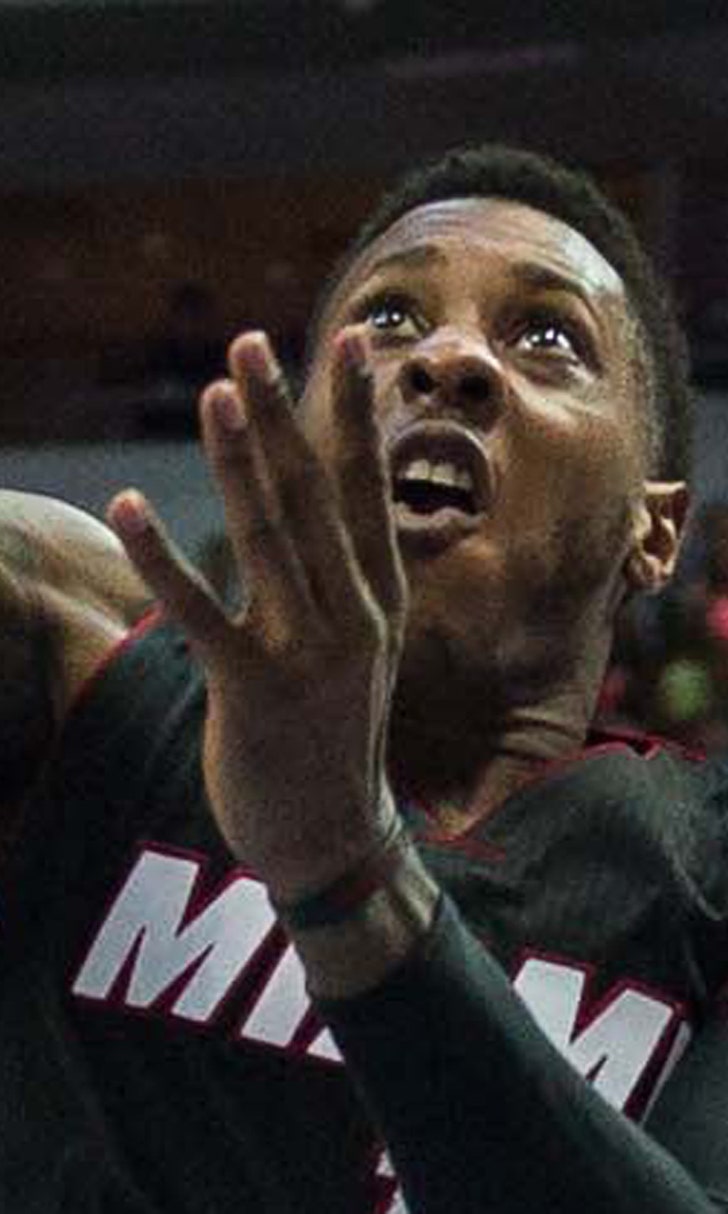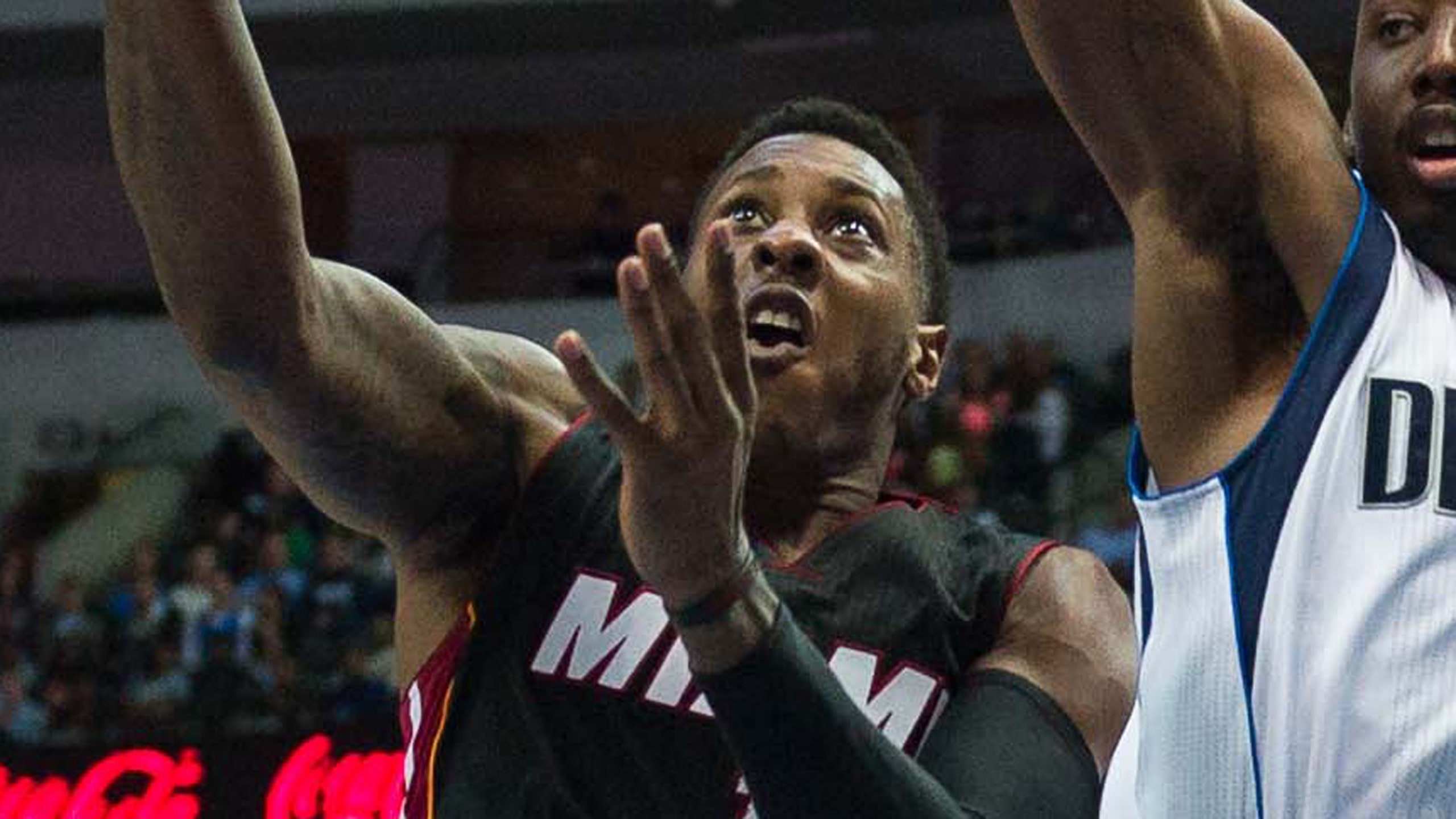 Heat notes: Chalmers pleasing Spoelstra with ability to sacrifice, adjust
BY foxsports • November 19, 2014
MIAMI -- Heading into training camp, Mario Chalmers had re-signed with the Miami Heat and was eager to prove his performance in the 2014 NBA Finals wasn't indicative of the kind of player he is.
It must have been a long offseason for him after seeing his averages drop to 4.4 points and 2.8 assists in that series. He wasn't scoring or getting his teammates involved and was ineffective guarding San Antonio Spurs guard Tony Parker. Subsequently, he lost his starting job by Game 5.
But just one preseason game into the next era of Heat basketball and he had lost his starting job again. With Norris Cole playing well and rookie Shabazz Napier turning heads with his early performances during the preseason, it was starting to look like it was a poor decision by the Heat front office to bring back Chalmers.
Was his normally unshakeable confidence in his game completely gone? Was he being outperformed by Cole and Napier? As it turned out, Heat head coach Erik Spoelstra had a more versatile role in mind for Chalmers.
"That's a requirement when you have a championship-level team," said Spoelstra after Wednesday's practice. "So nobody feels badly for anybody that has to sacrifice when you have an opportunity to be a part of a great team. That's the hardest part of great teams is getting guys to sacrifice. So now the role has to be a little different with this team. He's embraced that role and he's been able to produce in this role. I think some of the experiences he went through the last six years have helped him get to this point."
With Chalmers now coming off the bench, his scoring ability coupled with his point guard instincts have made him a solid complimentary player in the backcourt alongside Cole, Napier or Dwyane Wade. Spoelstra can even go small and play three of his guards at the same time. And with Wade sidelined the past three games with a sore hamstring, it has given Chalmers even more freedom to create shots for himself and others.
"Yes, he's playing with confidence and he's playing with aggressiveness," said Spoelstra. "That's what we want from him. The ball is in his hands to make decisions and he has to make the appropriate decisions -- rock solid, the best decisions for our team. He's been making strides in that area, certainly in the last three games."
With Wade out, Chalmers has averaged 21.0 points to go along with 7.0 assists in that span. For the season, he's averaging a career-high 13.5 points though 11 games. Not bad for a player many didn't think had a chance of returning to the Heat after his poor showing in the postseason.
"We all have situations in our careers where we have moments that can make or break us," said Chris Bosh. "For Rio, I think it was good for him just to find out that he's human. You can make mistakes. Things don't always go your way and it's not necessarily about what happens, it's about how you respond. He's responded well. He hasn't tried to do too much. He just plays at his speed, plays the way he's supposed to do and he's been doing a good job."
GRANGER'S SEASON DEBUT
Heat newcomer Danny Granger finally got his first taste of regular-season action in a surprise start against the Brooklyn Nets on Monday night.
Understandably, he was rusty in his 20 minutes of action but did provide four points and one block in his first game for the Heat. For the coaches and training staff however, it was an encouraging sign to get him on the floor after battling hamstring issues in recent weeks while working into shape. 
"Right now we want to make sure his body feels right and that he's getting stronger and that he's getting in world class conditioning level," said Spoelstra.
"Those are the things we're focusing on right now. We don't want to try to force games while we're trying to work on that -- heavy on the weights, heavy on the conditioning. But he's really been proceeding well and at a good rate so he's been available and we played him the other night. We're really trying to get him some more practice time and we'll continue to evaluate him."
Spoelstra summarized Granger's status on Tuesday as "day by day" and that he would continue to be used in emergency situations for the time being. With Wade, Luol Deng and Josh McRoberts all out on Monday, it was time for Spoelstra to see what Granger could provide in addition to the bonus of not having to tinker too much with his rotations.
"We didn't have enough guys," he said. "Extreme circumstances. So he was available. I asked him if he could give us five or six minutes at the start of the game. He's been champing at the bit, I understand that. He hasn't played where he's felt great about his body in over two years. So we want to take care of that first, however long that takes. Even if that takes longer than what he anticipates. There's no timetable to it. 
"He's been making great strides over the last six, eight weeks and the only way to get him fully healthy is to train hard but it's tough to do that when you're trying to get ready for games. So we want to clear his mind -- don't worry about games, just focus on getting your body right."
For Granger, the nine-year veteran understands he must balance out his eagerness to get his game back on track while still acclimating himself to the Heat's system so early into the season.
"It's a process," he told FoxSportsFlorida.com. "Nobody comes together in the first few games of the season -- any team. So that's why the season is long, that's kind of a good thing about it. Hopefully you hit on all cylinders as a team in February or March, those times when you're really pushing for the playoff seeding battles and whatnot. I think at this time -- not just us but a lot of teams -- they're just trying to find who they are."
Spoelstra has seen clear progress in Granger's rehabilitation after the past few years in which he's struggled to become fully healthy.
"He's actually felt better these last two weeks," he said. "I'd say he's ahead of schedule."
INJURY UPDATE
Wade (hamstring) and Deng (wrist) were limited participants in Wednesday's practice, with Spoelstra indicating the two are not yet ready for contact. McRoberts (foot blister) was a full participant however, though his minutes may continue to be limited for the time being. 
You can follow Surya Fernandez on Twitter @SuryaHeatNBA or email him at SuryaFoxSports@gmail.com.
---
---