Cardinals say Eagles' tempo more myth than reality
BY foxsports • October 24, 2014
TEMPE, Ariz. -- Tempo. Chip Kelly made a name for himself in the college game utilizing that offensive weapon at Oregon. He landed an NFL coaching gig because of it.
But a misconception exists about the offense Kelly brought with him from Eugene to Philadelphia.  
"They actually run their offense much slower than (Chip) did at Oregon," Cardinals safety Rashad Johnson said of Sunday's opponent, the Eagles. "For the most part, they come up -- hut! hut! -- check the play, see what you're in. It's kind of what the Broncos do. They're a no-huddle team but it's not a tempo no-huddle. It's not a as-soon-as-we-get-to-the-line-snap-it-and-make-plays kind of offense." 
Philadelphia averages 68 offensive plays per game. That's about two plays more than they averaged last year. But the Cardinals average 63, so there's not a vast difference.
"If you look at the play clock, (they're) snapping it still at a normal eight to 10 seconds of play clock," cornerback Patrick Peterson said. "I believe it won't bother us."
The biggest challenge for the Cardinals may be their inability to substitute personnel packages on defense unless the Eagles also substitute on offense, in which case the officials must allow defensive substitutions. Because the Eagles come to the line immediately after the previous play, it's more difficult (but not impossible) to shuttle players in and out to fit situations.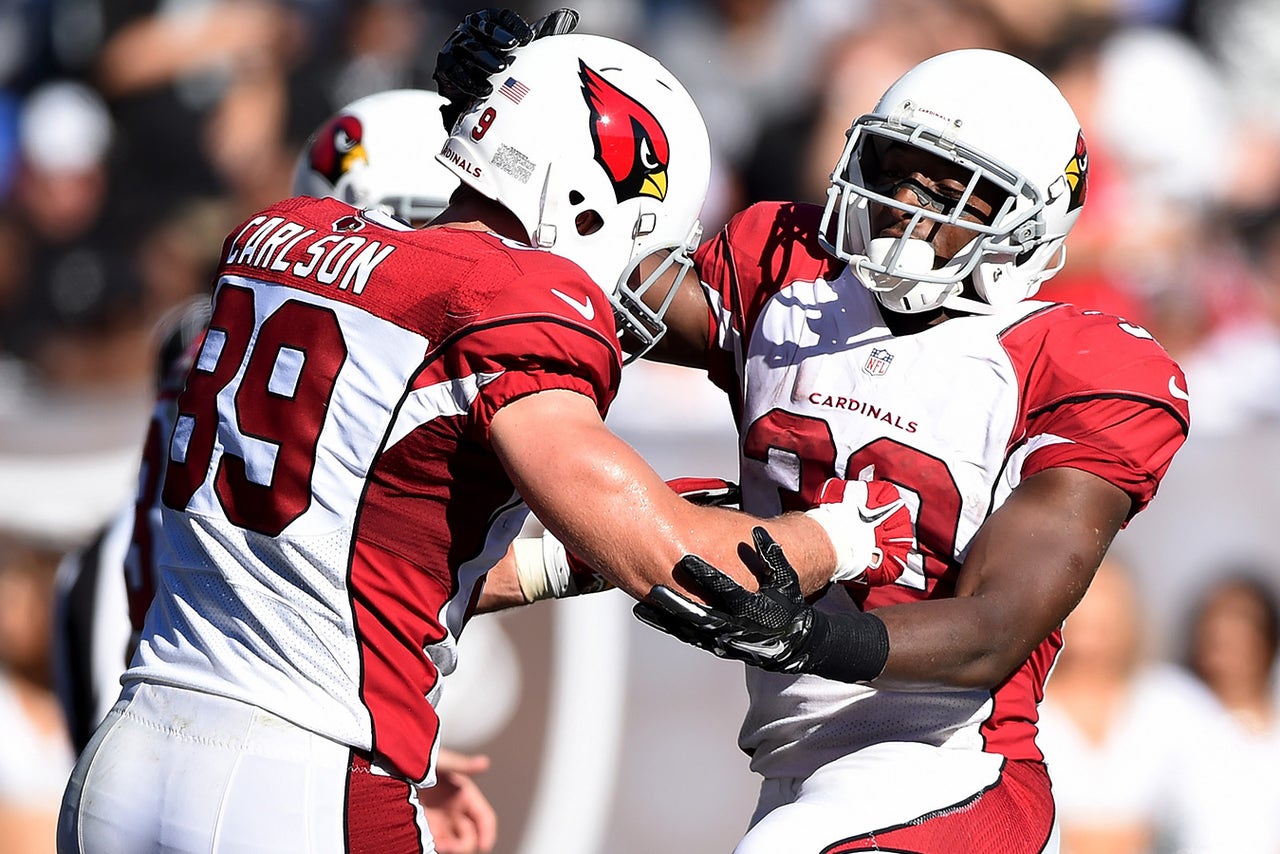 EAGLES (5-1) at CARDINALS (5-1)
When: 1:05 p.m. Sunday
Where: University of Phoenix Stadium, Glendale
TV: FOX (Chris Myers, Ronde Barber, Jennifer Hale)
Radio: KTAR 98.7 FM (Dave Pasch, Ron Wolfley, Paul Calvisi)
Spanish radio: KVVA 107.1 FM (Gabrielle Trujillo, Rolandu Cantu)
INJURY REPORT
Cardinals: TE Troy Niklas (ankle) is out. DE Calais Campbell (knee) is questionable and will bea game-time decision. WR John Brown (ankle), RB Andre Ellington (foot), S Rashad Johnson (knee) and DT Frostee Rucker (calf) are probable.
Eagles: WR Brad Smith (groin) is out. C Jason Kelce (hernia), LB Mychal Kendricks (calf) and RB Darren Sproles (knee) are questionable. RB Chris Polk (hamstring) and LB DeMeco Ryans (groin) and CB Jaylen Watkins (wrist) are probable. 
WHAT'S AT STAKE?
Respect. Despite a 5-1 record, there aren't a whole lot of national pundits who truly believe the Cardinals can keep up this pace with the injuries they've sustained on defense and the personnel they currently sport. Then again, Philadelphia's offensive line has been decimated by injuries and the Eagles have turned the ball over 14 times; the second most in the NFL. Maybe both teams are still seeking respect. 
OUTLOOK
Call us crazy, but we think the home field, a healthy offense and the Eagles' penchant for turnovers will be enough in this one. Again, watch out for special teams.
PREDICTION
Arizona 27, Philadelphia 24
"That's what they're trying to get you to do," Johnson said. "If they catch you trying to run off the field, then they're going to try and hurry you up. 
"If you stay with what personnel you're in, they're going to come to the line, see what kind of coverage you're in, what kind of pressure you're going to bring, and then put themselves in the best play possible."
Peterson said the Cardinals don't do a lot of substituting with their linebackers and secondary within defensive series, which is not entirely true, but the greatest burden may fall elsewhere.
"It's all about the D-line, the big boys," he said, laughing. "These guys had to do a (few) extra gassers this week so they can get ready but the guys know what the tempo is like. We played against these guys last year. We've got a pretty good feel for the Eagles offense."
Peterson said other than a few funky formations, there really isn't that much different about the Eagles' offense. The key to Philadelphia's offense is keeping teams off balance.
"They can run the ball well. They can pass the ball well," defensive coordinator Todd Bowles said. "They've got a good screen game, they've got a good deep-ball game. They run outside, they run inside. I don't think it's one thing so you've got to play very disciplined football and have your guys make plays."
Bowles acknowledges the Eagles have plenty of playmakers in backs LeSean McCoy and Darren Sproles, receivers Jeremy Maclin, Riley Cooper and Jordan Matthews and tight end Zach Ertz. But he shrugged off the notion the Eagles' tempo is a concern.
"It's only a big issue if you make it," he said. "Players have still got to play. It's no more than playing two-minute offense. There's tempo there, too. It's part of the game you get and with everybody now, every week, you see a no-huddle at some point in time. It's not as big an issue as it was when it first came in the league."
Predictably, Bowles believes the key to the game is the Cardinals' ability to execute their top-rated run defense's game plan.
"No matter how much the game changes, it comes back to trying to stop the run," he said. "If they become a running and a passing team, you've got a lot of problems. You try to take away one and you try to work on taking away the other as you go."
3 THINGS TO WATCH
The special teams: Philadelphia has scored four TDs off special teams: a touchdown apiece from punt returner Sproles and kick returner Chris Polk and two blocked punts for touchdowns. Maybe they were fluky plays, maybe the Eagles just have it going on special teams. In either case, this is a cause for concern if you're Arizona.
The turnovers: This is a factor every week in the NFL, but Philadelphia has turned the ball over 14 times. That's the second-highest total in the NFL. The Eagles have the fourth-worst turnover margin in the NFL. The Cardinals have to take advantage of those opportunities.
LeSean McCoy: The Eagles running back expected to be a marked man this season after a 1,607-yard, nine-TD season in 2013. McCoy's per-carry average has dropped by a full 1.5 yards this season as teams take away his cutback lanes and bring more players into the box to force the Eagles to throw. The Cardinals are the league's top run defense. If they can make Philly one-dimensional, they have a good shot at winning at home.
QUICK FACTS 
• Cardinals WR Larry Fitzgerald has played six career games against Philadelphia, scoring at least one touchdown in every game (10 TDs total) and averaging 6.7 catches for 107 yards a game.
• Cardinals LB Sam Acho and Eagles LB Emmanuel Acho are brothers. They will face each other for the first time in the NFL this week. When the teams met last season, Sam was on IR and Emmanuel was inactive.
• Eagles QB Nick Foles is a University of Arizona alumnus. Before Foles attempted a pass last season, the Wildcats hadn't had a quarterback throw a pass in the NFL in nearly 40 years.
• Kelly and Cardinals coach Bruce Arians have identical records (15-7) in their second seasons as head coaches. Of the six coaches hired before the 2013 season, they are tied for the best record. 
• Cardinals defensive coordinator Bowles was the Eagles DC for the final 10 games of the 2012 season. Eagles DC Bill Davis was the Cardinals DC from 2007 to 2010.
Follow Craig Morgan on Twitter
---
---