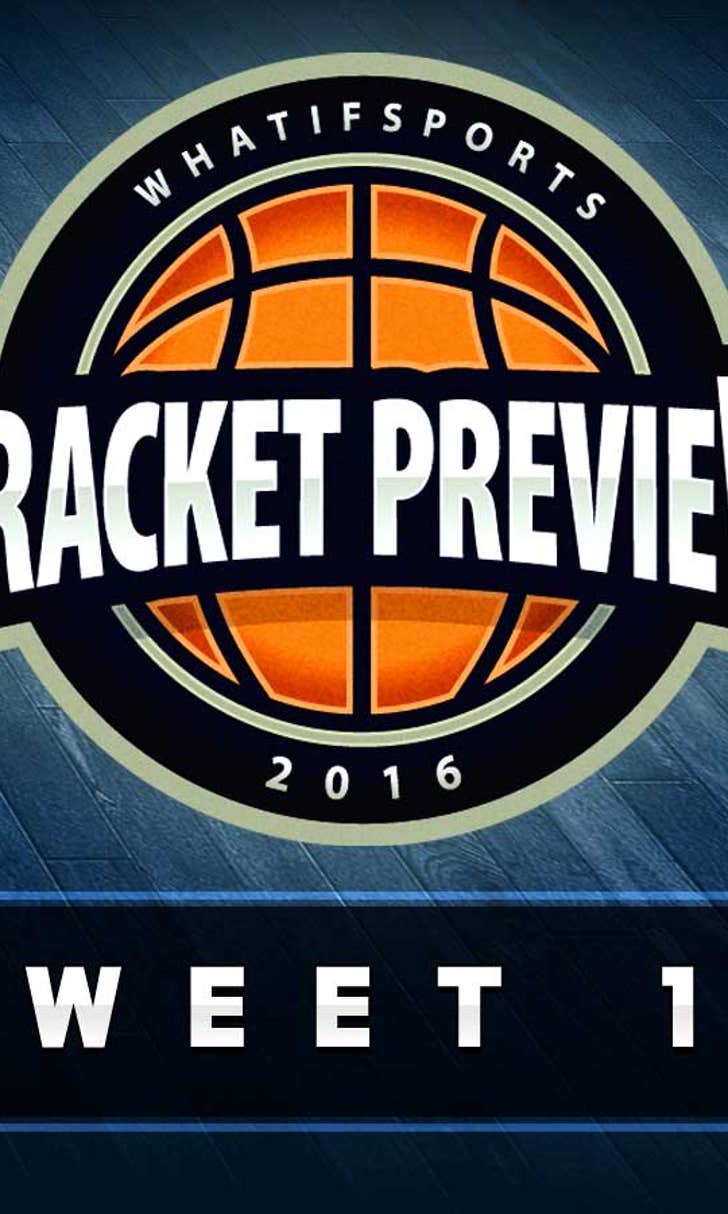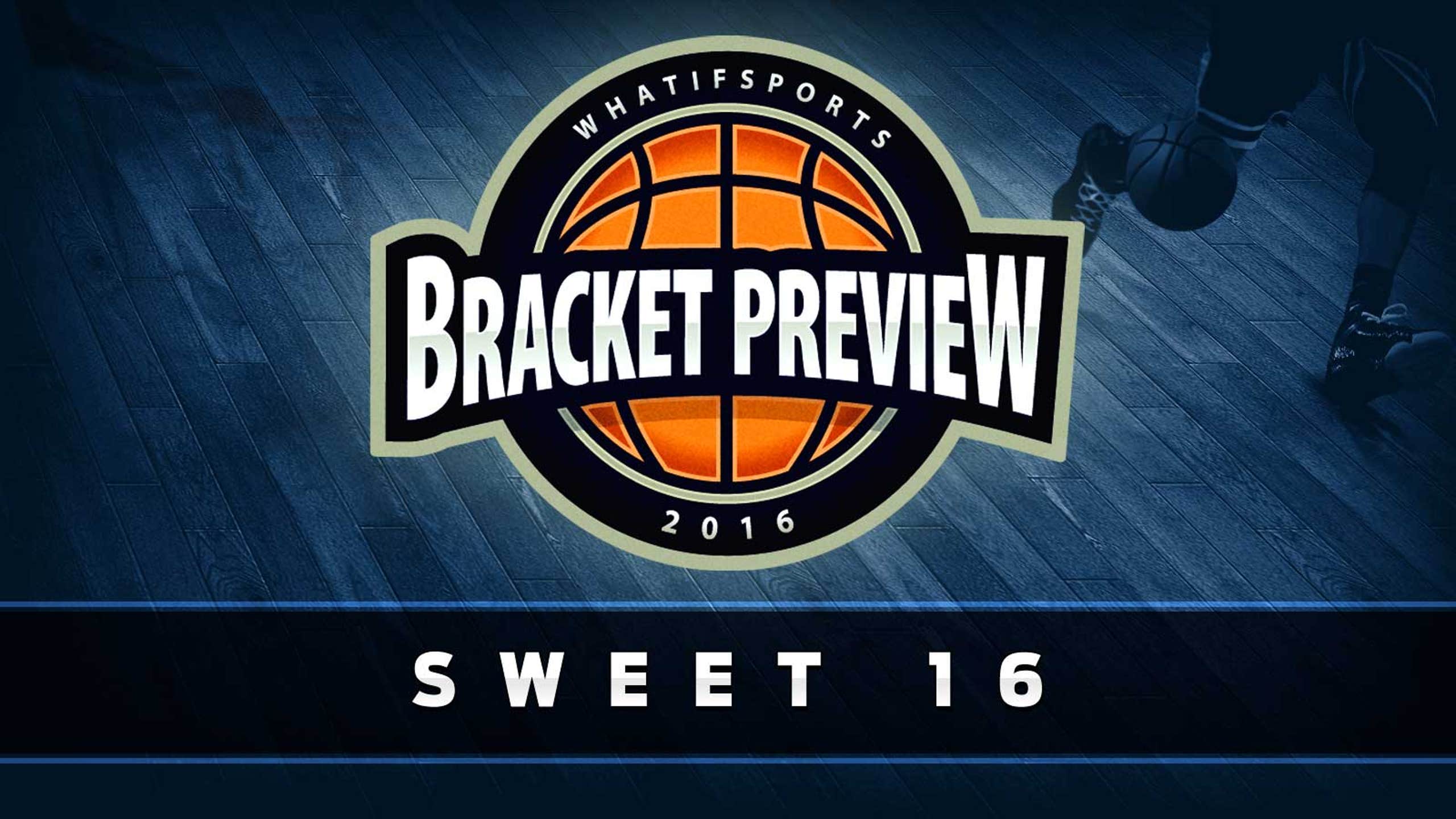 2016 NCAA Bracket Predictions and Picks: Sweet 16
BY foxsports • December 24, 2016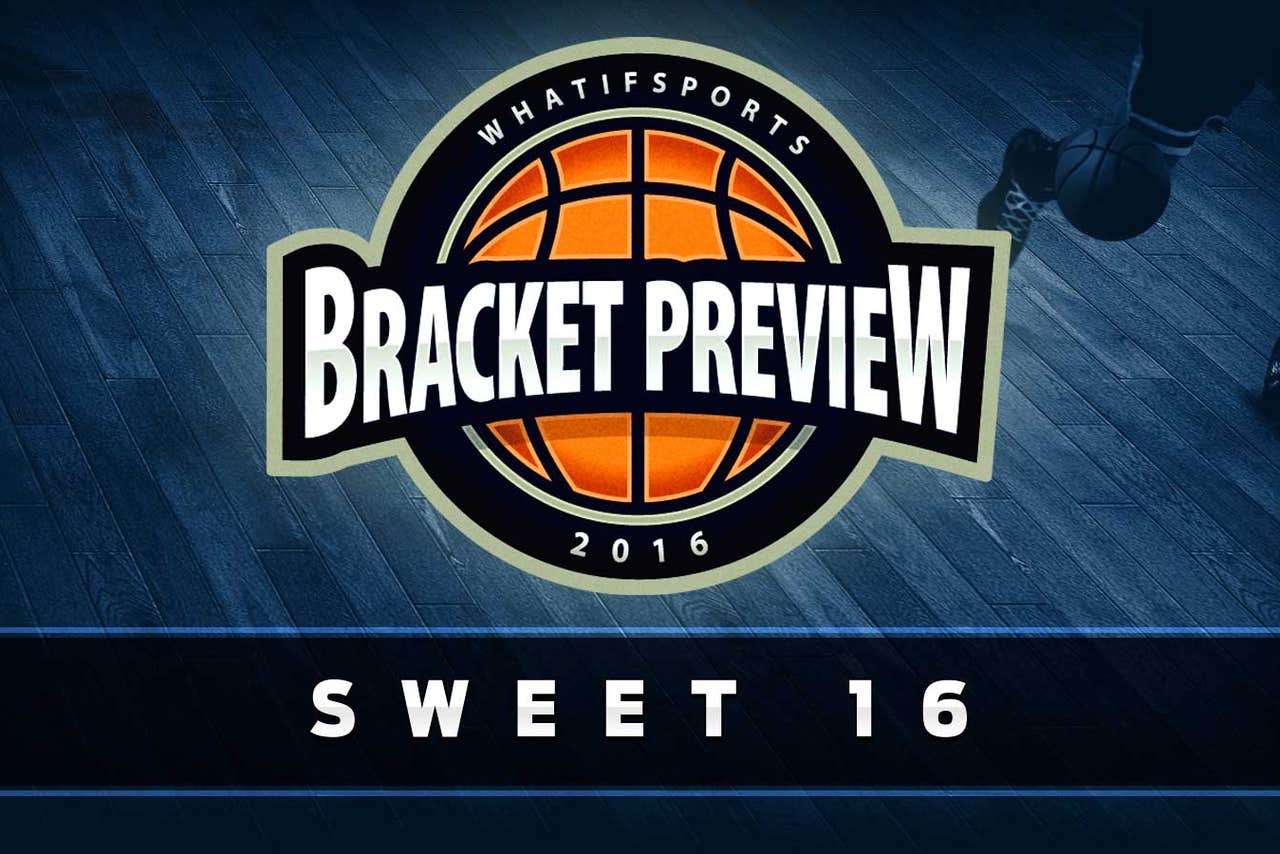 If you're like most of America, the NCAA Tournament hasn't exactly played out like you drew it up in your bracket. Thankfully, the FOX Second Chance Bracket Challenge offers redemption to those of us who misfired on the first two rounds. We can take a shot at predicting the bracket from the Sweet 16 onward in hopes of salvaging our March Madness dignity.
Similarly, WhatIfSports.com's college basketball simulation engine is taking a mulligan for some of the picks it failed to accurately predict. We simulated the Sweet 16 field 1,001 times to determine which teams are now favored to play in Houston. Check out the simulation results and analysis:
South Region: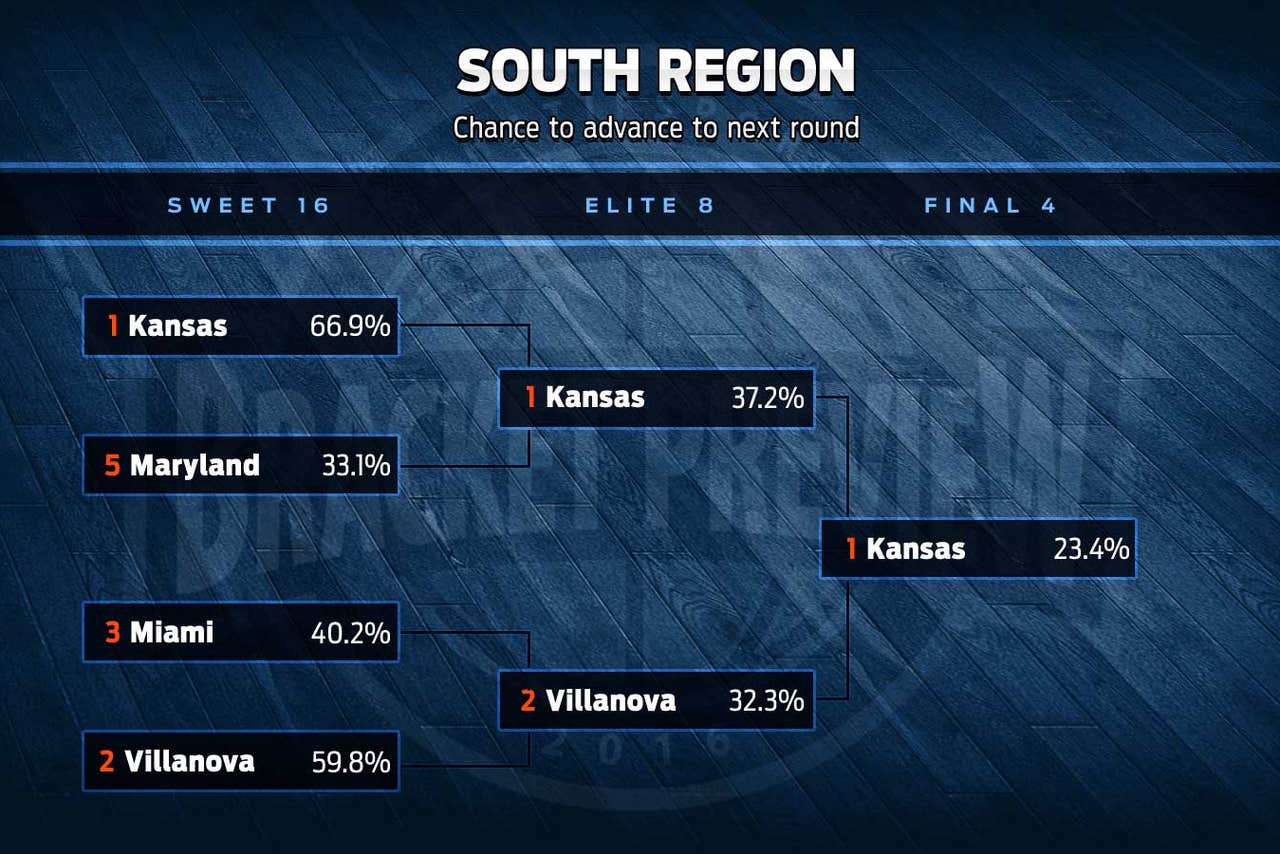 No. 1 Kansas vs. No. 5 Maryland
While there was some chaos in the first weekend of the 2016 NCAA tournament, the No. 1 seeds held firm. Our simulation engine predicts that the chalk will rock, yet again. Kansas has the second-best chance of winning its Sweet 16 matchup (66.9 percent). Bill Self's bunch has won 16 games in a row and also have the second-best percentage of winning the entire tourney (13.4 percent). The odds may be stacked against the Terps, but don't count out Maryland. According to our simulation's calculations, the Terrapins have a 33.1 percent chance of winning their next game and a 3.1 percent chance of becoming the champions of college basketball. 
No. 2 Villanova vs. No. 3 Miami
One team has won its games by double-digits, while the other has survived by less than 10 points in each contest. The Wildcats defeated UNC Asheville by 30 and Iowa by 19 this past weekend. After those two performances, Villanova is projected to have the third-best chance of winning it all (11.4 percent), as long as it defeats Miami. Nova is only given a 59.8 percent chance of beating the Hurricanes in the Sweet 16. For Jim Larranaga's boys, their road is a tough one. Even if they win their next game, the simulation engine only gives the 'Canes a 15.8 percent chance of winning the South region. That's the third-lowest percentage of the entire tournament. Only Maryland (14.8 percent) and Wisconsin (5.1 percent) have worse odds.
Sweet 16 Predictions: South Region

Matchup
Adv %
Avg. Score
1 Kansas
66.9
82.5
 
5 Maryland
33.1
77.4
Simulate Game
3 Miami
40.2
77.7
 
2 Villanova
59.8
80.4
Simulate Game
Sweet 16 Predictions: West Region

Matchup
Adv %
Avg. Score
1 Oregon
50.4
83.6
 
4 Duke
49.6
83.5
Simulate Game
3 Texas A&M
43.6
79.8
 
2 Oklahoma
56.4
81.5
Simulate Game
East Region: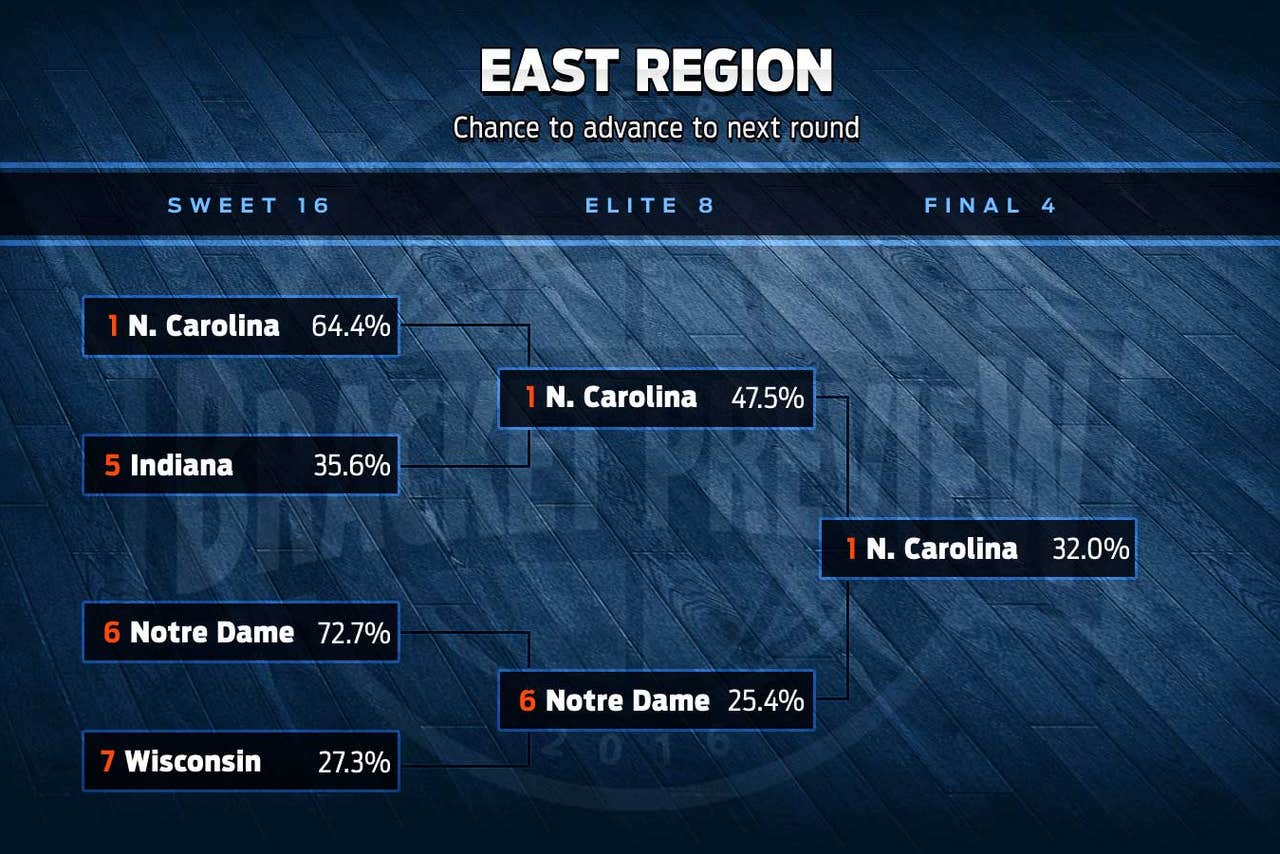 No. 1 UNC vs. No. 5 Indiana
Prior to the tournament's onset, the WhatIfSports college basketball simulation engine pegged Michigan State as the team to beat. (Yeah, about that...) We again simulated the tournament 1,001 times, this time from the Sweet 16 onward, and the new favorite is North Carolina with an 18.2 percent chance to win the title. One obstacle in the Tar Heels' way is Indiana, which advanced to the Sweet 16 by knocking off John Calipari's Kentucky Wildcats. In a head-to-head simulation, North Carolina bested Indiana 64.4 percent of the time, averaging 86.2 points to the Hoosiers' 82.6. North Carolina is given nearly 50 percent odds to emerge from the East region and a 32.0 percent chance to reach the championship game. Don't rule out the Hoosiers, though. They still have a 7.1 percent chance at a championship, sixth-best among the Sweet 16 field.
No. 6 Notre Dame vs. No. 7 Wisconsin
Both Notre Dame and Wisconsin advanced to the Sweet 16 in dramatic fashion. For the Irish, it took a tip-in rebound with 1.5 seconds remaining to sneak past Stephen F. Austin 76-75. Later Sunday night, Wisconsin's Bronson Koenig connected on a corner three-pointer as time expired for a 66-63 victory over Xavier. The good fortune can only continue for one of these schools and our college basketball simulation engine gives the nod to Notre Dame. The Fighting Irish won 72.7 percent of simulations against Wisconsin and moved on to the Final Four 25.4 percent of the time. With a 6.0 percent chance to win it all, Notre Dame was given the seventh-best odds of the 16 remaining schools. Wisconsin, meanwhile, has just a 0.1 percent chance at a championship.
Sweet 16 Predictions: East Region

Matchup
Adv %
Avg. Score
1 North Carolina
64.4
86.2
 
5 Indiana
35.6
82.6
Simulate Game
6 Notre Dame
72.7
76.7
 
7 Wisconsin
27.3
70.5
Simulate Game
West Region: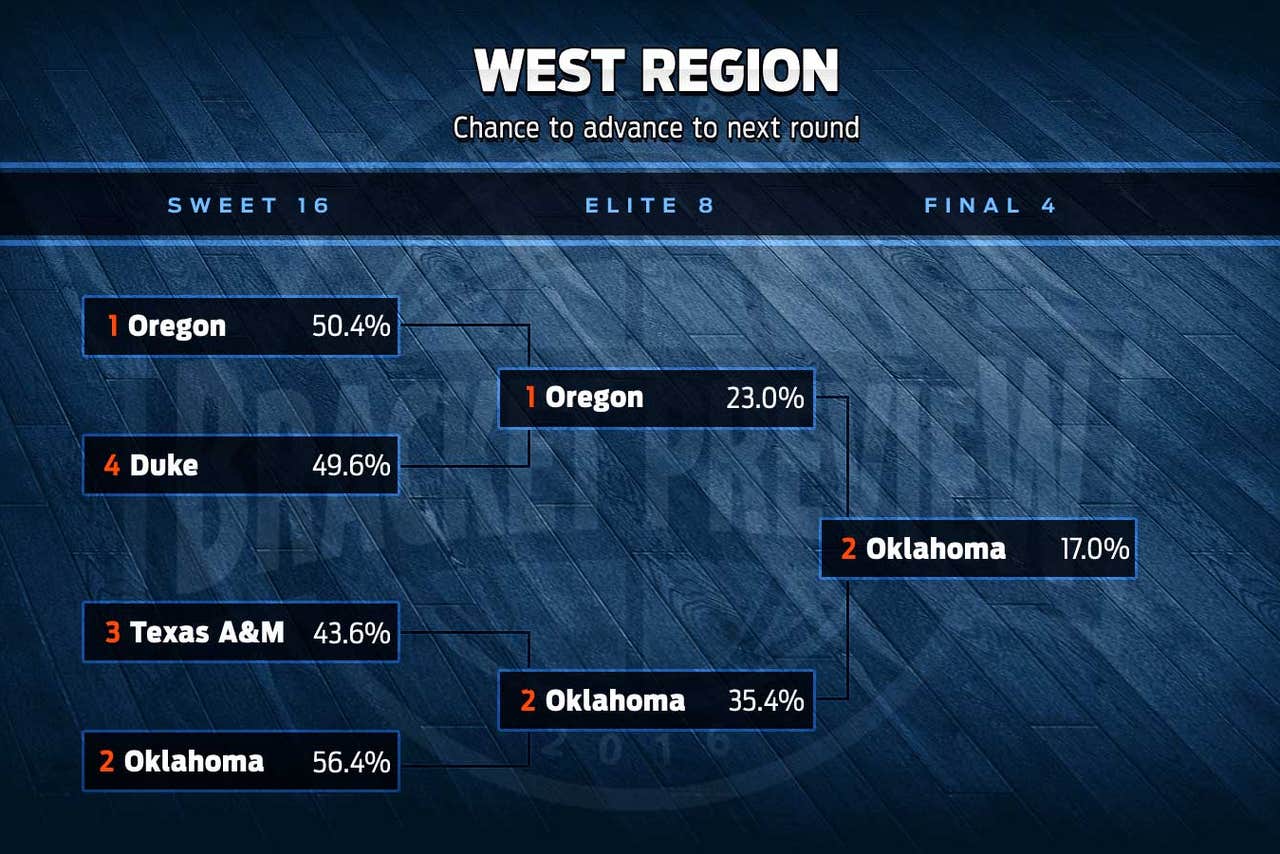 No. 1 Oregon vs. No. 4 Duke
The bracket might show chalk in the West, but each team had a scare to get to that point. The Ducks defeated St. Joe's by five and Duke only won by seven over a 12-seed. Distance might become a factor in this game. Last weekend, even though the region was titled "West," Duke played in Rhode Island. Now, the team must travel to California. During the season, the farthest Coach K's squad traveled was a neutral-site game in Chicago against Kentucky. Duke lost that matchup 74-63. Though they're the reigning national champions, the Blue Devils have the third-lowest chance of winning the tournament at 2.8 percent. Oregon's chances aren't much better. Even though they are a No. 1-seed, the Ducks are only a 50.4 percent favorite over Duke and have a 3.6 percent chance of winning it all.
No. 2 Oklahoma vs. No. 3 Texas A&M
Both the Sooners and Aggies started off slow and still managed to win by four points in the Round of 32. Buddy Hield carried the Sooners with 29 second-half points against VCU. Texas A&M was trailing by 12 in the final 44 seconds of regulation against Northern Iowa and ended up winning in double-overtime. Now, the former Big 12 foes will meet in the Sweet 16. Oklahoma is projected to win this game, coming out on top in 56.4 percent of simulations. The Sooners have the fifth-best odds of winning the entire tourney (8.0 percent) and have the fourth-best opportunity to reach the Final Four (35.4 percent). Though the odds are less favorable, the Aggies still have a 4.9 percent chance at a title.
Midwest Region: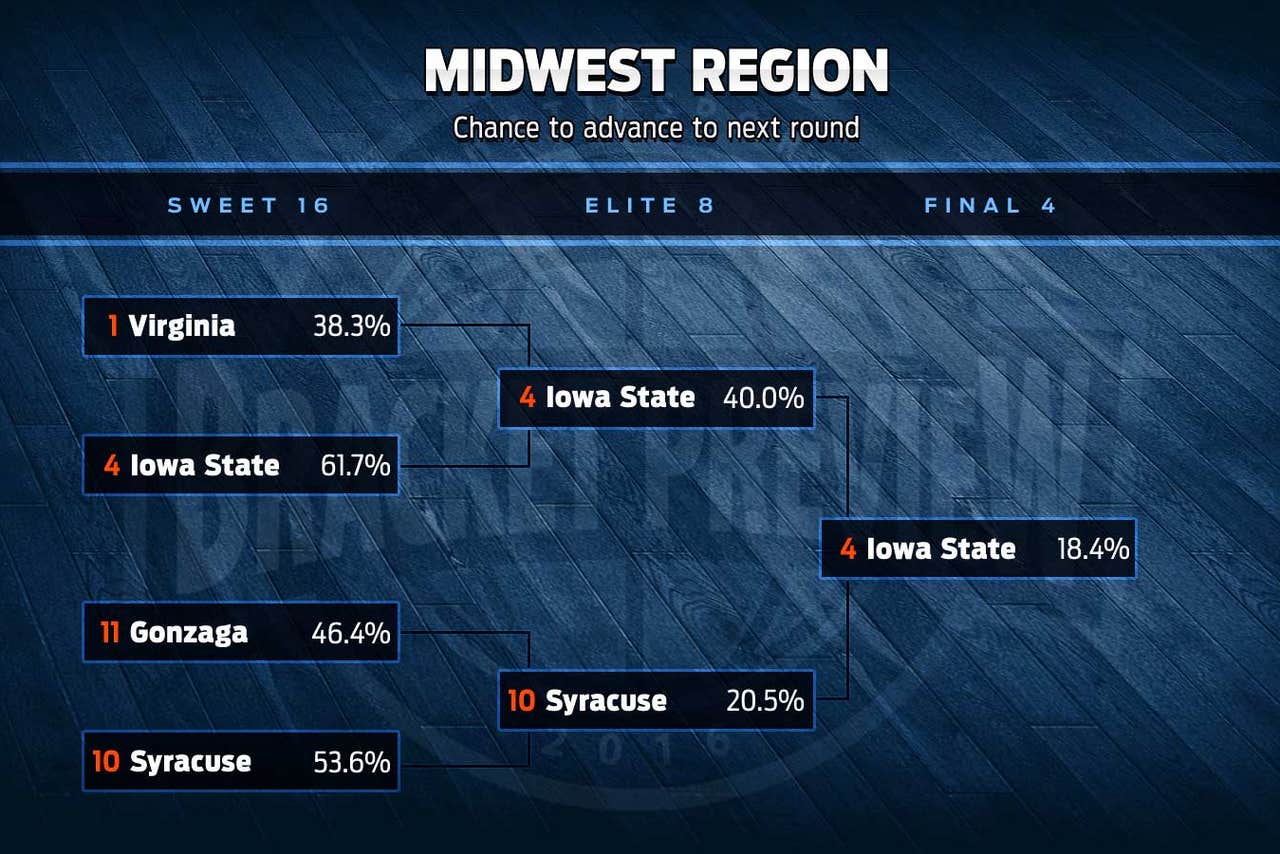 No. 1 Virginia vs. No. 4 Iowa State
At the top of the Midwest region, the low seeds prevailed to set up a Sweet 16 matchup between Virginia and Iowa State. The vaunted Virginia defense faces the difficult task of stopping Georges Niang, who overcame a poor tournament showing in 2015 to score 28 points in each round this year. Virginia will counter with Malcolm Brogdon (33 total points through two games) and Anthony Gill (38 total points). When simulating the two teams head-to-head, Iowa State upset the Cavaliers 61.7 percent of the time by an average score of 79.5-77.4. Iowa State went on to win the regional finals 40.0 percent of the time and were crowned national champs in 8.5 percent of simulations. If Virginia survives Iowa State, the school has a 20.8 percent chance to reach the Final Four, second-highest in the Midwest region, and a 3.6 percent chance at a championship in Houston.
No. 11 Gonzaga vs. No. 10 Syracuse
The double-digit seed attached to Gonzaga harkens back to the 1999 NCAA Tournament when, as a No. 10 seed, the Zags became a Cinderella darling by advancing to the Elite Eight. Could this squad be in the midst of a similar run? After outlasting No. 6 Seton Hall for a 68-52 win, Gonzaga thumped No. 3 Utah by 23 points to advance to the Sweet 16. Although No. 10 Syracuse would seem to be a notch below Gonzaga's vanquished foes, the Bulldogs still enter the matchup as an underdog. In 1,001 simulations, Syracuse came out on top 53.6 percent of the time, outscoring the Zags 78.0-77.7.  Syracuse reached the Final Four in 20.5 percent of simulations and cut down the nets 2.9 percent of the time. The Zags have an 18.8 percent chance to capture the school's first Final Four appearance and a 2.7 percent chance to win it all.
Sweet 16 Predictions: Midwest Region

Matchup
Adv %
Avg. Score
1 Virginia
38.3
77.4
 
4 Iowa State
61.7
79.5
Simulate Game
11 Gonzaga
46.4
77.7
 
10 Syracuse
53.6
78.0
Simulate Game
Final Four: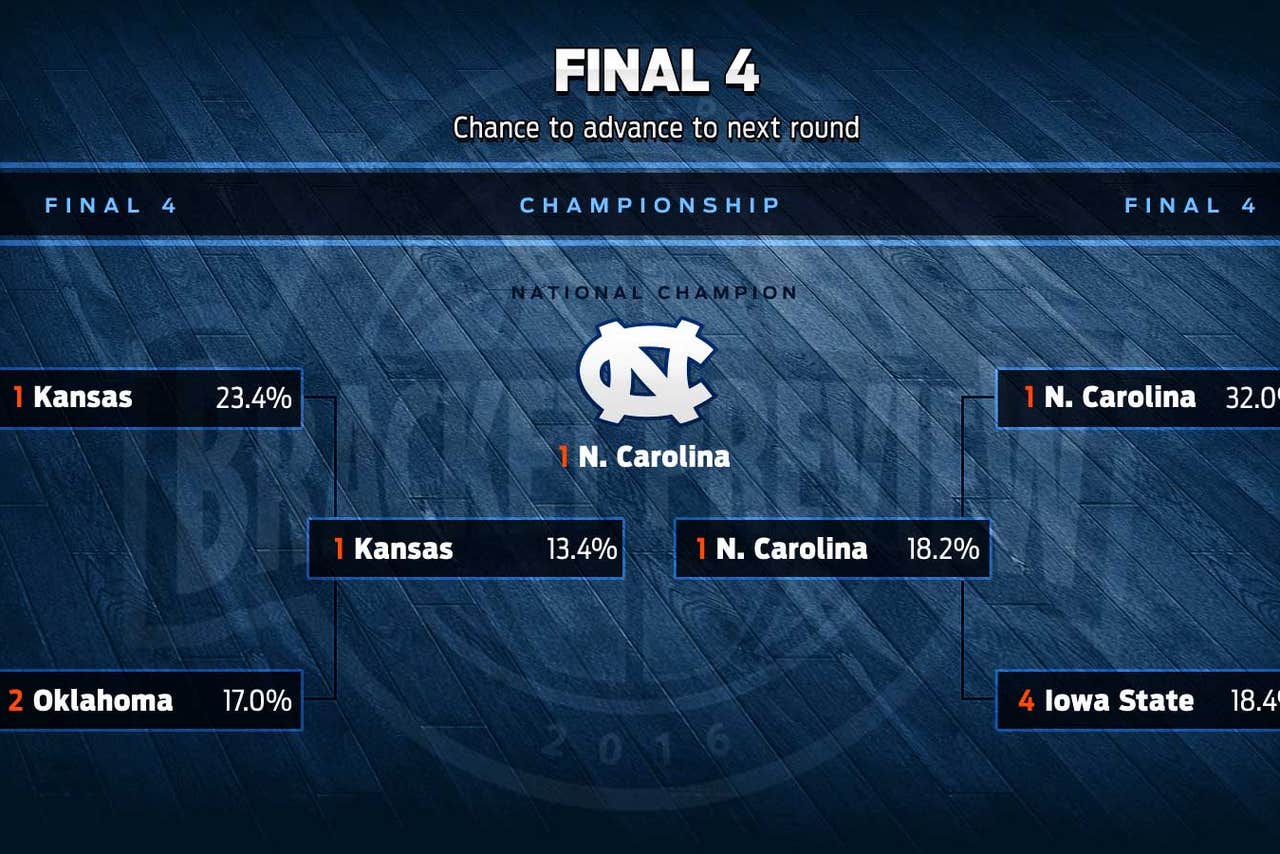 Round-By-Round Odds:
Team
Elite Eight %
Final Four %
Champ. Gm %
Champ. %
1 North Carolina
64.4
47.5
32.0
18.2
2 Kansas
66.9
37.2
23.4
13.4
2 Villanova
59.8
32.3
18.5
11.4
4 Iowa State
61.7
40.0
18.4
8.5
2 Oklahoma
56.4
35.4
17.0
8.0
5 Indiana
35.6
22.1
13.2
7.1
6 Notre Dame
72.7
25.4
14.1
6.0
3 Texas A&M
43.6
23.6
10.1
4.9
1 Oregon
50.4
23.0
10.0
4.3
1 Virginia
38.3
20.8
8.4
3.6
5 Maryland
33.1
14.8
6.8
3.1
3 Miami
40.2
15.8
7.3
3.1
10 Syracuse
53.6
20.5
6.6
2.9
4 Duke
49.6
18.1
7.0
2.8
11 Gonzaga
46.4
18.8
6.6
2.7
7 Wisconsin
27.3
5.1
0.8
0.1
Join the FOX Second Chance Bracket Challenge.
---
---