2014 preview: Seahawks face uphill battle after offseason turnover
BY foxsports • August 7, 2014
With football season around the corner, FOXSports.com is providing a thorough analysis of all 32 teams heading into training camp. The offseason may have lacked some hard-hitting action, but franchise-altering moves have been made. Parity is excessive as ever. Every team looks great on paper in July. But it's the development and seasoning of a team that will matter in January and, yes ... even February. Goodbye, offseason!
Today, we continue the series with the Seattle Seahawks.
2013 record: 13-3 overall (4-2 in NFC West, beat the Denver Broncos 43-8 in Super Bowl XLVIII
Head coach: Pete Carroll (entering fifth season)
Key departures: CB Brandon Browner, LB Chris Clemons, DL Red Bryant, WR Golden Tate, WR Sidney Rice
Key arrivals: WR Paul Richardson (second-round pick), DE Cassius Marsh (fourth-round pick)
THREE QUESTIONS
1. Who is catching passes from Russell Wilson?
The wide receiver position appears to be the Seahawks' biggest weakness at this stage. Yes, Percy Harvin is the healthiest he's been in, say, his entire career? Though, in the past two seasons -- one with the Minnesota Vikings and one with the Seahawks -- Harvin only has played in 10 regular season games. Despite showing signs of life in the Super Bowl win over the Broncos, Harvin has done very little to show anyone that he's capable of being an NFL No. 1. Harvin, in 2010, his best season as a pro, recorded 87 catches for 967 yards and six touchdowns. Those numbers hardly are terrible, but they aren't exactly No. 1 wide receiver numbers, either. 
For Harvin to truly have a breakout season, the Seahawks will need Doug Baldwin, who signed a three-year extension in the offseason, to start the season strong so opposing teams will limit the number of times they throw double coverage Harvin's way. 
After those two, it's pretty up for grabs at this stage. Jermaine Kearse has the upper hand for the No. 3 spot on the depth chart, but don't count out 2014 second-round draft pick, Paul Richardson. Despite dealing with a shoulder injury, Richardson has played very well in camp and likely can -- and will -- be a big contributor this season. Two more names to watch for are Chris Matthews and Kevin Norwood, two rookies. Matthews was the CFL Player of the Year in 2012. Norwood, the team's fourth-round pick, has looked good in camp, but his progress certainly will be delayed after having surgery this week to remove a bone spur in his foot. 
Generally speaking, we usually know if an NFL quarterback has franchise-like qualities within his first three years in the league. While there's no doubting Wilson's performance through his first two seasons, he's yet to crack the top-five list of quarterbacks in the NFL. Some will argue that Wilson has been more of a game manager since entering the league. If there ever were a chance for Wilson to silence those critics, now is that time. 
2. Can Marshawn Lynch return to his 2013 form after holding out? 
Few players are as controversial as Marshawn Lynch. The Seahawks' bell-cow back is "just 'bout dat action, boss." Though, Lynch was 'bout very little action during the offseason and in the first few days of camp. After ending his holdout last week, Lynch has been slow to get back up to speed, according to head coach Pete Carroll. It's worth mentioning that Lynch played very little during the preseason in 2013, and then he went on to have a 1,200-plus yard season. So there might not be anything to worry about. On the other hand, heading into the 2013 season, Lynch hadn't just come off a holdout and, more importantly, he hadn't just won a Super Bowl. 
If Lynch is slow to get back into game shape, the Seahawks' offense more than likely won't skip a beat. General manager John Schneider seemed perfectly content to allow Lynch to pout over his contract due to the presence of Robert Turbin and Christine Michael, who both have been champing at the bit to see more action. Perhaps this could be the year.
3. How will the defense respond to losing key players from its 2013 rotation?
After one of the most dominating defensive performances in Super Bowl history in the win over Denver, Seattle's unit is going to find it tough to live up to fan expectations this season -- even if the everyone had returned for another go-round. That didn't happen, though, as the 'Hawks lost key members of its ball-hawking unit.
Cornerbacks Brandon Browner and Walter Thurmond III both have moved on. Defensive lineman Chris Clemons, Red Bryant and Clinton McDonald all moved on, too. Those five names all were starters or part-time starters last season.
Seattle likely will ask defensive ends Michael Bennett, Tony McDaniel and Cliff Avril all to play more snaps this season, none of whom played more than 57 percent of the snaps in 2013, according to Pro Football Focus.
Greg Scruggs and rookie Cassius Marsh will be looked upon to pick up any remaining slack on the ends, while Jordan Hill and Kevin Williams will see more time at the tackle position.
Schneider has had great success with the draft picks of Wilson, Richard Sherman and Earl Thomas, so it'll be interesting to see a few more of Seattle's homegrown guys in action. 
BREAKOUT PLAYER
Wide receiver Percy Harvin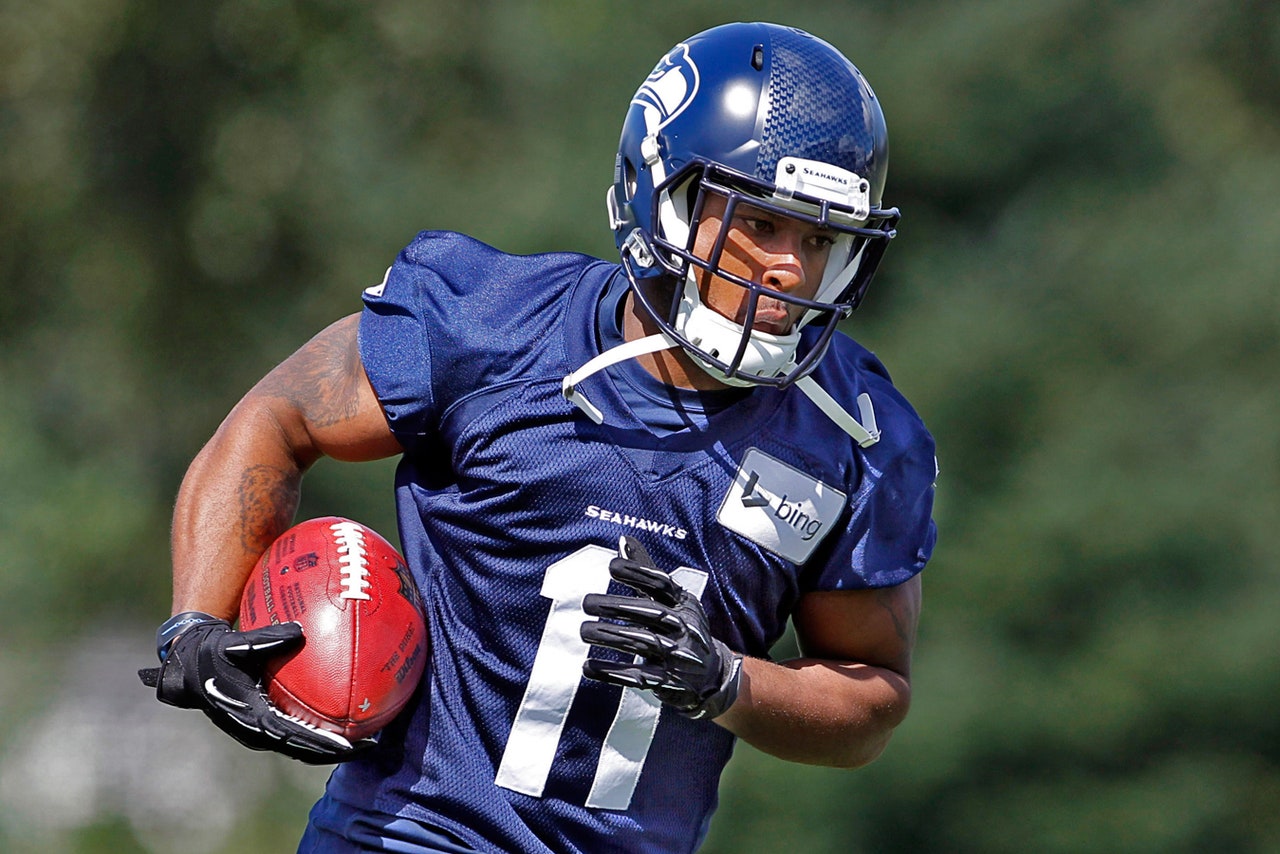 Yes, Percy Harvin will have a breakout season.
The Seahawks traded a boat load of items for Harvin prior to the 2013 season and then signed him to a big $67 million contract extension, but injuries forced him to miss all but a handful of snaps during the regular season. If Harvin were to have a subpar campaign in 2014, it would be very difficult to escape the critics, even if the team somehow were to win another Super Bowl.
Harvin is due to make $11 million this season, second-most among all NFL receivers. In order for the Seahawks to make another run, Harvin will need to shoulder the load and earn every single penny of that contract. If he doesn't, he'll just be another receiver who flamed out after getting paid.
After all of that, why is Harvin the choice for breakout player? Well, because he has no choice.
REASON FOR OPTIMISM
Let's quickly lay out a few reasons.
1. Percy Harvin is healthy. 
2. Russell Wilson hasn't regressed one iota in his first two seasons, and there's little reason to believe that will change. 
3. Even if the 2014 Seahawks were to take a step back, the core players, minus Wilson, already are under contract for the 2015 season. 
REASON TO PANIC
The NFC West easily is the toughest division in all of football. The San Francisco 49ers are 36-11 over the past three seasons and have nothing to show for it. Jim Harbaugh's team never has been hungrier. The Arizona Cardinals are on the rise, despite having an aging quarterback in Carson Palmer. Lastly, the St. Louis Rams very well could be the NFL's most surprising team this season. With a healthy Sam Bradford, offensive weapons and a defense that might actually be just as good as the Seahawks, who knows what Jeff Fisher's team is capable of. That's why they're so dangerous, too, not even the Rams players themselves know what they're capable of. 
Prediction: 11-5, finishing tied for first in the NFC West.
ALEX MARVEZ'S 2014 PREDICTION
If the Seahawks needed a wake-up call that their Super Bowl season is a thing of the past it came when running back Marshawn Lynch didn't report to training camp because he wants more money. That is the only dark cloud hovering over a team that has a strong young nucleus led by the NFL's best secondary. Still, a more difficult schedule (on paper) and having to carry the target of being defending champions will translate to a less gaudy regular-season record. Prediction: 11-5.
---
---