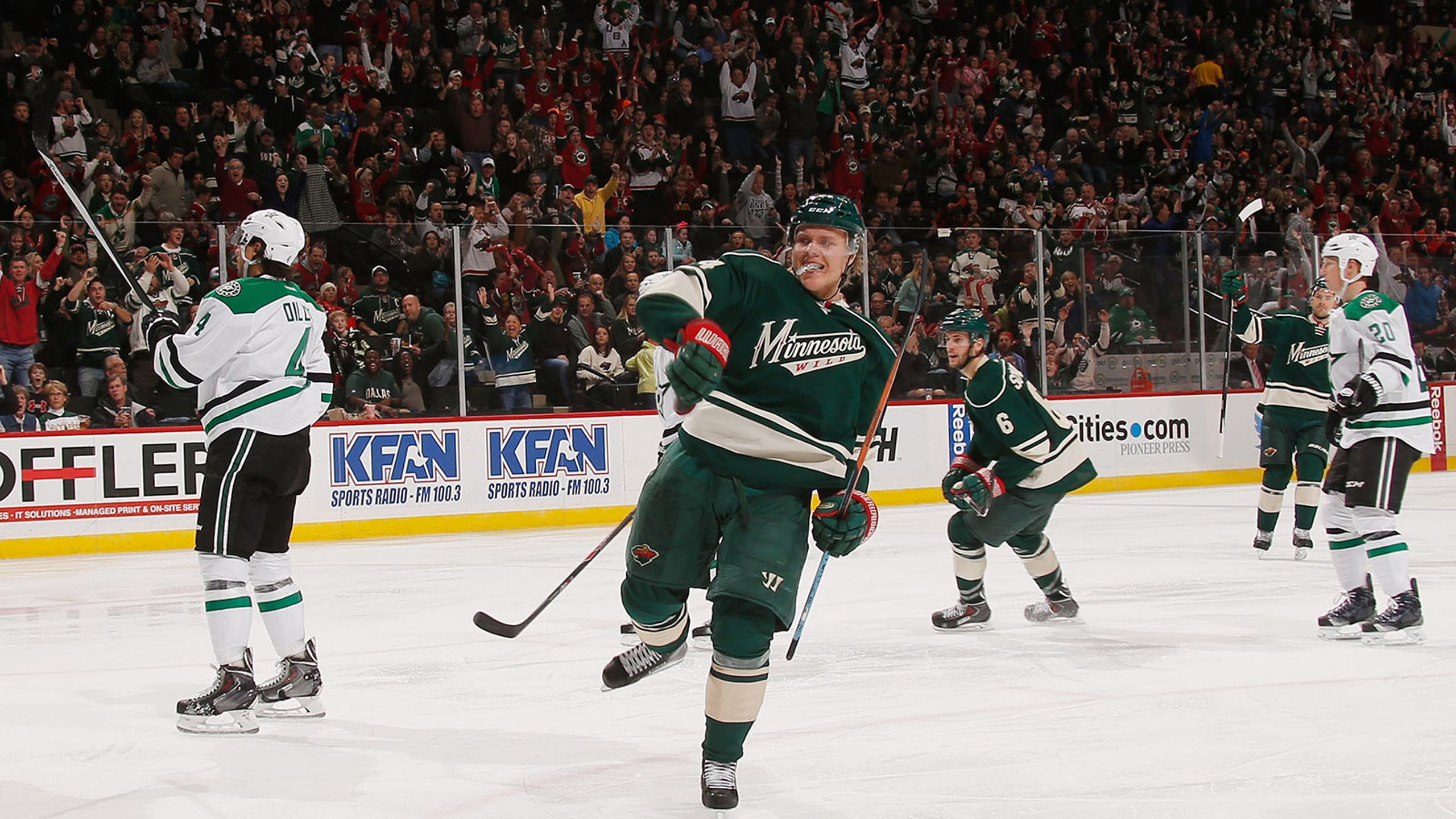 Wild get off season-long power-play schneid in win over Stars
BY foxsports • November 1, 2014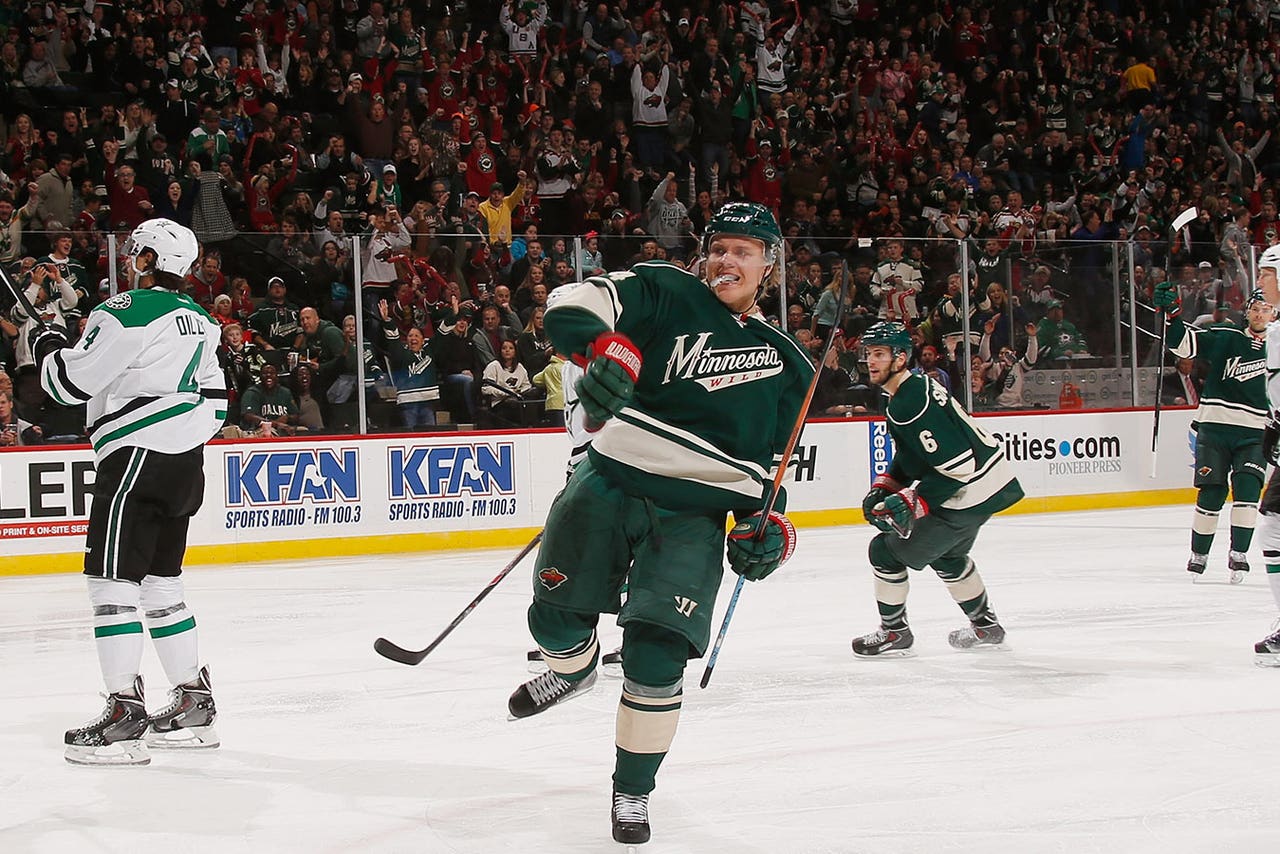 Thomas Vanek was bound to get a goal for Minnesota soon. The Wild's power play was well overdue, too.
Scoring with a snap shot off a textbook behind-the-goal-line pass by Zach Parise, Vanek crossed both items off the to-do list on Saturday night.
Vanek capped a three-goal second period with his first score for his new team, and the Wild stayed unbeaten at home with a 4-1 victory over the Dallas Stars.
Mikael Granlund and Matt Dumba struck first for the Wild, the first goal for each this season, but the loudest roar from the crowd came when Vanek scored 57 seconds before the intermission. Vanek skated emotionless off the ice, only slightly shaking his head. He said he's not much of a celebrator.
"It was more a relief more than anything," said Vanek, who signed a three-year, $19.5 million contract with the Wild. "Even though it didn't look like much, it felt great."
Not only did the puck that whizzed past goalie Kari Lehtonen's glove give Minnesota a 3-1 lead, it gave Vanek his first goal in 10 games with the Wild and gave them their first goal in 29 extra-skater opportunities. They were the last NHL team to get one.
"It was way past the joking point. It was more just relief," said Parise, who had two assists and has a team-high 10 points in 10 games.
That's about the only part of Minnesota's game that wasn't working well. Darcy Kuemper made 19 saves to improve to 6-2 as the Wild raised their home record to 5-0, including four wins in regulation, with a 22-6 goal differential in those games. The Wild have scored first in eight of their 10 games, going 6-2 when doing so.
Nino Niederreiter added another power-play goal for good measure in the third period, a slick between-the-skates tip-in of Ryan Suter's feed in the third period.
"We were just sticking with our game. We knew it was going to come eventually," Dumba said of the power play. "It's just one of those things that we weren't getting the bounces, but hopefully now we can get it rolling."
Wild coach Mike Yeo said he wasn't worried about Vanek. Stars coach Lindy Ruff, his longtime coach with the Buffalo Sabres, wasn't buying the slump, either.
"Thomas is going to score 25 to 30 goals. He's that good a goal scorer, as good as any guy around the front of the net that I've ever coached," Ruff said.
Vernon Fiddler scored for the Stars, just 8 seconds after Dumba's goal, but they were outshot 30-20. The Wild have outshot every opponent this season, by a whopping total of 350 to 229.
"There's energy missing in our game. It's as simple as that," Ruff said.
Lehtonen was in the Dallas net for the second straight night, having lost in overtime at home Friday to Anaheim 2-1. He made several difficult saves, but his effort was hardly enough. Backup Anders Lindback has given up nine goals in two games this season, and Ruff wasn't ready to give him another start.
The Stars fell to 0-2-2 in their last four games after going 0 for 4 on the power play. They had 78 seconds of a 5-on-3 advantage in the first period that was frittered away without a threat.
Jordie Benn's failed clearing attempt was snagged by Granlund, who pivoted and zipped a slap shot from the slot into the net with Parise screening Lehtonen. Jamie Benn took the slashing penalty that set up Niederreiter's power-play goal.
"Things were coming easy for us at the beginning of the year, and now we're starting to find a bit of an uphill stretch here," Fiddler said. "Good teams find a way to work through it, and that's what we're going to have to do."
NOTES: Stars RW Ales Hemsky sustained an upper-body injury in the second period and didn't return. ... The Wild got defenseman Jonas Brodin and center Erik Haula back from two-game absences, both due to upper-body injuries. ... The Wild placed D Jared Spurgeon (shoulder) on the injured list, expecting him to miss several games. Christian Folin (illness) returned from a five-game absence to take his place in the lineup. Spurgeon has a team-high 25 blocked shots and six points in nine games. ... The Wild improved to 19-25-8 (including 15-9-2 at home) against the Stars, who played in Minnesota from 1967-93.
---
---