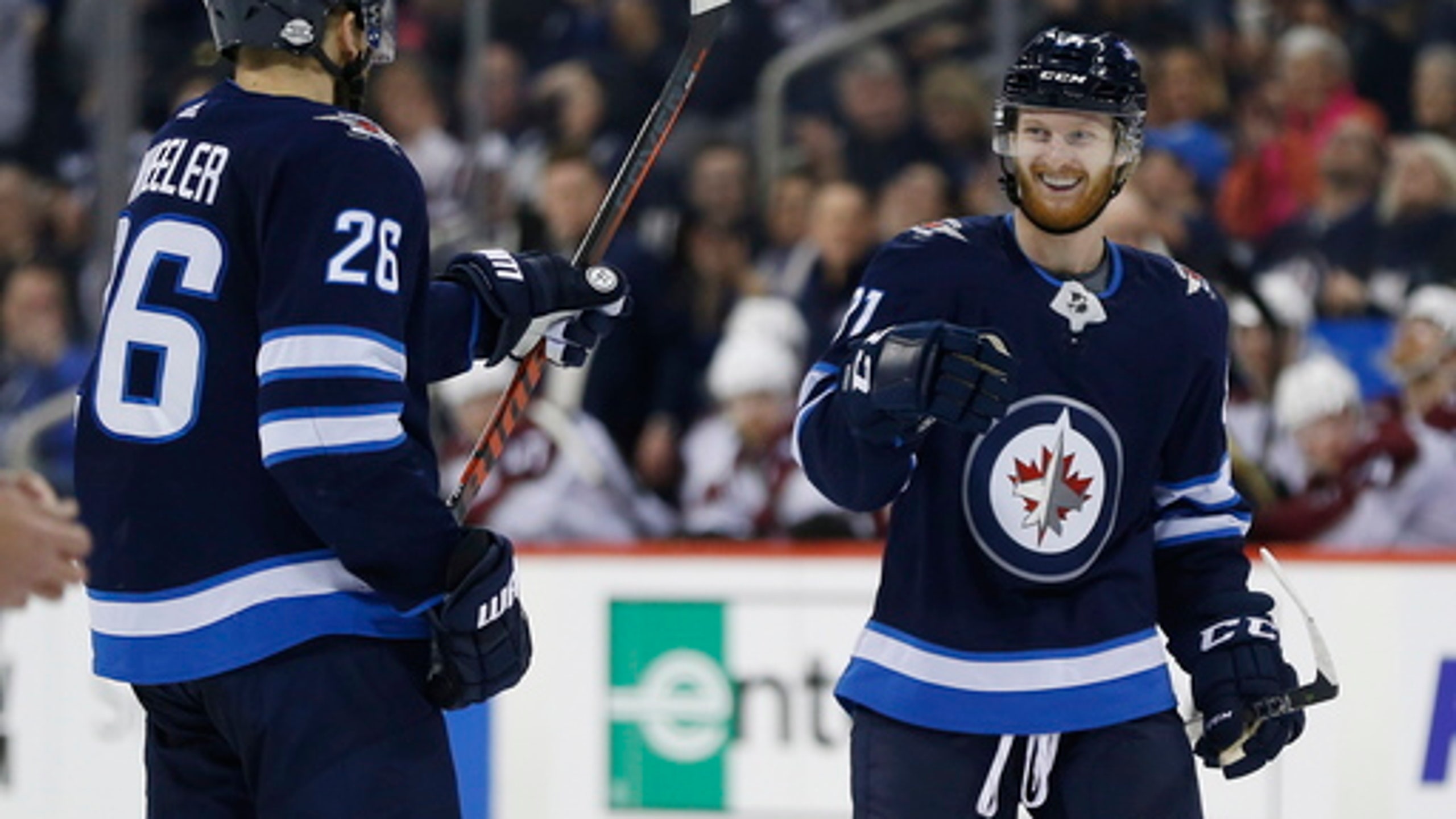 Wheeler, Scheifele lead Jets past Avalanche 6-1
February 17, 2018
WINNIPEG, Manitoba (AP) That 15-game goal drought was not bothering Blake Wheeler. And now it is over.
Wheeler scored twice and added an assist and Mark Scheifele assisted on three goals as the Winnipeg Jets defeated the Colorado Avalanche 6-1 on Friday night.
''With the amount of ice time I get, the guys I play with, the expectation would be that you'd score a goal once in a while,'' said Wheeler, who has 16 goals and 48 assists through 58 games. ''Sometimes it doesn't happen. It's a crazy game. I had 13 shots the last two games before this one, and one behind the goal line goes in. I don't lose much sleep over it.''
Scheifele now has seven points in his last three games. It was his fourth game back since he missed 16 with an upper-body injury.
''We did the right things all game,'' Scheifele said. ''We didn't get away from it and it showed.''
Kyle Connor, Andrew Copp, Patrik Laine and Nikolaj Ehlers also scored for Winnipeg, which is 5-2-1 during its 10-game homestand. Dustin Byfuglien and Tyler Myers each had two assists and Laine added one.
Connor Hellebuyck made 30 saves to pick up his 30th win of the season. It was the most wins by a Jets goalie since the franchise moved to Winnipeg from Atlanta prior to the 2011-12 season. Ondrej Pavelec had 29 wins the first season.
Avalanche forward Mikko Rantanen nixed Hellebuyck's shutout bid when he scored unassisted on a wraparound with 5:56 left in the third period.
Colorado goalie Jonathan Bernier was pulled following the second period after Winnipeg went up 4-0 on 20 shots. Semyon Varlamov stopped six of the eight shots he faced in relief for the Avalanche.
''He got hit in the head there on a play around the net and was going in for the concussion protocol so we put (Varlamov) in,'' Colorado coach Jared Bednar said. ''I haven't caught up with the trainers yet (to check his status).''
Wheeler's drought-ending goal - he had a dozen assists during that span while playing center - came when his shot from behind the goal line hit Bernier's left skate and slid inside the post at 10:09 of the first period.
The Jets outmuscled and stole the puck just before their first two goals in the second.
Byfuglien won a battle along the boards with winger Gabriel Landeskog and passed the puck to Connor for his 19th goal of the season at 10:49.
Scheifele then stole the puck from Rantanen while Winnipeg was short-handed and went on a two-on-one for Copp's fifth goal of the season at 15:50.
Four seconds after Avalanche forward Gabriel Bourque went to the penalty box for goaltender interference, Laine scored his team-leading 26th goal and NHL-leading 15th power play of the season on a one-timer with 28 seconds left in the period.
Ehlers deflected in a Myers' shot from the point 5:24 into the third period for his 22nd goal. Wheeler put in his second of the game at 7:54 with a shot through over Varlamov's glove.
Rantanen finished off the game's scoring with his 18th of the season.
''We didn't play our best game in the first, but we were still in the game,'' Rantanen said. ''Then they get a second goal. Then we get a power play and a chance to get it to 2-1, but then a turnover by me and it's 3-0. It's a tough, tough play but I have to get over it.''
UP NEXT
The Avalanche go home to take on Edmonton on Sunday.
The Jets host Florida Sunday night.
---
---