Western Conference preview: Door open for Ducks, but will they waddle through?
April 13, 2015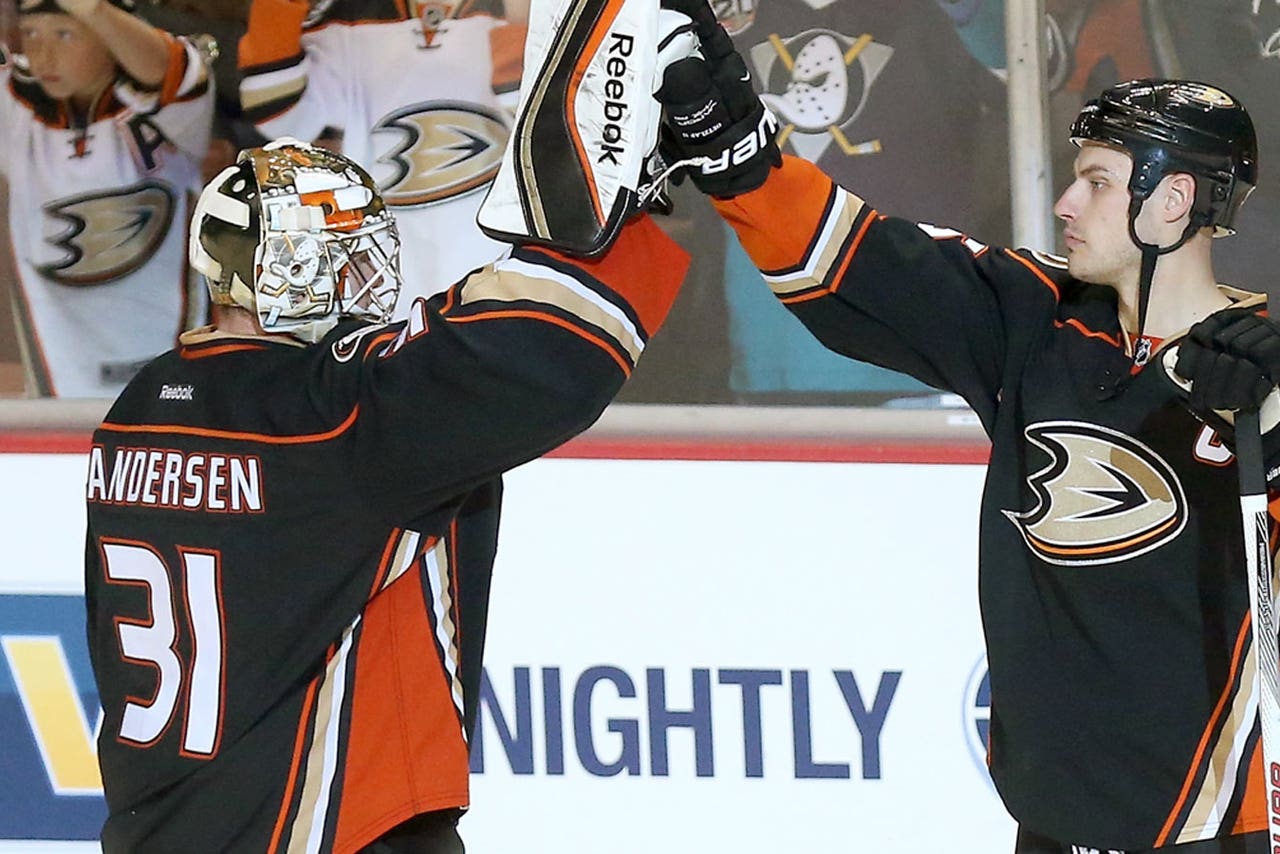 Anaheim captain Ryan Getzlaf can't help thinking about the possibilities. The defending Stanley Cup champion Los Angeles Kings are out of the playoffs and the 2013 Stanley Cup champion Chicago Blackhawks are in disarray.
"Those teams have had strong runs the last little while so at some point, something's got to give," Getzlaf said Saturday as the Ducks concluded the regular season with a win in Arizona. "It feels like an opportunity to turn some heads."
Anaheim has the inside track on that opportunity. The Ducks (109 points) are the Western Conference's No. 1 seed and will host the Winnipeg Jets (99 points) in Game 1 on Thursday as NHL playoffs begin this week. The Ducks' goal differential isn't overwhelming (plus-10, worst among all playoff teams) and there will be questions about their goaltending, but Anaheim's ability to win the tight, playoff style games is right there in black and white. The Ducks finished the season with a staggering 33-1-7 record in one-goal games, setting an NHL record with those 33 wins.
"That's a good sign," Getzlaf said. "We built this team around winning tough games and guys learned a lot last year from those situations. It makes your group a lot more comfortable and confident. You have a good feeling in close games, no matter what the situation is."
The Ducks must also feel good about avoiding the top four teams in the Central Division. St. Louis (107), Nashville (104), Chicago (102) and Minnesota (100) all topped the 100-point barrier, making the first two rounds a playoff cauldron.
"Even the bottom three teams are good teams in this division," Chicago captain Jonathan Toews said. "But that's OK. That's how you want it. You want to be tested and you have to earn it."
Here is a look at all four first-round series in the West.
Pacific No. 1 Anaheim (51-24-7, 109 points) vs. Wild card No. 2 Winnipeg (43-26 13, 99 points)
Season series: Anaheim, 3-0
Goalies: Goaltending is neither team's strong suit in this series. Winnipeg's Ondrej Pavelec is 9-2-1 in his last 12 decisions but finished the season with a middling .920 save percentage and has never played in an NHL playoff game. Anaheim's presumed starter, Frederik Andersen, posted a .914 save percentage but that number dipped below .900 in February and March before a pair of good games in April against Western Conference cellar mates Edmonton and Arizona.
Key players: Winnipeg defenseman Dustin Byfuglien hasn't been in the postseason since departing Chicago after a 2010 Stanley Cup win, but Big Buff can be a force, logging heavy minutes, delivering heavy hits and sending heavy shots toward the net. He should also be well rested after a four-game suspension late in the season. Anaheim center Ryan Kesler was acquired to give the Ducks more depth up the middle to compete with L.A. in the Pacific Division. It worked; Anaheim went 4-0-1 against the defending champs and won the division for a third straight year.
Key stats: The current edition of the Jets has only qualified for the postseason one time in its previous 15 seasons. In 2007, the then-Atlanta Thrashers were swept by the New York Rangers in the first round. … Winnipeg was shorthanded 308 times, more than any team in the league. … Anaheim's 1.04 goals for/goals against ratio in 5-on-5 play ranked just 15th in the NHL -- a surprising stat for a No. 1 seed.
Breakdown: The Jets overcame significant injuries to their blue line, the trade of a troubled star in Evander Kane and a suspension late in the season to Byfuglien to reach the playoffs. The atmosphere at MTS Centre should be electric as fans revive the Whiteout that has been dormant since the old Jets left for Atlanta in 1996. Winnipeg plays a heavy, hard style that suits the playoffs, and the Jets have plenty of playoff experience, including several ex-Blackhawks who have won Stanley Cups. But the moves the Ducks made in the offseason and at the trade deadline better prepared them for the grind of the postseason. Anaheim is vulnerable to a team that can play possession hockey, but the Ducks are motivated by last season's conference semifinal loss to L.A.
Prediction: Anaheim in 7
Central No. 1 St. Louis (51-24-7, 109 points) vs. Wild card No. 1 Minnesota (46-28-8, 100 points)
Season series: Minnesota, 2-1-1
Goalies: The Wild's Devan Dubnyk is a legitimate Vezina and Hart Trophy candidate after turning around Minnesota's fortunes when he arrived in a trade from Arizona in January. Minnesota is 28-9-3 since, the top winning percentage in the NHL over that period. Dubnyk finished with the NHL's second-best save percentage (.929) and second-best goals against average (2.07). Jake Allen is the Blues latest answer in goal, but Brian Elliott is waiting in the wings if he falters. Allen played well down the stretch, but his .913 save percentage doesn't scream playoff success. Goaltending has been an Achilles' heel for the Blues in past postseasons.
Key players: For Minnesota, it has to be Dubnyk. He started a staggering 38 straight games (39 if you include his final game in Arizona), proving that he can be a workhorse, but how much will that wear and tear show when the playoff grinder begins -- one with which Dubnyk is completely unfamiliar? St. Louis added center Paul Stastny in the offseason because it felt center depth hurt it in a first-round loss to Chicago last season. His 16 goals and 46 points weren't what was expected but if he can deliver in the postseason all will be forgiven.
Key stats: St. Louis has won just one playoff series in the last 11 years. … Since Dubnyk's arrival, the Wild have allowed two or fewer goals in 29 of their 39 games. … St. Louis' power play is ranked fourth in the league at 22.3 percent; Minnesota's penalty-killing is the league's best at 86.3 percent.
Breakdown: No team was hotter in the second half of the season than Minnesota, but few teams are better constructed for playoff-style hockey than the Blues. If St. Louis can get secondary scoring -- it should with Alex Steen and Vladimir Tarasenko back -- and its goaltending holds up, it has a chance to escape the first round for the first time since 2012. Minnesota may be the West's fastest team and the Wild is on some kind of roll. Defenseman Ryan Suter and captain Zach Parise are an excellent leadership duo and it's impossible to ignore that this has been the Western Conference's best club for a long stretch of the season.
Prediction: Minnesota in 7
Central No. 2 Nashville (47-25-10, 104 points) vs. Central No. 3 Chicago (48-28-6, 102 points)
Season series: Chicago, 3-1
Goalies: Nashville's Pekka Rinne and Chicago's Corey Crawford have been two of the NHL's best all season. Rinne has bounced back from hip surgery and a subsequent infection to post the league's third-best goals against average at 2.18. Crawford never gets the accolades behind Chicago's high-powered attack, but the truth is the Blackhawks were a middling offensive team (2.68 goals per game) that relied heavily on their goaltender this season. Crawford's .924 save percentage was the sixth-best in the league and that came behind a sometimes-shaky blue line.
Key players: Chicago wing Patrick Kane is close to returning from a fractured clavicle that was supposed to sideline him until the third round. He was cleared for contact for Monday's practice. If he returns, Kane changes the entire complexion of this series. He was having a Hart Trophy-caliber season before he was lost in late February, leading the league in points at the time. The 'Hawks have struggled to score since he left, but his absence allowed them cap exceptions to acquire center Antoine Vermette and defenseman Kimmo Timonen at the trade deadline, adding depth to the roster. Nashville wing James Neal had five goals in the four-game series between these teams (12 in 18 career games against Chicago) and has been a difficult matchup for the 'Hawks. With home-ice advantage, Predators coach Peter Laviolette will have the choice of matchups for Neal.
Key stats: Nashville went 28-9-4 at home -- good for the second-most home wins in the NHL. … Chicago went 24-16-1 on the road, tied for the third-most road wins in the NHL. … Chicago forward Bryan Bickell has 16 goals in his last 42 playoff games.
Breakdown: This is the first time Laviolette and Chicago coach Joel Quenneville have matched playoff wits since the Blackhawks beat Laviolette's Flyers in the 2010 Stanley Cup Final. The Predators were sailing along for most of the season, sitting near or at the top of the NHL standings. The offseason acquisitions of Neal and center Mike Ribeiro, along with the emergence of rookie Filip Forsberg, gave the Predators a dynamic offensive element that was lacking under former coach Barry Trotz. Laviolette's more aggressive style has suited a lineup that features a great defensive pairing in Roman Josi and Shea Weber, along with an up-and-comer in Seth Jones. But the Preds have not played well the last two months, losing 15 of their final 21 games and six straight to end the season. Both clubs are comfortable in tight-checking games or wide-open games, but Chicago clearly has more playoff experience and a deeper lineup that features household names beyond Kane such as Jonathan Toews, Marian Hossa, Patrick Sharp and Duncan Keith. The Hawks' Achilles' heel is its third pairing of defensemen. Veteran Michal Rozsival has not played well and David Rundblad is a sixth defenseman that only a salary cap-strapped team would carry. Chicago's zone exits have been a problem that could be exploited by a good Nashville forecheck, but the Predators forward depth is a major question mark against a playoff-savvy team.
Prediction: Chicago in 6
Pacific No. 2 Vancouver (48-29-5, 101 points) vs. Pacific No. 3 Calgary (45-20-7, 97 points)
Season series: Calgary, 2-1-1
Goalies: Vancouver's Ryan Miller suffered a knee injury Feb. 22 and didn't play again before the team's regular-season finale Saturday. He had a 29-15-1 record with a 2.53 goals-against average and a .911 save percentage. Eddie Lack filled in well in his absence, but Miller's experience makes him the go-to guy. A late-season lower-body injury to Calgary starter Karri Ramo will likely force veteran Jonas Hiller into the nets. Hiller's .918 save percentage is deceptively good on a team not known for possession.
Key players: Vancouver boasts a well-balanced lineup but the most surprising part of that was Shawn Matthias, who scored a career-high 18 goals to finish tied for third on the team. Secondary scoring in the playoffs is critical. Calgary defensemen Kris Russell and Dennis Wideman had to play top minutes once captain Mark Giordano was lost for the season with a torn biceps, and they'll log even more minutes in the postseason. Russell's 283 shot blocks are an NHL record for a single season.
Key stats: Calgary was No. 1 in the NHL with 1,557 blocked shots this season. … Calgary's penalty-killing unit ranked 20th (80.6 percent) in the NHL, the worst mark of the eight Western Conference playoff teams, but the Flames took the second-fewest minor penalties in the league (212). … The past three times the Flames and Canucks have met in the playoffs, the winner of the series went on to play in the Stanley Cup Final.
Breakdown: The Flames were supposed to be a lottery team this season, but first-year GM Brad Treliving bolstered a lineup with hard workers, the blue line was one of the league's best and the No. 1 line of Sean Monahan, Johnny Gaudreau and Jiri Hudler was a force over the course of the season. Vancouver ranks 12th in the NHL in goals against but it allowed two goals or fewer in 10 of its final 20 games of the season because its playoff-experienced blue line got healthy. The Canucks normally go as the Sedins go, but if they can get balanced scoring, including second-line wing Radim Vrbata (31 goals), Vancouver could handle an inexperienced Calgary club that is minus its best defenseman. On the other hand, don't discount the emotional wave Calgary is riding.
Prediction: Calgary in 6
---
---