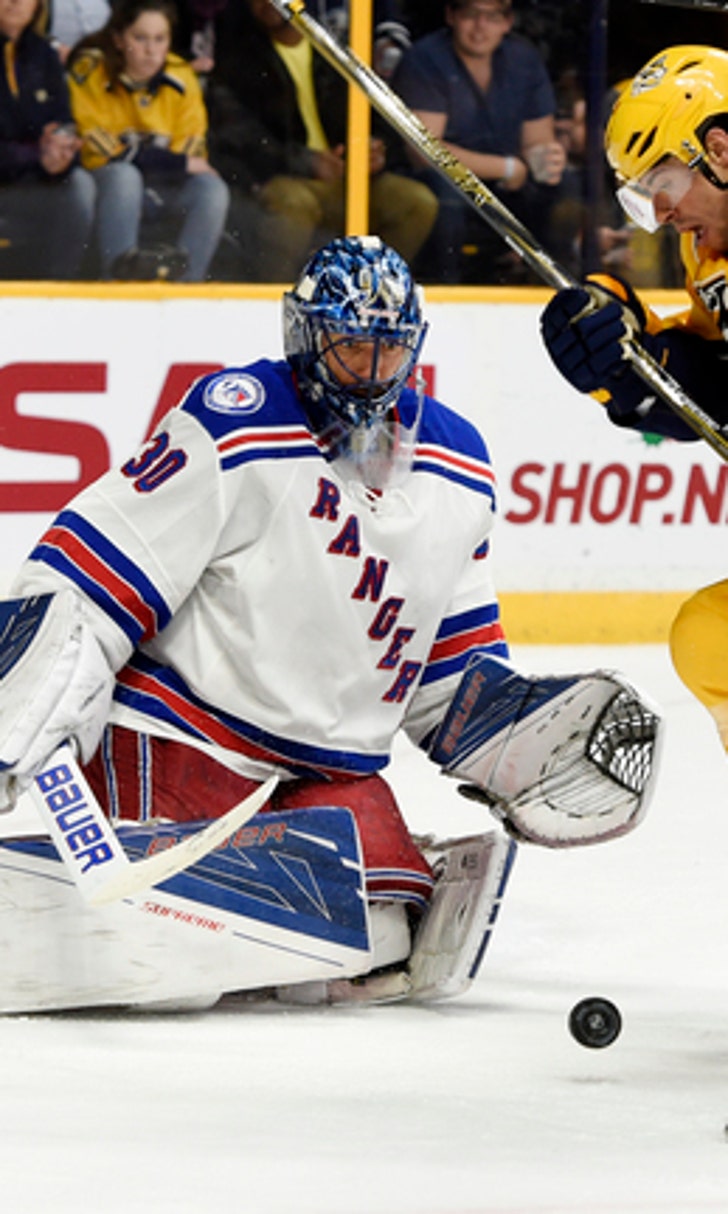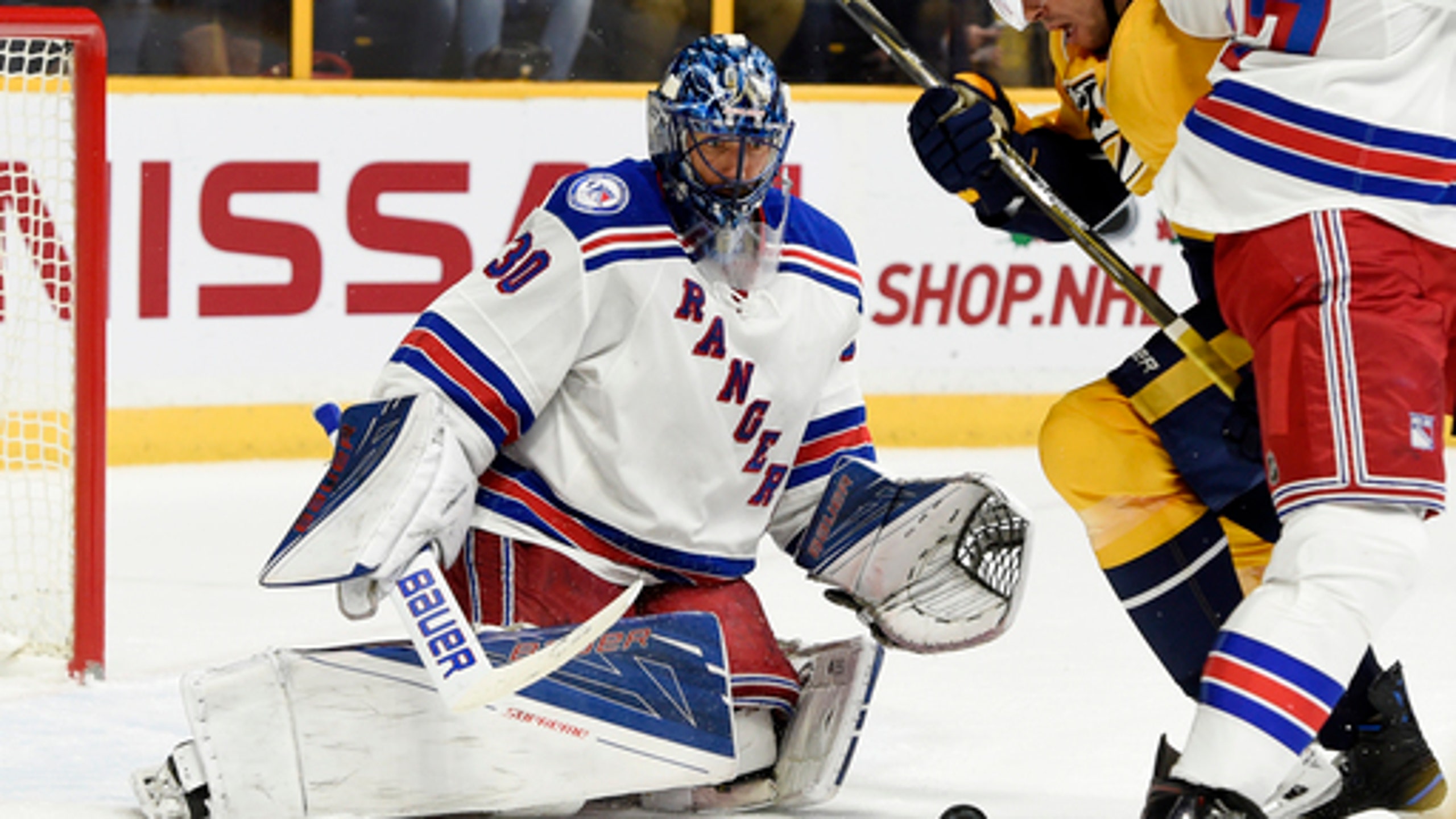 Vesey, Zuccarello score in shootout, Rangers beat Preds 2-1 (Dec 17, 2016)
BY AP • January 14, 2017
NASHVILLE, Tenn. (AP) Booed each time he hit the ice Saturday night in Music City where fans had hoped to watch him in a Nashville sweater, rookie Jimmy Vesey got the last word.
Vesey and Mats Zuccarello each scored in the shootout, helping the New York Rangers beat the Nashville Predators 2-1 Saturday night as the NHL's best road team added yet another win to its record.
The rookie came out to shoot first for the Rangers for his first shootout attempt this season to another heavy chorus of boos. Vesey skated up and beat Juuse Saros with a wrister over the goalie's stick.
''Actually practiced some breakaways this morning,'' Vesey said. ''They usually go to my backhand. But I've been working on faking my backhand and going to the forehand and just trying to flip it over his pad, and luckily it snuck in.''
Then Zuccarello scored to end the game.
Rick Nash scored in regulation, and the Rangers improved to 11-5-0 away from New York in finishing off a two-game road swing with a second straight victory. Henrik Lundqvist made 31 saves, including stopping Ryan Johansen to start the shootout. Craig Smith's shot went wide for Nashville in the second round.
Mike Fisher scored for Nashville, which has lost two straight and four of the last five. The Predators have lost all five games this season that have gone to overtime or a shootout.
''We had our chances,'' Fisher said of Saturday's game. ''Overtime and shootouts just haven't been our friend for whatever reason. It's frustrating. That was a huge game. We have to start winning those games.''
Saturday night marked Vesey's debut in Nashville, the left wing the Predators drafted No. 66 overall only to see him spurn the franchise and go to free agency after the Hobey Baker winner wrapped up his college career at Harvard. The Predators traded his rights to Buffalo, then Vesey chose the Rangers.
Fans made it clear how unhappy they were at his decision by booing and chanting at him almost every time he came on the ice. They booed heavily once again as he came out to shoot first for the Rangers in the shootout. Once he beat Saros, a smattering of Rangers fans cheered loudly.
''Obviously we know the whole storyline, but I thought he handled it great and certainly comes through in a big situation there,'' Rangers defenseman Ryan McDonagh said. ''I liked the challenge there that our coach does by putting him out first, but way to come through there to get his first goal in a shootout.''
Lundqvist kept the Rangers in the game in the third as Nashville outshot them 14-6 in the period. His biggest came with a pad save on James Neal with 2:32 left as Neal beat a sprawling Dan Girardi on a breakaway chance.
''Our goaltender really stepped up in the third period,'' Rangers coach Alain Vigneault said.
In overtime, Nashville got lucky when the puck went across the crease just outside the goal line with 3:10 left. Lundqvist got help from Zuccarello blocking a shot from Johansen in the slot with 90 seconds left.
Nash put a wrister top shelf from a tough angle from the left for a 1-0 lead on New York's seventh shot at 7:47. He beat defenseman Petter Granberg, who played with P.K. Subban scratched with an upper-body injury.
Nashville finally tied it up nearly midway through the second when Fisher took advantage of a screen in front by Colin Wilson to score from the high slot. The goal was Fisher's 100th with the Predators.
NOTES: This was just the third time these teams have gone beyond regulation in 23 games all-time. ... Nash extended his points streak against the Predators to six straight with six goals in that span. ... Nick Holden, who had an assist on Nash's goal, now has seven points (five goals, two assists) in eight career games against the Predators. ... Fisher now has three goals in his past four games. ... Bridgestone Arena, home to the Predators, celebrated its 20th anniversary this weekend with the Predators 16th sellout this season.
UP NEXT
Rangers: Host the Devils on Sunday night.
Predators: At Philadelphia on Monday night.
---
---