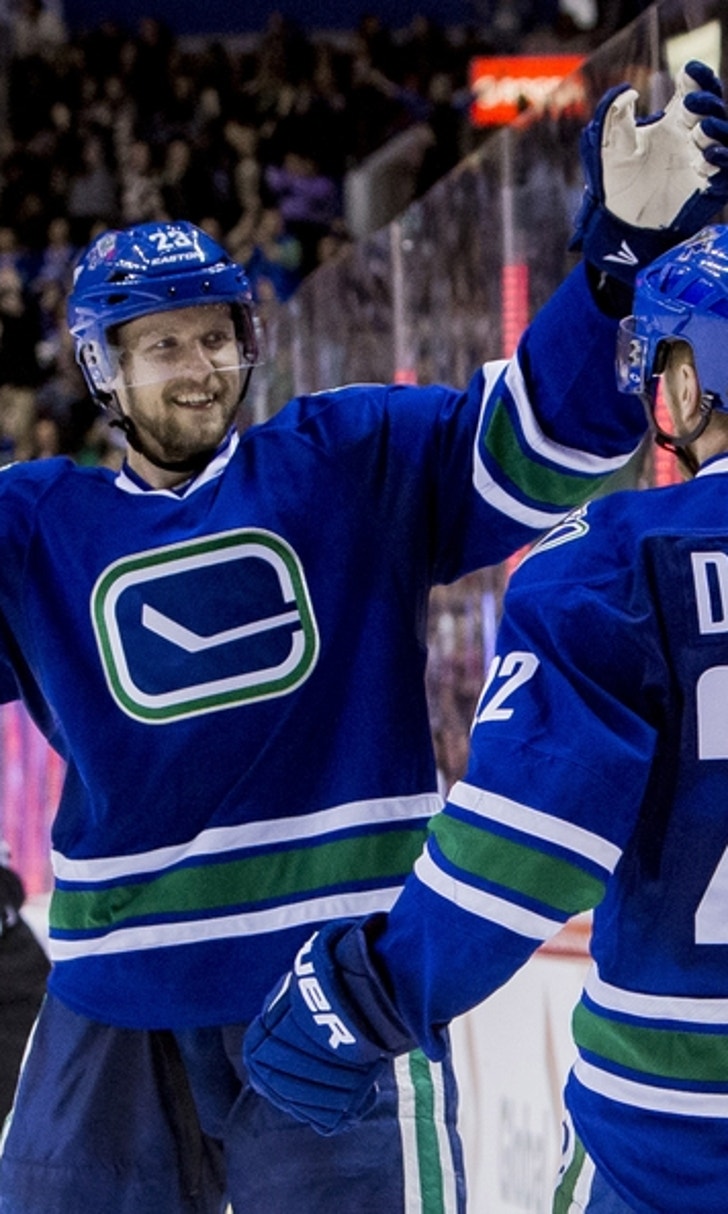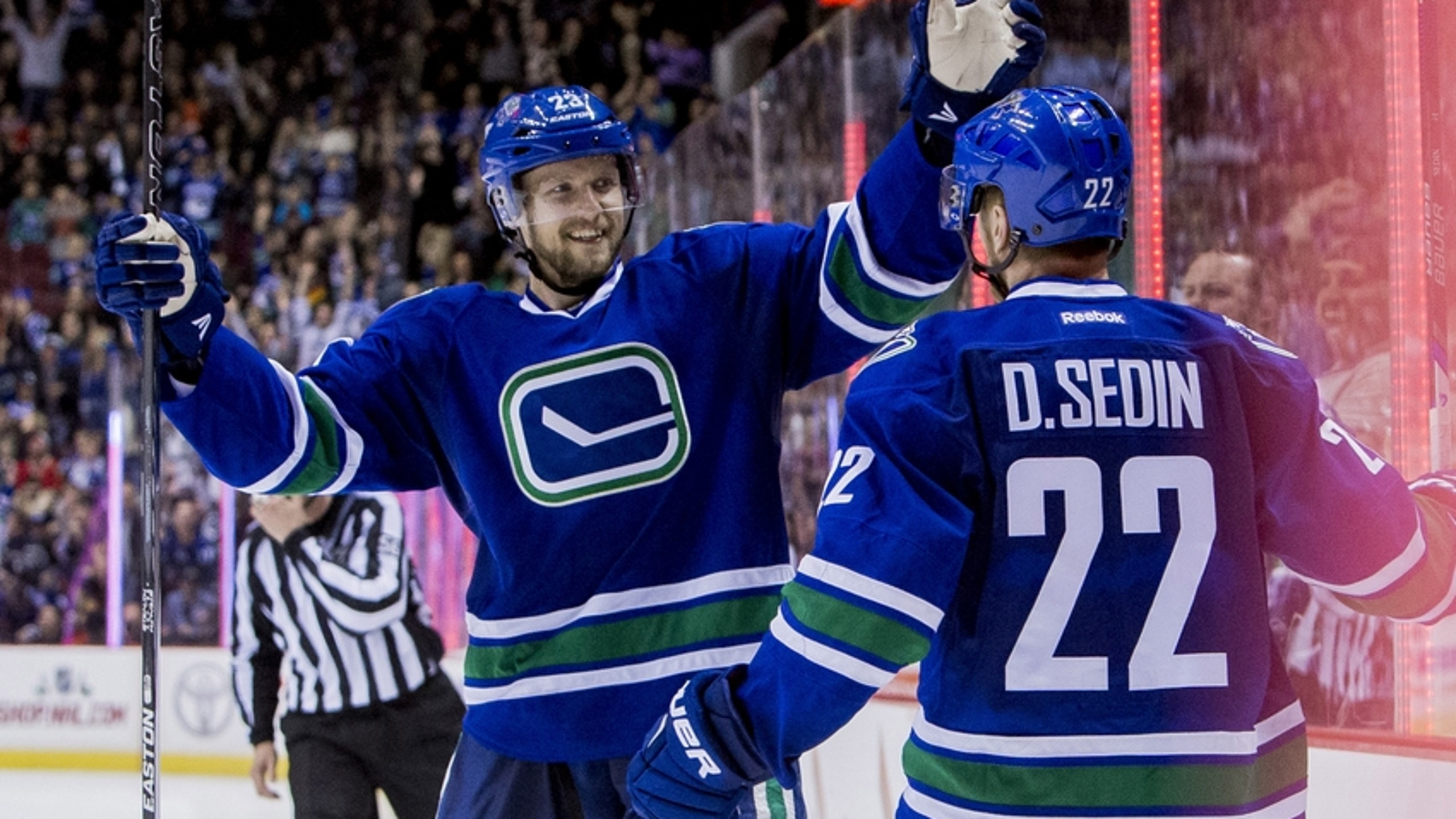 Vancouver Canucks Need to Mirror Toronto Maple Leafs Plan
BY Fansided and Alex Hoegler/FanSided via The Canuck Way • January 3, 2017
Nov 21, 2015; Vancouver, British Columbia, CAN; Vancouver Canucks defenseman Alexander Edler (23) and forward Daniel Sedin (22) celebrate a third period goal by Sedin in the third period against the Chicago Blackhawks at Rogers Arena. Vancouver won 6-3. Mandatory Credit: Bob Frid-USA TODAY Sports
Though rebuilding can be a lengthy and daunting process, the Vancouver Canucks just need to follow the footsteps of an eastern rival to pull it off.
The Vancouver Canucks are sitting where most fans expected them to, but not in the place where Trevor Linden and co. wanted them to be. They're the fourth-worst team in the Western Conference with a 17-18-3 record. Bo Horvat leads the team in scoring with a mere 25 points.
Though they sit just three points out of the playoffs, pure logic suggests they'll eventually regress in the second half of the season (like they usually do).
There's a team that was once in the position the Canucks are at now, and that would be the Toronto Maple Leafs. They had a disastrous finish to 2013-14 and missed the playoffs after reaching it a season earlier. They refused to tear it all down and went for the playoffs in 2014-15. They sat at 21-15-3 on this date two seasons ago.
You know the rest. They went 9-29-3 after that and missed the playoffs. The team decided enough was enough and went for a full-on rebuild.
Here is a summary of how they pulled off the difficult task in a demanding hockey market, and how the Canucks can follow suit and make it work too.
Sven Baertschi (47) celebrates his goal against Minnesota Wild goaltender Darcy Kuemper (not pictured) during the third period at Rogers Arena. The Vancouver Canucks won 5-4. Mandatory Credit: Anne-Marie Sorvin-USA TODAY Sports" width="590″ height="443″ />
Step 1: Sell the Veterans
At the 2015 trade deadline, the Maple Leafs traded away Daniel Winnik, Cody Franson, Mike Santorelli, David Clarkson and Olli Jokinen. Though the return haul was low-ceiling prospects and mid-round picks, this gave them the green light to get younger and faster.
More from The Canuck Way
They later traded Phil Kessel to the Pittsburgh Penguins in the offseason and traded Dion Phaneuf to the Ottawa Senators last year. This cleared out salary cap space and made plenty of room for the young guys to take over.
For the Canucks, trading pending free agent Alex Burrows at the trade deadline is a gimme. Veteran goalie Ryan Miller, also a free agent on July 1, is also trade bait. The Canucks should also look to unload Daniel and Henrik Sedin in the offseason, when general managers tend to be more aggressive.
Veteran winger Janik Hansen and top-pairing blueliner Alexander Edler could also fetch first and/or second-round picks and B-level prospects. The Canucks have no need to keep all of these ageing veterans.
The plan? Just trade these guys for anything you can get, like the Maple Leafs did.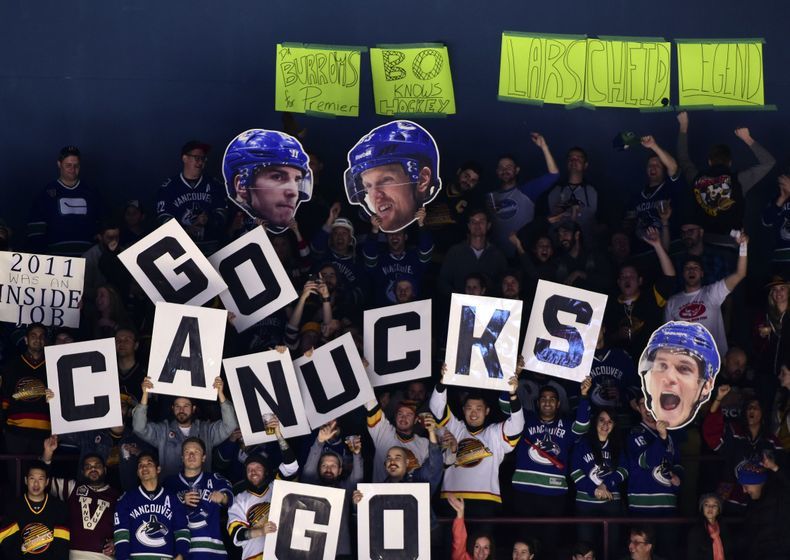 Step 2: Sell a rebuild to the fans
The Toronto Maple Leafs hired Brendan Shanahan to be their president, and he said this to the fans back in May, 2015:
"If you think there is no pain coming, there is pain coming."
And that didn't stop the Maple Leafs from selling out Air Canada Centre in 2015-16, despite having an average ticket cost of $329.87, according to TiqIq.com.
Want your voice heard? Join the The Canuck Way team!
The Canucks have refused to tear it all down and have tried to ice a playoff-contending club. But, fan interest is at a historic low. Neither tickets nor merchandise are selling the way the club had hoped.
It can't get any worse for the Canucks at this point when it comes to fan interest. It's up to the team to decide if head coach Willie Desjardins and general manager Jim Benning are worth keeping around.
But, at this point, it's time for the team to tell fans that a rebuild is coming and that there will be pain.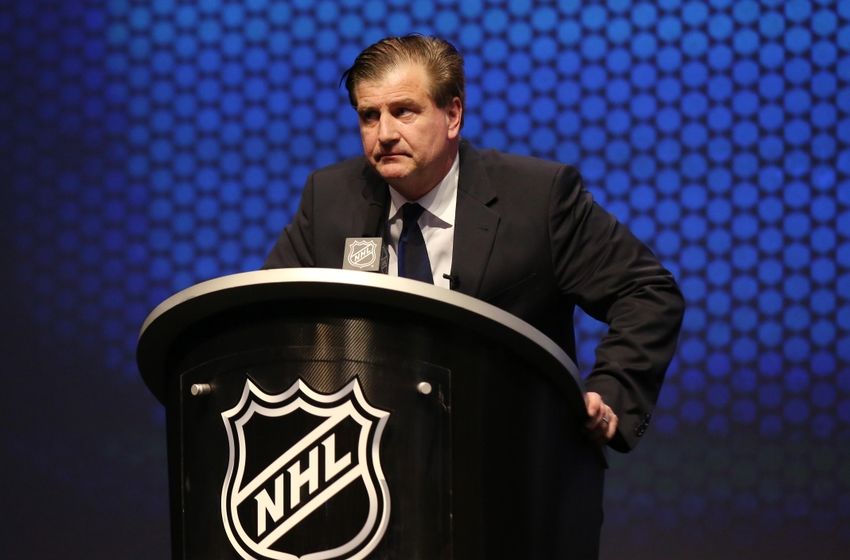 Step Three: Draft Well, Avoid Spending Big in Free Agency
For the Canucks, Bo Horvat may no longer be better than a second-line centre during his career. Yet, he's the biggest impact player this team has drafted since the lockout. That's a sad fact.
The Maple Leafs won the Auston Matthews lottery and got a once-in-a-generation star. But hitting the jackpot on Morgan Rielly, William Nylander and Mitch Marner also put them in great position for the long run.
It's easier said than done, but the Canucks need to learn how to draft forwards who can be impacts right away. Brock Boeser and Jake Virtanen have upside, but they're no Matthews and probably won't be a Nylander.
Also, staying away from high-priced free agents never hurts. The Maple Leafs, often known for being high-spenders, stuck to their rebuilding plan in 2016 and stayed away from handing out big contracts to big names. They looked for bargains like Matt Martin (four-year, $10 million,) but avoided such lucrative contracts that teams often end up regretting.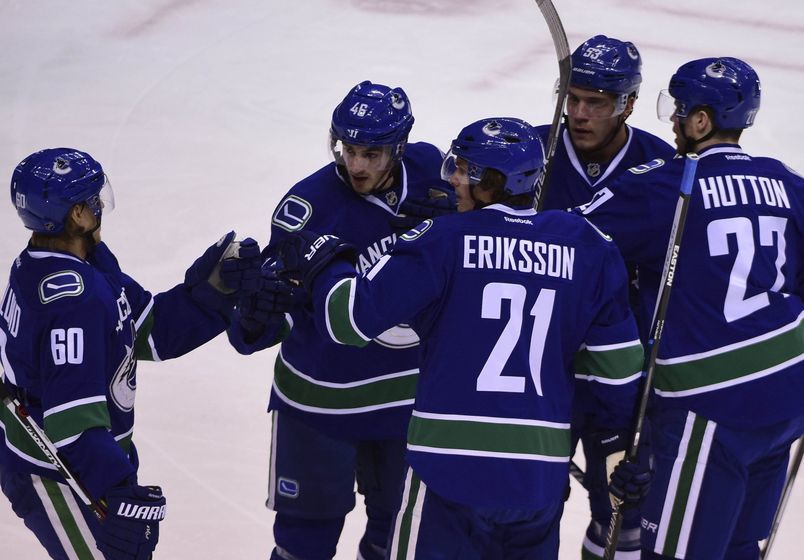 Loui Eriksson (21) celebrates his goal against Los Angeles Kings goaltender Peter Budaj (31) (not pictured) during the first period at Rogers Arena. Mandatory Credit: Anne-Marie Sorvin-USA TODAY Sports" width="590″ height="411″ />
Step 4: Enjoy the show
Though the Maple Leafs aren't likely to be a playoff team in 2017, they're certainly a joy to watch. This is a quick, puck-moving team that will be among the NHL's best in a few years. Maple Leafs fans get to enjoy watching their team every game, knowing what the future holds.
The Canucks are a team that fields too many guys on the wrong side of 30 that lacks all around speed and talent. Let's face it: Very few non-Canuck fans have to enjoy watching this team play. Their style is stale and slow.
If the Canucks decide to get younger and faster, they'll be much more exciting for fans to watch. TV ratings and ticket sales shall surge once again.
The Vancouver Canucks have a long path to being a great team again, but if they want to see the glory days from 2003-2012, they'll have to commit to a rebuild the way the Maple Leafs did two years ago.
---
---