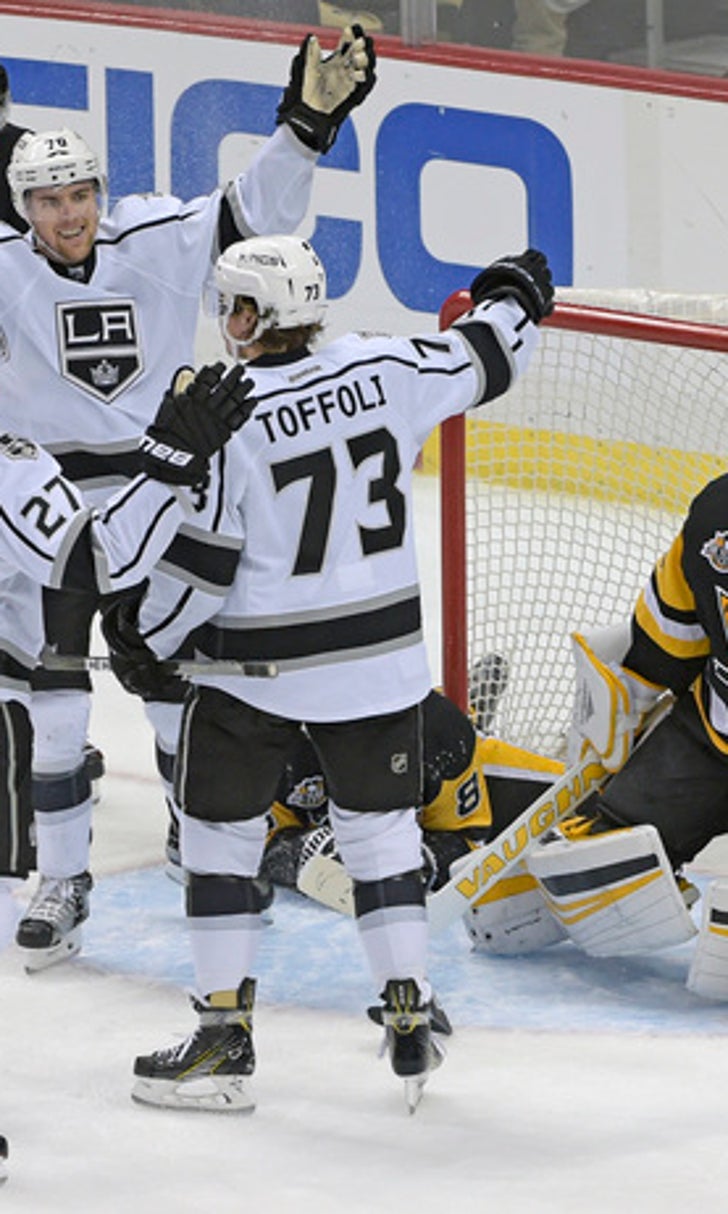 Toffoli scores in OT for Kings, snaps Pens' streak (Dec 16, 2016)
BY AP • December 16, 2016
PITTSBURGH (AP) Since stumbling to start this lengthy road trip, the Los Angeles Kings have rebounded with consecutive victories, including a win against one of the NHL's hottest teams.
Tyler Toffoli scored a minute into overtime, helping the Kings end the Pittsburgh Penguins' seven-game winning streak with a 1-0 victory Friday night.
Los Angeles is in the midst of a nine-game, 18-day trip that started with a loss Tuesday at Buffalo and ends in two weeks at Edmonton. This game followed a 4-1 victory over the Detroit Red Wings on Thursday night.
''It's great to get two big wins in tough buildings on back-to-back nights,'' Kings goaltender Peter Budaj said. ''We're going to rest and get ready because this road trip keeps continuing. We have to be sharp because we're going to play in some tough buildings.''
The Kings have won four straight against the Penguins and three of four overall. Toffoli got his eighth goal, and Budaj stopped 39 shots for his third shutout of the season.
Toffoli scored on a 3-on-1, taking a pass from defenseman Alec Martinez before skating to the top of the crease and lifting a wrist shot that beat Penguins goaltender Matt Murray to the glove side. Seconds earlier, Penguins forward Phil Kessel missed the net and his stick broke on an attempted shot off the rush, creating the 3-on-1 that led to the winner.
''I think we got a fortunate bounce with Kessel breaking his stick,'' Toffoli said. ''You need some luck on your side and we got that.''
Murray made his fifth straight start and had 27 saves for the Penguins. Pittsburgh previously won nine of 11 and six straight at home.
Pittsburgh captain Sidney Crosby ended his season-high - and NHL-best - nine-game point streak. Crosby leads the league with 21 goals but failed to score in consecutive games for the first time this season. He has points in 20 of 25 games this year.
The Penguins sit atop the Metropolitan Division with 44 points and are tied with Chicago for the NHL lead. Pittsburgh scored at least four goals in each of the previous seven games, but the Kings were able to shut down the second-highest scoring team in the league.
''They did a good job of packing it in and kept us to the outside for the most part, but we played really well,'' Murray said. ''It was just one of those nights.''
Los Angeles has six wins in 15 road games this season, compared to 10 wins in 15 home games. The Kings allowed six goals on the first game of the trip, but they have shut it down since, giving up one goal in back-to-back victories.
''After our game in Buffalo, we really wanted to tighten it up,'' Toffoli said. ''Tonight was an example of that and we got the win.''
Pittsburgh had a 30-15 advantage in shots heading into the third but couldn't get on the board. The Kings outshot Pittsburgh in the third and had the period's only power play, but still the game went scoreless to OT. It was the fourth time in the last five meetings the teams needed overtime against one another.
The Penguins played without top defenseman Kris Letang, who is out a couple weeks with a lower-body injury. The Penguins were down to four defensemen at one point in Friday's game after losing Trevor Daley late in the second period and Brian Dumoulin early in the third. Dumoulin returned, but Daley did not.
Penguins coach Mike Sullivan said Daley is being evaluated for an upper-body injury.
Letang, who had seven assists in his last seven games, was injured in Pittsburgh's win against Boston on Wednesday. The Penguins had been 4-1 in five games without Letang this season and 2-8-1 in 11 games missed last season.
Pittsburgh recalled Derrick Pouliot from Wilkes-Barre/Scranton to take Letang's spot in the lineup. Pouliot previously played in one game against San Jose earlier this season.
NOTES: Kings general manager Dean Lombardi said Wednesday that goaltender Jonathan Quick will be out until around mid-February with a groin injury that has sidelined him since October. ... Pittsburgh scratched F Eric Fehr and D Steve Oleksy, while Los Angeles sat F Devin Setoguchi, F Andy Andreoff and D Kevin Gravel. ... Pittsburgh recognized former goaltender Jeff Zatkoff, now on Los Angeles, with a video tribute.
UP NEXT
Kings: Continue their road trip at Boston on Sunday.
Penguins: Visit Toronto on Saturday night.
---
---