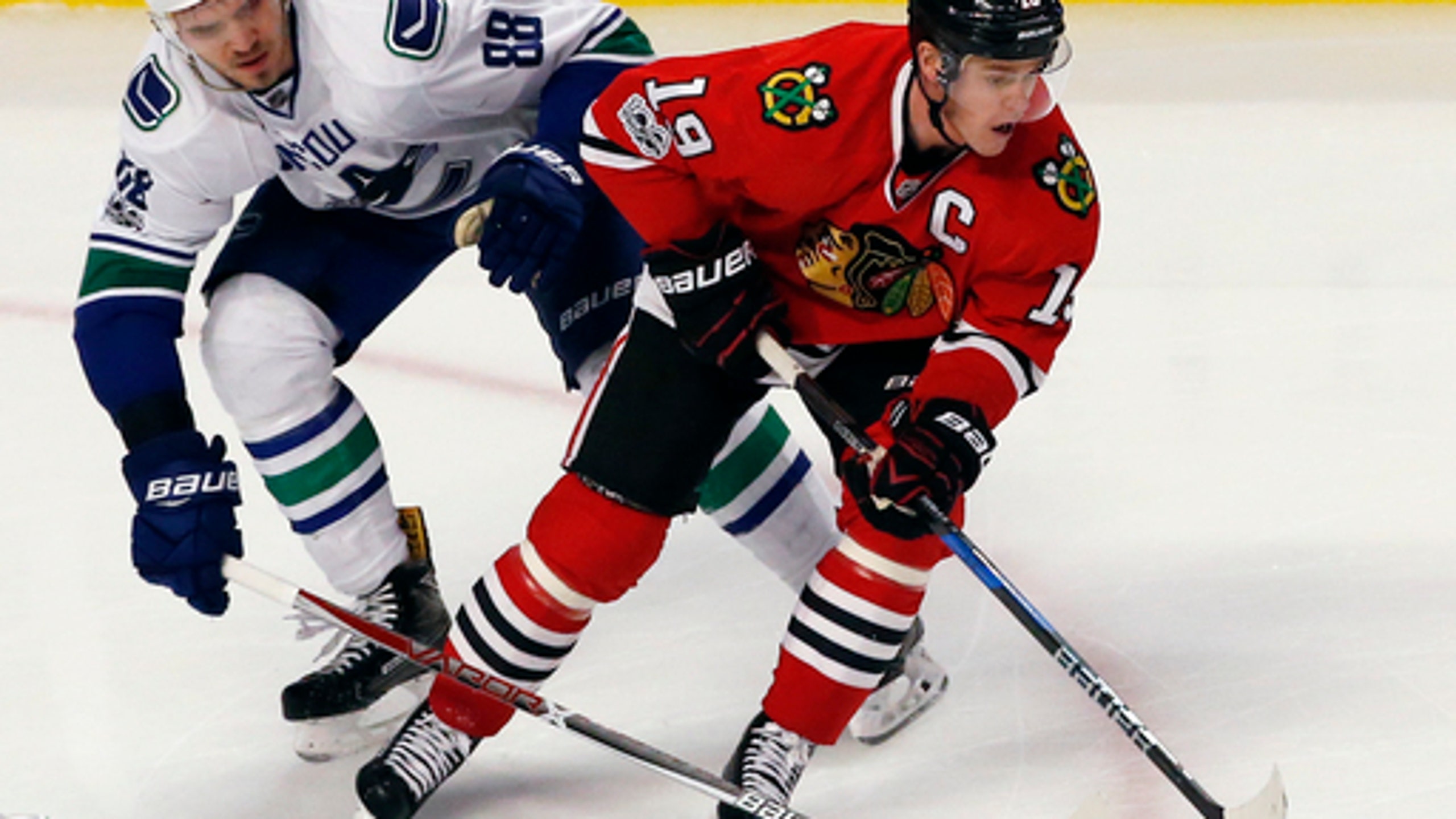 Toews' late goal leads Blackhawks past Canucks (Jan 22, 2017)
BY AP • January 22, 2017
CHICAGO (AP) Jonathan Toews' offensive numbers have been subpar this season, but the Chicago Blackhawks' captain came through with a huge performance Sunday night.
Toews scored the tiebreaking goal with 1:18 remaining and Chicago beat the Vancouver Canucks 4-2 for its third straight victory.
Toews, who also had three assists, connected from the left circle after Richard Panik's shot from right wing hit Canucks defenseman Alexander Edler's leg, went wide and caromed off the back boards. Toews fired the puck in before Canucks goalie Ryan Miller could move across the crease.
''The goals I've scored lately are just getting those bounces, being in the right spot at the right time,'' said Toews, who now has eight goals and 18 assists in 40 games. ''It was nice to get that one on my stick.''
Toews snapped a six-game drought with the goal. He had just two assists during that span.
Panik had a goal and an assist and Patrick Kane also scored for the Blackhawks, who have won seven of their last nine. Marian Hossa added an empty-netter with 24 seconds left for his 18th goal and 400th point with Chicago.
All the offensive kudos were directed toward Toews, however.
''It's a huge night for him,'' Panik said. ''Hopefully he'll jump on that and go from here.''
Corey Crawford made 26 saves to earn his 200th win after Troy Stecher and Bo Horvat scored 46 seconds apart early in the third period to tie it for Vancouver.
''It's always nice to reach those milestones.'' Crawford said. ''It's tough to give up that lead, too.
''We didn't get down, didn't get frustrated. Came back with a big goal. Nice to see `Tazer' get that one too.''
Miller stopped 31 shots as the Canucks lost in regulation for just the second time in their last 13.
And Vancouver's veteran goalie lost in regulation for the first time since Dec. 22 to Winnipeg. He's 7-1-2 since that 4-1 defeat.
''It's really a kick in the teeth to come all the way back and lose on a fairly fluky kind of play,'' Miller said. ''We got ourselves back in the game in the second and I think we carried it into the third.
''Just really disappointed to not get a point at least out of here, especially with that effort.''
Panik and Kane scored 3:03 apart late in the first to stake the Blackhawks to a 2-0 lead after 20 minutes. Chicago dominated the period, outshooting Vancouver 18-9.
Set up by Campbell, Panik ripped a one-timer from the slot that clinked off the crossbar and past Miller for his 11th with 5:33 left in the first.
Kane got his 15th with 2:30 to go after Vancouver's Luca Sbisa lost the puck in the right corner. Kane's shot from the circle hit the stick blade of the Canucks' Henrik Sedin and deflected over Miller's shoulder.
Crawford had to be sharp at times, including stopping Daniel Sedin on a breakaway 7:41 in.
The Blackhawks' goalie was tested several times in the scoreless second, but kept Vancouver off the board. He stopped Brandon Sutter and Sven Baertschi on point-blank attempts during the Canucks first two power plays.
After Chicago defenseman Michal Kempny was called for holding, Stecher broke through on the Canucks' third man advantage at 5:03 of the third. Stecher's high shot from the slot flipped past Crawford's glove with Daniel Sedin screening in front.
Horvat tied it 2-all 46 seconds later to cap a nifty set of moves.
He beat Kempny in the left circle and plowed to the net. Crawford stopped Horvat's first shot, but he followed through and buried the rebound.
NOTES: The crowd of 21,689 was the Blackhawks' 400th straight sellout. ... The Blackhawks honored former star C Jeremy Roenick before the game in a ''One More Shift'' ceremony. Roenick, dressed in his gear and No. 27 jersey, skated on to the ice to a standing ovation. He then waved his stick, kissed the ice and stood at the blue line with Blackhawks starters during the national anthems. ... Panik's goal was just his second in 14 games. ... Vancouver D Jordan Subban, recalled from Utica of the AHL on Thursday, didn't dress for the second straight game. The 21-year-old is the younger brother of Nashville star P.K. Subban.
UP NEXT
Canucks: At Colorado on Wednesday night in the second game of a three-game trip
Blackhawks: Host Tampa Bay on Tuesday night.
---
---