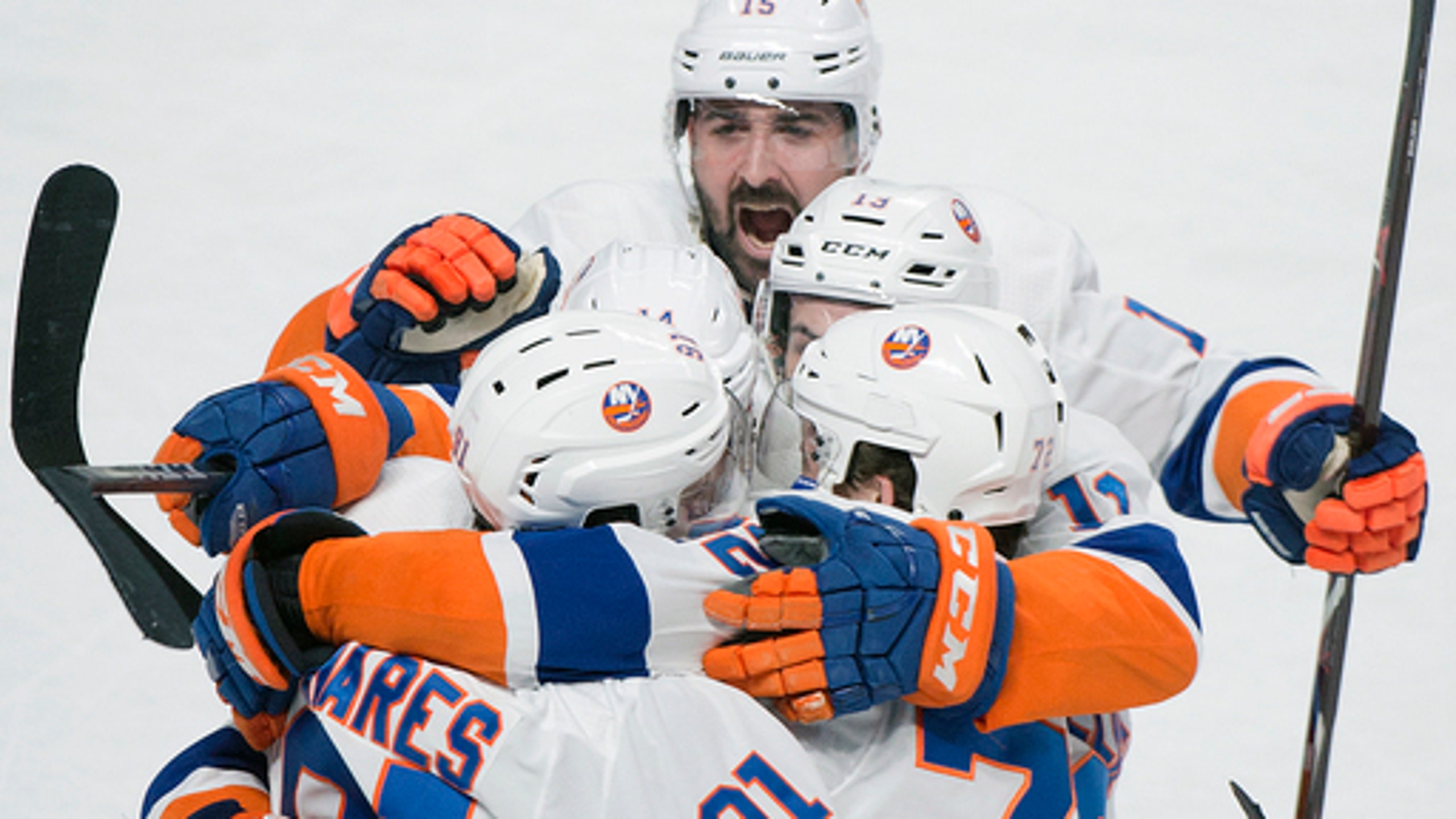 Tavares' 2nd goal lifts Islanders past Canadiens 5-4 in OT (Jan 15, 2018)
BY AP • January 16, 2018
MONTREAL (AP) John Tavares got a second chance in overtime and made the most of it.
The Islanders' captain was robbed on a spectacular save by Carey Price but got the puck back and made no mistake to give New York a 5-4 victory despite being outshot 56-24 by the Montreal Canadiens on Monday night.
''That first one was a heck of a save,'' Tavares said of a close-range shot that Price swung out a leg to stop. ''He's arguably the best goalie in the league.
''I had a chance to play with him before and seen his talent firsthand, so you know you have to be at your best and you can't take any opportunity for granted. I tried not to quit. I stayed with it and I'm glad I got an opportunity and put it in.''
Tavares also had a goal in regulation as the Islanders won their third straight after a season-high five-game losing streak. More eye-catching was Mathew Barzal, coming off his second five-point game of the season in a win at the Rangers two days earlier, had a goal and two assists to give him 10 points in the last three games.
''During the season there are ups and downs,'' Barzal said. ''There are times when you feel you're never going to score again and times when everything's going in.
''Hopefully I can just ride it for a while.''
Anthony Beauvillier and Adam Pelech also scored for the Islanders, and Thomas Greiss finished with a career-high 52 saves.
Nicolas Deslauriers, Paul Byron, Jonathan Drouin and Max Pacioretty scored for Montreal, which twice tied the scored after falling behind by two goals. Price stopped 19 shots as the Canadiens fell to 2-0-2 in their last four games.
''I thought we were the better team,'' said Montreal coach Claude Julien. ''They scored three goals on (their first) 10 shots, but we showed character in coming back.
''It's disappointing we didn't get the two points, but we got six points out of the last eight and if we keep going like that we'll be back in the race.''
Pelech gave the Islanders a 3-2 lead 2:37 into the second period as he pounced on a loose puck after Barzal's shot was blocked and swept it in fromt eh slot for his first of the season.
After the Canadiens turned the puck over on a blind, backhand pass by Alex Galchenyuk, Tavares scored on a short-handed breakaway at 5:36 to give the Islanders their second two-goal lead.
For the second time this season, Montreal lost a power-play goal to the ''skate in the air'' offside call after a video review showed Byron's skate a millimeter or two off the ice before Schlemko scored at 12:19.
Drouin banged in a rebound of Jakub Jerabek's shot with 44 seconds left in the second for his first goal in 14 games since Nov. 29.
Pacioretty, with a goal in a fourth straight game, tied it 4-4 on a power play as he tipped in Jeff Petry's point shot with just under 7 minutes remaining in regulation.
''I don't feel I'm doing anything different,'' Pacioretty said of his scoring streak. ''I got a couple of bounces and that's the way it goes some times.
''I feel I've been playing some good hockey for some time now and now I've got to keep going like this.''
Montreal owned the puck in the opening minute, but when Barzal got it, he set up Beauvillier for a goal on the Islanders' first shot on Price 1:24 into the game.
Barzal then raced down the right side and put a shot over Price's left shoulder at 6:29 to make it 2-0. The rookie scoring leader now has three goals and seven assists in his last three games.
Deslauriers was alone on the doorstep to beat Greiss at 8:01 to pull the Canadiens within one, Jerabek picked up his first NHL point on the play.
Byron took the rebound of David Schlemko's shot off the end boards to tie the score with 7:50 remaining in the opening period.
NOTES: The Canadiens were without centers Phillip Danault (concussion) and Andrew Shaw (lower body), who were both injured in Saturday's shootout loss to Boston. Daniel Carr and Byron Froese returned to the lineup. ... The Canadiens claimed C Logan Shaw off waivers from Anaheim. He will join the team Tuesday in Boston. ... Barzal was coming off a two-goal, three-assist game in the Islanders' 7-2 win at the New York Rangers on Saturday. ... The Islanders were missing six injured regulars - forwards Josh Bailey, Nikolai Kulemin, Andrew Ladd and Casey Cizikas, and defensemen Calvin de Haan and Johnny Boychuk.
UP NEXT
Islanders: Host New Jersey on Tuesday night.
Canadiens: At Boston on Wednesday night.
---
---