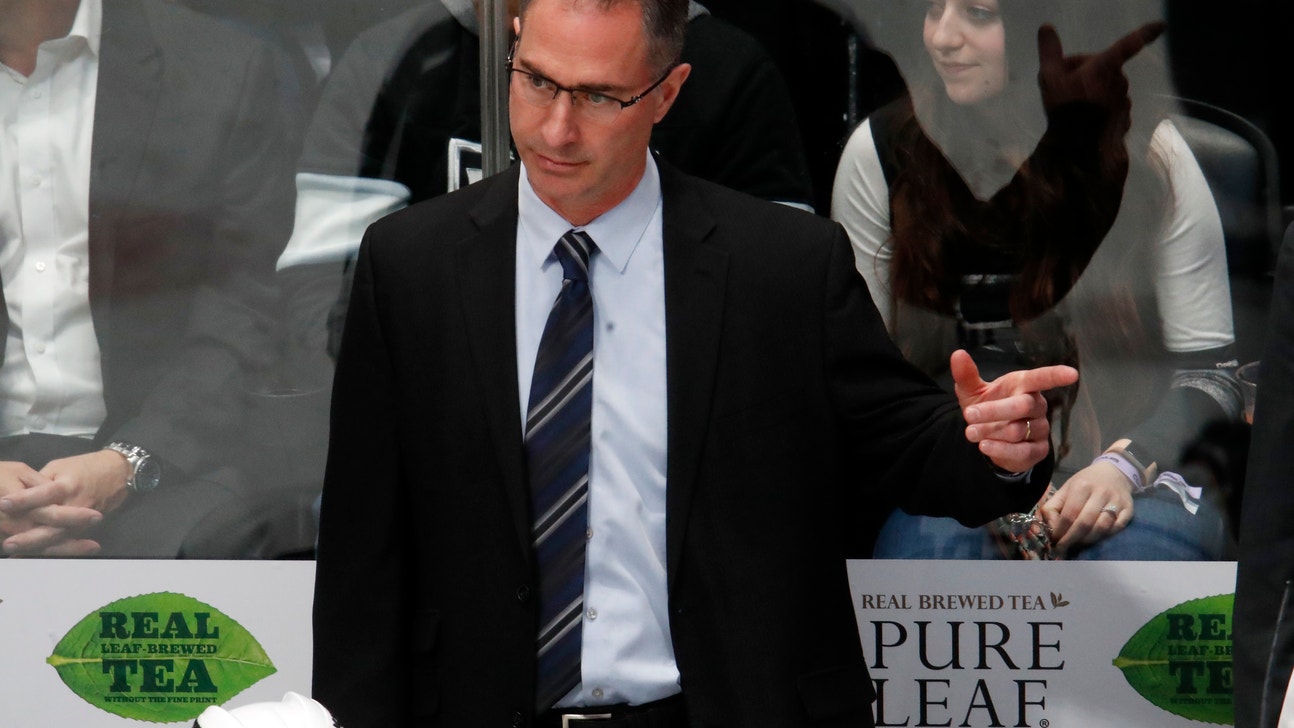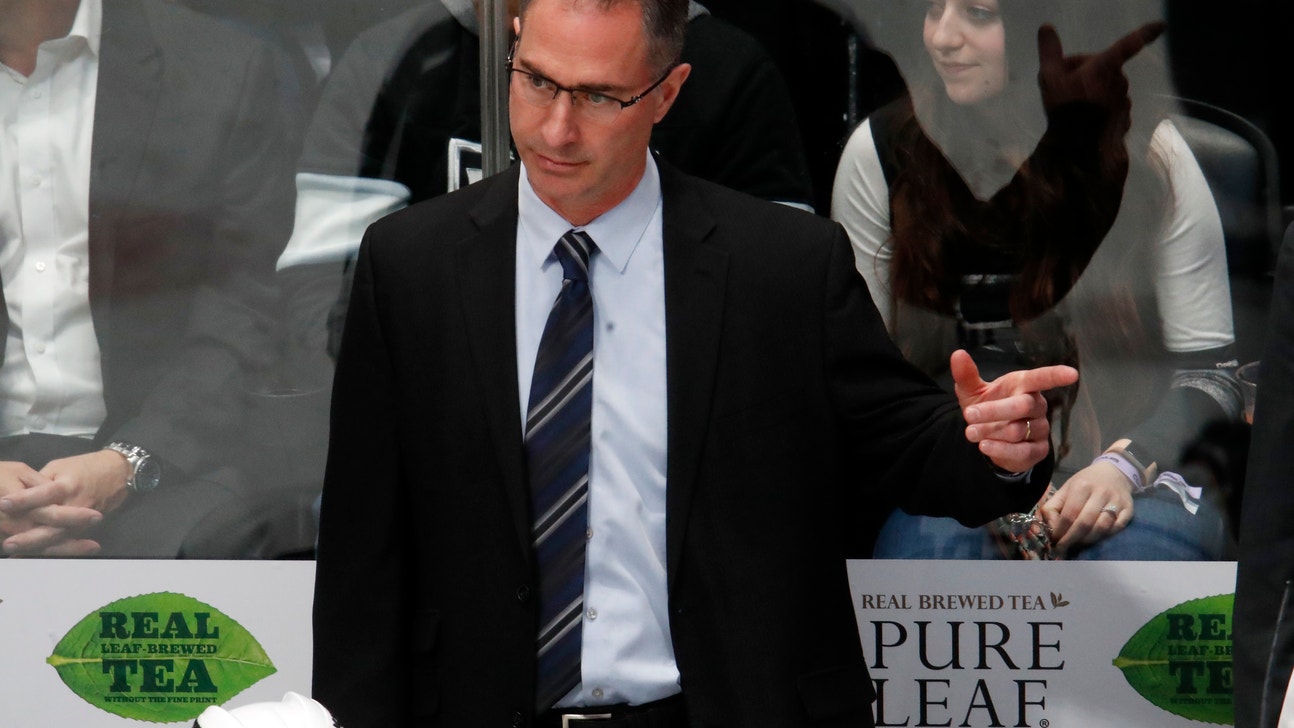 Struggling Kings fire head coach Stevens, hire Desjardins
Updated
Mar. 4, 2020 2:33 p.m. ET
LOS ANGELES (AP) — The struggling Los Angeles Kings fired head coach John Stevens on Sunday just 13 games into his second season in charge.
Willie Desjardins will be the Kings' interim head coach for the rest of the regular season, general manager Rob Blake said.
Los Angeles also fired assistant coach Don Nachbaur and hired former Kings forward Marco Sturm to replace him on Desjardins' staff.
Los Angeles is last in the overall NHL standings after a 4-8-1 start and last in the league with 2.15 goals per game. The Kings have been outscored 45-28, but they had won two of their past three games following a six-game losing streak.
"I'm looking to get the compete and the passion back," Blake said after announcing his second coaching change in 19 months. "We need our players emotionally involved. It's difficult to win when you're not. We expect Willie to bring that passion and that excitement to this team."
The Kings beat Columbus 4-1 on Saturday in Stevens' final game in charge. Desjardins, the former Vancouver head coach, will lead practice Monday and will debut behind the bench when the Kings host rival Anaheim on Tuesday night.
The Kings still have a wealth of top-end NHL talent including Hart Trophy finalist Anze Kopitar, Norris Trophy-winning defenseman Drew Doughty and high-scoring forward Jeff Carter alongside newcomer Ilya Kovalchuk. But with goalie Jonathan Quick missing all but four games because of injuries, Los Angeles has stumbled through the past 3½ weeks with its top-heavy roster of well-paid veterans, inconsistent depth players and a patchy defense.
"You look at training camp and you look at the regular season to where we are now, the expectations have not been met," Blake said. "We have really good players. We have players that can make plays. We expect them to make plays, and we expect them to play with that level of compete, and it hasn't been."
Stevens took over in 2017 after seven years as an assistant in Los Angeles under Terry Murray and Darryl Sutter. The former Philadelphia Flyers head coach was an assistant on the Kings' Stanley Cup-winning teams in 2012 and 2014.
Stevens' promotion was an attempt to create a new mentality for the Kings while maintaining some continuity to Sutter, whose grinding style of hockey won the only two Stanley Cup titles in franchise history. Sutter's coaching and former general manager Dean Lombardi's clever moves won two championships, but also left the Kings with a relatively slow, veteran-laden roster that struggled to compete consistently in the speed-based NHL after 2014.
The Kings went 45-29-8 in Stevens' debut last season, finishing fourth in the Pacific Division and getting swept by Vegas in the first round of the playoffs. Stevens went 51-39-9 overall in Los Angeles, including four games as the Kings' interim head coach in the 2011-12 season between the tenures of Murray and Sutter.
Everything went wrong quickly for Stevens, although Blake said he saw concerns from training camp onward. After adding Kovalchuk as a free agent last summer, Los Angeles got off to its awful start this fall while playing largely without Quick and forward Dustin Brown, who were both out with injuries for long stretches.
Quick is currently out for several weeks after undergoing knee surgery, leaving inexperienced Jack Campbell as Los Angeles' top goalie. The Los Angeles farm system's inability to produce above-average players in recent years has dramatically thinned the big-league club's depth and competitiveness, but the Kings' top-end talent isn't producing its share either, according to Blake.
"We have some real good players," Blake said. "We need them playing at a higher level. It's been an issue this season that we haven't had everyone going the right direction. (That's) partly the reason for this change."
Blake said he has no long-standing connections with Desjardins, the Canucks' head coach from 2014-17. After Vancouver missed the playoffs in his final two seasons, Desjardins coached the Canadian men's national team to bronze medals at the Pyeongchang Olympics last February.
The Kings clearly also think highly of Sturm, whose 14-year NHL playing career included 17 games with the Kings. He has been the head coach of the German national team since 2015, leading his nation to a silver medal in Pyeongchang.
The 40-year-old Sturm will spend one more week coaching Germany in the Deutschland Cup before reporting to Los Angeles. Blake said the Kings chose Sturm because of his "new generational coaching style" and his skills in "player relations."
---
---