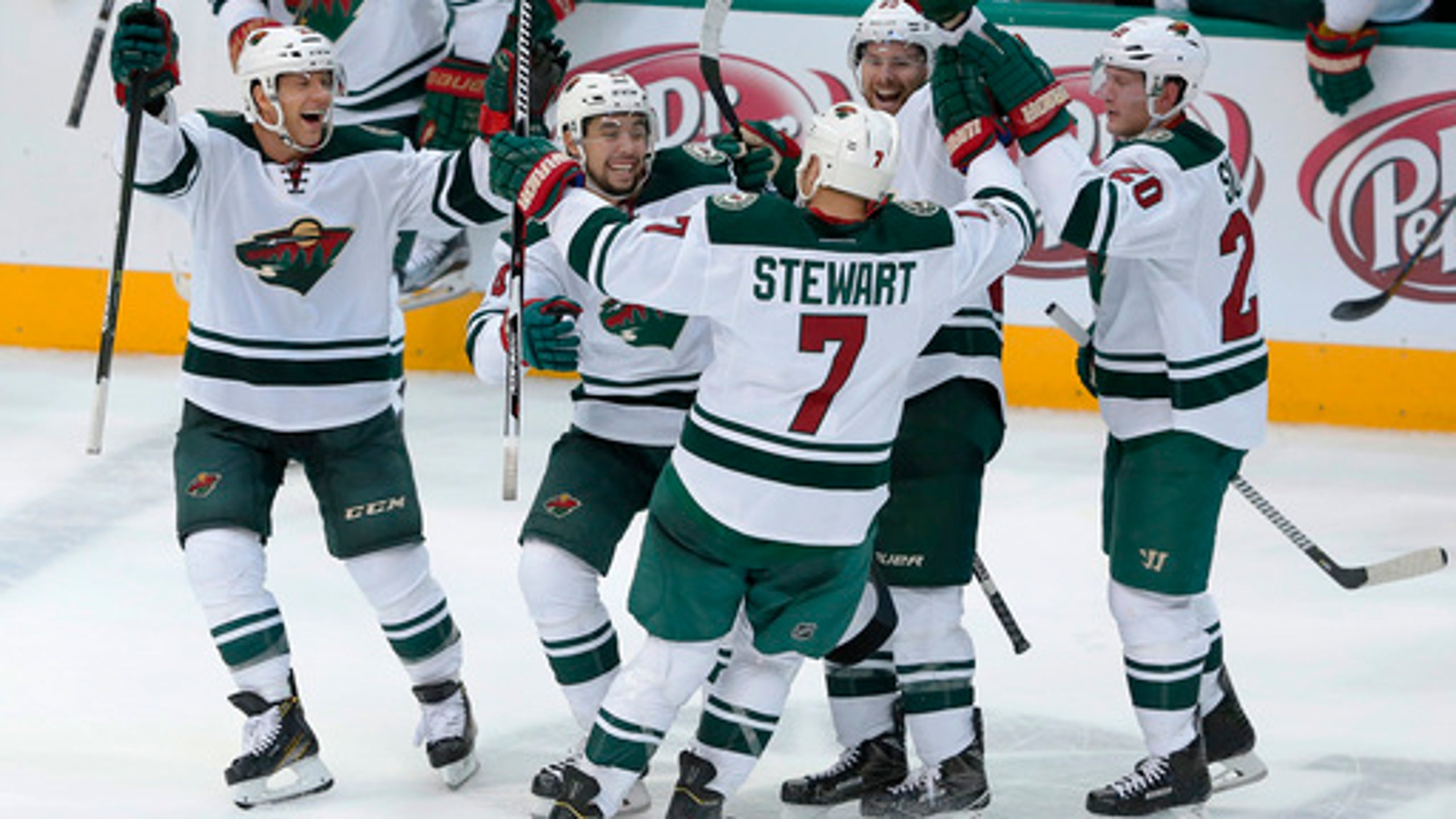 Stewart scores winner in shootout, Wild beat Stars 3-2 (Jan 24, 2017)
BY AP • January 25, 2017
DALLAS (AP) Minnesota coach Bruce Boudreau picked the perfect spot to use Chris Stewart in the shootout against Dallsa.
Stewart, best known for his physical play, scored in the fifth round of the tiebreaker to lift the Wild past the Stars 3-2 on Tuesday night.
''I asked him how he was feeling,'' Wild coach Bruce Boudreau said. ''I didn't want him to go where he had to tie it up. I wanted him to have to go and win it.''
Wild goalie Devan Dubnyk stopped Jason Spezza to begin the fifth round before Stewart's shot won the game.
Patrick Eaves and Jamie Benn had scored for the Stars earlier in the shootout, but Jason Pominville and Mikko Koivu matched them.
Stewart has 1,134 penalty minutes and 147 goals in his career. He moved the puck to his backhand and slid the puck in under Dallas goalie Kari Lehtonen, who got a piece of it. Stewart has 1,134 penalty minutes and 147 goals in his career.
Dallas was the last NHL team to play a shootout game this season. The Wild improved to 2-2 in the tiebreaker.
The Stars had a two-man rush with about a minute left in the overtime, but Lauri Korpikoski passed to Cody Eakin, who shot over the net.
''I knew Korpikoski was tired,'' Dubnyk said. ''He'd been out there for a while, so I figured he probably wasn't going to lean on one.''
Boudreau couldn't bear to look at the play.
''Then I heard the crowd not cheering,'' he said. ''When it's a 3-on-0, you've got to think something bad's coming up.''
Dallas coach Lindy Ruff saw his team lose its second game in a row that went past regulation time.
''We had a 2-on-0 and don't capitalize, we're one shooter away and don't capitalize. Missed opportunities.''
Pominville and Koivu scored in regulation for Minnesota, and Dubnyk had 35 saves through overtime.
Eaves and Tyler Seguin scored for Dallas and Lehtonen finished with 31 saves. Spezza had two assists.
Minnesota took a 1-0 lead with 6:25 left in the first period. Dallas' Patrick Sharp shot wide, and the puck bounced hard off the boards almost to the blue line. Pominville picked up the puck, skated in 2-on-1 with Erik Haula and fired a wrist shot inside Lehtonen to the upper right corner of the net.
Koivu scored on the power play at 4:38 of the second period to make it 2-0. Mikael Granlund passed from the right faceoff circle to Nino Niederreiter in the slot, and he passed to Koivu low in the right circle for the slap shot that beat Lehtonen. Koivu's status for the game after recovering from an illness was uncertain until after he skated Tuesday morning.
The Stars got on the scoreboard at 9:38 of the second on their own 2-on-1 break. Antoine Roussel faked a shot, then passed cross-ice to Seguin in the left circle for his 17th on a snap shot.
Dallas it during a 5-on-3 advantage with 21 seconds left in the second. Benn passed the puck across the goal mouth. It deflected off defenseman Marco Scandella into the air, and Eaves batted it into the net.
NOTES: The Wild had won in overtime at Dallas just 10 days earlier. ... Roussel, the NHL leader in penalty minutes, reached 100 when he went off for slashing at 19:20 of the first period. ... Ten of Eaves' 18 goals have come on the power play. ... Pominville has two goals and four assists in the past four games. . Koivu has six goals and 10 assists in his past 14 games. ... Niederreiter has three goals and four assists in the past six, and Granlund is on a career-high eight-game point streak (one goal, eight assists. ... Dallas' opponents have scored first in six straight games. The Stars are 1-3-2 in that stretch. . Dallas C Radek Faksa (lower-body injury) missed his first game this season, but Seguin kept up his perfect attendance despite a bout with the flu. Benn played despite a broken nose caused by a high stick in Saturday's game.
UP NEXT
Wild: Host St. Louis on Thursday night.
Stars: Host Buffalo on Thursday night.
---
---