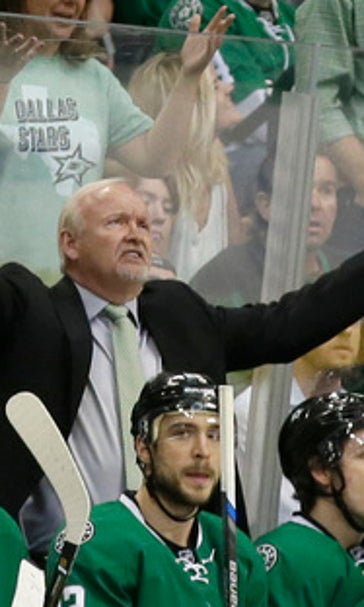 Stars future with 2 top scorers, need decision on 2 goalies
May 12, 2016

DALLAS (AP) The Dallas Stars have two of the NHL's top scorers with young All-Star players Jamie Benn and Tyler Seguin.
They also have two goaltenders under contract for two more seasons, which may not be nearly as beneficial.
Coach Lindy Ruff routinely switched between Kari Lehtonen and Antti Niemi during the regular season, when both goalies won 25 games. Things didn't work out as well in the postseason as the top-seeded Stars were ousted in the second round.
Three times in the seven-game series against the St. Louis Blues, Ruff made mid-game goalie changes. That included Game 7, when Lehtonen was replaced after one period in a 6-1 loss - like Niemi after he started Game 3, another 6-1 loss.
''Obviously you don't like seeing that. It's bad on the whole team. It's not on the goalies,'' defenseman Alex Goligoski said. ''We have world-class goalies. It's not like they're letting in tons of bad goals. It's breakdowns, all kinds of things.''
Still, among the significant questions general manager Jim Nill and the Stars face this offseason is whether to stick with their two-goalie system. The combined contracts for the two Finnish goalies, both 32, have a salary cap hit of $10.4 million for the Stars - the most for any NHL team when it comes to goalies.
Former Stanley Cup winner Niemi was signed to a three-year deal as a free agent last summer. While the plan was to provide help for Lehtonen, there instead were often questions about who was the No. 1 goalie.
Lehtonen was much improved this postseason over the past, but still inconsistent. He followed an impressive series-extending victory in Game 6 against the Blues by allowing three goals in eight shots in the finale at home, and that doesn't even count another puck in the net that got overturned because of a delayed offside call prompted by a replay challenge.
''Right now is not the time to assess blame. You got to look at the whole picture,'' Ruff said. ''You got to take the fact you didn't score and you had some situations that you needed to score. ... Now is the time to look at more of a bigger picture.''
The Stars have four defensemen who can become unrestricted free agents this summer: Goligoski, trade-deadline addition Kris Russell, Jason Demers and Jordie Benn, the older brother of the Stars captain and top scorer.
Benn, the 26-year-old captain, and Seguin will again be the centerpieces of the Stars offense. Among the other forwards under contract are veterans Jason Spezza and Patrick Sharp, along with Ales Hemsky, Antoine Roussel and Cody Eakin, along with promising youngsters Radek Faksa and Mattias Janmark.
While the Stars had both goalies throughout the playoffs, they had only half of their young high-scoring duo.
Seguin played only 15 1/2 minutes in Game 2 of the opening series against Minnesota, his only action in the last two months. He missed the last 10 regular-season games after his left Achilles tendon was cut by a skate March 17. He then sustained what the team said was a different but related lower-body injury.
Benn had a NHL-high 15 points in the playoffs when he played his final game, after finishing second in the league with 89 points (41 goals, 48 assists) in the regular season. Even while missing 10 games, the 24-year-old Seguin was 14th in the league with 73 points (33 goals, 40 assists).
''They're the future of the NHL. That's what they are. They're where the NHL is going,'' Blues coach Ken Hitchcock said of the Stars. ''They're really good. They missed their best player, or arguably one of their best two players. ... We all recognize that. And they're going to be a tough opponent for a number of years because of what they've got.''
Dallas was the NHL's highest-scoring team during the regular season (3.23 goals per game) while winning its first division title since 2006, and averaged 3.5 goals in their six-game series over Minnesota. The Stars scored only 14 goals in the seven games against St. Louis, which won three games by at least three goals.
''A lot of disappointment,'' Benn said. ''I think it's so hard right now because we have a good team and we had a shot to, I believe, win it this year, and we came up short.''
---
---