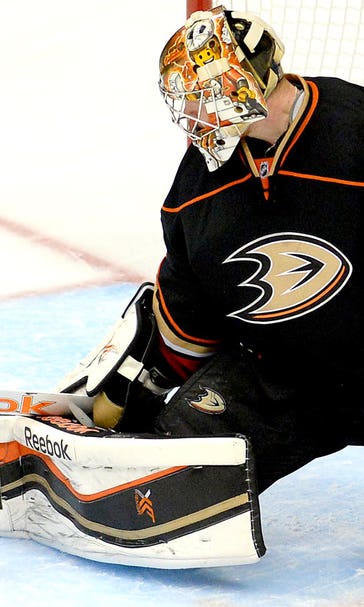 Silfverberg's last-minute goal gives Ducks win over Jets, 2-0 lead
April 19, 2015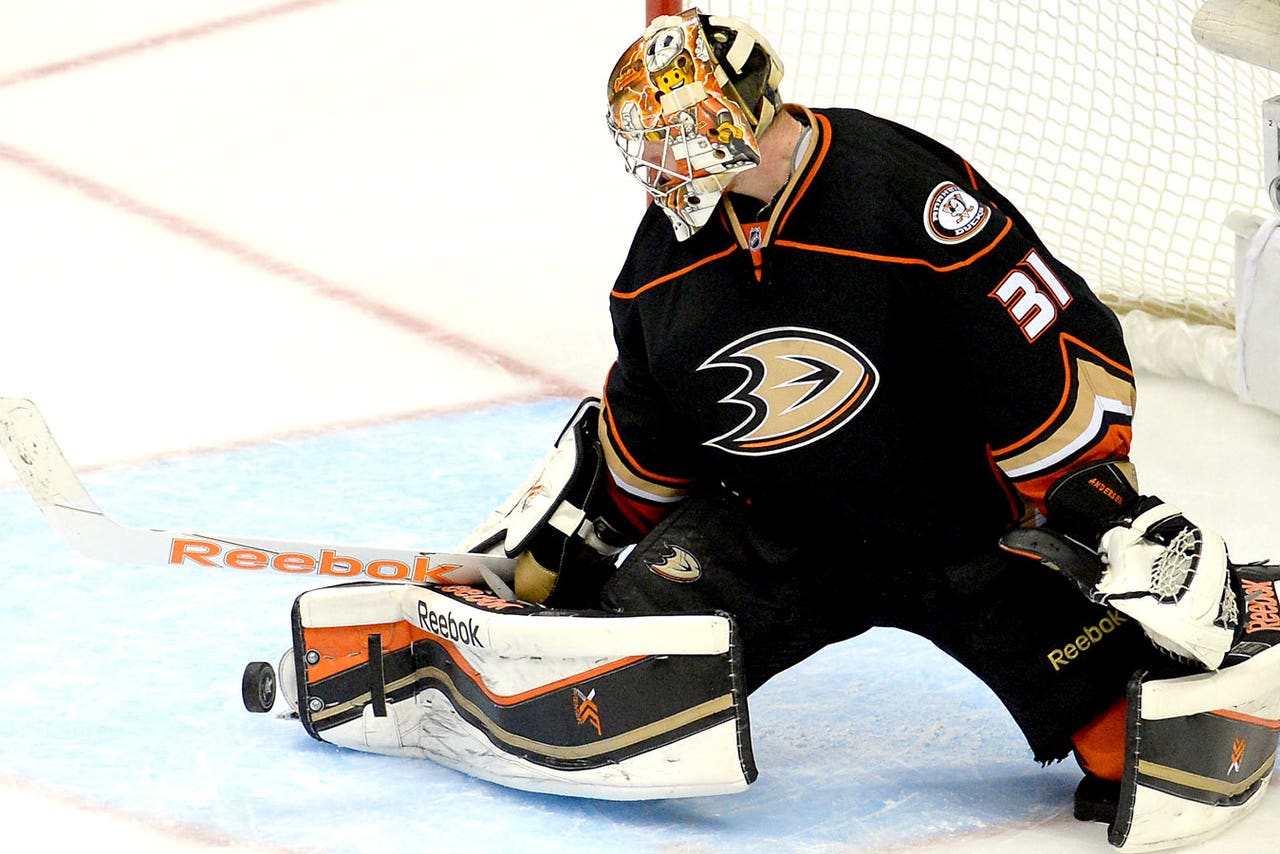 Although Jakob Silfverberg and the Anaheim Ducks realize they probably should stop waiting to win games in the third period, they've thrived on dramatic escapes and last-minute heroics all season.
In each of their first two playoff games, they fell behind early, got rolling late -- and eventually ran over the Winnipeg Jets.
Silfverberg scored the tiebreaking goal with 21 seconds to play, and the Ducks rallied from another third-period deficit for a 2-1 victory Saturday night, taking a 2-0 lead on Winnipeg in their first-round series.
After Patrick Maroon scored the tying power-play goal midway through the third period, Silfverberg took a puck off the boards and wheeled into the faceoff circle to put a shot past Ondrej Pavelec, setting off another cacophonous celebration at Honda Center.
"It's something we've been doing throughout the whole year," Silfverberg said after his fifth career playoff goal. "We've been very strong in the third period. I don't think we can do it too often, though. But obviously we did it tonight, and it's a great feeling. It's one of my bigger goals."
Game 3 on Monday night will be the first NHL postseason game in Winnipeg since 1996.
Frederik Andersen made 28 saves for the top-seeded Pacific Division champions, who came back from a final-period deficit for the second straight game and the 14th time this season, earning their 26th comeback victory overall.
Corey Perry scored the tying and go-ahead goals in the third period of Game 1. He was shut out in Game 2, but the Ducks' secondary scorers got it done: Cam Fowler's long shot deflected off Maroon's body to even it with 9:17 left, and Silfverberg sealed it moments before overtime.
"I still don't know how this one went in, but I assume it went short side," Anaheim coach Bruce Boudreau said of Silfverberg's slick winner. "He was rewarded. He played a great skill game."
Adam Pardy scored his first NHL goal in more than four years in the second period for the Jets, but they're still looking for the first playoff victory in the history of a franchise that moved north to Winnipeg in 2011 after 11 fruitless seasons as the Atlanta Thrashers.
"We put them on the power play late in the third, (and) you've got to be smarter than that," said Pavelec, who stopped 37 shots in an outstanding performance. "I had a few bodies in front of me, and I think one guy tipped it in front of me. ... It's always tough to lose. It doesn't matter how well you play. It's tough to lose in the third period again, two in a row right now. But it's not over."
After a bone-jarring series opener, neither team let up at all in the rematch. A series between large, bad-tempered opponents produced bruising hockey from the opening faceoff, with Winnipeg's hulking defensemen delivering an array of brutal hits and the Ducks answering every time.
"Both games have been extremely even, and right down to the wire," Boudreau said.
Pardy was a healthy scratch in Game 1, but the defenseman with four career goals in 315 regular-season games got the start in Game 2 largely for his penalty-killing acumen. He circled the net and put the puck inside Andersen's post with an astonishing skill move by a defenseman who hadn't scored since Jan. 26, 2011, when he was with Calgary -- three uniforms ago in his peripatetic career.
He also got help from Lee Stempniak, who had been inside Andersen's net an instant earlier after contact with Ryan Kesler. Stempniak appeared to impede Andersen's left skate while leaving the crease, but the goal stood after a lengthy review.
The Ducks pressed with their usual third-period ferocity, but Pavelec made several outstanding saves before captain Andrew Ladd took a high-sticking penalty with 10:15 left. When Fowler flung a shot into traffic on the ensuing power play, the puck pinballed through the crowd and deflected off Maroon, the big power forward screening Pavelec.
"They know how to win games," said Pardy, who ended a personal 172-game goal drought with his first career playoff goal. "We knew they were going to push like that. We've got to find a way to be able to shut it down in the third. We're not going to go and try to sit on a 1-0 lead against this team."
NOTES: C Mathieu Perreault returned to Winnipeg's lineup after a lower-body injury kept him out of Game 1. ... The Jets scratched D Ben Chiarot to make room in the lineup for Pardy. ... The Ducks lost rookie center Chris Wagner at the start of the second period due to an upper-body injury. Anaheim already is playing without third-line center Nate Thompson, who has missed both playoff games with an injury.
---
---