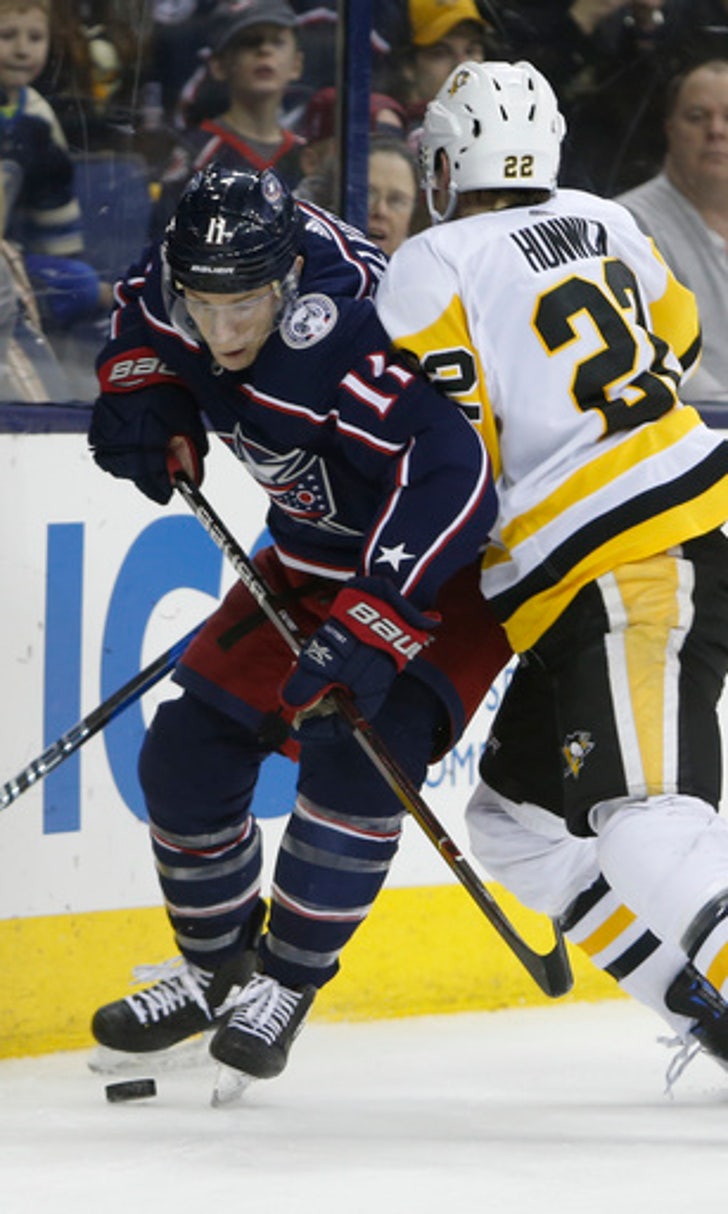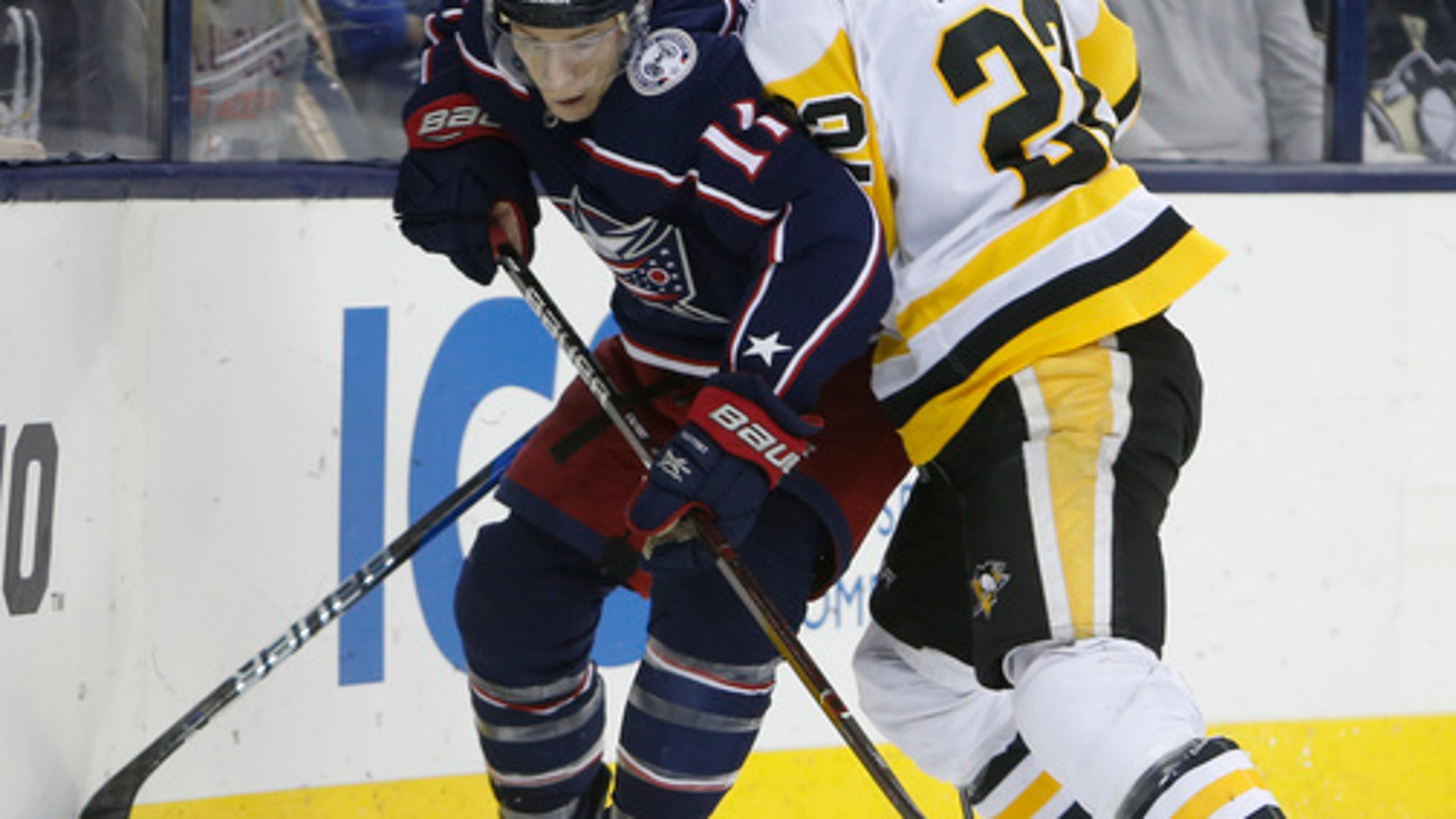 Sheahan scores twice, Penguins beat Blue Jackets 5-2
February 18, 2018
COLUMBUS, Ohio (AP) The Pittsburgh Penguins won without goals from Sidney Crosby, Evgeni Malkin or the other three top scorers. Instead, they created opportunities for some guys who are usually in the background.
Third-line center Riley Sheahan scored twice in the first period and Pittsburgh went on to beat the Columbus Blue Jackets 5-2 on Sunday night. Their fifth straight victory moved the Penguins past Washington into first place in the Metropolitan Division.
Rookie Tristan Jarry, who was in for starter Matt Murray on second leg of a back-to-back, had 35 saves for Pittsburgh. It was Jarry's first NHL action in a month after going 3-0 in three starts for Wilkes-Barre/Scranton in the AHL.
Sheahan's goals were his seventh and eighth of the season. Defenseman Brian Dumoulin and rookie winger Zach Aston-Reese each picked up their fourth. Sheahan's linemate Jake Guentzel picked up his 19th in the third period.
''We've liked that line,'' Pittsburgh coach Mike Sullivan said about the Guentzel-Sheahan-Phil Kessel grouping. ''That line has the ability to generate offense with those three. Riley brings such a conscientious two-way game to the other two guys. It creates the balance, not only on the line but on the team.''
Pittsburgh, playing its third game in four days, won despite being outshot by the Blue Jackets 37-23.
''We've got some secondary guys who can contribute, too,'' Sheahan said. ''When you can have that depth and capitalize on maybe not as many shots, it's dangerous.''
Artemi Panarin and Alexander Wennberg scored, and Sergei Bobrovsky stopped 18 shots for the Blue Jackets. They have lost two straight and seven of the last nine.
In what is becoming the norm lately, Columbus piled up more shots than its opponent but couldn't score enough to win. The Blue Jackets lead the NHL in shots per game but are lingering near the bottom of the division, unable to generate much traction.
''I'm certainly not putting this all on (Bobrovsky),'' Columbus coach John Tortorella said. ''We had our chances. We can talk about the goalie, but you also have to talk about the other people, and the job they have to do.''
The Penguins had just seven shots in the first period but scored on three of them.
Sheahan got credit for a goal when he redirected a shot from defenseman Jamie Oleksiak.
Later in the first, Dumoulin scored with a slap shot from the left point off a beautiful no-look drop pass from Malkin.
Three minutes later, Panarin tapped in his 16th goal of the season, set up by Cam Atkinson, to make it 2-1. That's as close at the Blue Jackets would get.
Sheahan got his second tally of the game with 8:31 left in the first on a wrist shot from top of the right circle. Bobrovsky got a piece of it but couldn't keep it out of the net.
Aston-Reese made it 4-1 when he tipped in a rebound off Zach Werenski's skate in traffic in the second period.
The Blue Jackets seemed to come out with a little more juice in the third period, and Wennberg, open in front of the goal, swept in a Boone Jenner pass 2:21 into the frame. But they couldn't sustain it. Guentzel capped it for Pittsburgh with 5:51 left.
''It's tough traveling and playing back to back games, so we did a good job bearing down,'' Sheahan said. ''It was a really important game for us.''
NOTES: The Columbus captain, Nick Foligno, suffered a ''lower-body'' injury and didn't play for most of the third period. ... Pittsburgh's 16-4-1 record since the beginning of the calendar year leads the NHL. ... Blue Jackets D Dean Kukan suffered an ''upper-body'' injury in the first period and didn't return. ... Columbus D Markus Nutivaara didn't play after he was injured in Friday night's game against Philadelphia. Scott Harrington replaced him in the lineup.
UP NEXT:
Pittsburgh: Hosts Toronto on Saturday night.
Columbus: At New Jersey on Tuesday night.
---
More AP NHL hockey at https://apnews.com/tag/NHLhockey
---
Follow Mitch Stacy at http://twitter.com/mitchstacy
---
---