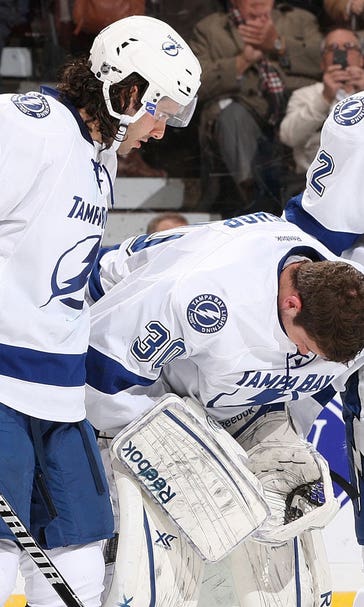 Senators beat Lightning; Bolts goalie Bishop injured
January 30, 2014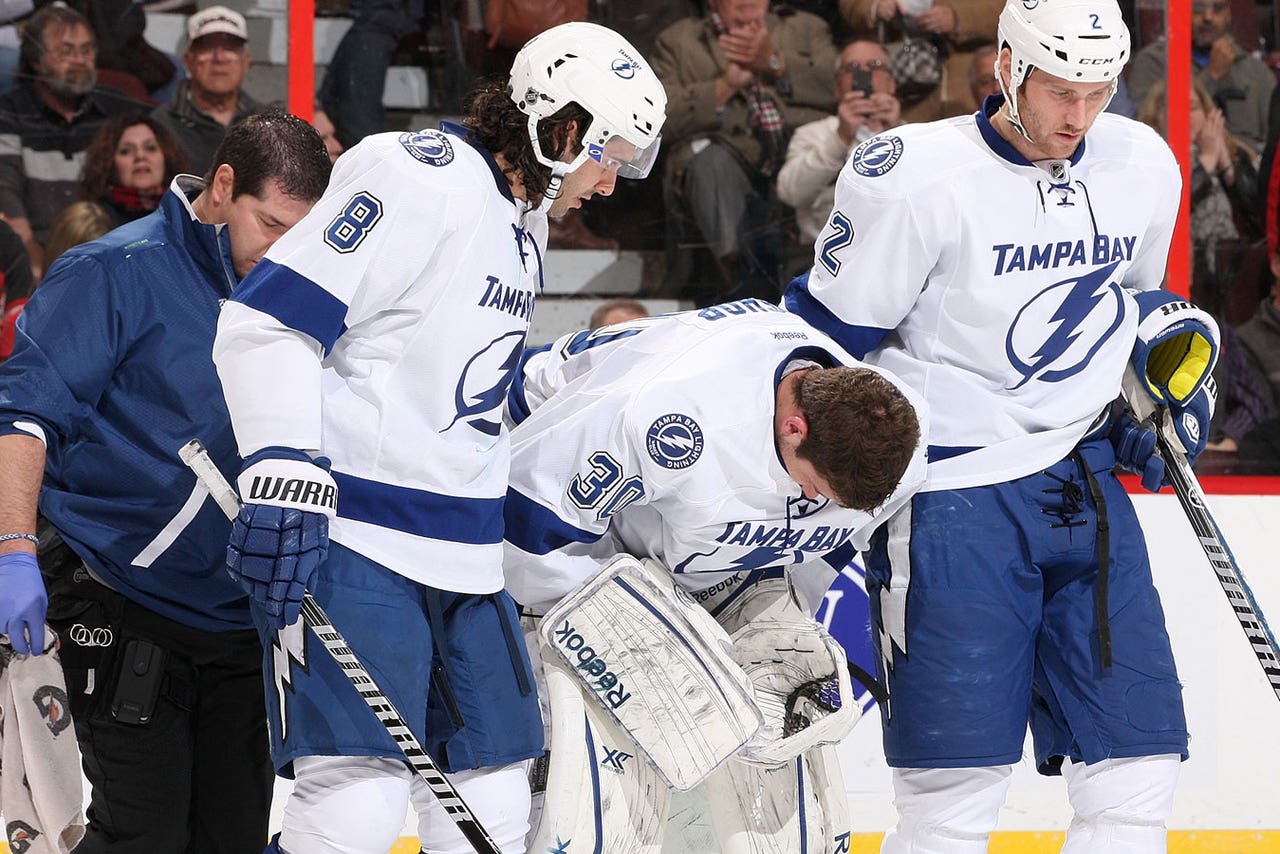 OTTAWA, Ontario (AP)
Ben Bishop's return game in Ottawa didn't last long.
The Tampa Bay goaltender left the game after a couple minutes after getting accidentally kicked in the head by a teammate, and the Senators went to beat the Lightning 5-3 on Thursday night.
Bishop, who has been outstanding for Tampa this season, hopes to be back in action soon.
"I had a little bit of a headache, but it's gotten better as the game went on," said Bishop. "Hopefully I'll wake up (Friday) and feel better and be able to practice."
Bishop, who was playing his first game in Ottawa since being traded to the Lightning last April, came way out of his net to play the puck and ended up getting kicked by teammate Nikita Kucherov.
The goalie lay on the ice motionless, silencing the 19,757 on hand before he was able to leave the game on his own.
"It was very disappointing," said Bishop. "It's almost sad. I was happy to be back and excited to play and then that happens right away."
On the play, the Senators' Marc Methot scored into a wide-open net picking up his fifth of the season for a career high.
Erik Karlsson, Zack Smith, Kyle Turris and Bobby Ryan also scored for the Senators (24-20-10) as Craig Anderson stopped 35 shots.
The win allowed the Senators, with 58 points, to move into a tie with the Columbus Blue Jackets for the eighth and final playoff spot, but the Blue Jackets hold the tie-breaker with more wins (27).
"You have to take care of the games you have and we did that (Thursday)," said Ryan. "If you don't, you're going to be on the outside looking in and that's not where we want to be."
Alex Killorn, Tyler Johnson and Victor Hedman scored for the Lightning (31-18-5), who have lost two straight. Anders Lindback faced 27 shots.
"It was a tale of two different teams," Tampa Bay coach Jon Cooper said. "The one thing that concerned me was we didn't play desperate. There's one thing about competing really hard, but we just didn't seem to have that desperation. Whether that was because of the way the game started, but at some point you have to turn the page."
Ottawa made it 2-0 with 25 seconds remaining in the period as Jason Spezza took a stretch pass from Milan Michalek, froze the Lightning defense, and found Karlsson all alone in front of a wide-open net.
The Lightning cut the lead in half as Killorn beat Anderson cleanly, but it wasn't enough as the Senators went on to score two more by the end of the period to take a 4-1 lead after 40 minutes.
Smith made it 3-1 as he grabbed a loose puck at the side of the net, moved in front and put a shot off the crossbar that bounced off Lindback and in. Turris then picked up his 18th late in the period as Ryan fought off Victor Hedman and left the puck back for Turris who buried it.
Ryan made it 5-1 early in the third as he picked up his team-leading 20th of the season. It was his first goal in six games.
"You hope there'll be a domino effect (from the goal) and I can move forward with it," Ryan said.
Johnson made it 5-2 scoring a short-handed goal late in the third.
Tampa pulled Lindback with over three minutes remaining in regulation and made the most of the man advantage as Hedman made it 5-3. The Lightning made the final minutes exciting as they kept Lindback on the bench, but were unable to complete the comeback.
"I thought we battled really hard in the last few minutes," Martin St. Louis said. "I guess the desperation came in too late I guess."
In addition to losing Bishop, the Lightning also lost leading scorer Valterri Filpulla early in the second. Filpulla returned briefly, but then left the game with a lower body injury.
Cooper had no update on Filpulla and said he would be re-evaluated Friday.
Notes: Michalek picked up his 200th career NHL assist on Ottawa's second goal. D Chris Phillips missed his second straight game with a lower body injury. ... D Joe Corvo and LW Matt Kassian were healthy scratches for Ottawa. ... D Keith Aulie and C Tom Pyatt were healthy scratches for the Lightning. ... With an assist on the Lightning's third goal St. Louis, with 965 career points, moved into a tie with Maurice Richard for 85th place in the NHL's all-time scoring leaders. It was also St. Louis' 600th NHL assist.
---
---