Seguin scores twice, Stars beat Jets 5-3
BY foxsports • February 3, 2016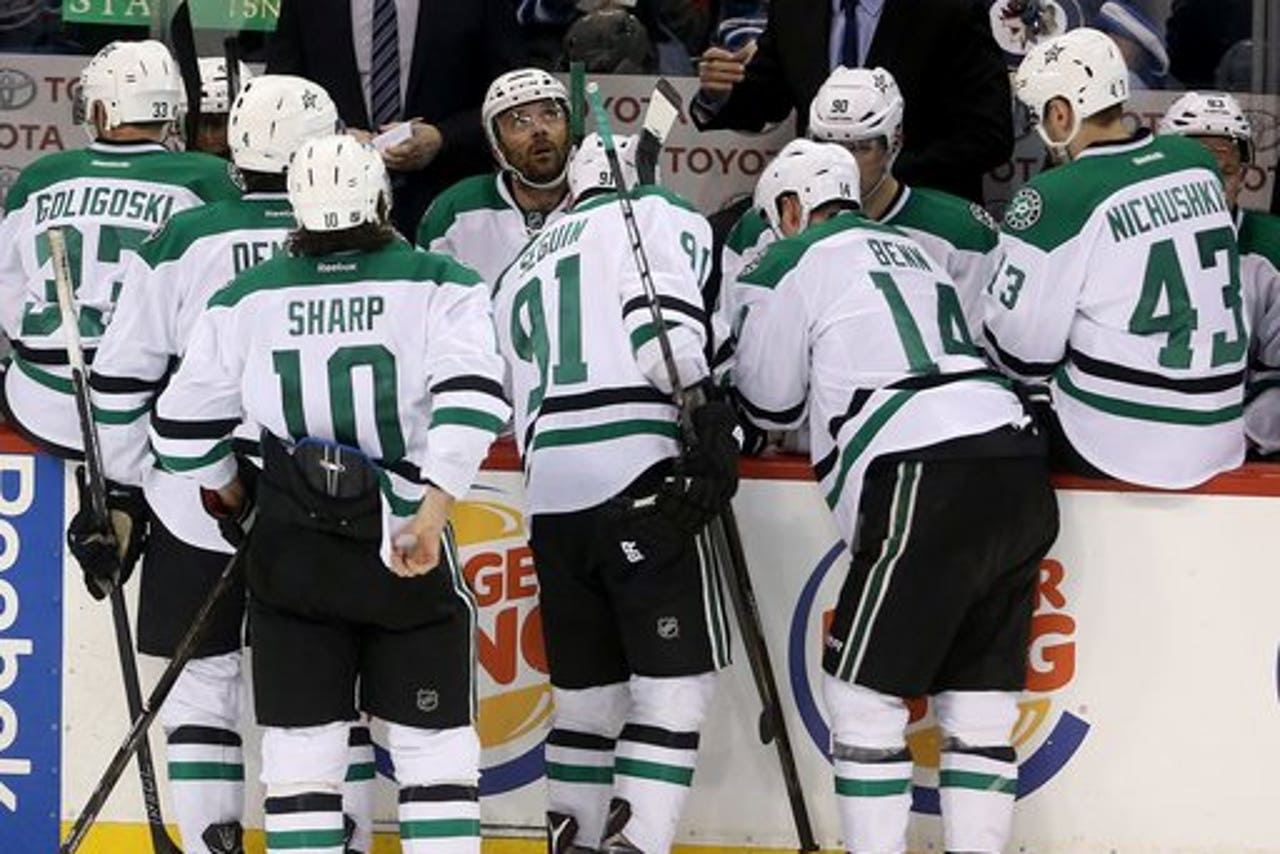 WINNIPEG, Manitoba (AP) Tyler Seguin took a final bite of pizza, quickly sipped from a bottle of water and turned to reporters for a postgame interview.
The Dallas Stars center was relaxed and casual after putting a sub-par month behind him with two goals in a 5-3 victory over the Winnipeg Jets on Tuesday.
''For me, mentally, I put January behind me during my time in Nashville (at the All-Star Game),'' said Seguin, who had two goals and one assist in 11 games in January.
''Personally, I thought it was probably one of my worst months as a pro player. Our team wasn't playing well, either, so I think we all came out of this break a little bit refreshed and getting back to the basics.''
The Stars only had three wins in the calendar's first month. Seguin has 27 goals and 55 points in 51 games.
Dallas defenseman John Klingberg and forward Vernon Fiddler both scored their seventh goals of the season, and Klingberg added an assist. Antoine Roussel put in an empty-netter with 42 seconds left and Antti Niemi turned aside 21 shots for Dallas.
Andrew Ladd, Adam Lowry and Dustin Byfuglien scored for Winnipeg. Connor Hellebuyck made 22 saves.
''You can't be giving up 2-on-0s and 3-on-0s,'' said Drew Stafford, who was credited with Winnipeg's first goal, but it was later changed to Ladd's off a deflection.
''We had breakaways ourselves that we didn't capitalize on. If you get into a track meet like that, they've got a great transition (game) and that paid off for them. It's frustrating.''
Ladd's deflection on a power play started the game's scoring at 14:16 of the first period, but Dallas evened it up 51 seconds into the second just after Jets defenseman Dustin Byfuglien had left the box for slashing.
Seguin ripped a one-timer from inside the faceoff circle and Hellebuyck couldn't move over fast enough to stop it.
Lowry regained Winnipeg's lead when he kept banging at the puck near a sprawled Niemi. It went under the netminder at 4:41, but then Dallas scored three straight goals.
Klingberg tied it 2-2 on an unusual breakaway. After Cody Eakin had his stick knocked out of his hands near center ice, he continued without it alongside defenseman Jason Demers and Klingberg. Demers passed to Klingberg, and he beat the outnumbered Hellebuyck at 14:41.
''That's kind of crazy, two (defensemen) up there,'' Klingberg said.
Klingberg now has 42 points, but he'd gone eight games without a goal, with only two assists during that span.
The Stars took their first lead of the game 2 minutes later after Ales Hemsky dropped a pass to a trailing Fiddler, who scored at 16:52.
Forty seconds after Jets forward Andrew Copp went to the box for tripping, Seguin had the puck come back to him, and he fired it through traffic past Hellebuyck at 2:49 of the third period.
Byfuglien made it 4-3 with a blast that went over Niemi at 10:14.
Winnipeg pulled Hellebuyck for the extra attacker with just under 2 minutes left and defenseman Tyler Myers had a shot ring off the crossbar.
''I was just two inches away from tying it up,'' Myers said.
Dallas coach Lindy Ruff described the game as ''ragged.''
''I thought both goalies had to make some big saves,'' Ruff said. ''Some odd-numbered rushes, we saw breakaways, 3-on-0, a couple 2-on-1s. I think that's typical for after teams have had a week off.''
NOTES: The game was Winnipeg's fifth of a six-game homestead (1-4-0), which concludes Friday night against Carolina. The Stars travel to Colorado for a game Thursday night.
---
---